If you're not sure what to eat in RiNo, we've got you covered. This guide features 15 of the most unique dishes in RiNo, selected by our foodie guides that love eating in Denver's most exciting neighborhood for dining.
While this round-up covers hearty plates, it also features tasty appetizers, sides, and sweets. Regardless of how hungry you are, what your budget is, or what your preferred cuisine, this round-up has something that will make your mouth water.  It's the ultimate answer to the question: "What should I eat while visiting RiNo?"
For even more options, be sure to take a look at our list of the best restaurants in RiNo!
Our Favorite Food in RiNo, Denver
Special Slice at Redeemer Pizza
Address: 2705 Larimer St │ Restaurant Website │ Menu │ Price: $$ │ Book A Table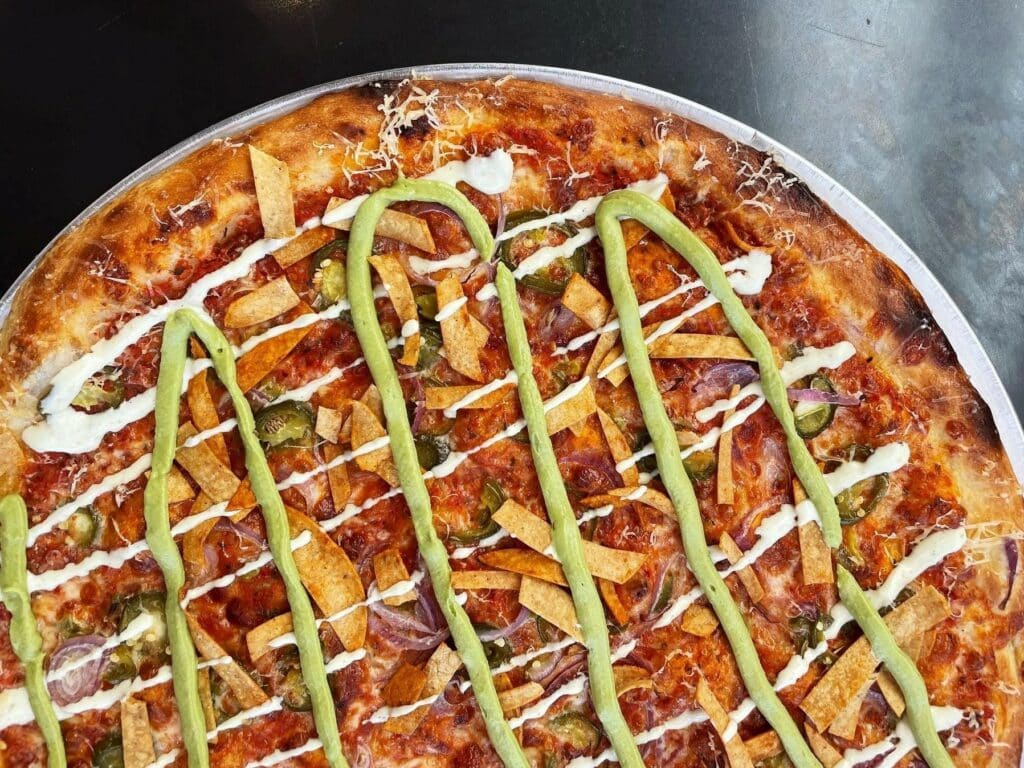 Sneak around the back of Redeemer Pizza to discover a local secret. Past the neon sign and a wall of graffiti, you'll find a window that dishes out some of the city's most delicious slices. Its weekly specials rotate and are always experimental. And, like all its New York-style pies, it features a unique sourdough crust — delicious when dipped in their housemade chili honey sauce.
Stop by for one of the best happy hours in Denver, or sample a slice on our RiNo Arts District Food Tour!
Seasonal Bolognese Pasta at Dio Mio
Address: 3264 Larimer St │ Restaurant Website │ Menu │ Price: $$ │ Book A Table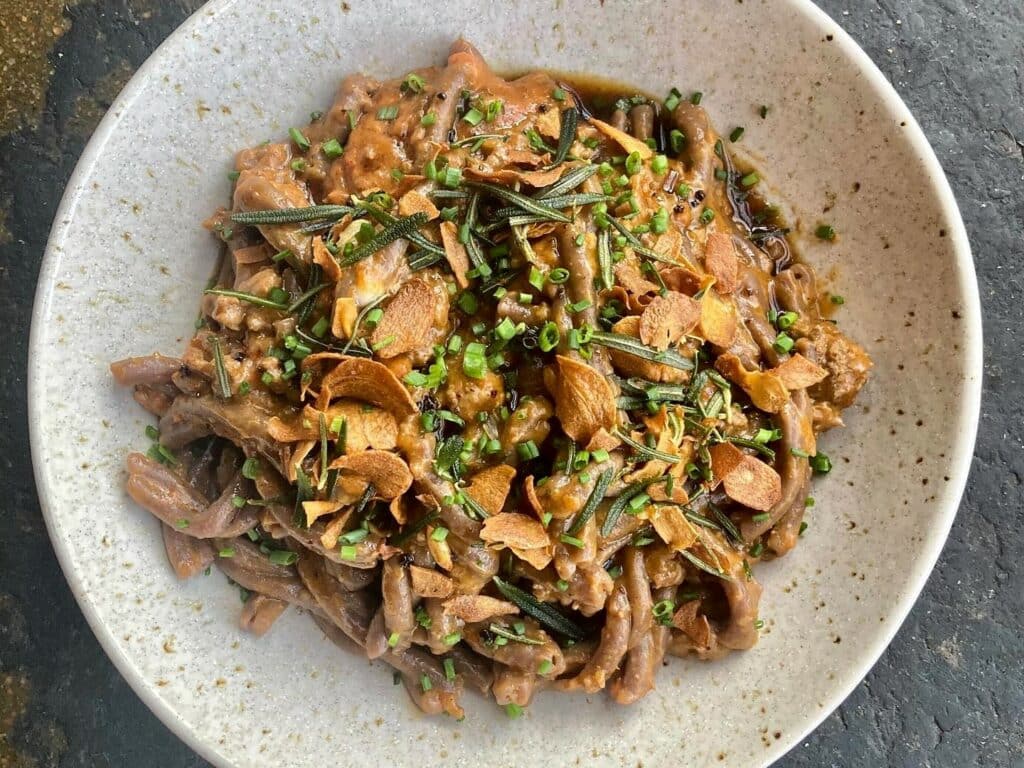 Dio Mio is another restaurant that is a can't miss stop for dining in RiNo. It changes up its popular bolognese dish seasonally, though housemade pasta is always the core ingredient.
Recently, guests enjoyed cocoa casarecce with venison and pork bolognese. A previous rendition featured a brisket bolognese with rosemary-potato crumble. No matter the style available when you visit, it's sure to be one of the tastiest foods in RiNo.
Oysters at Fish N Beer
Address: 3510 Larimer St │ Restaurant Website │ Menu │ Price: $$ │ Book A Table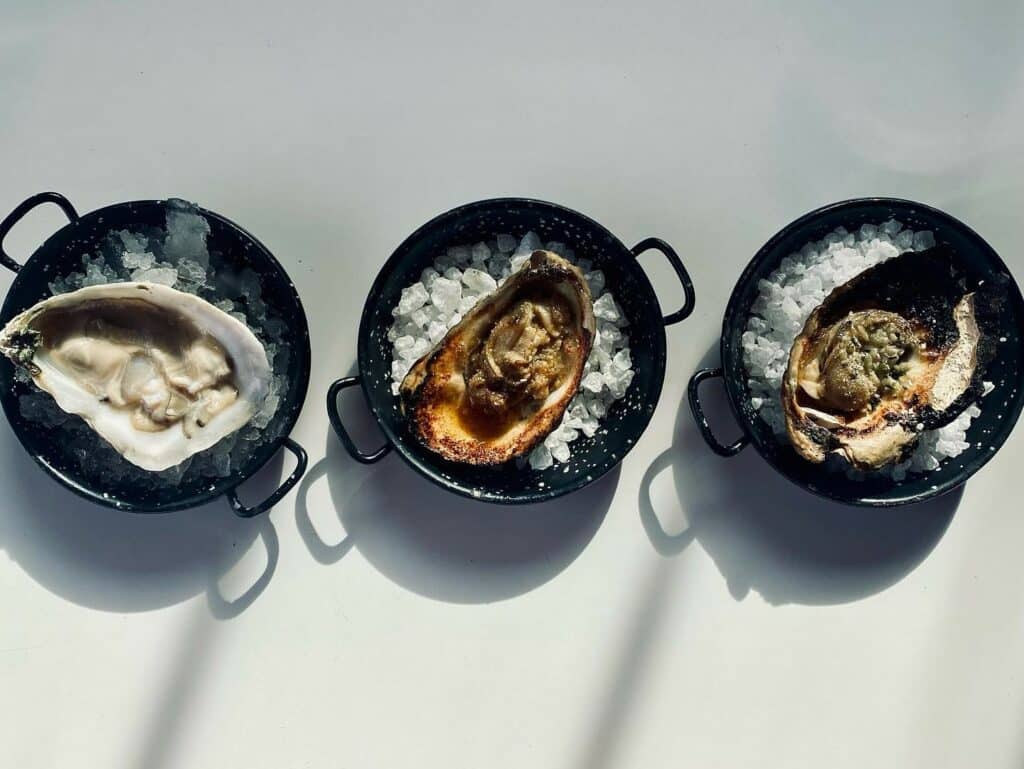 Though known for all types of fresh seafood, Fish N Beer has built a reputation around its oysters. Taste the unique flavors of both East and West Coast oyster varieties, available both raw and grilled.
If you opt for the latter, consider topping the delicacy with garlic butter or the eatery's signature devil butter. It's made with a series of spices, including roasted chile de arbol, and a splash of tangy apple cider vinegar. 
Bonus: Nate, one of the founders of Delicious Denver Food Tours and a bona fide foodie, also recommends trying the smelt fries. They are crispy, salty and unique. Housemade dill tartar sauce completes the experience.
Fried Chicken Kara'Age at Osaka Ramen
Address: 2611 Walnut St │ Restaurant Website │ Menu │ Price: $$ │ Book A Table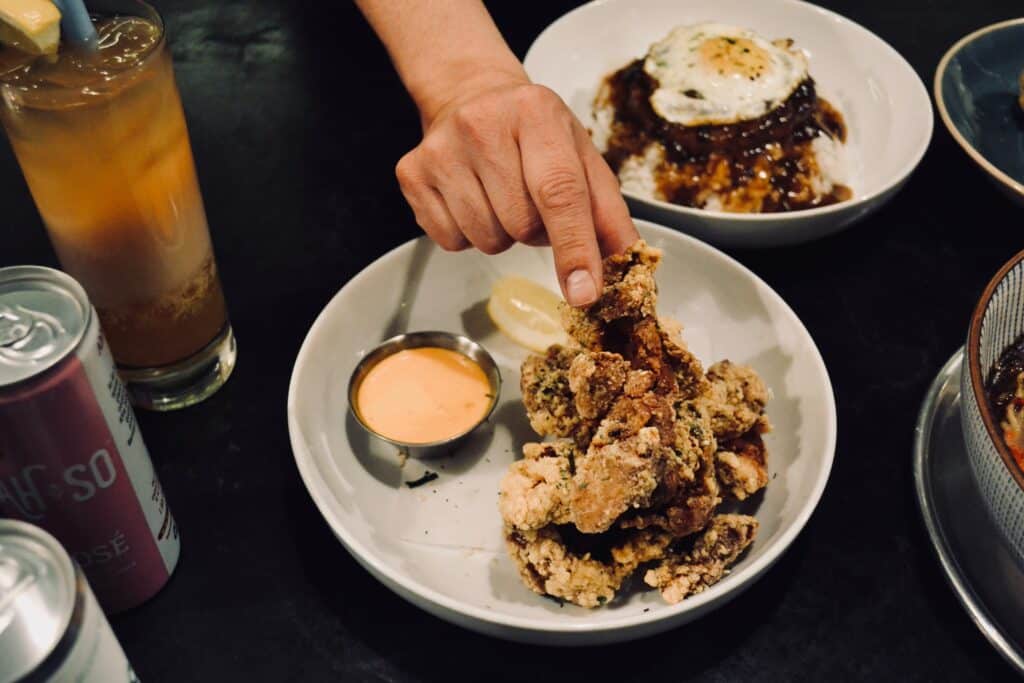 Don't get me wrong, the steamy ramen noodle bowls at Osaka Ramen are superb. But don't skip over the small plate menu when visiting. There, you'll find its chicken kara'age, a Japanese version of fried chicken. It combines sour, salty, and herbaceous flavors into a delicious complex dish.
Its chefs marinate boneless dark meat in shoyu (soy sauce), garlic, ginger, and citrus fruit juices. It's then coated in potato flour, fried, and served with a slice of lemon to further brighten the dish. Spicy kewpie mayo is also provided for added heat. This particular type of mayo is made with yolks rather than whole eggs, similar to what one would find in Hokkaido, Japan's northernmost island.
For more insider knowledge on Osaka Ramen and its Japanese fare, join our RiNo Food Tour! You'll also have the opportunity to sample the perfect beer pairing: the Upslope Rice Lager.
Artisanal Grilled Cheese at Culture Meat & Cheese
Address: 2669 Larimer St │ Restaurant Website │ Menu │ Price: $$ │ Book A Table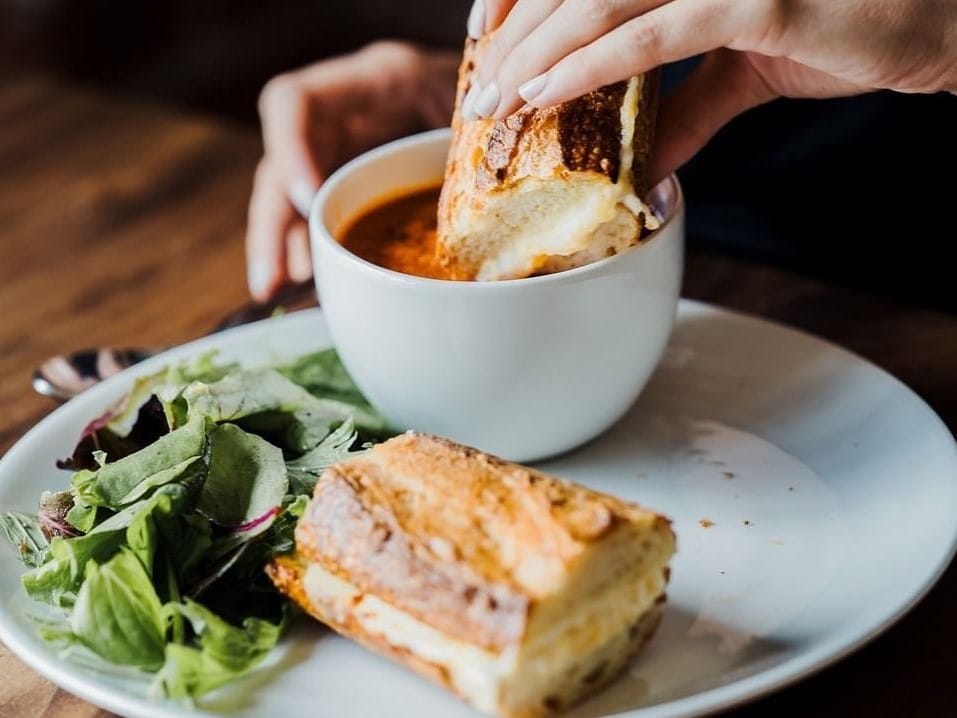 Not sure what to eat in RiNo? You can't go wrong with a visit to Denver Central Market, one of the top things to do in Denver.
Find several of the best RiNo foods here, including the grilled cheese at Culture Meat & Cheese. I know, a humble grilled cheese sandwich? But hear me out — this creation is far from ordinary.
It features Vermont Creamery fromage blanc, Beemster XO gouda, and New Bridge aged cheddar. This buttery blend oozes from a crunchy baguette, and nothing complements it better than a hot cup of tomato soup. Culture can also be great for breakfast with their New York style egg sandwiches.
Colorado Queen at Izzio Bakery
Address: 2669 Larimer St │ Restaurant Website │ Menu │ Price: $$ │ Book A Table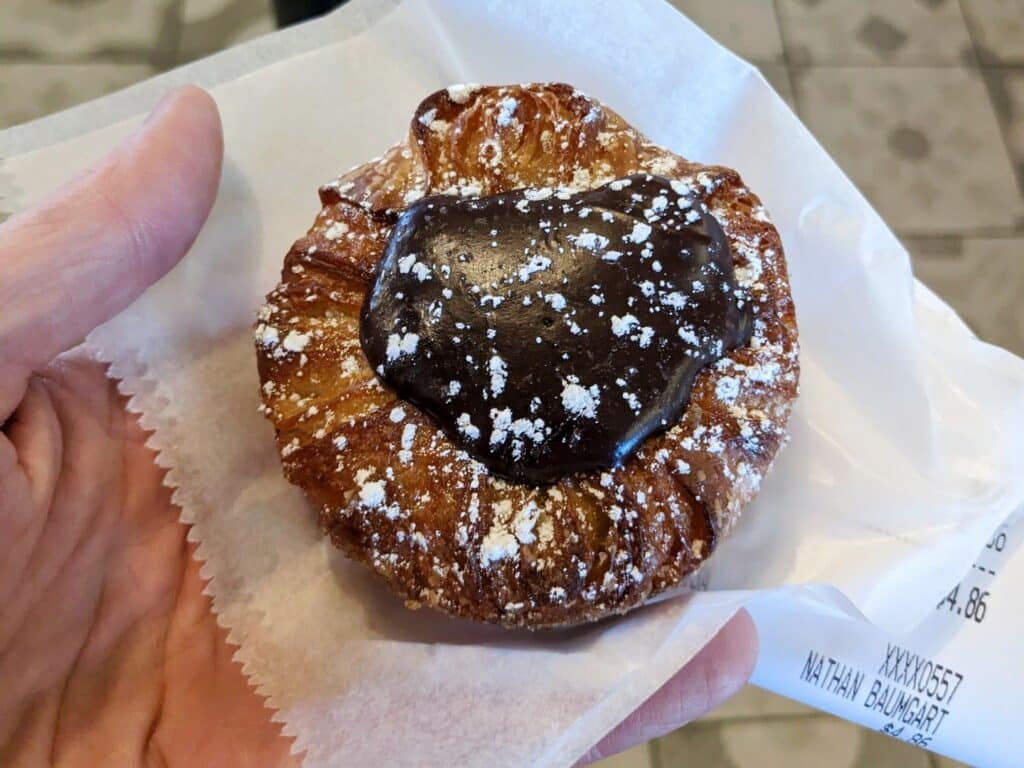 If you've never visited Izzio Bakery in Denver Central Market, you may be overwhelmed by its packed pastry case. But look no further than its kouign amann options, which it refers to as its Colorado Queen buns. These come in a variety of flavors, including chocolate, Nutella, dulce de leche, tart cherry, and pistachio. 
Nate, one of our founders, also thinks that Izzio Bakery is one of the city's best brunch spots, given its popular breakfast plates and bowls. But he wouldn't know personally, as he exclusively orders the Colorado Queen every time he visits. Despite their high calorie count, every sweet, flaky, caramelized bite is worth it. 
Bonbons at Temper Chocolates
Address: 2669 Larimer St│ Restaurant Website │ Menu │ Price: $$ │ Book A Table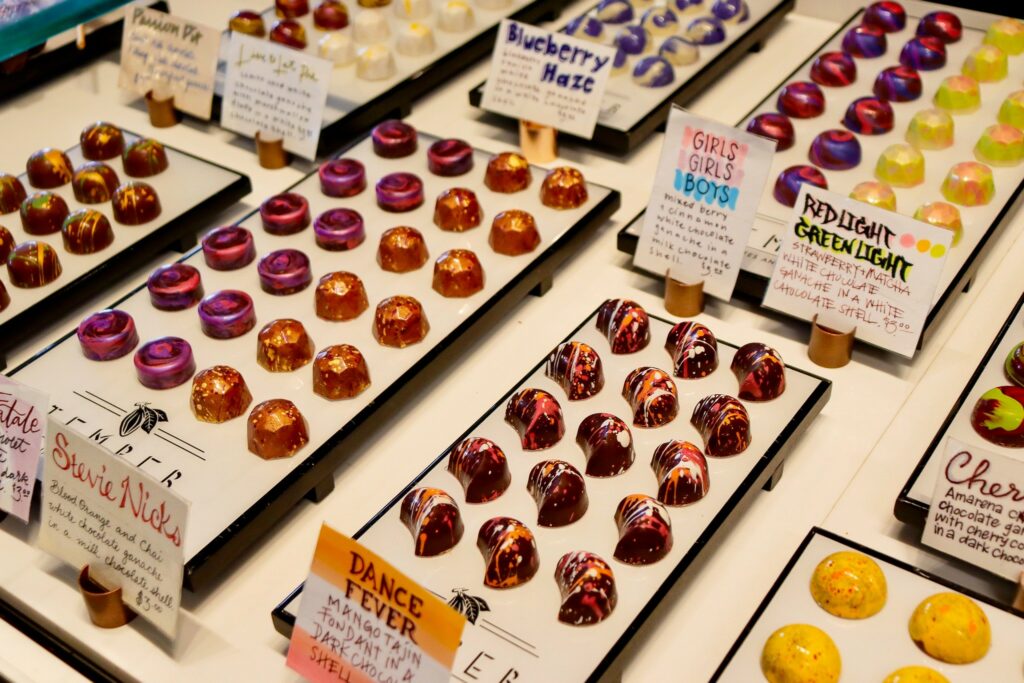 Temper Chocolates is another one of our favorite stops at Denver Central Market. This confectioner creates beautiful, hand-painted bonbons in an assortment of flavors.
Select from classics or opt for something unique. The Femme Fatale with raspberry-violet white chocolate ganache is a crowd favorite. Vegan flavors like Cyndi Lauper, made with ginger fondant, blackberry, and dark chocolate, are also available. Globally-sourced chocolate bars and other chocolate-dipped confections round out the menu. You can buy chocolate by the box or one at a time making them great for any size group.
Adobo Chicken Leg Taco at Los Chingones
Address: 2463 Larimer St │ Restaurant Website │ Menu │ Price: $$ │ Book A Table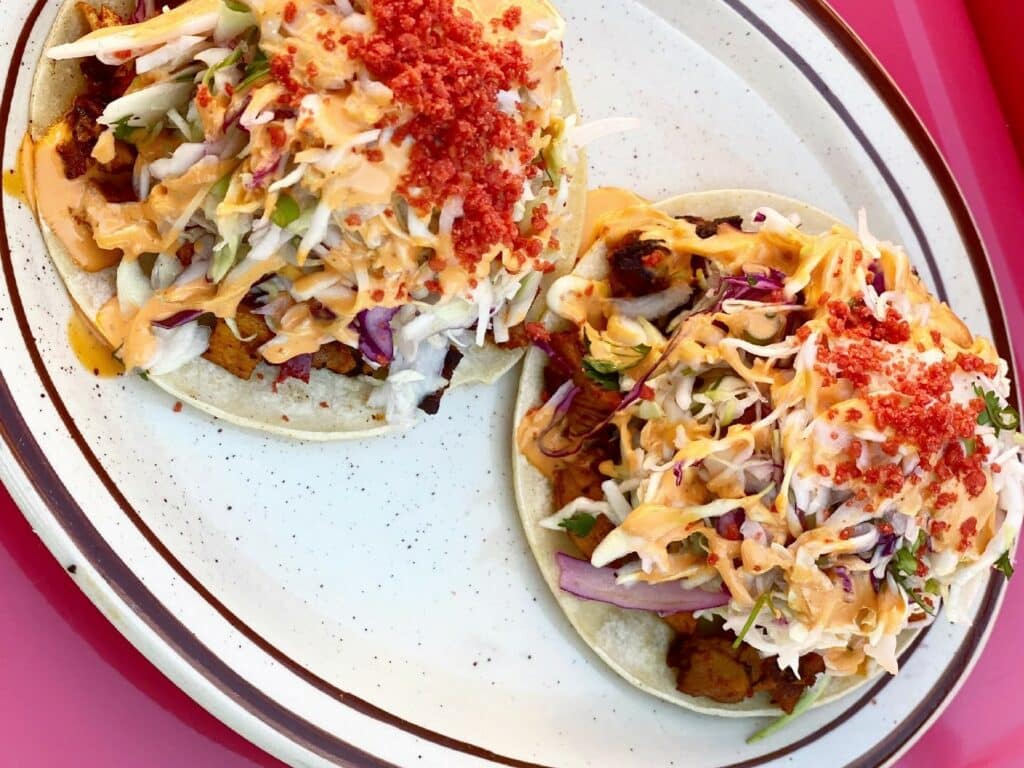 The vibe at Los Chingones is as vibrant as its cuisine. It's one of the best rooftop restaurants in Denver, and its adobo chicken leg tacos taste even better when dining al fresco.
Chicken legs feature dark meat, which has a heavier fat content. This permits longer cook times, and therefore, more flavor development. Seasoned to perfection, this adobo chicken is then complemented with slaw and spicy ranch. The dressing is made with Guajillo peppers, which are a mild form of the mirasol pepper. They have notes of cranberry and citrus, along with a kick of heat. 
Served on warm corn tortillas, these tacos are then topped with crushed Takis Fuego. This is a popular Mexican chip that resembles a rolled Dorito. Try this unique creation on our RiNo Food Tour, and consider the optional margarita drink pairing which has been recognized as one of the city's best.
Burger at Split Lip
Address: 3560 Chestnut Pl │ Restaurant Website │ Menu │ Price: $$ │ Book A Table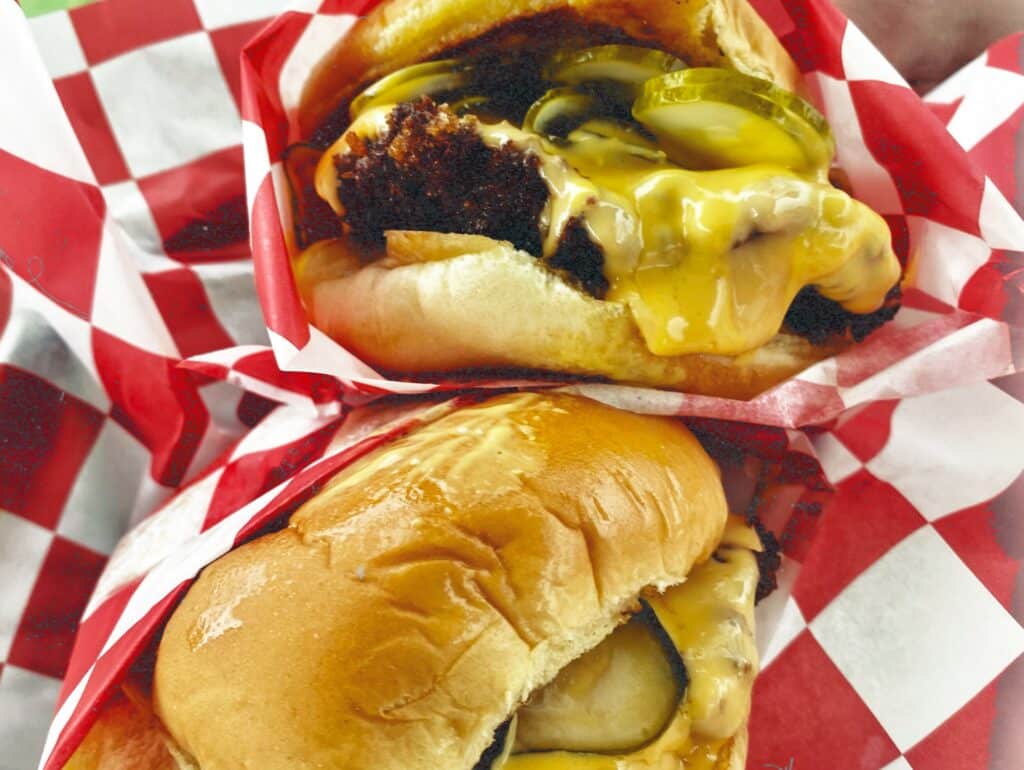 Split Lip is set inside Number Thirty Eight, a trendy RiNo venue that often features live music. It's known for its pub grub, including a variety of regionally-inspired burgers.
The Mississippi Slug is its take on a classic cheeseburger, topped with American cheese, "sawse", and too many pickles. Creative options include the Washington Goop Burger. It's made with a bacon-beef patty, smoked "goop" sauce, American cheese, lettuce, pepperoncinis — and a normal amount of pickles. Order one with a local craft beer and you have yourself an awesome meal while the band rocks out in this amazing indoor/outdoor venue.
Yen Tsai (Pickled Vegetables) at Hop Alley
Address: 3500 Larimer St │ Restaurant Website │ Menu │ Price: $$$ │ Book A Table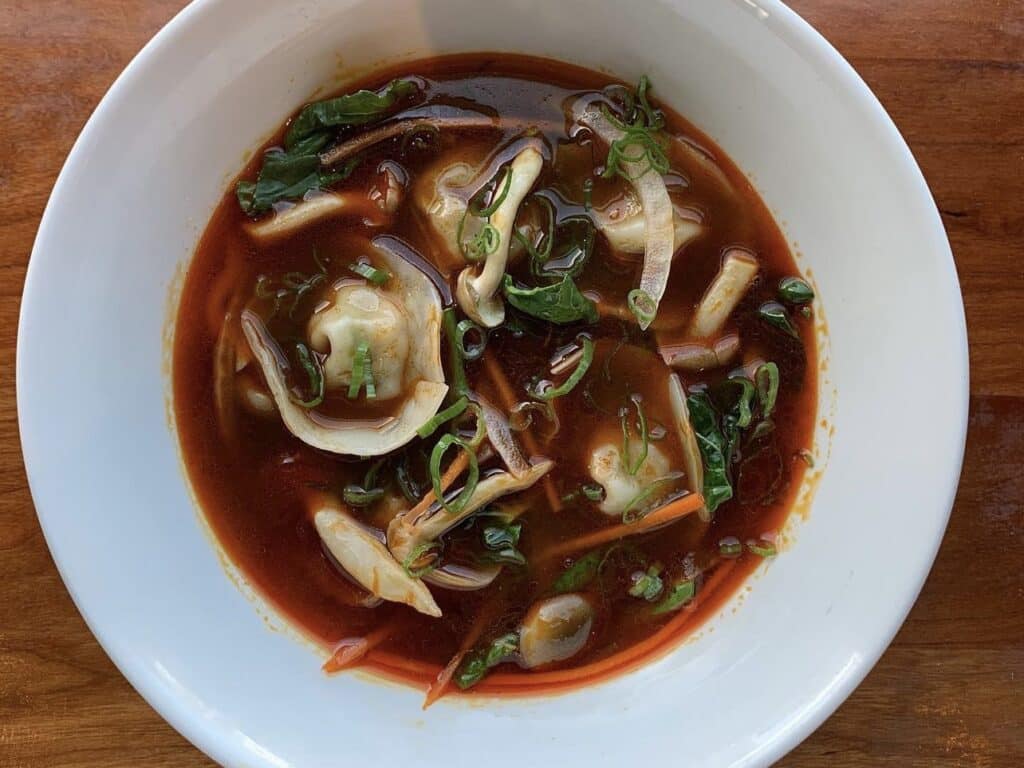 Few RiNo foods are as unique as the yen tsai (pickled vegetables) at Hop Alley, one of Denver's best restaurants. The vegetable selection rotates with the season. Options may include pickled mushrooms, cauliflower, cabbage, peppers, and pineapple. Each fermented bite packs a punch of flavor, ranging from sweet to sour, and always with a tangy kick.
You'll find them in a number of the restaurant's authentic regional Chinese dishes, but you can also order them as an appetizer to snack on throughout the meal.
Central Texas BBQ Brisket at Pit Fiend
Address: 2826 Larimer St │ Restaurant Website │ Menu │ Price: $$ │ Book A Table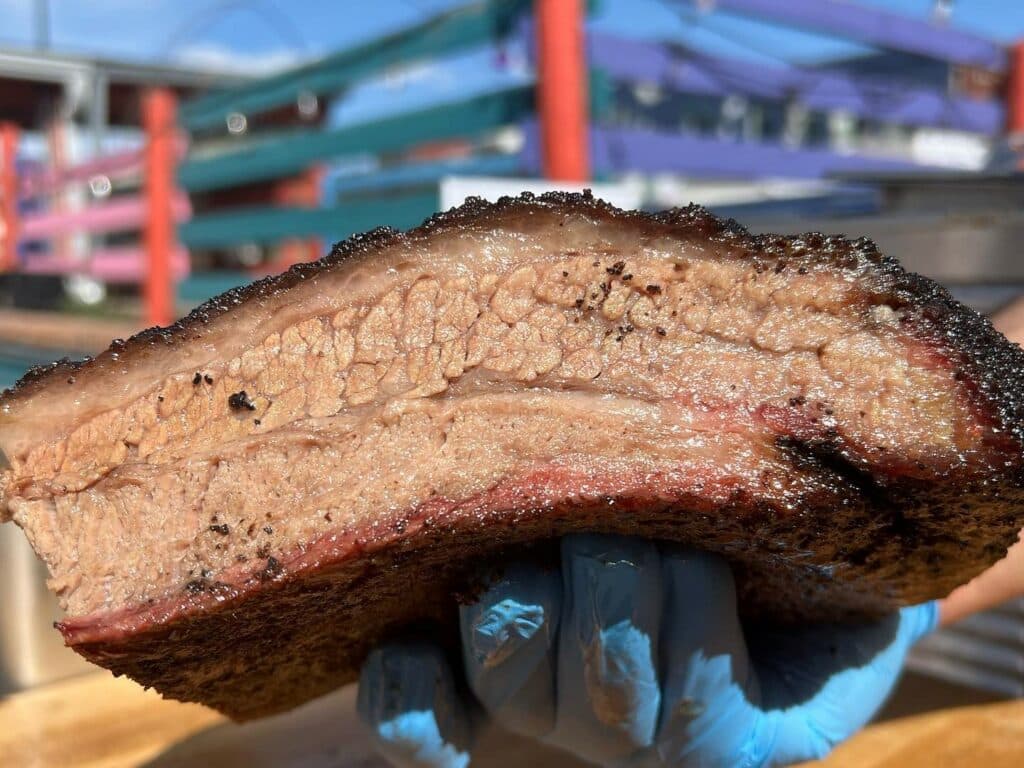 Pit Fiend Barbecue's original pitmaster previously worked at the famous Franklin Barbecue in Austin, Texas. He recently parted ways with Pit Fiend but left a wealth of knowledge to its staff. 
They now manage the process of cooking its live fire, wood-smoked meats, and no option is more popular than its juicy, tender brisket. The slow cook process results in an incredibly flavorful bite, which tastes perfect alongside a selection of fixins. If you're not sure what to eat in RiNo, but you love a good barbecue joint, this is your spot.
For bonus points, visit Our Mutual Friend, one of Denver's best breweries, in the same parking lot. They specialize in saisons which pair perfectly with the rich and savory brisket.
Housemade Burrata with Lavash and Balsamic at Il Posto
Address: 2601 Larimer St │ Restaurant Website │ Menu │ Price: $$$ │ Book A Table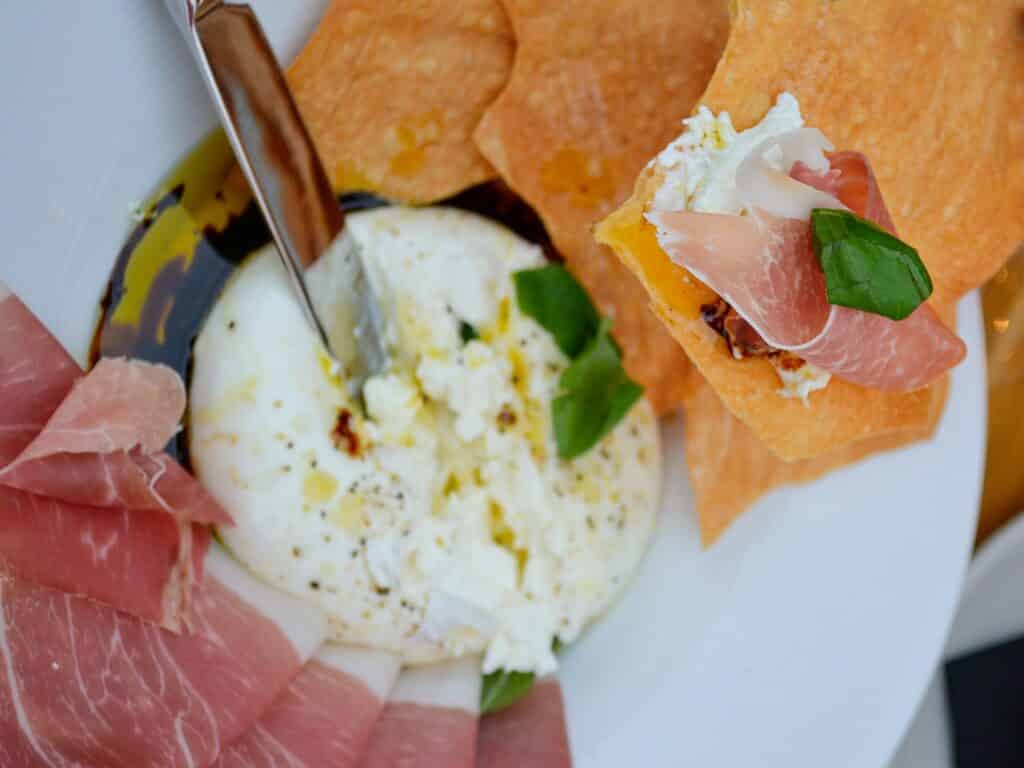 On a glorious day in 1900, burrata was invented in Apulia, Italy. Its name translates to "buttery" in Italian, and it began as a method of using the scraps and curds of leftover mozzarella. To ensure freshness, it's traditionally wrapped in the leaves of asphodel flowers. This is a perennial native to the Mediterranean region.
Burrata captures all three stages of mozzarella. The outside resembles the classic soft cheese, while the inside features cream and stracciatella, or curds. Few places capture the essence of burrata like Il Posto, one of Denver's most romantic restaurants. 
The Italian eatery makes the cheese in-house, then serves it with basil leaves, true Balsamic de Modena, and crackers. These crisps are a version of its fresh, housemade pasta dough, rolled out and baked. Prosciutto is optional, but is a great complement — as is an Aperol spritz, which you can try with this cheese on our RiNo Food Tour!
House-Baked Pita at Safta
Address: 3330 Brighton Blvd Unit #201 │ Restaurant Website │ Menu │ Price: $$ │ Book A Table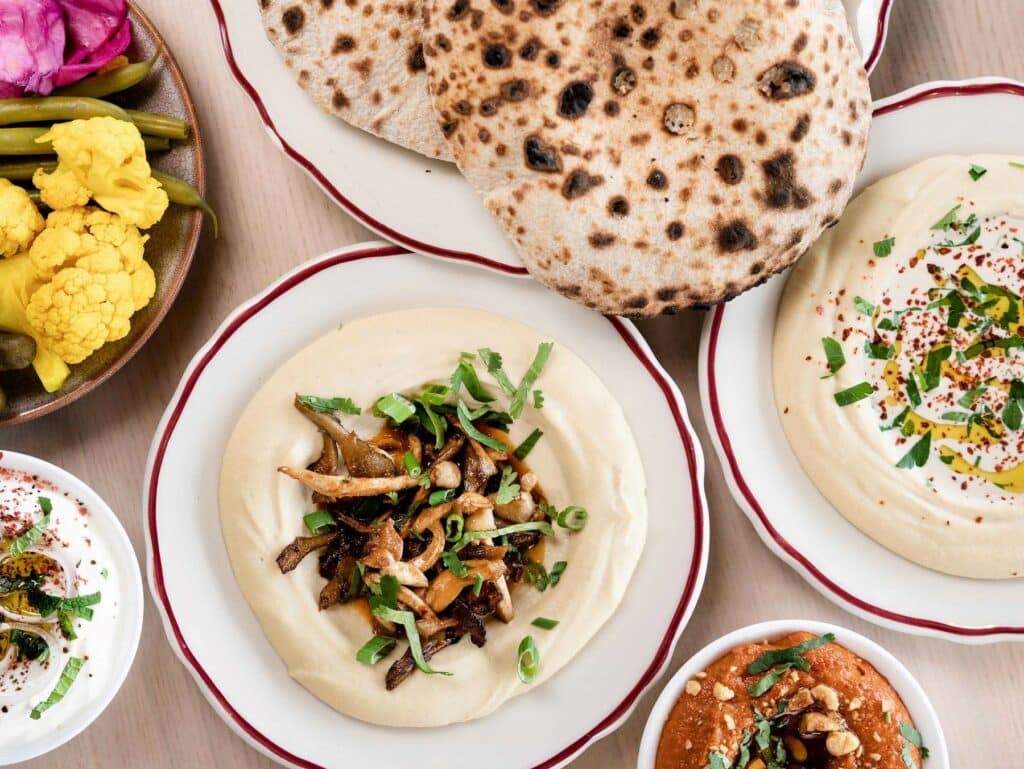 You'll be delighted by the delicious Mediterranean dishes at Safta, though none is more popular than the unassuming pita. This warm, house-baked bread is the perfect sponge to soak up Safta's incredible Israeli, Middle Eastern and Mediterranean sauces and dips. Pair it with labneh, muhammara, baba ganoush, and a variety of hummus flavors, like foraged mushroom and lamb ragu.
Pastrami or Corned Beef Sandwich at Rye Society
Address: 3090 Larimer St │ Restaurant Website │ Menu │ Price: $$ │ Book A Table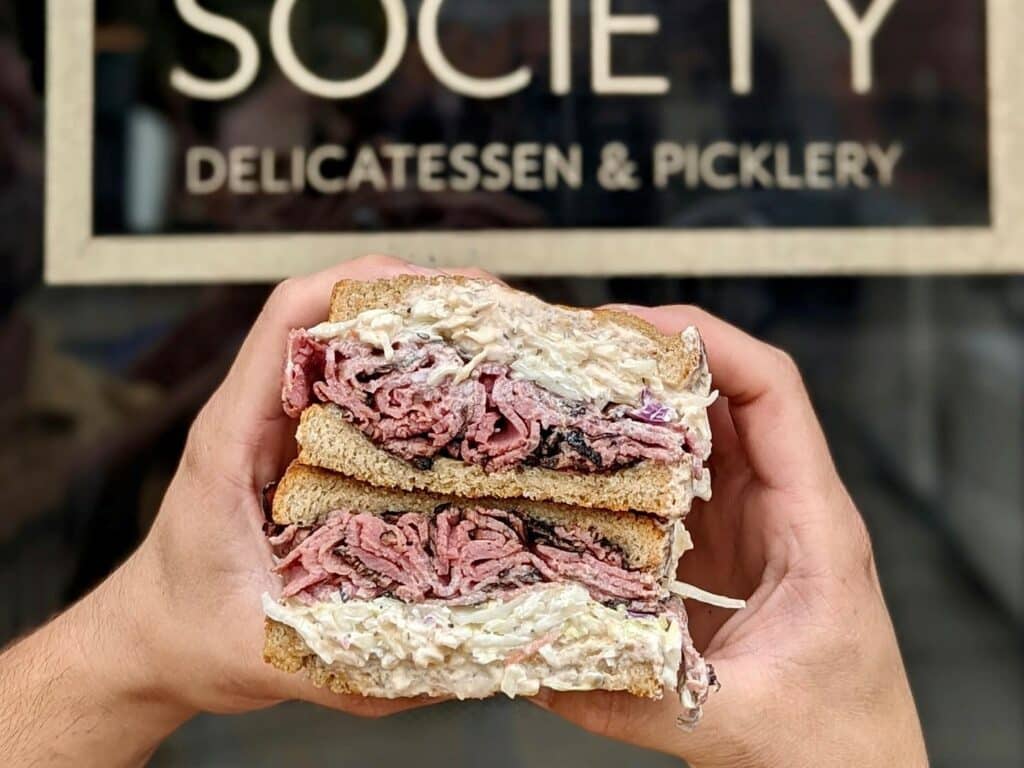 Rye Society is one of the best lunch restaurants in Denver, and the Jewish delicatessen makes a mean pastrami sandwich. This beef brisket is perfectly cured, smoked, and seasoned. It tastes even better with your choice of bread, cheese, sauce, and other add-ons.
But it's tough deciding what to eat in RiNo, especially at Rye Society. That's why we included a second worthy contender: its corned beef sandwich. This learner meat has a firmer texture, along with a rich and balanced flavor. Select your toppings, and definitely go with the matzo ball soup on the side.
Mochi Donuts at Dochi
Address: 2449 Larimer St │ Restaurant Website │ Menu │ Price: $$ │ Book A Table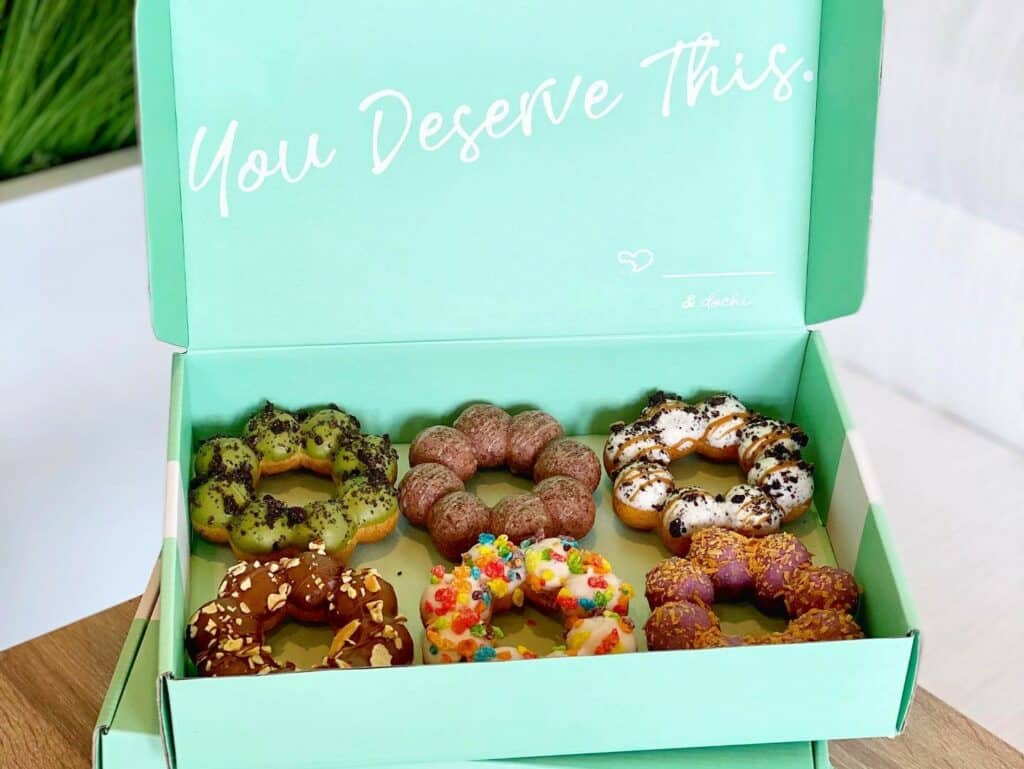 It'd be wrong to end this list of what to eat in RiNo with anything but dessert. And trust me, Dochi is a spot you won't want to miss.
This Japanese bakery specializes in mochi donuts, which are chewier than traditional fried donuts. They're made in a "Pon de Ring," with eight dough balls formed into the shape of a circle. This makes the confections easy to pull apart and share — which is great because you'll want to taste every flavor! 
Try unique options like matcha pistachio featuring green tea powder, and ube glazed, which is a sweet purple yam native to the Philippines. Other flavors include taro pebbles, coffee red velvet, hazelnut crunch, and so many more. On our RiNo Food Tour, we sample one of every flavor!