Denver's downtown is a compact and easily digestible if you're visiting for just a few days.
You don't need a car to explore a lot of the city and can see some amazing things on foot.
Here are our top 10 things to do in downtown Denver:
1. Hang with the Locals at Union Station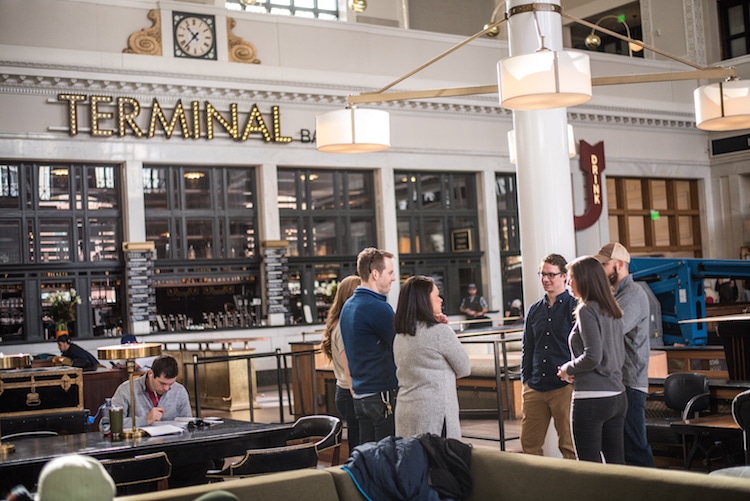 Originally built in 1880, this iconic city landmark sits in the center of LoDo or "lower downtown." Although the interior went through a full overhaul in 2014, the station has maintained some of its historic touches like the original benches that sit in the back, which date back to 1914, and the carved Columbine flowers (the state flower of Colorado), which line the arches overhead.
Visitors can eat or drink in the station with lots of great restaurant options from James Beard award-winning Denver chefs.
You can also pass an afternoon playing shuffleboard for free. Just check out the pucks at Terminal Bar.
2. Shop the 16th Street Mall
This commercial stretch is a great place to spend an afternoon shopping in downtown Denver. It's home to large department stores, and visitors will have fun interacting with the many street artists and performers that gather here.
Most of the 16th street mall is blocked off to cars, making it a pedestrian-friendly area of Denver's downtown perfect for strolling.
If you're on foot, take advantage of the mall ride that runs from the Capitol all the way across downtown to Union Station. You can hop on and off these buses at your leisure, and they're free to use.
3. Take a Food Tour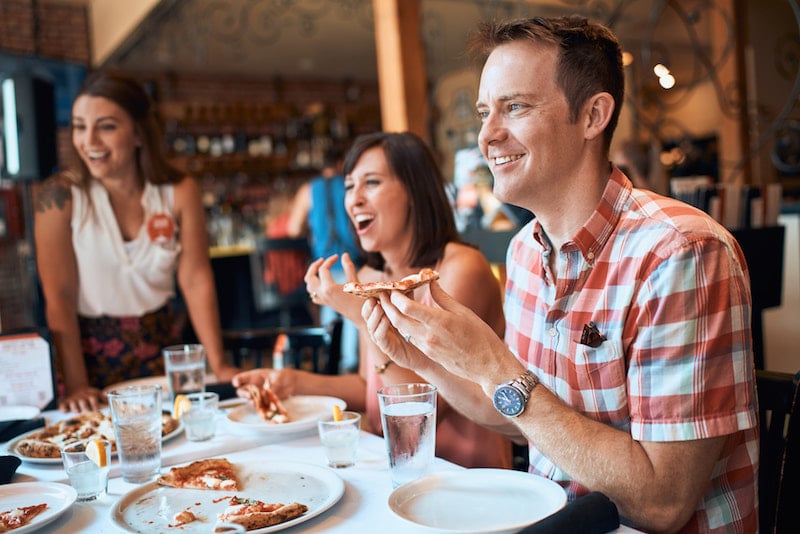 In recent years, Denver has joined the ranks of top foodie cities in the U.S. In fact, Zagat just ranked Denver the 4th Hottest Food City in America.
To take in some of the best and most unique dining in the city all in one three-hour period, we recommend a food tour.
This walking tour through downtown Denver features six tastings at local restaurants with historical stops along the way. You'll visit Coors Field, the city's first jazz club, the oldest hotel in Denver as well as the iconic Union Station.
Make sure you come hungry!
4. Visit the Big Blue Bear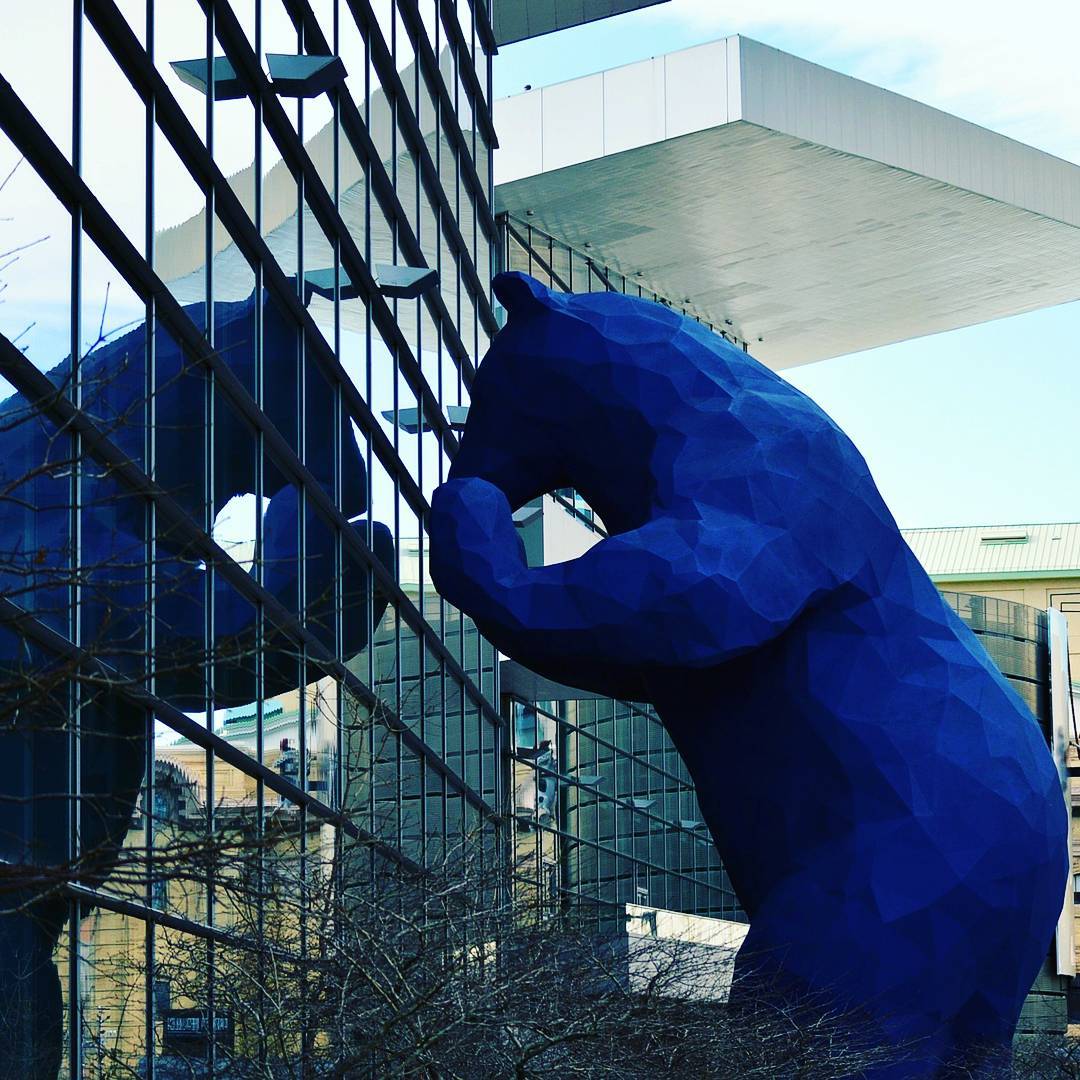 Peering into Denver's Convention Center downtown is our world-famous big blue bear. Standing at 40-feet tall, this sculpture is called "I See What You Mean" and is a playful icon for convention-goers inside as well as visitors out on the street.
Designed by local artist Lawrence Argent, the big blue bear is meant to bring a glimpse of the mountains into the heart of downtown and remind people of our unique proximity to the Rockies.
Fun fact: the bear was originally meant to be sandstone in color, but a printout came back mistakenly blue, and the artist liked the look better.
Of our top 10 things to do in downtown Denver, this should definitely make your list!
5. Stand on the Mile Marker at the Capitol
Famously known as the Mile High City, you'll see references to our elevation all across Denver. The city sits close to 5,280 feet above sea level, and there are plenty of opportunities to stand exactly on the mile marker.
One of those is at the Capitol at the southern edge of Denver's downtown. The steps leading into this historic building mark the elevation, allowing you to stand exactly one mile high in the heart of the Mile High City. This is a great photo-op for visitors.
In addition to the Capitol steps, there are plenty of other mile markers across downtown Denver, including one entire row inside Coors Field where baseball fans can sit at exactly one mile high while taking in a game.
6. Drink a Local Craft Beer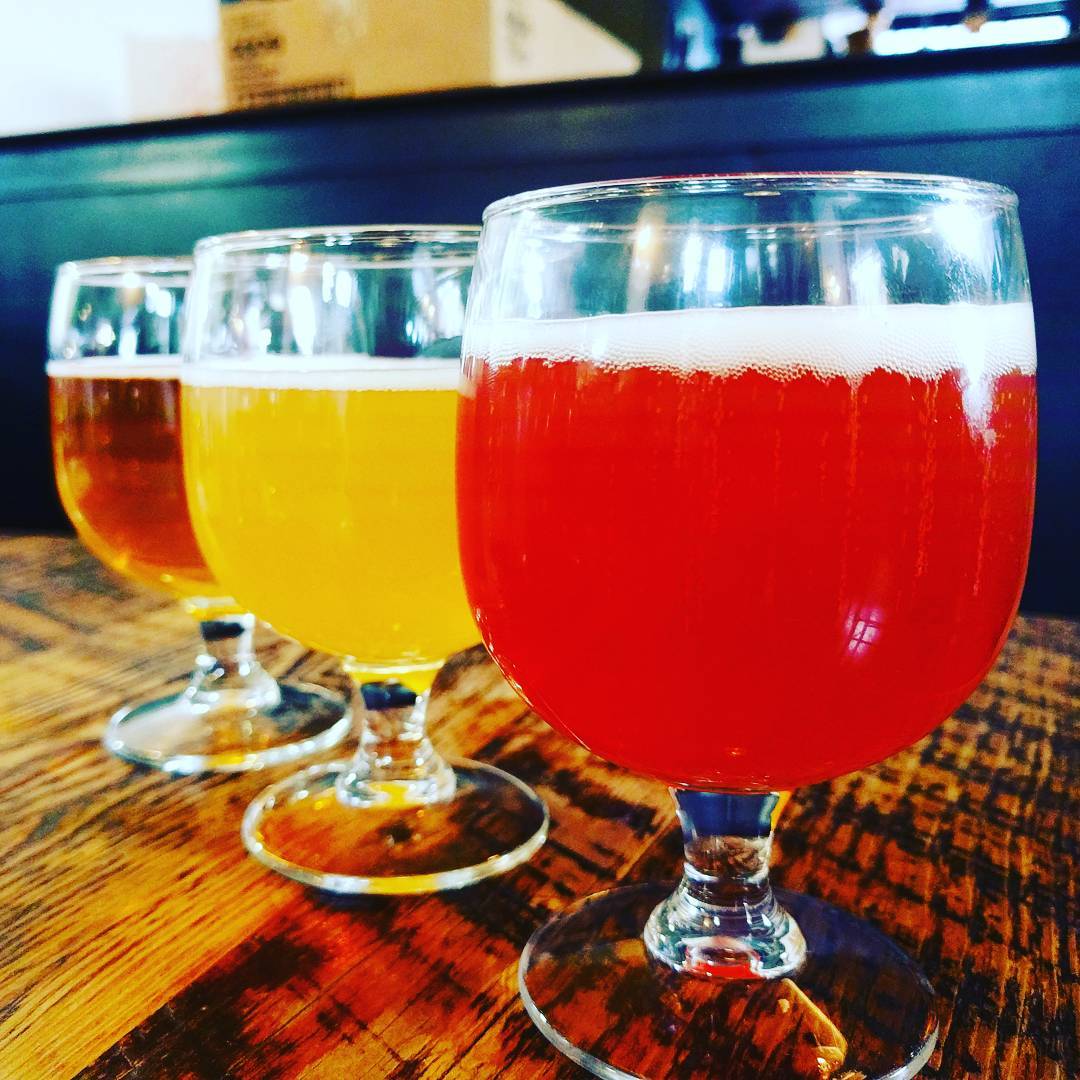 Colorado is home to the second most breweries in the country, so it's no surprise that Denver is a beer town at heart. There are hundreds of breweries in the downtown area, and the area is home to the Coors Brewery headquarters in Golden, CO.
If you're looking for a taste of the Colorado beer scene downtown, we recommend a stop at Wynkoop Brewery. Located directly across the street from Union Station, it was Denver's first brewpub opening in 1988 by the man who later went on to become Governor of Colorado.
Be sure to order tasters when you can so you can sip and savor lots of different local craft brews.
7. See a Rockies Game
Coors Field, home to our beloved Colorado Rockies, is situated in the heart of downtown Denver making it easy to catch a baseball game while you're visiting.
The stadium was originally built in 1995 and was constructed out of 1.5 million red bricks. It is the largest outfield in major league baseball. Denver's unique elevation means that a ball hit in our city goes farther than it would at sea level. To compensate, the outfield was enlarged in an effort to level out the playing field for hitters.
Tickets range in price, but tickets for the Rockpile, in center field, can be snagged for just $4.
8. Bike the Cherry Creek Trail
The Cherry Creek runs directly along the western edge of Denver's downtown and was the original reason our city streets were laid out diagonally instead of running north to south and east to west.
This bubbling brook is set lower than the downtown streets and features trails on either side for walkers, runners and cyclists.
There are trail access points every few blocks along Speer Boulevard, the road running parrallel to Cherry Creek. Grab a bike from Denver Bcycle, the city's bike sharing program, and you can ride across Denver's downtown along these trails.
9. Browse the Shops on Larimer Square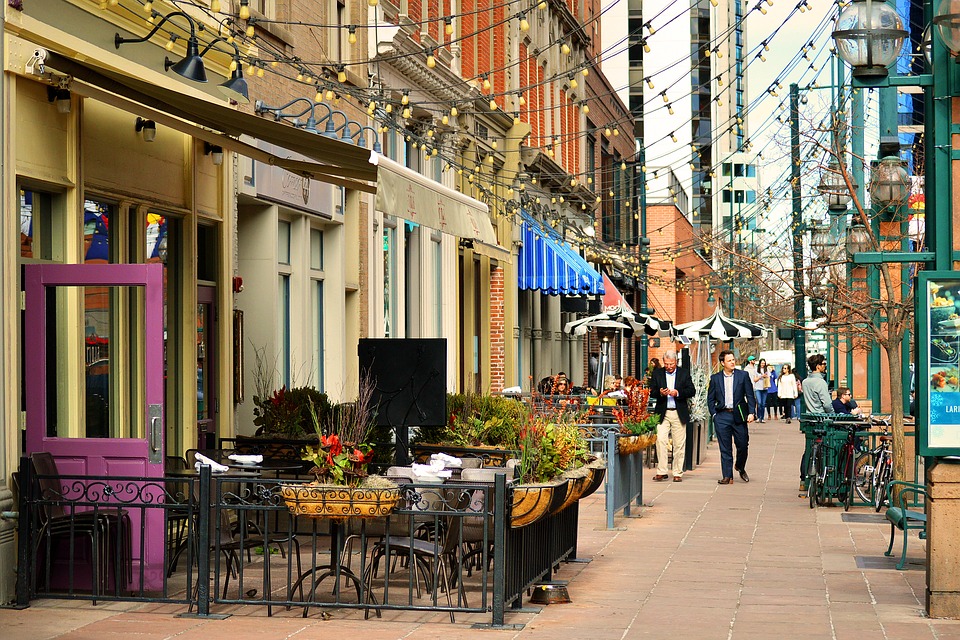 This historic strip is Denver's oldest block, and the architecture is worth a stop alone. Many of the buildings in Larimer Square date back to the 1800s and have been preserved over the years.
Visitors may look for a plaza or square given the name, but Larimer Square is merely a block of Denver's downtown on Larimer between 14th and 15th streets. You'll know it by its string lights overhead.
This block is home to some of the best restaurants in town as well as a number of local boutiques. Of all of the things to do in downtown Denver, don't miss a visit to this historic street.
10. Take in a Work of Art at the Denver Art Museum
Art lovers should take an afternoon to visit the Denver Art Museum or DAM, one of the largest galleries between the West Coast and Chicago.
The museum is known for its collection of American Indian Art and features 70,000 works from all over the globe.
Visitors can access the DAM for $13, but the museum also features free access every first Saturday of the month.
Join us on one of our daily food tours and discover downtown Denver one bite at a time.