If you're looking for things to do in winter, Colorado never disappoints. From ski resorts to winter activities like snowshoeing and even dog sledding, the nearby mountains are a winter wonderland.
If you'd rather stay in downtown Denver, the Mile High City offers amazing ways to celebrate the season from ice skating at the rink at Skyline Park to warming up with hot chocolate at the newly renovated Union Station.
We've got you covered with the best things to do in Denver in Winter:
1. Warm Up with Tea at the Brown Palace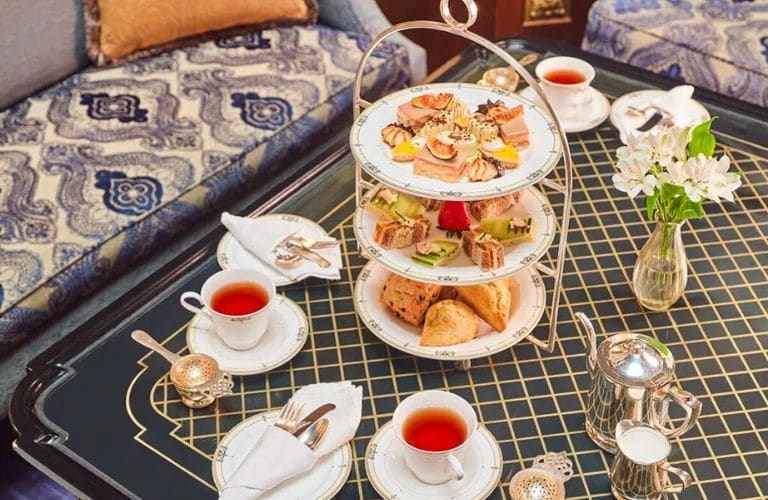 This iconic and historic hotel on 17th and Broadway has a stunning lobby with high tea offered daily in the afternoons from 12 – 4 p.m.
A live pianists plays throughout the afternoon, and you'll be treated to top notch service and beautiful spreads of freshly brewed herbal teas, scones and finger sandwiches.
You can even splurge for the champagne add on and make it a bubbly afternoon!
Visit around the holidays, and you'll see events like breakfast with Santa and a special Christmas tea offered. Reservations book up quickly for these events, so be sure to reserve your spots well in advance.
Learn more and make a high tea reservation here.
2. Eat Your Way through Denver on a Walking Food Tour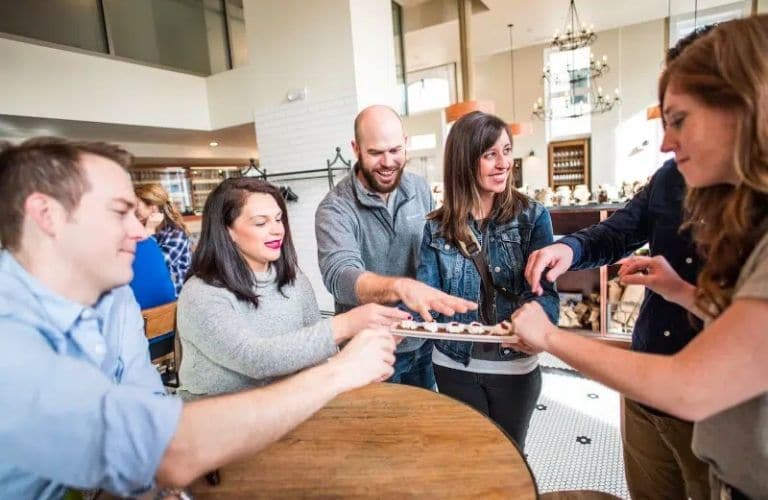 There's no better way to see a city than to taste your way through it.
These daily walking Denver food tours feature five delicious tastings at some of the most unique, award-winning local restaurants in the Mile High City.
A local foodie guide will introduce you to Denver's growing food scene, and you get to visit historic landmarks along the way.
You'll leave full and with a better understanding of how Denver locals live, eat and drink in the Mile High City.
Although these are walking tours, all tastings are seated and indoors, making this a great thing to do in Denver in winter.
3. Visit the Denver Aquarium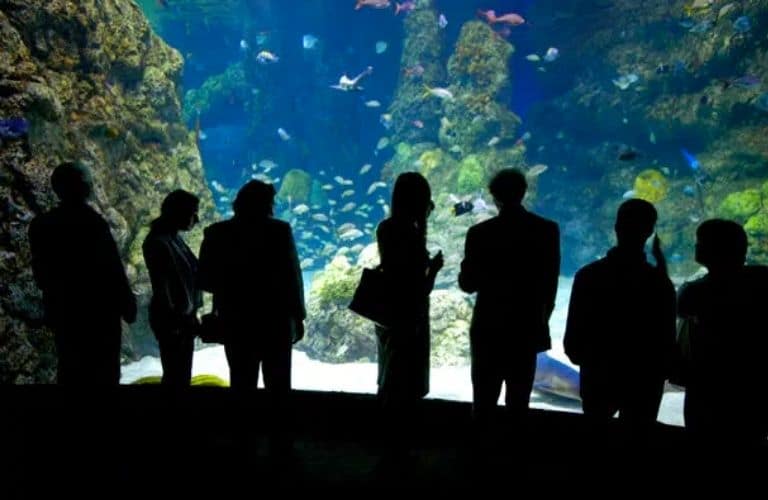 Located just north of downtown Denver, the Downtown Aquarium is a great place to spend a chilly afternoon in winter. The aquarium houses more than 500 species of animals and includes an interactive stingray reef touch tank.
When you're done making your way through the many underwater exhibits, pop into the Aquarium Restaurant for lunch or warm up with a drink from the Dive Lounge.
4. Go Ice Skating at Skyline Park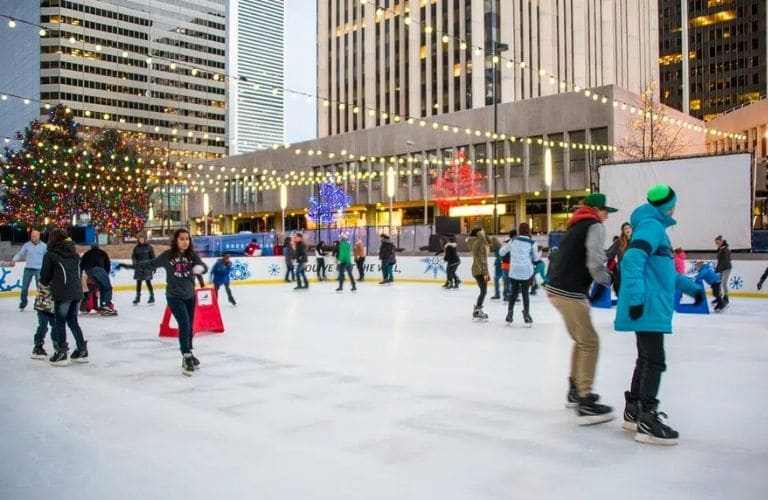 Open from November to February, the Downtown Denver Rink offers free ice skating at Skyline Park seven days a week.
This downtown Denver ice skating rink has hosted more than 400,000 skaters over the years and is a great option for families looking for fun things to do in Denver in winter.
While access to the skating rink is free, ice skate rentals are $7 for kids under 12 and $9 for adults 13 and older.
5. Visit the Denver Art Museum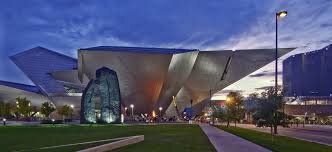 Art lovers should check out the newly expanding Denver Art Museum and its collection of more than 70,000 pieces of art.
Their collections feature everything from Pre-Columbian art to Western American art with visiting exhibitions on display all throughout the year.
Most notably, the Denver Art Museum is hosting Claude Monet: The Truth of Nature through February 2020, a renowned exhibit featuring more than 120 painting spanning Monet's entire career. Tickets to this temporary exhibit sell out quickly, and advanced reservations are highly encouraged.
Learn about the current exhibits and upcoming events here.
6. Taste Delicious Wines on the Denver Wine Walk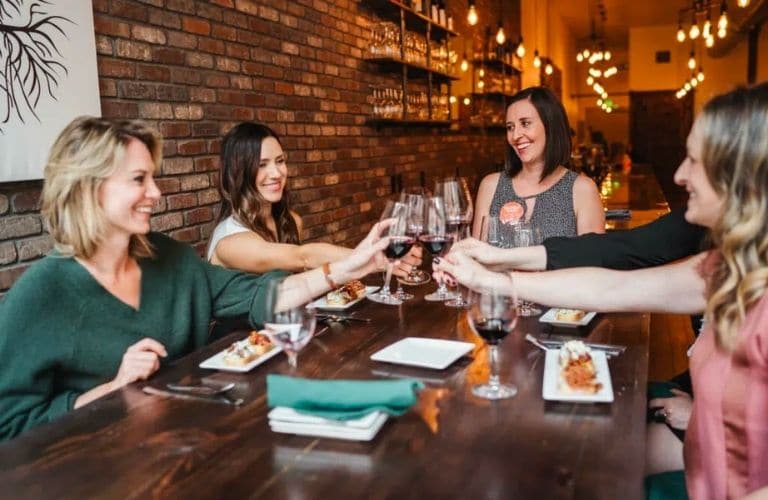 Sip, savor and walk through the heart of downtown Denver on this new tour featuring wines from some of the top urban wineries and wine bars in the Mile High City.
From flights to bites, you'll sample delicious wines carefully paired with food tastings at each of the three local restaurants you'll visit.
Accompanied by an experience local foodie guide, you'll walk the historic downtown streets, learn about the city's vibrant food and wine scenes, and visit sites like Union Station and the Dairy Block. You'll walk away with a taste of some of the best local spots, special discounts on bottles and wine clubs and a list of many other great local restaurants to visit.
7. Cheer on the Local Hockey Team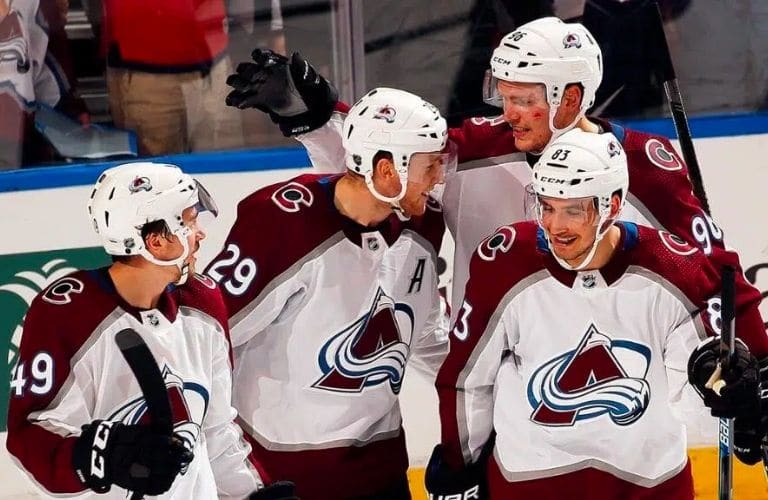 If you're a hockey fan, head over to the Pepsi Center to see the Denver's team, the Colorado Avalanche, play.
There isn't a bad seat in the stadium, and games are family friendly.
The team shares the stadium with our local basketball team, the Denver Nuggets.
Learn more about games and see their schedule here.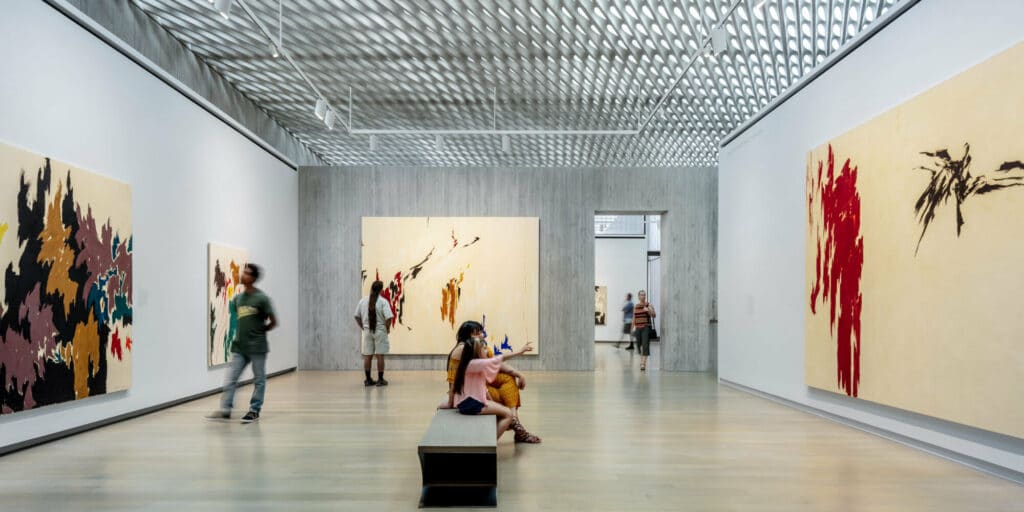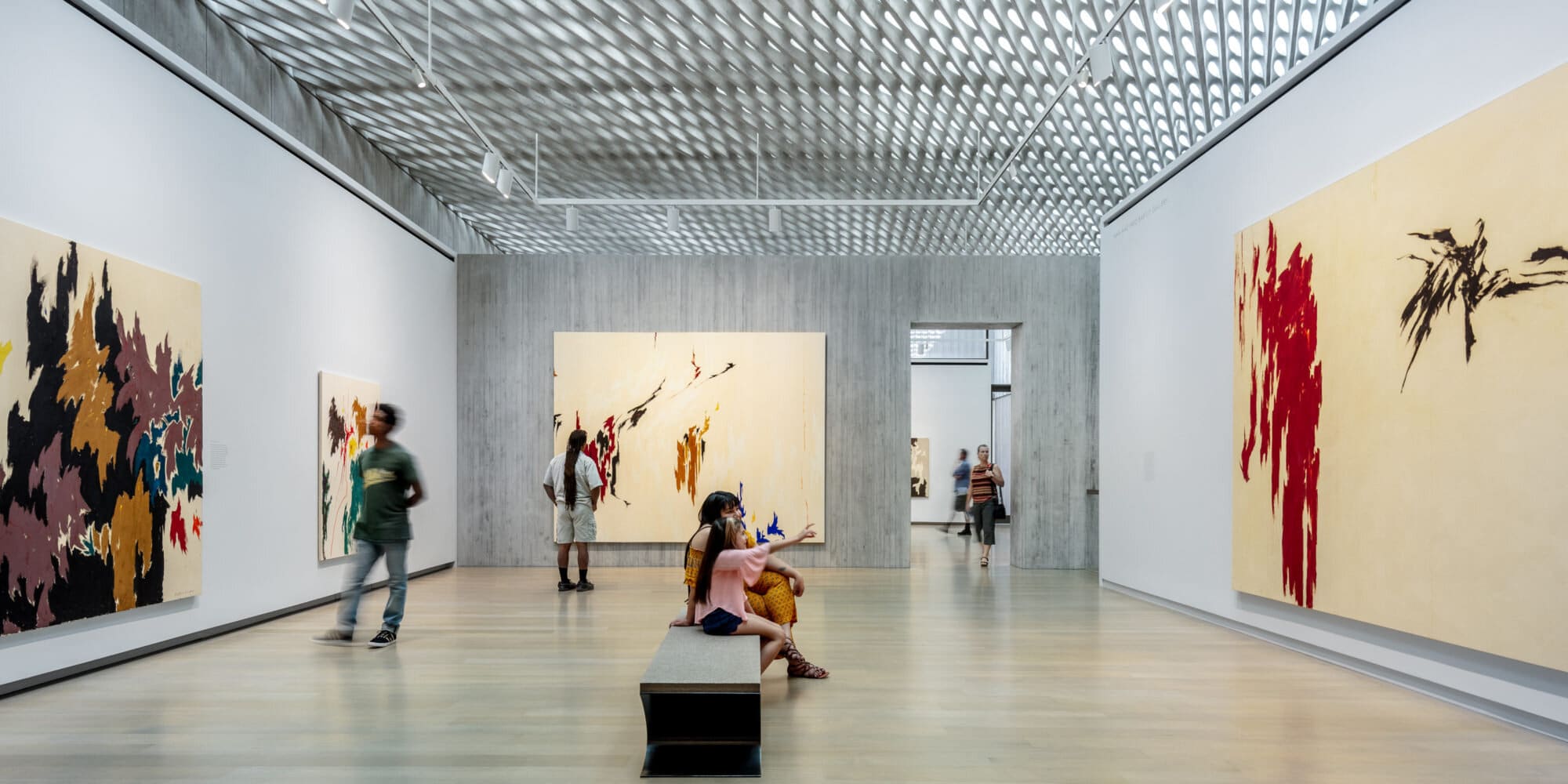 Head to the Clyfford Still Museum for one of the only chances to see the works of this great American painter on display.
He was part of the first generation of Abstract Expressionists but retreated from the art world during his life and stopped showing his work.
Now you can view his moving pieces of modern art in the Clyfford Still Museum, the only museum in the country dedicated solely to his work.
Learn more about the current exhibits, hours and admission prices here.
9. Take in Blossoms of Light at the Botanic Gardens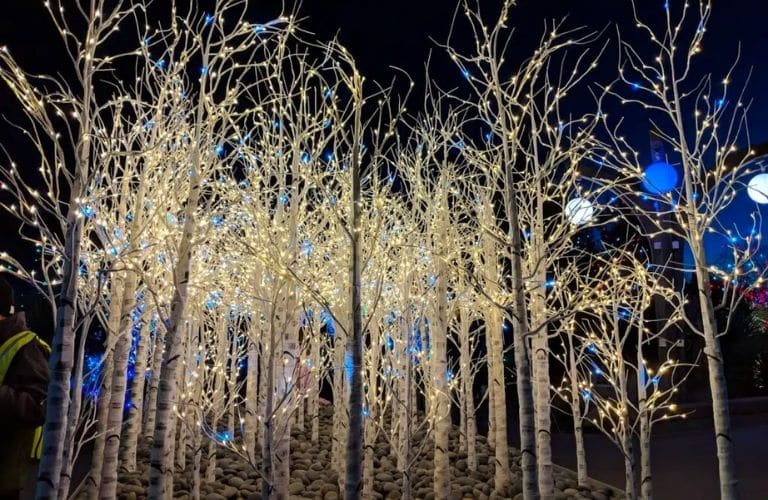 The Denver Botanic Gardens' signature event for over 30 years, this annual holiday lights festival transforms the York Street location into a twinkling winter wonderland.
With fresh and exciting new features every year including a 360-degree immersive light experience, the Blossoms of Light event is not to be missed.
Stroll the gardens and be sure to take a break for warm drinks, holiday treats or even dinner.
Perfect for families, holiday date nights or just a fun, festive winter activity with friends, be sure to purchase tickets well in advance.
10. Step Inside the New Mile High Tree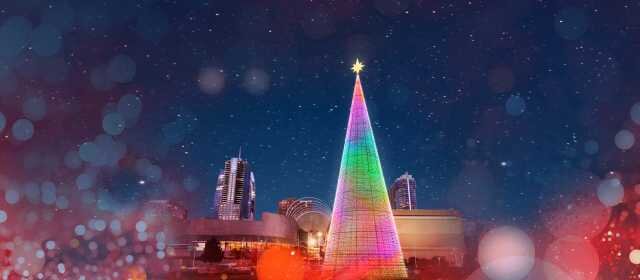 Denver's holiday season is getting bigger and brighter with a new addition downtown: the Mile High Tree. This brilliantly lit, 110-foot-tall immersive art installation will be open all season long in Sculpture Park at the Denver Performing Arts Center. The best part? Visiting is completely free.
You can take in the dazzling lights, enjoy the music show, which will play every 30 minutes, or even enter the tree itself and view it from the inside (it fits 140 guests inside at a time).
The Mile High Tree is new to downtown Denver in 2019 and will be a staple winter activity for years to come as it will be moved and housed in different parts of downtown each year.
11. Warm Up with Hot Chocolate at Union Station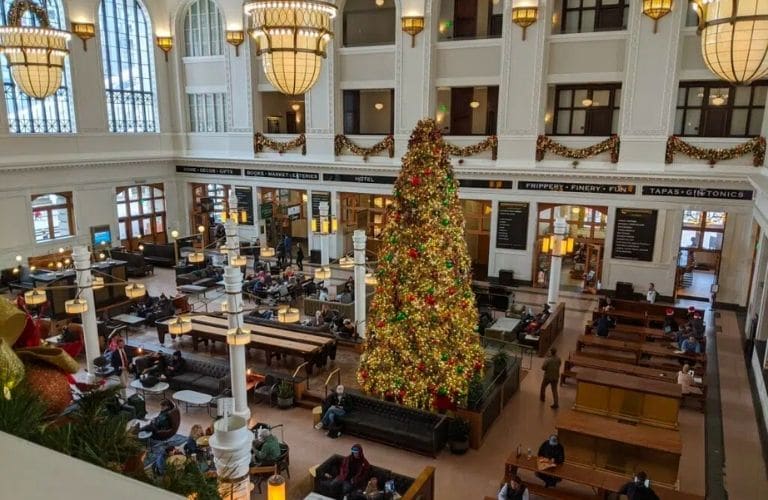 Take a break from holiday shopping downtown and warm up inside the newly renovated Denver Union Station, located in the heart of downtown.
Often referred to as "Denver's living room," this is a great spot to eat, drink, mix and mingle with locals and visitors alike. You'll see travelers coming and going from the active train platform in the back as well as locals sipping cocktails or enjoying a meal at one of the many award-winning restaurants inside the station.
Over the holidays, a massive Christmas tree dominates the Great Hall, and kids can meet Santa on the weekends as well.
Head over to Terminal Bar, once the train ticketing counter, Pig Train, the local coffee spot, or Mercantile Dining & Provisions for a hot chocolate.
12. Tour the Denver Mint
Learn the rich history of the United States Mint and see how billions of coins are produced each year on a free tour of the Denver Mint.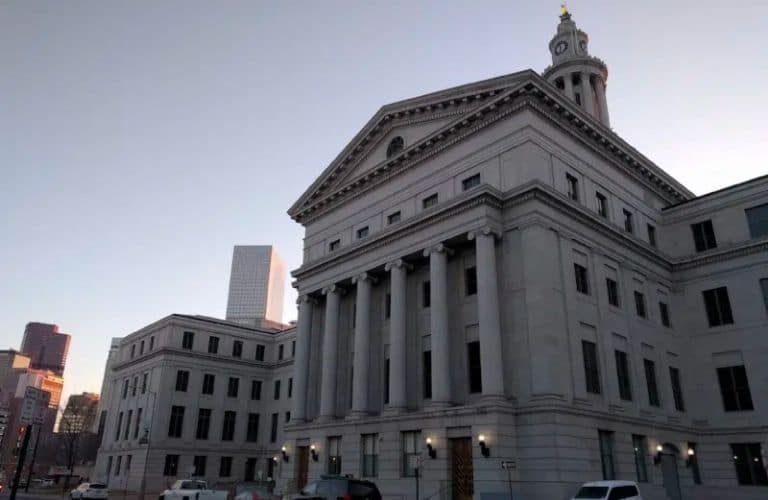 There are just four mints in the entire country, so this is a unique and free thing to do in Denver in Winter.
The tours last approximately 45 minutes, and there are six per day starting at 8 a.m.
Even though this is a free Denver tour, they often sell out, so we recommend going early to get in line and reserve your spot.
Learn more and see the Denver Mint tour schedule here.
13. Visit the Denver Zoo for its Annual Zoo Lights Event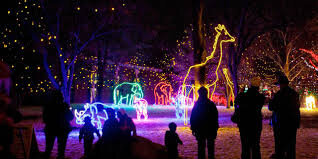 For 30 years, Zoo Lights has been transforming the Denver Zoo into a wild winter wonderland. Denver Zoo's annual display is one of the city's most popular, which means you'll want to prepare for crowds during busy times. In addition to the 60-acre display, there is live entertainment, select animal sightings, food and drink, Santa meet-and-greets and the zoo's signature "illuminated animated sculptures" throughout.
14. Escape to the Mountains for a Day Trip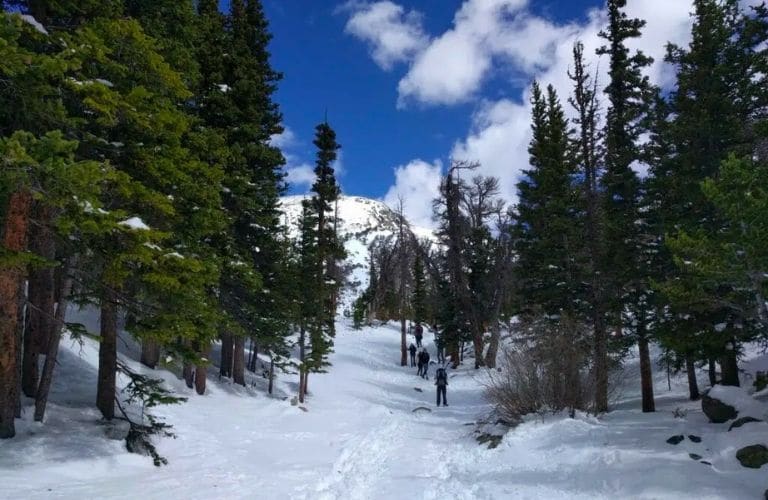 Colorado has a number of world-class ski resorts within a couple hours drive of Denver. Whether you're a novice or expert, everyone is sure to enjoy a beautiful day skiing in the Rockies.
Not a skier? Not to worry! From snowshoeing to dog sledding, there's still plenty to enjoy in the mountains.
We love Breckenridge, Vail and Winter Park for day trips.
To learn about the best ski towns in Colorado, click here.
15. Sip and Savor Denver's Best Cocktails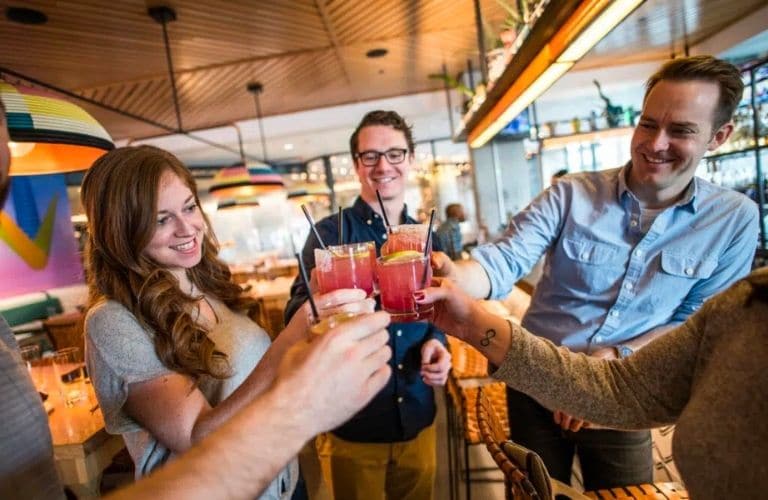 Visit some of the best cocktail bars in Denver on this roving adventure through the heart of downtown.
From a light and crisp spritz to a smooth and serious Butter Pecan Old Fashioned, there's something for everyone on this boozy Denver cocktail tour.
Visit four of the best cocktail bars and restaurants in Denver and sample 4 cocktails paired with small plates at each stop. 
16. Learn and Explore at the Denver Museum of Nature and Science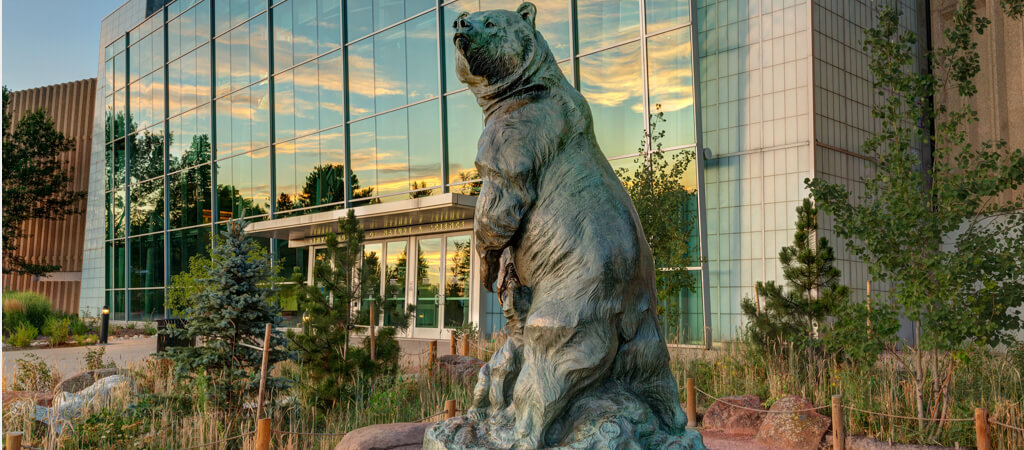 Located inside City Park, the Museum of Nature and Science offers a number of set and rotating exhibits for the whole family.
Check their website to see upcoming free days, and be sure to visit the fourth floor desk for one of the best views of downtown Denver!
Learn more about the museum and buy tickets here.
17. Attend the Annual National Western Stock Show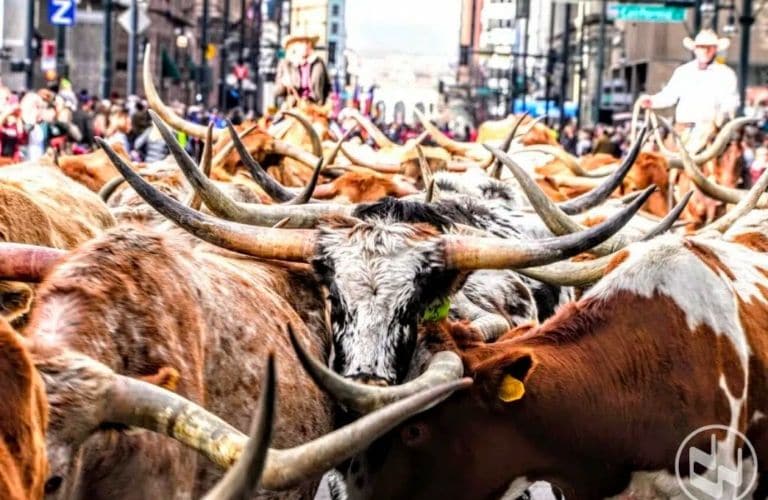 If you find yourself in Denver January 11-26, 2020, be sure to make plans to attend one of the city's largest annual events: the National Western Stock Show and Rodeo. Held each year in January since 1906, the Mile High City hosts this premier livestock, rodeo and horse show over 16 days. Included in the event is the National Western Stock Show Kick-off Parade, which takes place by Union Station and features 30 Longhorn cattle walking through the streets of downtown Denver.
This annual event is not to be missed and fun and unique thing to do in Denver in winter.
18. Enjoy a Wintery Hike at Red Rocks Amphitheater
Just 10 miles outside Denver, this open-air amphitheater has been built into the mountainside with huge vertical rocks jutting out from around the stage.
The space has held concerts for over 100 years and been host to bands like The Beatles, U2, Radio Head and the Grateful Dead.
There are shows offered at the Red Rocks Amphitheater throughout the year and a number of great hiking trails around the area.
Visit during the day, and you can even hop right up onto the stage and stand in the spot that legends like Jimi Hendrix performed.
Learn more and check out upcoming concert schedules here.
---
Exploring the Mile High City this winter?
Experienced, local guides

Delicious tastings at award-winning Denver restaurants

Fun, small groups of fellow foodies and travelers