Denver locals, like ourselves, and even major media outlets agree that the River North Art District is the city's hottest neighborhood. Every trendy brewery, retail shop, and live music venue is decorated with street art. Its diverse residents give it a lively, friendly atmosphere where all feel welcome.
In this guide, we'll point you to the absolute best things to do in RiNo, Denver. It features activities for every interest and budget, from museums to nightlife and everything in between. And, of course, there are plenty of foodie experiences — including our highly-rated RiNo Food Tour!
Our Favorite Things to Do in RiNo
Experience Denver Central Market at All Hours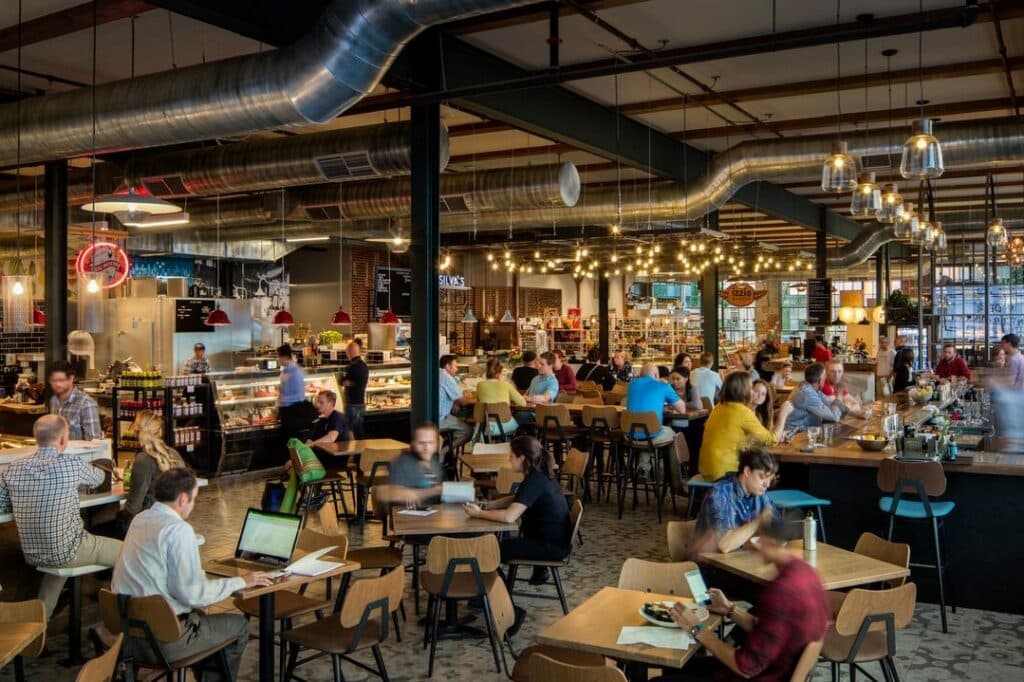 Home to several of the city's best restaurants, Denver Central Market is busy at all times of the day. In the morning, pop in for breakfast bowls and pastries at Izzio Bakery. Its Colorado Queen bun is a personal favorite of Nate's, co-founder of Delicious Denver Food Tours.
For lunch, order an artisanal wood-fired pizza from Vero. Then, stop by Temper Chocolates and High Point Creamery for dessert — trust us, you'll want to experience both.
Denver Central Market also offers one of the best happy hours in Denver. Every weekday from 2 – 6 pm, Curio Bar discounts its house wine, draft beer, and classic cocktails. Complete the evening with a walk down a (well lit) alley, decked with some of the neighborhood's best street art. You'll find this showcase just around the back of the building.
Get a Taste of the Neighborhood on Our Rino Food Tour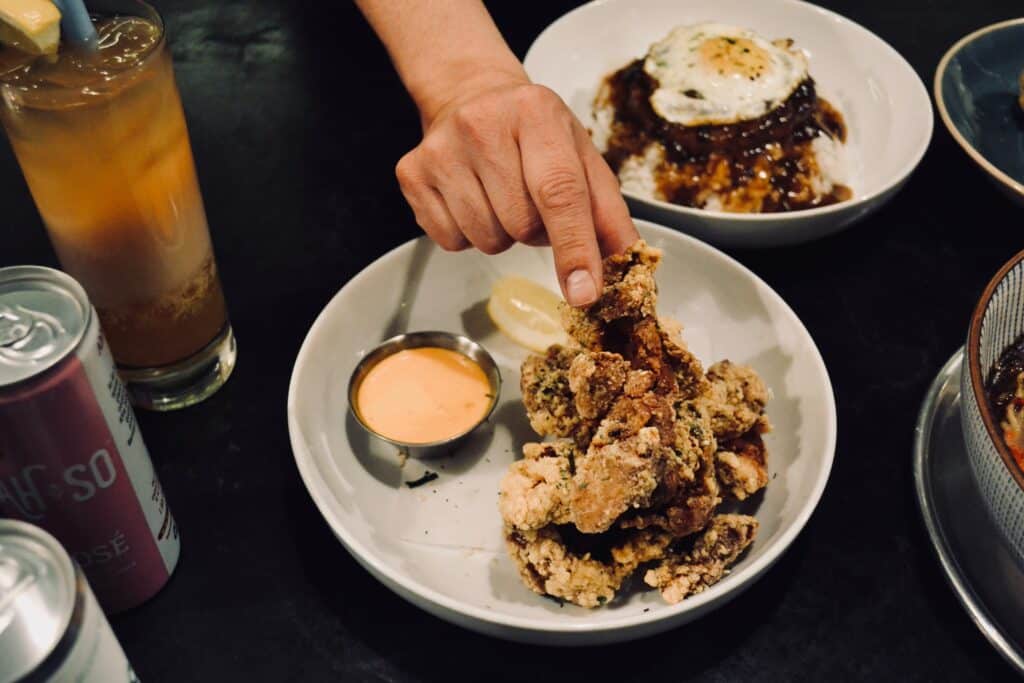 We're just getting started on this list of things to do in RiNo. But already, you're likely overwhelmed by its number of delicious eats!
To experience five of the neighborhood's top restaurants, consider joining our RiNo Food Tour! Drink pairings are optional on this three-hour experience, but the menu may tempt you to opt in.
First, your local foodie guide will transport you to Italy with samples of housemade burrata and a bubbly pour of Aperol spritz. You'll then be taken to an authentic Japanese eatery, and served fried chicken kara'age with spicy mayo. A locally-brewed rice lager tones down the heat.
New York-style pizza with sourdough crust follows, and then street tacos with a refreshing margarita. We head to a bakery for dessert, where you'll taste every mochi donut flavor available — and there's a lot of them!
Expect to leave not only full, but also more educated about the neighborhood's past and present. The tour also highlights several of RiNo's most iconic murals and street art.
Toast Any Occasion with a Rooftop Cocktail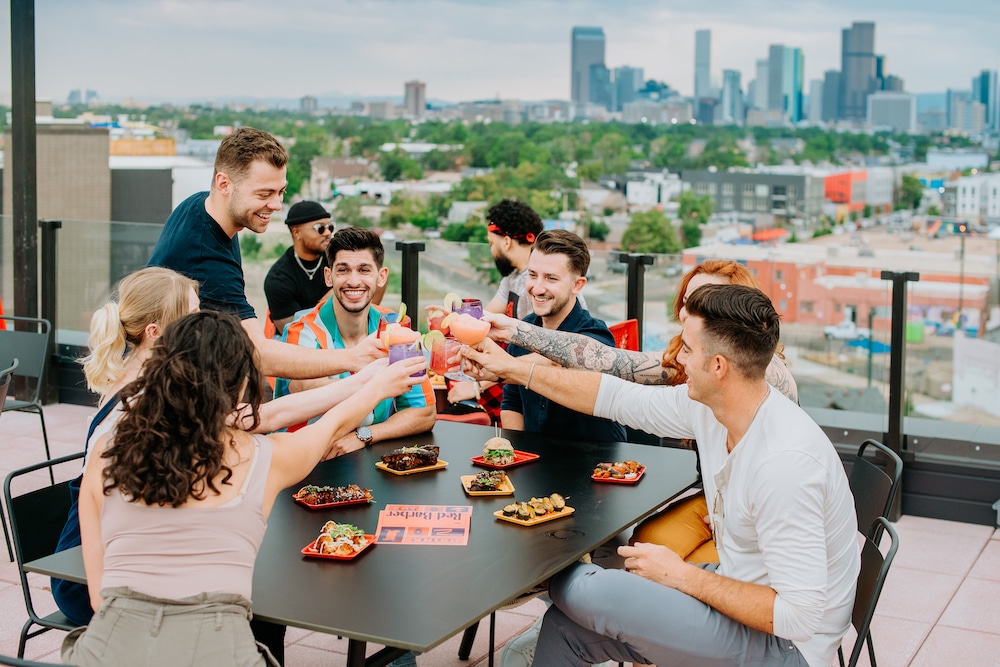 Given its booming culinary scene, it's no surprise that some of Denver's best rooftop restaurants are in RiNo. The neighborhood is set just north of downtown, which affords stunning views of the city skyline.
To take in the scenery, head to the eighth floor of The Source Hotel. Here, you can dine al fresco at The Woods. Its menu features experimental New Belgium brews and elevated New American fare.
The Red Barber is another solid choice, located on the CatBird Hotel rooftop. Its globally-inspired small plates pair perfectly with creative cocktails and good company.
Sample Spirits at Local Distilleries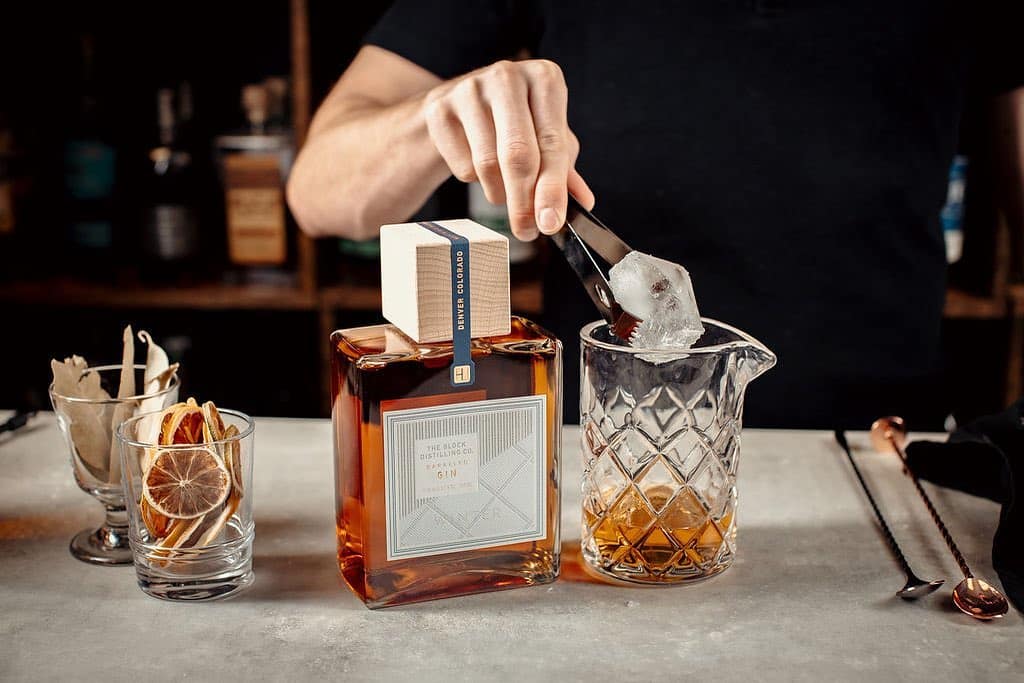 If you're a fan of boozy beverages, you'll also be delighted by RiNo's small-batch distilleries. The Block Distilling Co. is loved for its housemade spirits, including vodka, bourbon, and seasonally-inspired gins. Each bottle is stylishly packaged and makes for a lovely gift.
Down the road, Ironton Distillery & Crafthouse takes pride in its "farm to flask" spirits, which feature locally-sourced ingredients whenever possible. Various whiskeys, bourbons, gins, and rums are featured on its menu. Sip a glass on its relaxing and spacious backyard patio.
Or, if you're looking for something more upbeat, check out Mile High Spirits. While technically in nearby Ballpark, this distillery's dance club atmosphere is worth mentioning. Enjoy DJs and silent discos on Friday and Saturday nights, or indulge in a bit of day drinking on a distillery tour. Free whiskey samples are included!
Visit the Many Wine Tasting Rooms in RiNo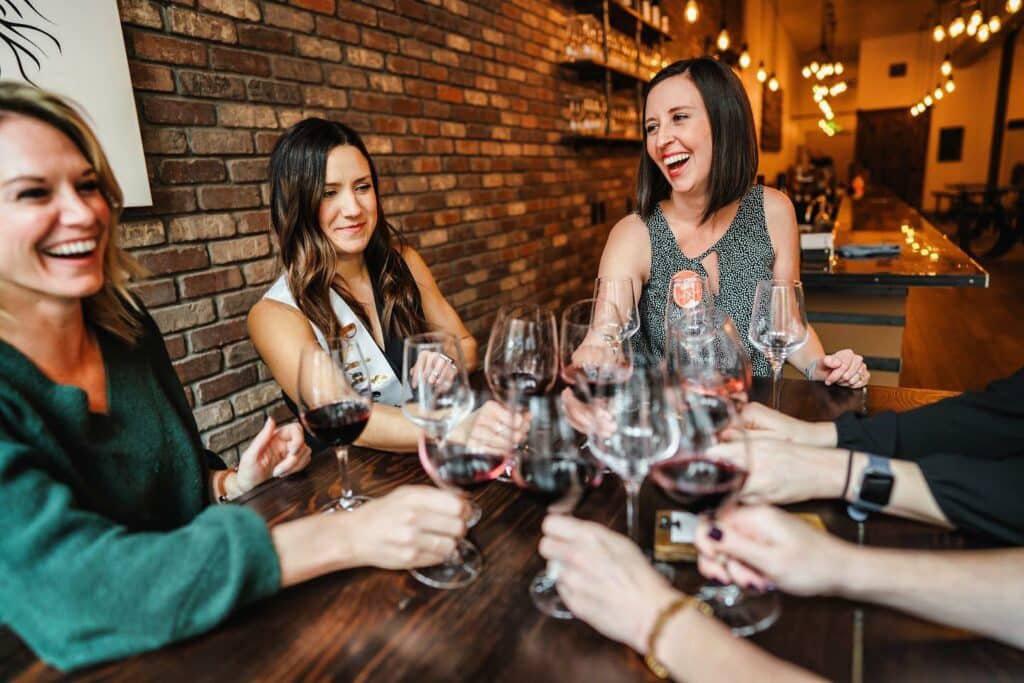 Perhaps wine is your palette's preference. Lucky for you — you'll find no shortage of incredible tasting rooms in this neighborhood. This includes Noble Riot, found just around the corner from Denver Central Market. When weather permits, opt to sit outdoors in its trendy, art-decorated alley. Its unique orange wines are oh-so refreshing on a summer afternoon.
Colorado Sake Co. also takes a unique approach to winemaking. It specializes in traditional rice wines, as well as Colorado-inspired versions like horchata and honey-lavender. For those that want to express their own creativity, join a wine blending class at Bigsby's Folly.
Barcelona Wine Bar allows you to craft your own flight. It also offers one of the best Denver happy hours for wine drinkers. Meanwhile, Infinite Monkey Theorem, the city's first urban winery, is great for taking your drinks to-go. Its canned wines are a favorite among locals.
Lastly, there's Deep Roots Winery, which ages its wines in-house. To learn more about its process and philosophy, consider joining a tour. In fact, it's sometimes a stop on our own Denver Wine Walk!
Picnic at Mestizo-Curtis Park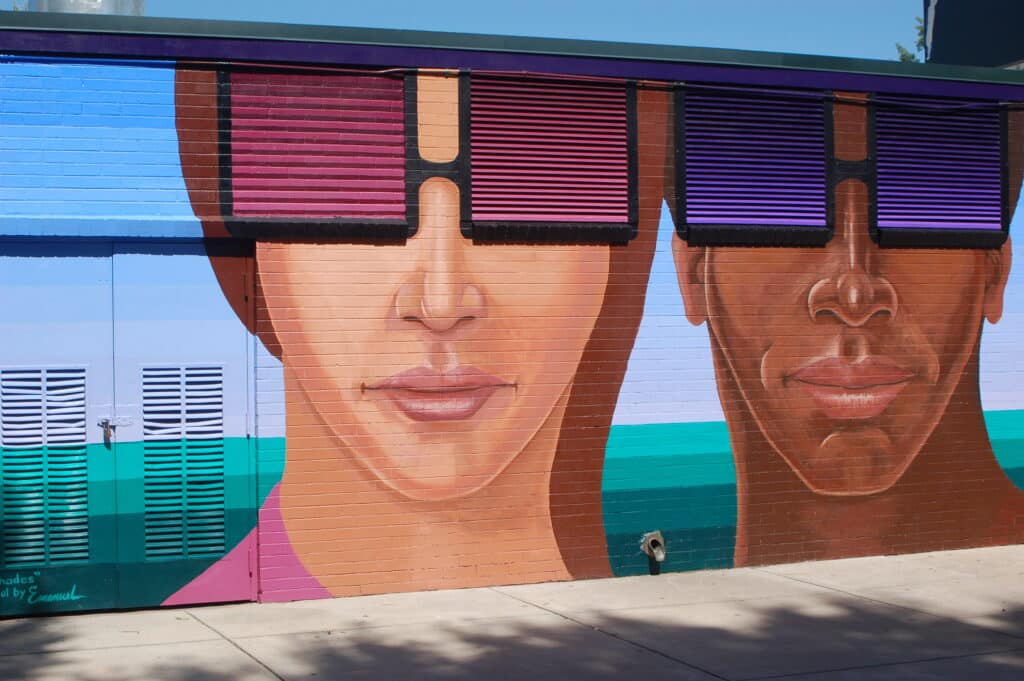 Founded in 1868, Mestizo-Curtis Park is the oldest park in Denver. It was named such in honor of Samuel Curtis, one of the city's founders. In 1987, "Mestizo," which refers to someone of mixed heritage, was added to recognize the neighborhood's diversity.
The Eyes on the Park mural, completed in 1971 by Emanuel Martinez, further highlights the multicultural community. In addition, the nine-acre green space features tennis courts, a pool, and a children's playground. It's a lovely place to have a picnic on a warm, summer afternoon.
Admire Antique Vehicles at the Forney Museum of Transportation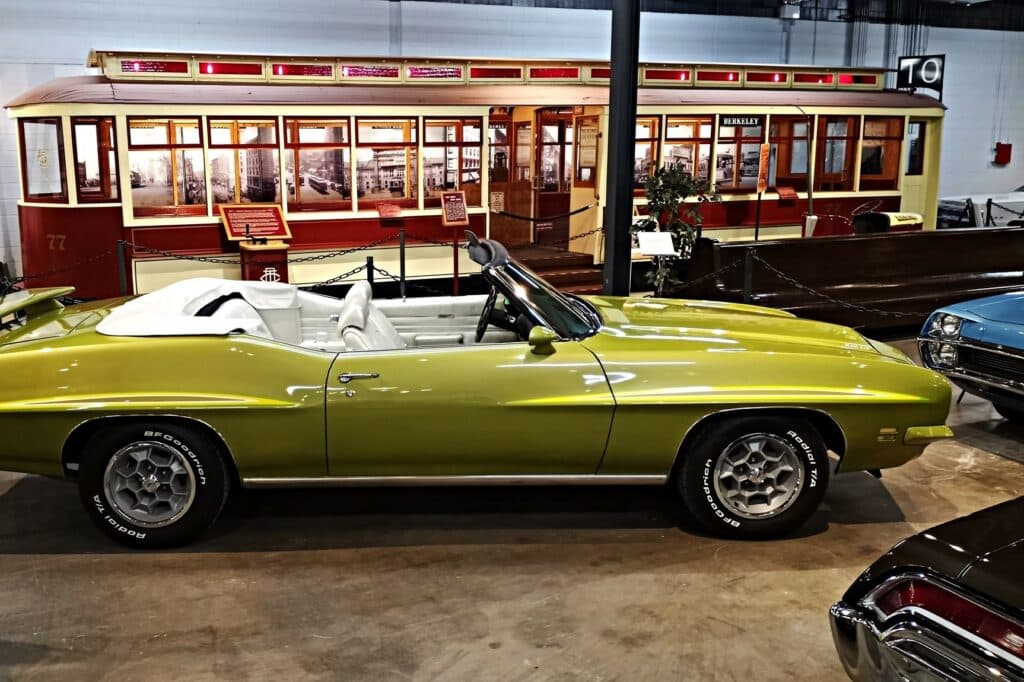 The Forney Museum of Transportation is a local non-profit that displays all types of historic vehicles. Since 1921, it's amassed more than eight hundred artifacts. Its collection ranges from antique automobiles and motorcycles to steam locomotives and aircrafts.
Signage throughout the museum educates visitors on each mode of transportation's significance. Enthusiasts can also attend its monthly lecture series. It overviews industry pioneers, local history, and more fascinating topics.
Attend an Event at the National Western Complex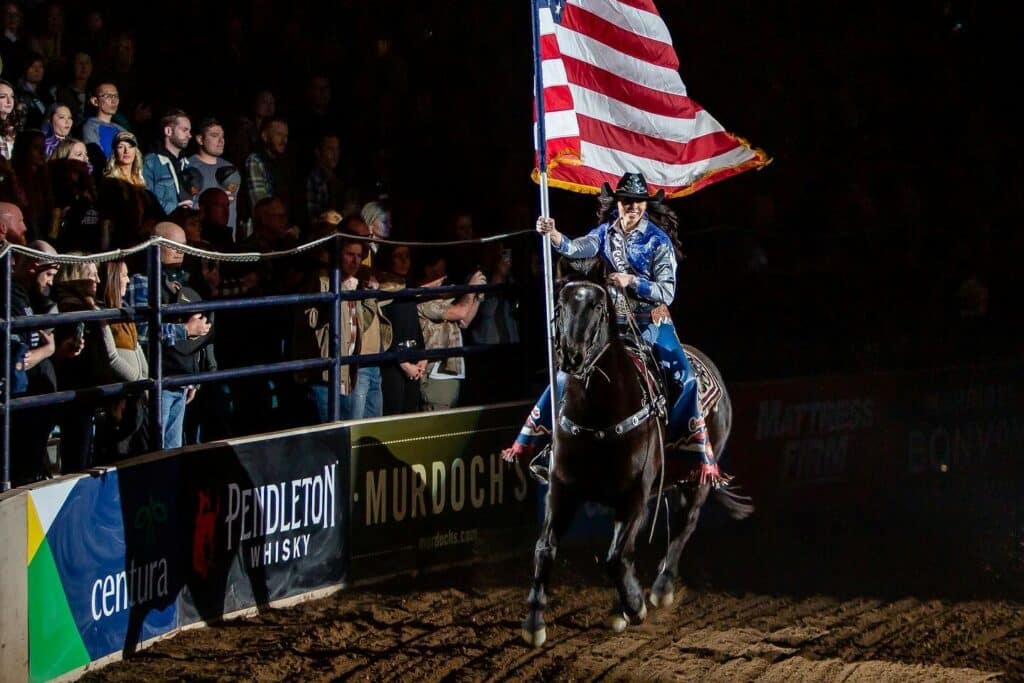 The National Western Complex is one of Denver's largest venues. It encompasses 600,000 square feet and can accommodate more than 10,000 visitors at a time. Year-round, it hosts a variety of public events, industry conventions, concert series, and more.
It's most known as the annual location of the National Western Stock Show, which occurs in early January. Other noteworthy events include the Denver Home Show and the Mile High Showdown Car Show. The Denver Mineral, Fossil, Gem & Jewelry Show is another recurring favorite.
Shop Local at Modern Nomad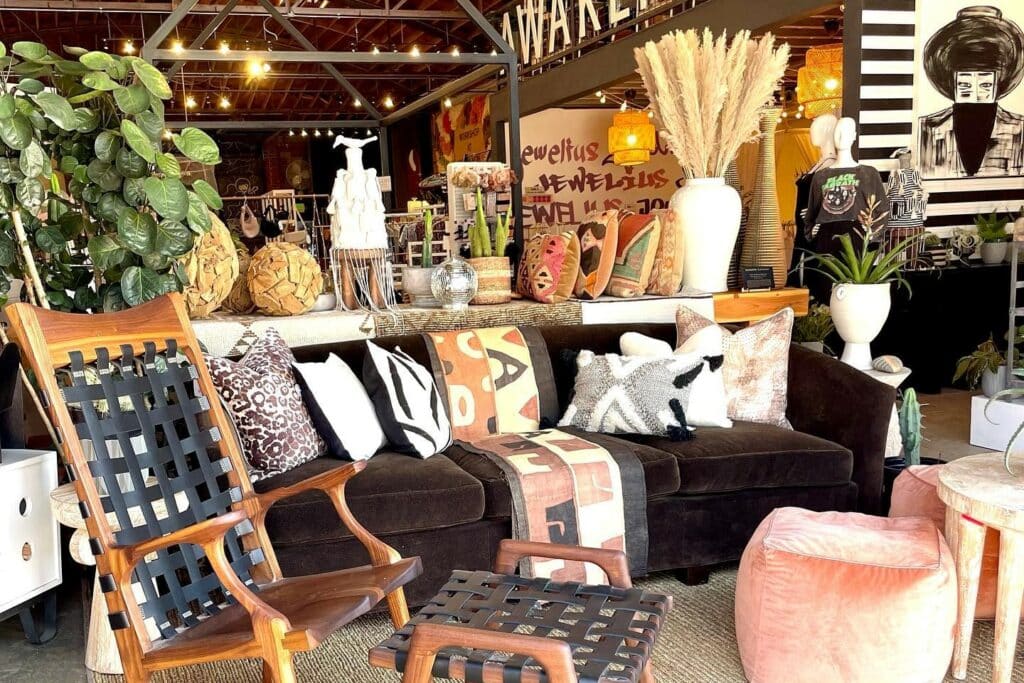 Did your eyes light up when you read about the Denver Home Show above? Fortunately, no matter when you're in Denver, you can find interior design inspiration at Modern Nomad — plus so much more!
Creativity abounds at this gorgeous design collective. Its local vendors sell a variety of homegoods, including furniture, textiles, kitchen wares, and decor. Jewelry, apparel, skin care products, and other items round out the selection.
Modern Nomad prides itself in being "more than a store," and often hosts events in RiNo. These include omakase dinners, block parties with pop-up vendors, and engaging art workshops.
Discover Local Art and History on a Denver Graffiti Tour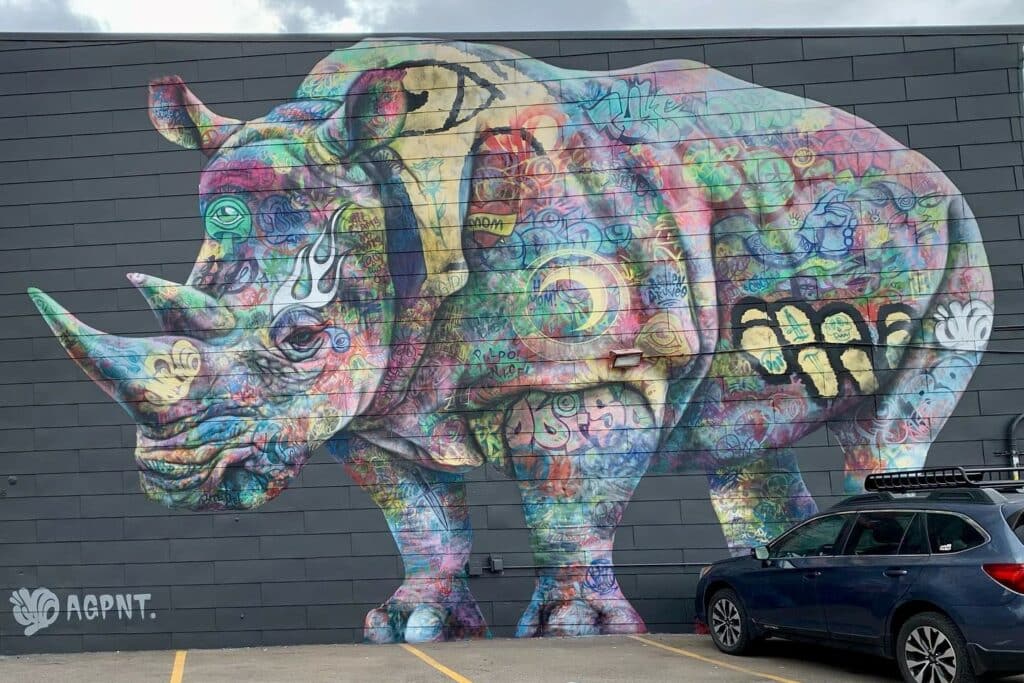 Aptly named, the River North Art District features street art around every corner. Vibrant murals and graffiti speak to the history and culture of the area, which you can learn more about on one of the city's best tours.
The two-hour, information-packed Denver Graffiti Tour celebrates local artists and their work. Both residents and tourists are known to attend, and this also happens to be one of the best things to do in Denver with kids. No matter your age or familiarity with the city, you're sure to walk away with a greater appreciation of this storied neighborhood.
Bonus: this tour ends at Denver Central Market.
Peruse the Art Galleries in RiNo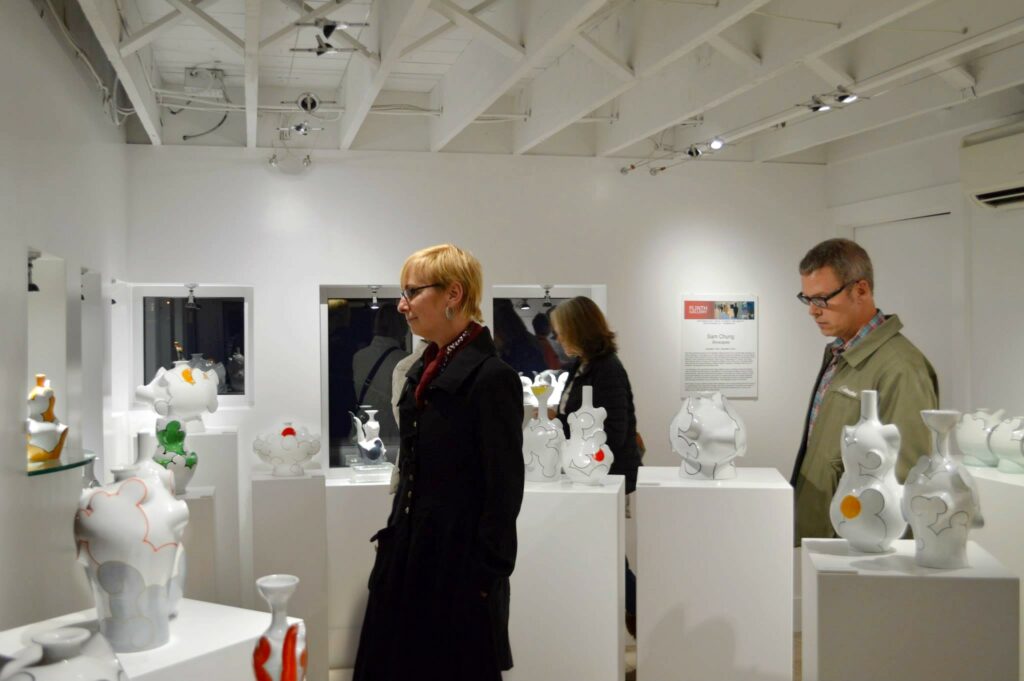 RiNo may be known for its street art, but creativity lies inside its many galleries and studios, too. Plinth Gallery showcases contemporary artists' pottery and sculptures. Alto Gallery is a block west, home to several rotating exhibitions. Various mediums decorate the walls and podiums, each celebrating local abstract artists.
You'll find a similar variety past the brick façade of Foolproof Contemporary Art Gallery. Its curated space rotates exhibits every three months. It also hosts special events, including opening receptions for new displays.
Sip Wine and Muse Over Art on First Fridays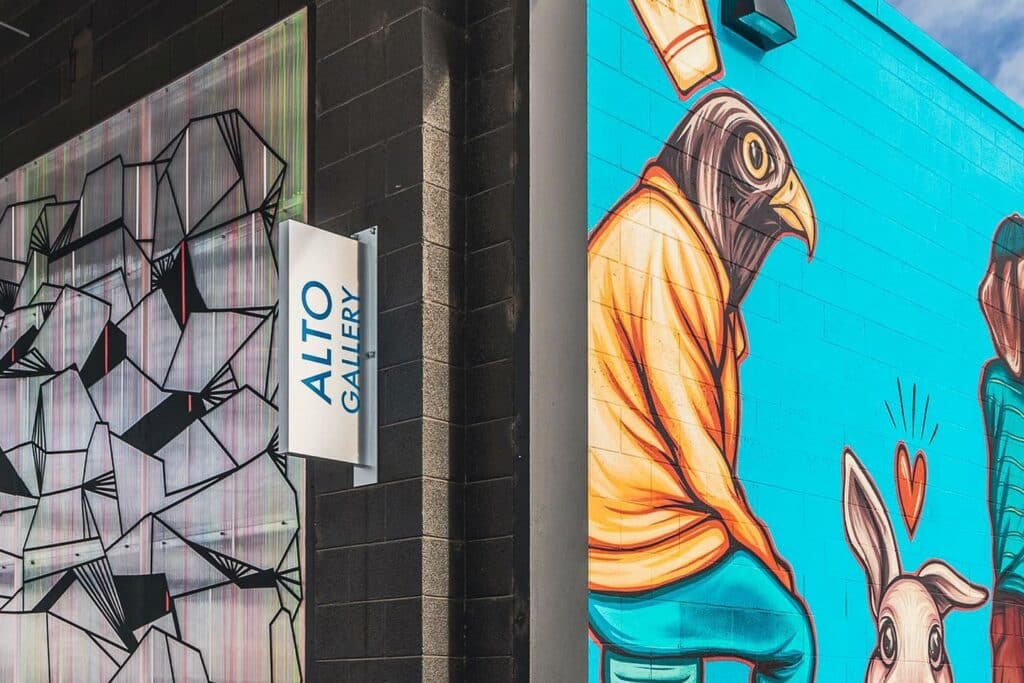 First Fridays are an especially ideal time to visit RiNo's various galleries. Seasonally, on the first Friday of every month, locals make it a point to appreciate the neighborhood's art community.
On these special evenings, several studios host openings, live music, and other engaging events. Local culinary businesses often double as galleries for the evening, too. If you're looking for date ideas in Denver, few can compete with sipping wine and musing over art in all its forms.
Dine to the Sounds of Jazz at Nocturne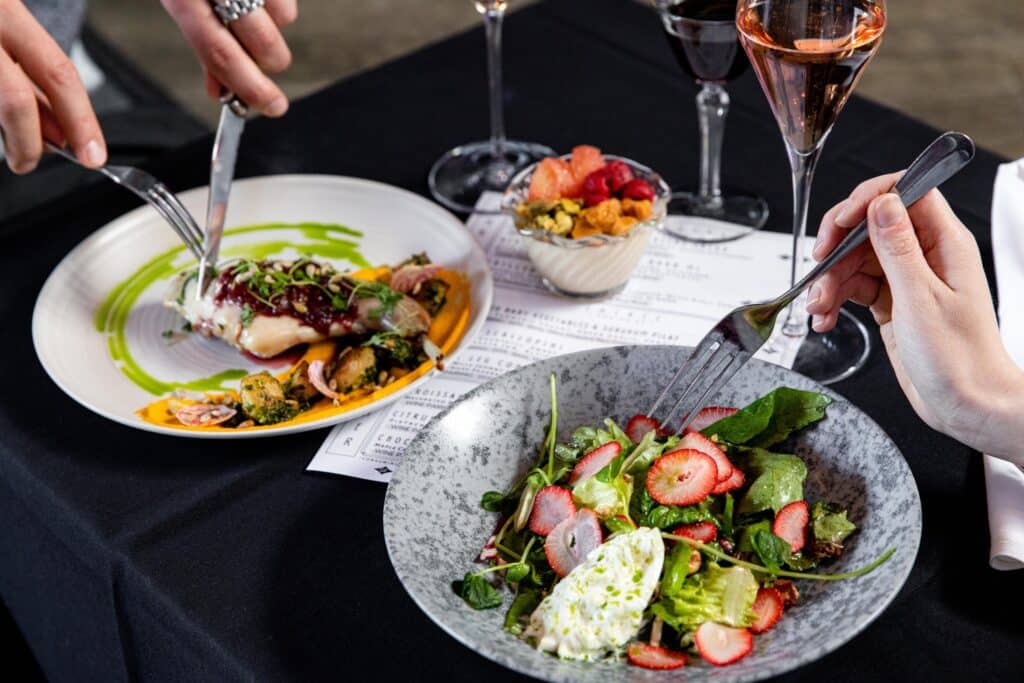 Here's another great date idea: book a reservation at Nocturne, one of Denver's most romantic restaurants. The incredible atmosphere, music and food mean all can appreciate dinner and a show, regardless of their relationship status!
Nocturne is loved for its eclectic, upscale fare, but its real draw is the live music. Every evening, jazz musicians fill the bi-level lounge with lively harmonies and rhythms. Visiting is a reason to dress up and indulge yourself in a bit of culture, which is easy to find in RiNo.
Catch Live Music at Multiple Venues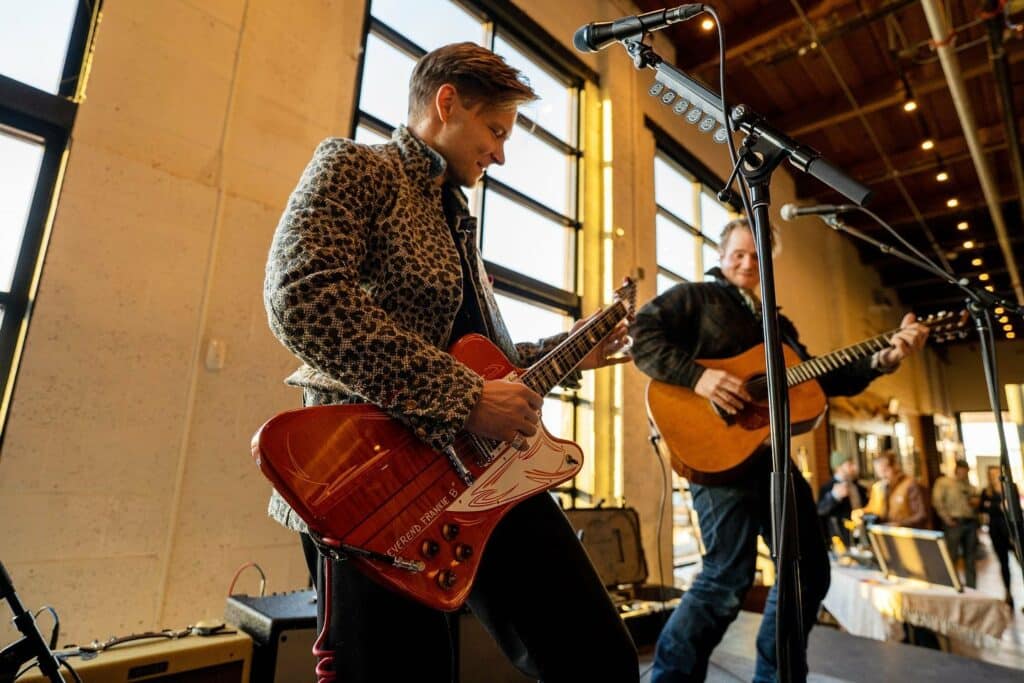 Jazz isn't the only genre that rings through RiNo. There are a variety of live music venues in the neighborhood. These include The Mission Ballroom, Larimer Lounge, and ReelWorks Denver.
One of our personal favorite stages can be found at Number Thirty Eight. It's easy to fill an evening here with entertaining performances, tasty libations, and delicious pub grub. When visiting, make sure to order a burger from Split Lip — hands down, it's one of the best foods to try in RiNo.
Dance The Night Away at RiNo Night Clubs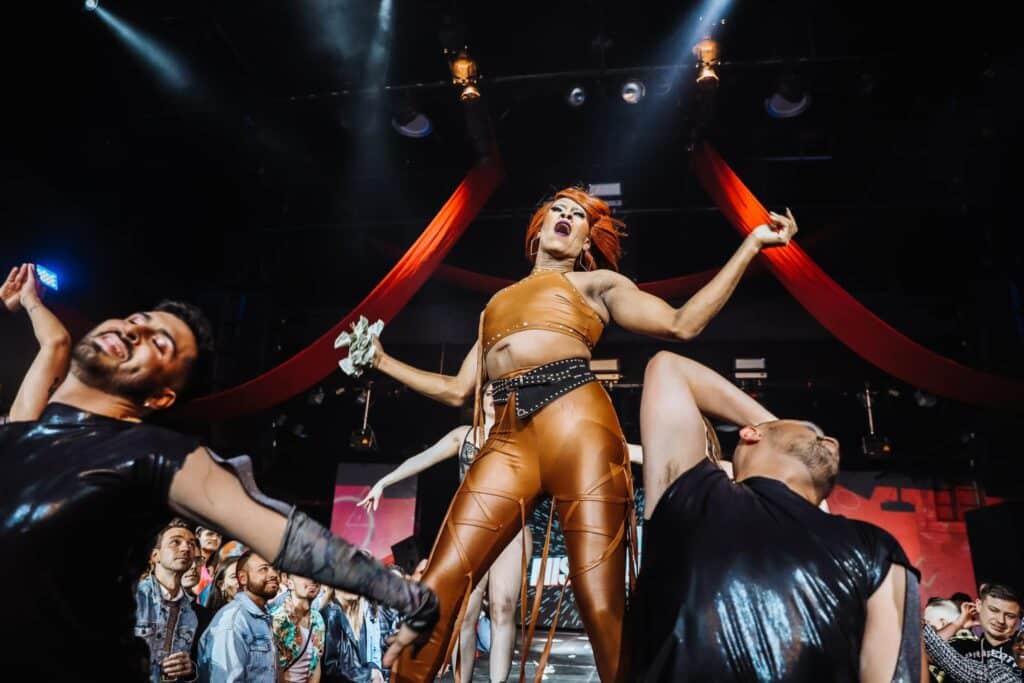 If you're looking to move to the music, Beacon welcomes you. Its funky aesthetic and neon lights set the scene for a dance party, and DJs spin electronic tracks into the early morning hours.
Speaking of, Tracks is another night club that will get you on your feet. Undeniably, this LGBTQ+ bar and dance hall is a vibe. Attend one of its events for the ultimate experience, like roller skate raves and celebrity drag shows.
Play Mini Golf at RiNo Country Club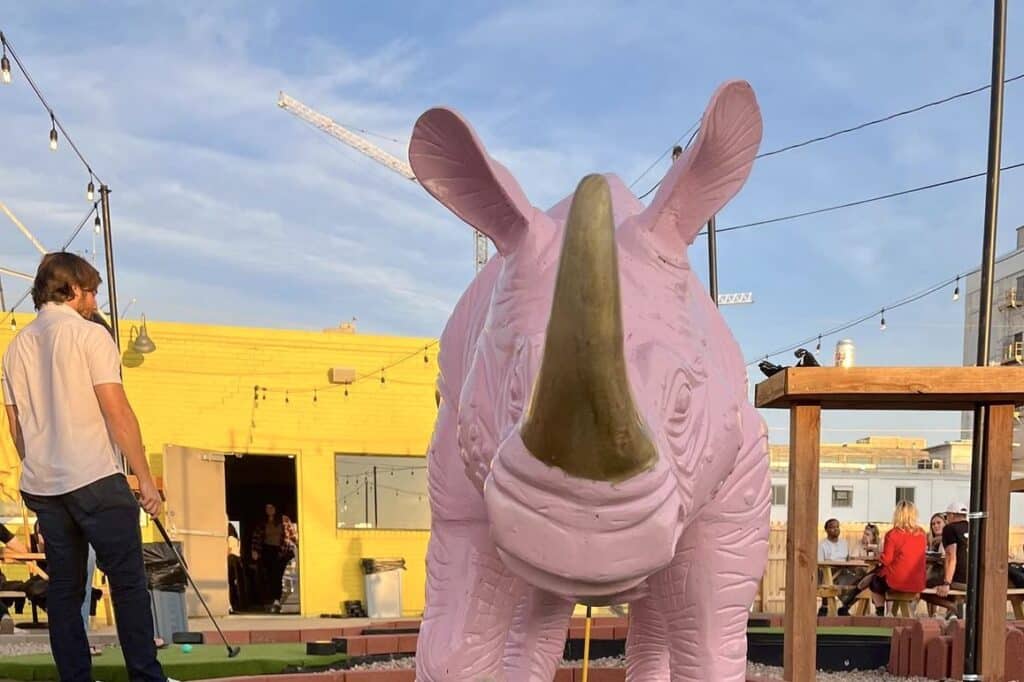 For a more lowkey evening, there's RiNo Country Club. Its name is more a pun than an indicator of pretension. Locals gather at this new dive bar for burgers, beer, and its patio — complete with outdoor putt-putt!
It's a great place to hang out with friends, and where else can you officially join a country club for just $10? Membership grants you lifetime access to its 9-hole mini golf course.
Indoor Climb and More at Movement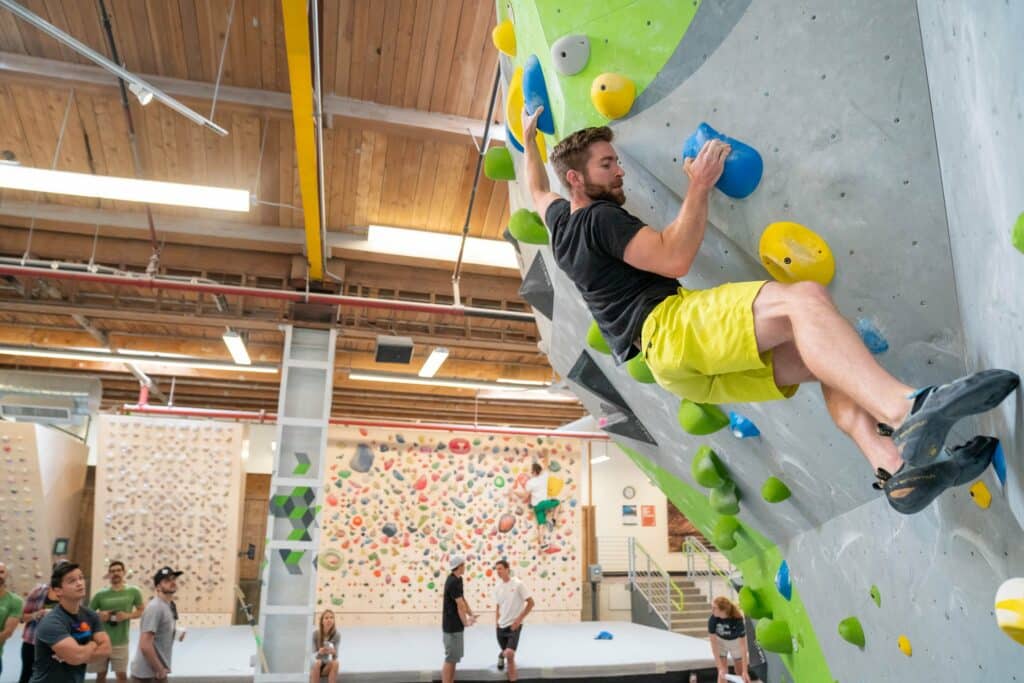 Looking for a more challenging physical activity? Movement is sure to make you sweat. With 15-foot walls, this indoor climbing gym specializes in bouldering — no ropes or harnesses required.
It features 180 bouldering courses for all skill levels, as well as intro classes and lessons for those looking to hone in their skills. Fitness and yoga classes are also available.
In true Denver fashion, Movement is connected to Improper City, a food truck park and taproom. Because what would one of the best things to do in RiNo be without the opportunity to drink beer?
Shop for Local Gear at Topo Designs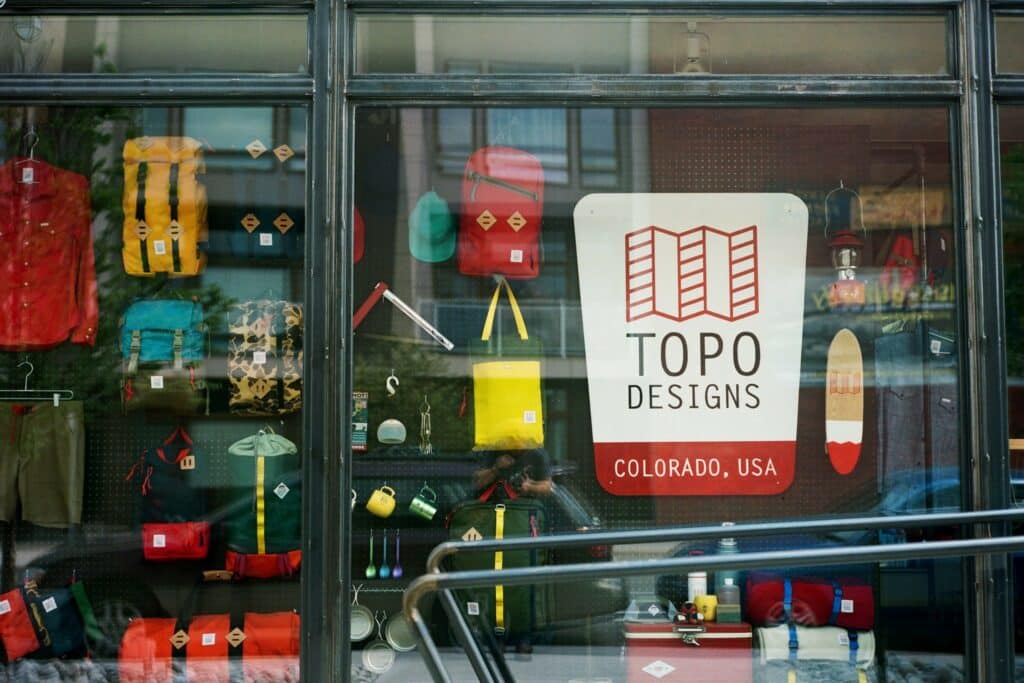 Founded in Denver in 2008, Topo Designs has grown into a household name in the outdoor industry. Its backpacks, apparel, and accessories are available in large retailers like REI and Nordstrom. But to really connect with the brand, you'll want to pay a visit to its flagship store in RiNo.
Its passionate crew will be happy to walk you through its colorful product lines, much of which hangs on pegboard walls. Gear up for your next outdoor adventure and leave looking like a true Denver local. From the office to the brewery, Topo Designs' flannels and fleece can easily serve as your everyday uniform.
Brewery Hop Your Way through RiNo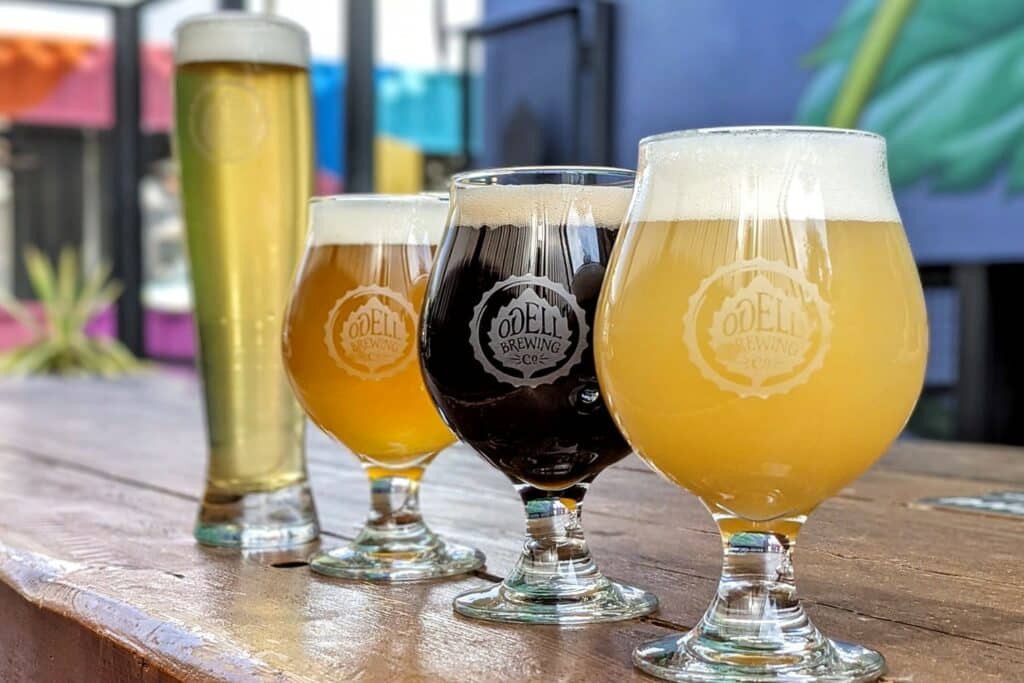 We saved the obvious, but arguably the best thing to do in RiNo for last: brewery hopping. There are more than twenty breweries in this neighborhood alone, each with unique pours and fun atmospheres.
Head to Bierstadt Lagerhaus for German beers and giant lawn games. For dog-friendly patios and amazing pizza, check out Black Shirt Brewing Co. Ratio Beerworks was founded by a former punk band who learned to brew beer while touring in Germany. Visit Our Mutual Friend Brewing for tasty saisons in the same parking lot as our favorite BBQ in RiNo. Odell's Five Points Brewhouse is another Colorado original; check them out for limited-release batches.
There are so many more great local breweries in this neighborhood, and the city as a whole. See our comprehensive guide for more fun activities in Denver!