As a local business, we recognize the importance of comradery, which is why we've put together this list of team outing ideas for Denver companies. Whether you're celebrating an amazing quarter, entertaining clients, or want to change up this year's holiday party, we've got you covered.
We overview options for high-energy teams, history buffs, comedy lovers — and, of course, our fellow foodies. Skip the usual happy hour and dive in to discover unique team building outings that are sure to be a hit!
Unique Team Building Outings in Denver
1. Taste Delicious Dishes and Drinks on a Dinner Tasting Tour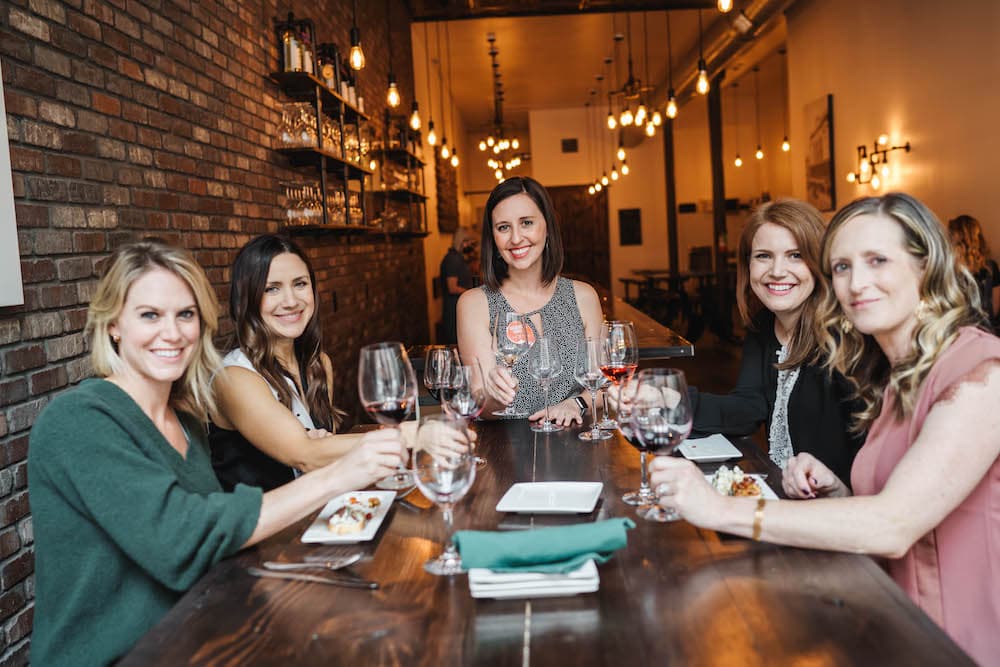 Ditch the boring company dinner and give your team a chance to break bread while learning about Denver and our amazing chefs and restaurants. Our Dinner Tasting Tours allow groups to seamlessly mix and mingle while exploring the city's thriving dining scene.
Savor curated tastings and paired cocktails as you visit three award-winning restaurants and learn about their chefs. The shared experiences make for easy conversation starters, all in an unforced, casual setting.
Your experienced foodie guide has a schedule, but no script, and will help ensure your goals for the event are met. The tour can include city history and in-depth culinary discussion, or simply a quick introduction to each tasting and venue — you decide.
Dinner Tasting Tours are available Sunday-Thursday evenings, starting between 4pm and 7pm with a max of 25 guests. Pricing is $125 per guest. 
Learn More about Dinner Tasting Tours >>
2. Drive Supercars Through the Mountains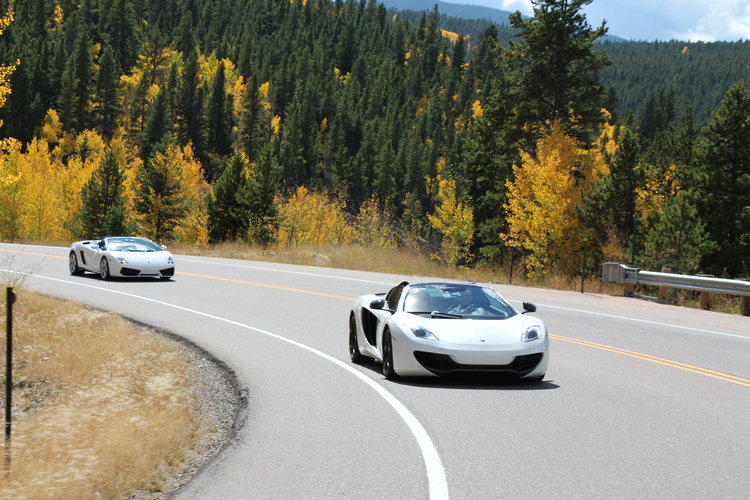 If you're looking for a team outing with a "wow factor," turn to Oxotic, a tour agency based in nearby Golden, Colorado. On this rally-style tour, your group will drive and/or ride in a fleet of exotic European cars from Ferrari, McLaren, Lamborghini, and more.
Ranging from 15 to 105 miles long, these routes tackle switchbacks and straightaways in the scenic Rocky Mountains. The Oxotic staff (including a photographer) will be up ahead in their lead vehicle, allowing your team members to ride in privacy. Hands down, it's one of those summer team building ideas that will be talked about for years to come.
3. Put Your Heads Together in an Escape Room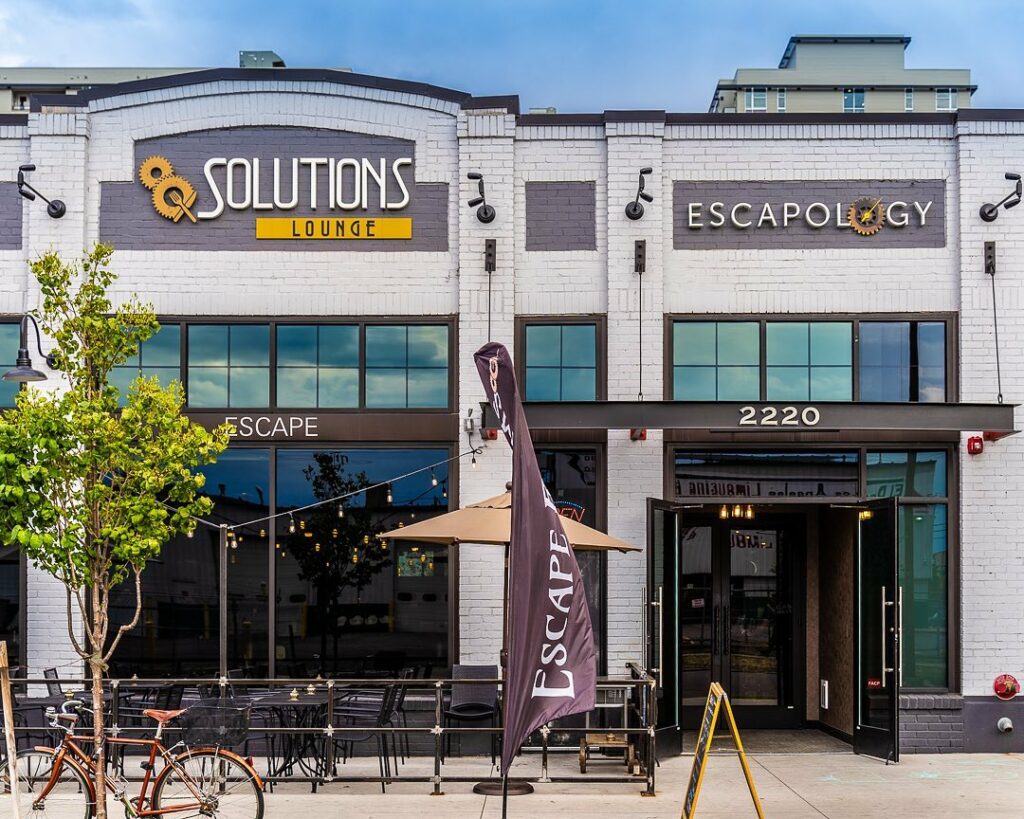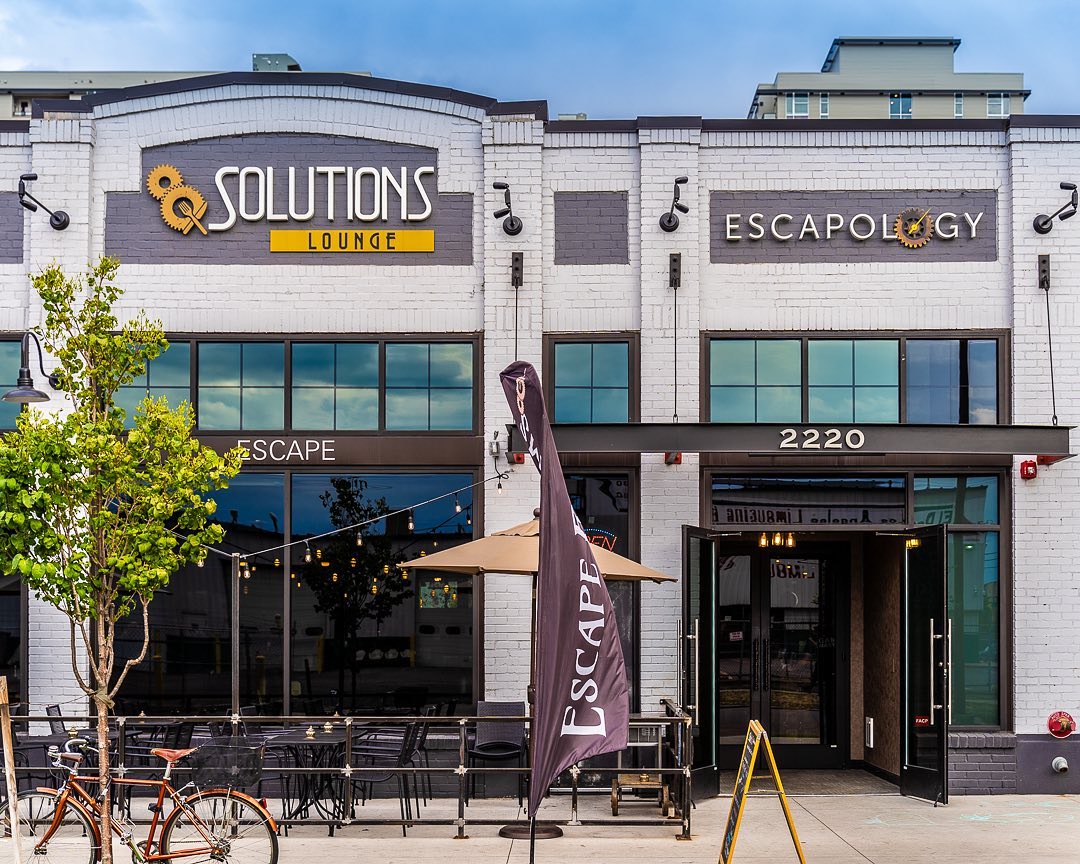 Interactive, exciting, and collaborative — all describe the best team building activities in Denver, Colorado. At Escapology, you get this and more. The downtown attraction features seven themed escape rooms with varying difficulty levels. See how your team works together to solve problems and puzzles while the clock is ticking.
Once the mission is complete, hang out at the attached Solutions Lounge and Restaurant. The experience is sure to engage your entire group, and maybe help you identify a future team leader, too!
Learn More about Escapology >>
4. Race Your Team on High-Speed Go Karts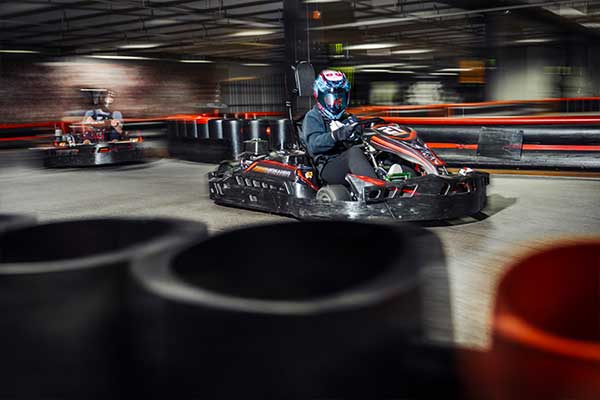 Think go-karting is for kids? Think again. With high-speed races and extra entertainment, Podium Karting & Events offers one of the most fun team building outings just north of the city.
Zip around their indoor and rooftop track, and enjoy their game room featuring billiards and ping pong. The state-of-the-art facility is complete with a bar and restaurant serving classic American pub grub. Contact Trackside Tavern before visiting to have a dining area reserved for your group.
Learn More about Podium Karting & Events >>
5. Delight in Dishes Created in a Cooking Class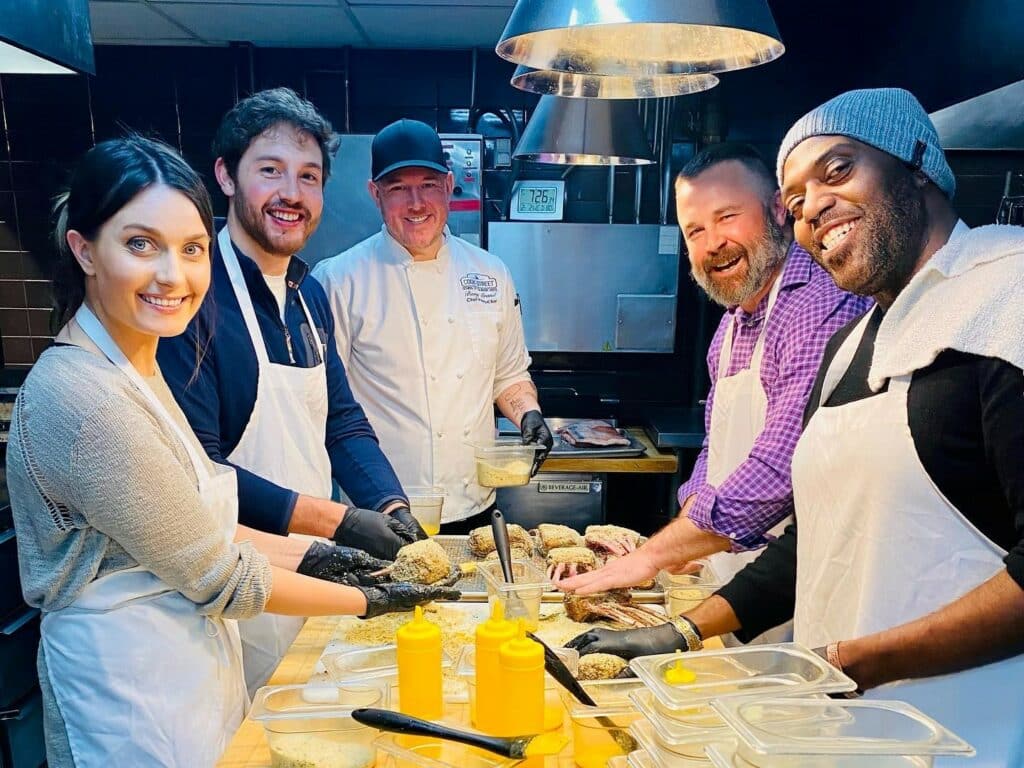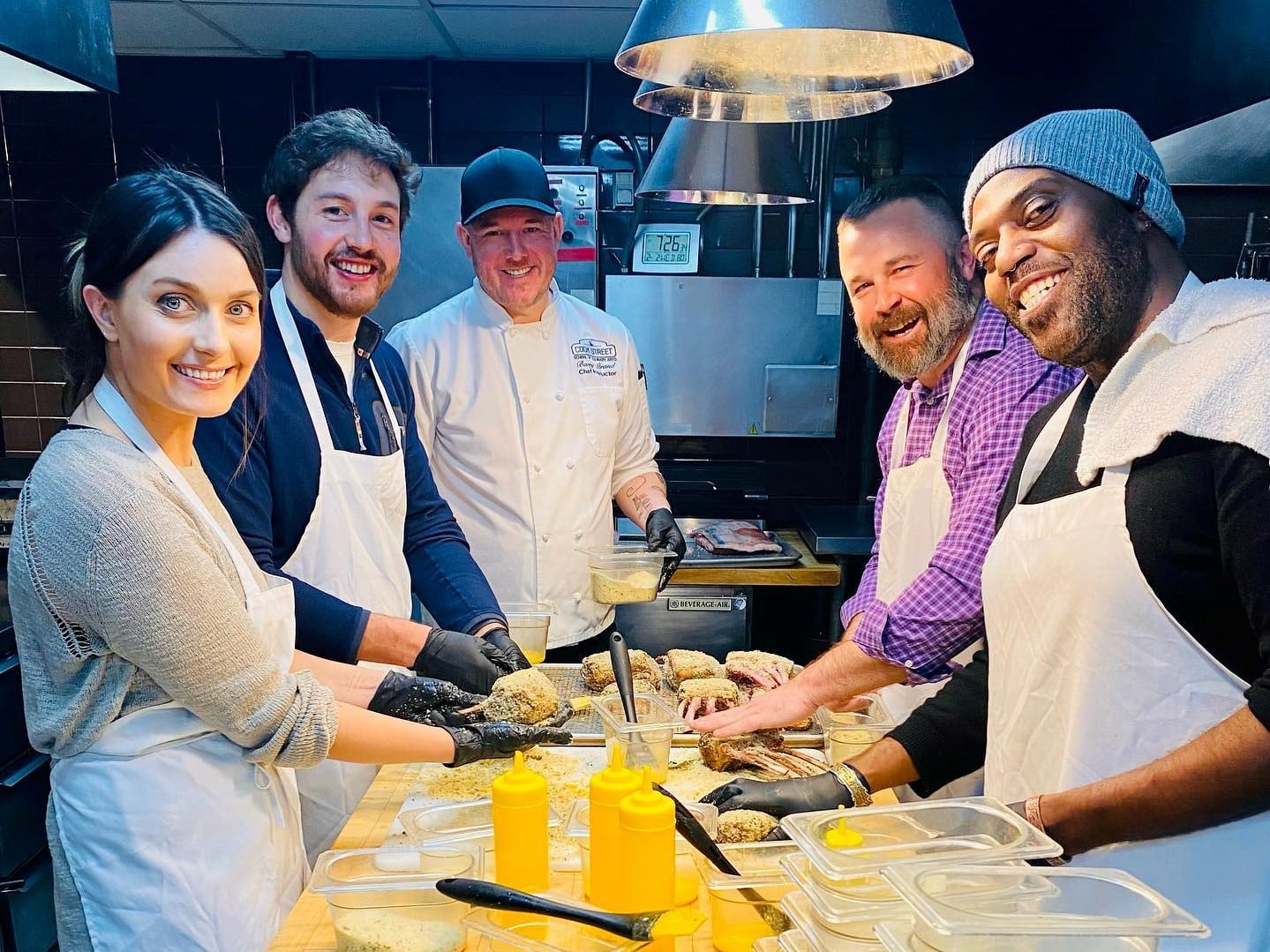 In our opinion, the most fun team events revolve around food. Cook Street School of Culinary Arts hosts one of the most rewarding Denver team building activities. Not only is the dining experience delicious, but the classes are highly interactive.
Book a private event for up to 35 people and learn how to cook seasonal French, Italian, or New American dishes — your choice! Afterward, enjoy the mouth-watering 3-course meal that you and your team helped to create.
Alternatively, your group can attend one of their open classes. These cover an even wider range of cuisines, as well as baking and drink pairing lessons.
Learn More about Cook Street School of Culinary Arts >>
6. Craft and Laugh at Grandma's House Brewery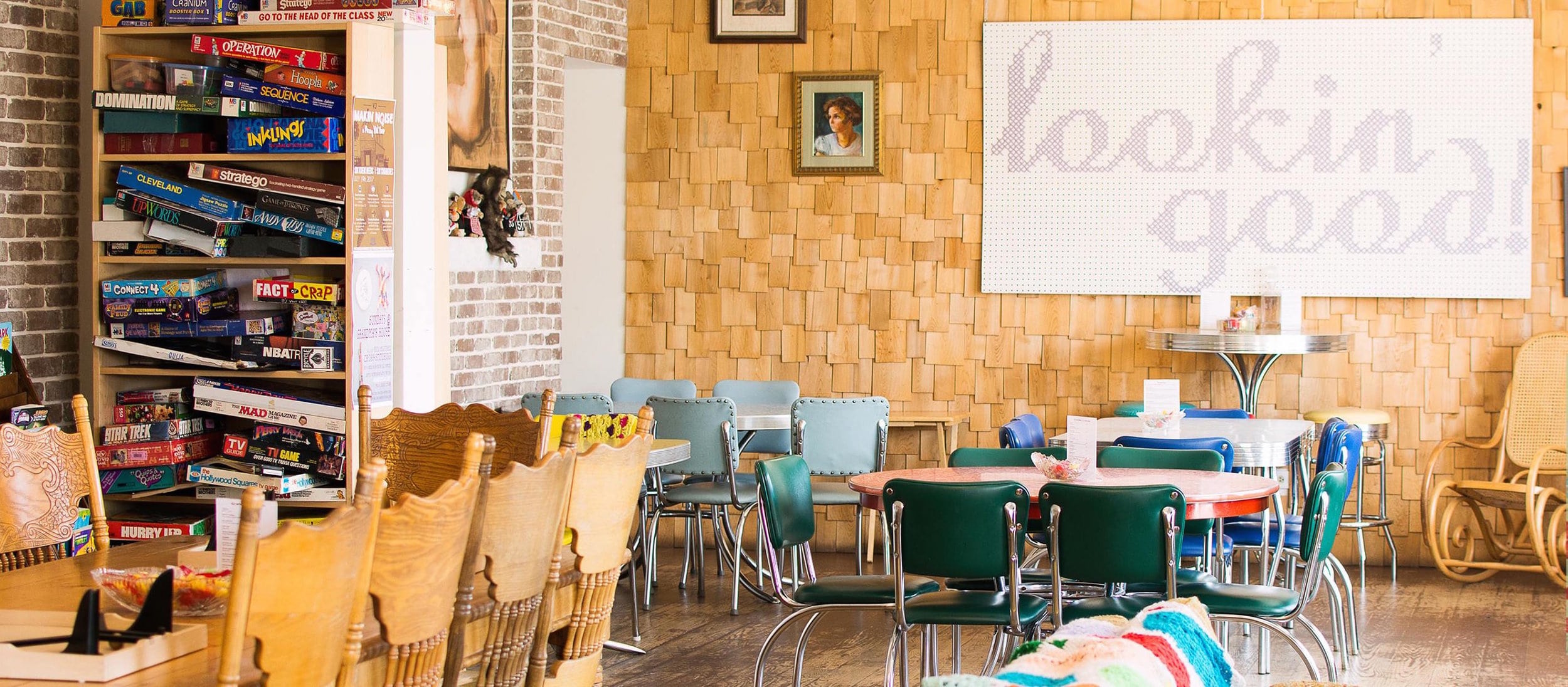 Grandma's House, a South Broadway brewery on Antique Row, is charmingly kitschy and full of entertainment. The interior is undeniably retro, and the outdoor patio is incredibly spacious. Bring your beer-loving group here after work, as they offer a whole range of Denver team building ideas.
Their calendar includes various crafting events, like pottery painting and hilarious foul-mouthed cross-stitch sessions. Comedy shows, bingo nights, board games, and a wide selection of old-school video games provide even more fun.
Learn More about Grandma's House >>
7. Sip and Savor the City's Best Drinks on a Cocktails or Wine Tour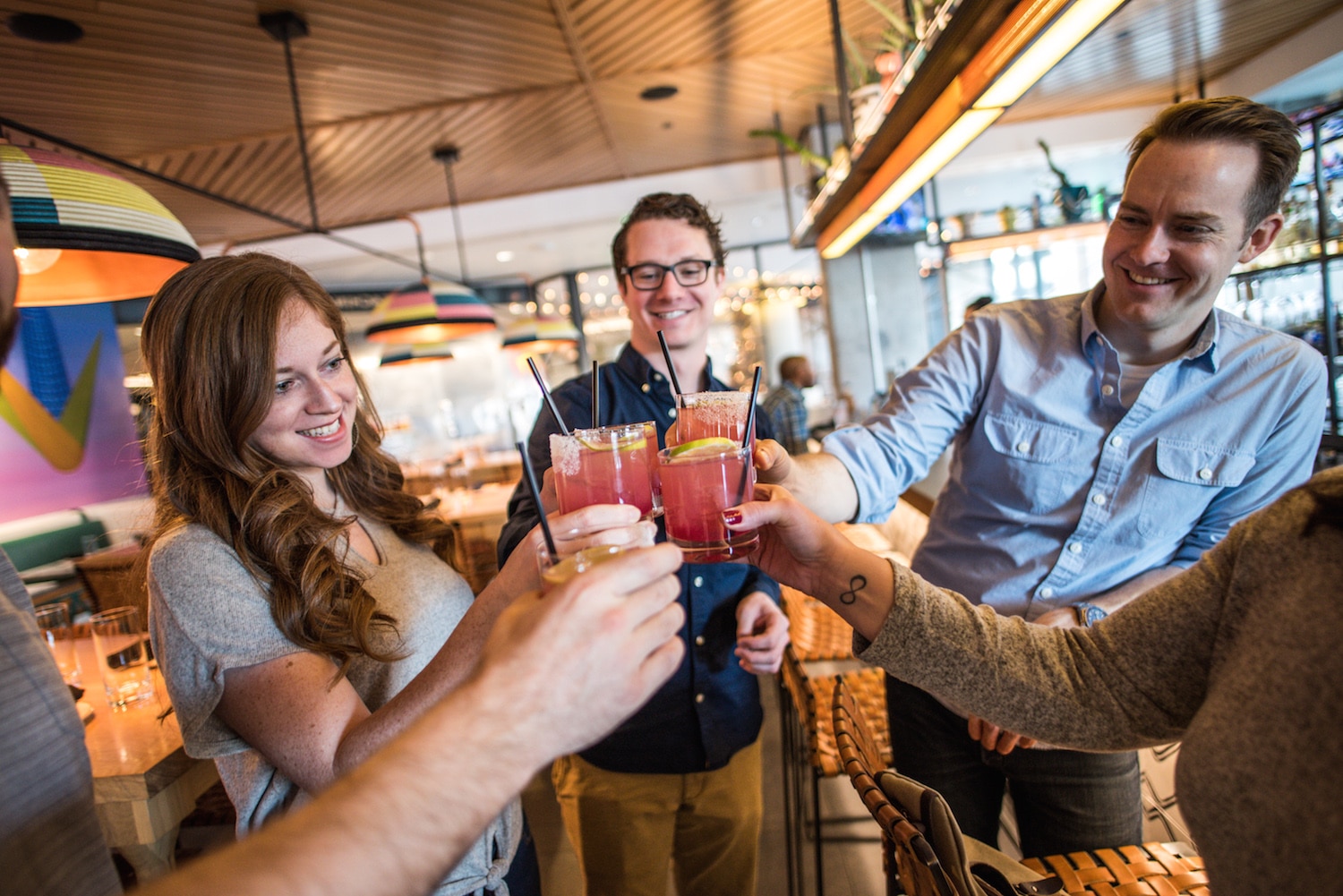 Rather than the standard after-work happy hour, opt for a private walking drinks tour of downtown Denver! Sip and savor on our top-rated Cocktails & Tastes Tour, or join our Denver Wine Walk, which visits some of the city's best wine bars and tasting rooms.
An experienced local guide will walk you from spot to spot, explaining what's special about each drink and food pairing, adding fun history about the city along the way.
Both tours operate in the heart of Lower Downtown, just steps from Union Station. Private Cocktails + Tastes Tours are available daily from 4:30 – 6:30 pm, and tickets are $95/guest (10 guests minimum). Private Denver Wine Walks are available Wednesday through Saturday from 4:00 – 6:30 pm, costing $120/guest (8 minimum).
Plan Your Private Cocktails or Wine Tour >>
8. Battle It Out with Archery Dodgeball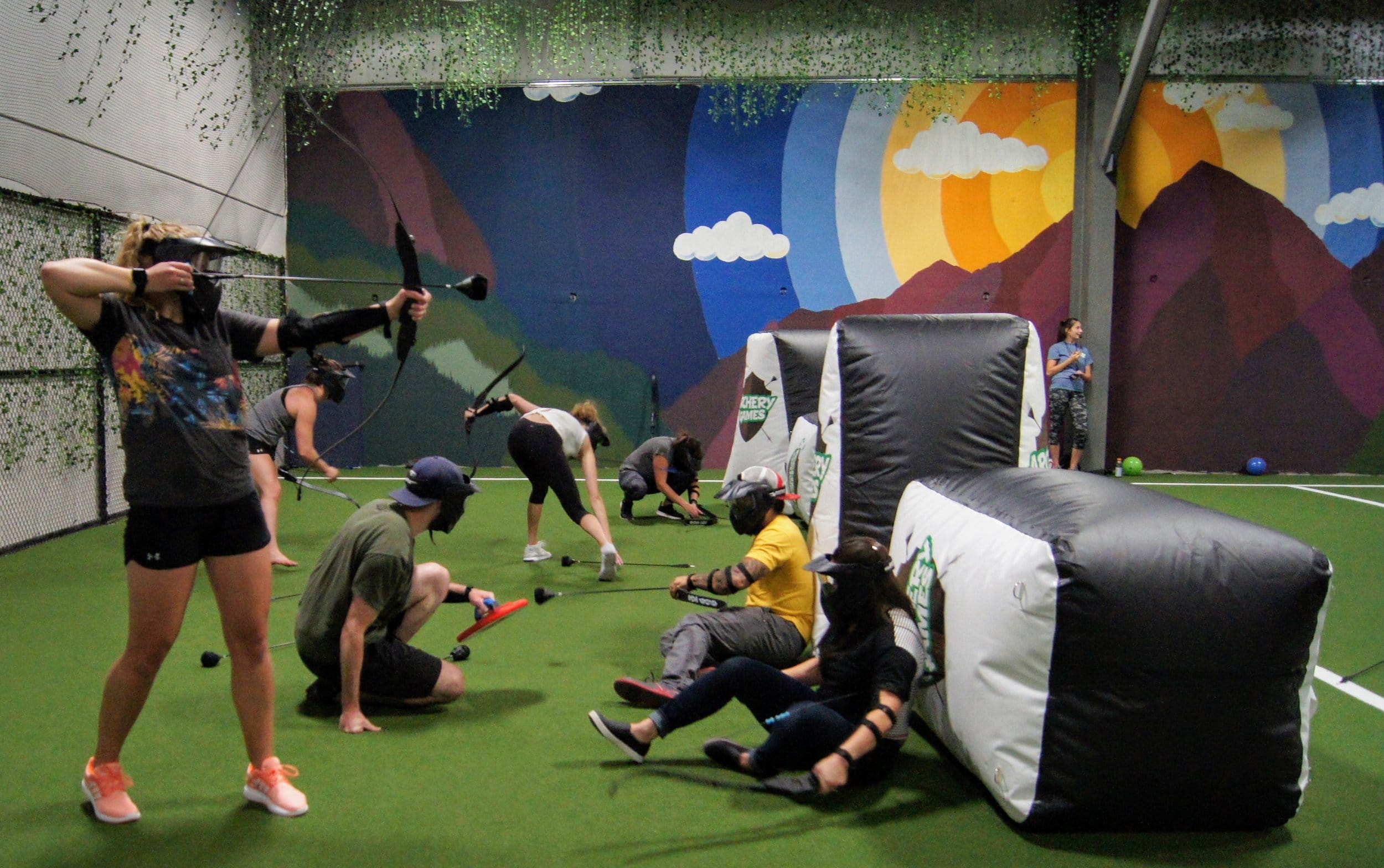 If you have an active, competitive team, check out Archery Games in Arvada, Colorado. In their unique archery arena, two teams battle it out with bows and pain-free, foam-tipped arrows. The objective is similar to dodgeball. Tag all of the opposing players with arrows to eliminate them from the game.
Think you'll be one of the lucky few left standing? Find out by taking your team to this fun, unexpected outing. Have the space to yourself by booking a private weekday event, available for groups of 6 to 80.
Learn More about Archery Games >>
9. Take a Swing at Topgolf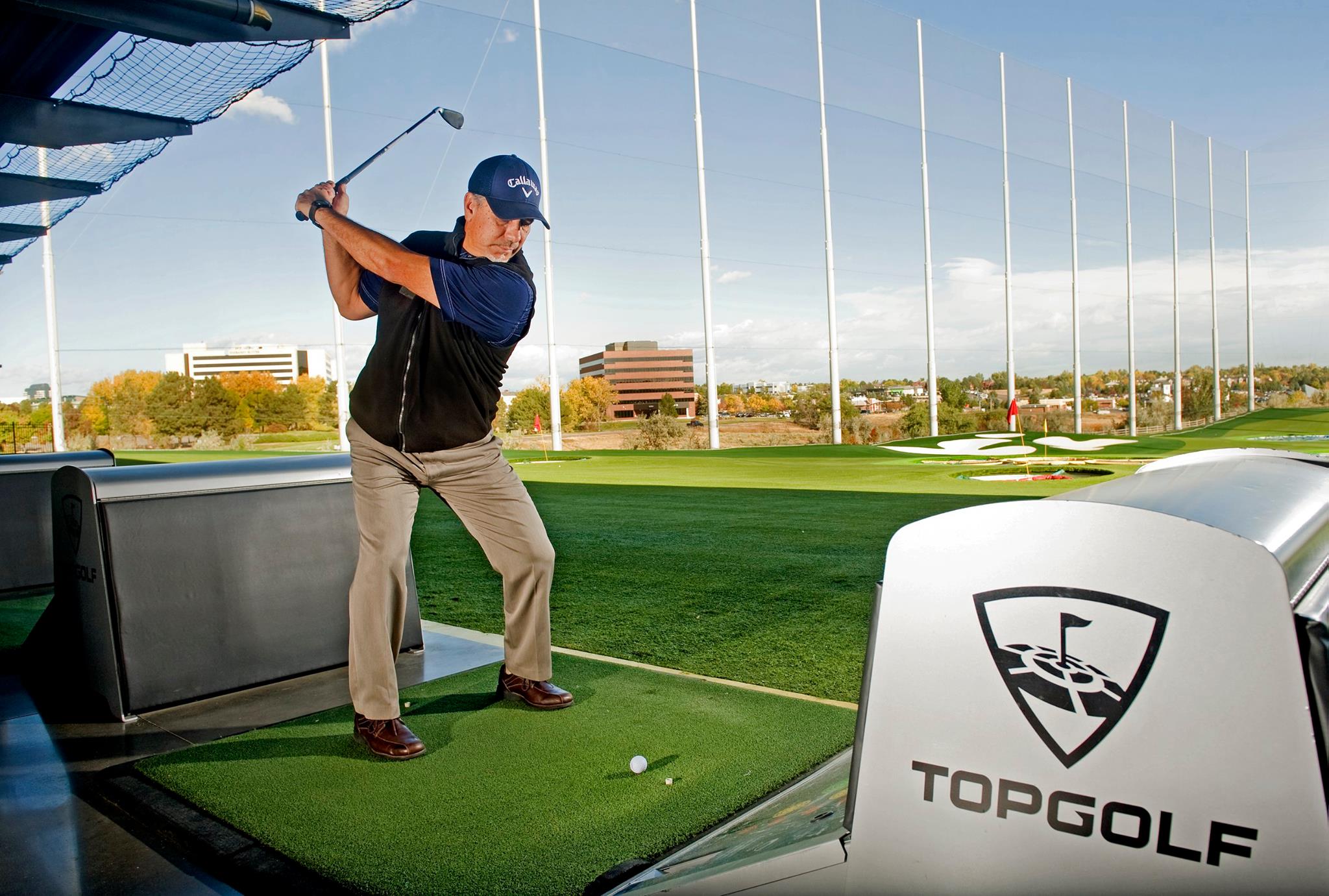 Seasoned golfers aren't the only ones who love to visit Topgolf. With a laid-back vibe and full bar on-site, a visit here makes for one of the best corporate team building ideas in Denver. Visit their newest location in McGregor Square, featuring luxurious, virtual "swing suites." Or for a more traditional golfing experience, head to one of their suburban venues in Centennial or Thornton.
Here, your team can try their hand at a number of fun, beginner-friendly games. Their most popular uses microchip technology, where hitting golf balls into large targets gains you points. Reserve a bay online or reach out to plan a private event.
10. Scavenger Hunt in Downtown Denver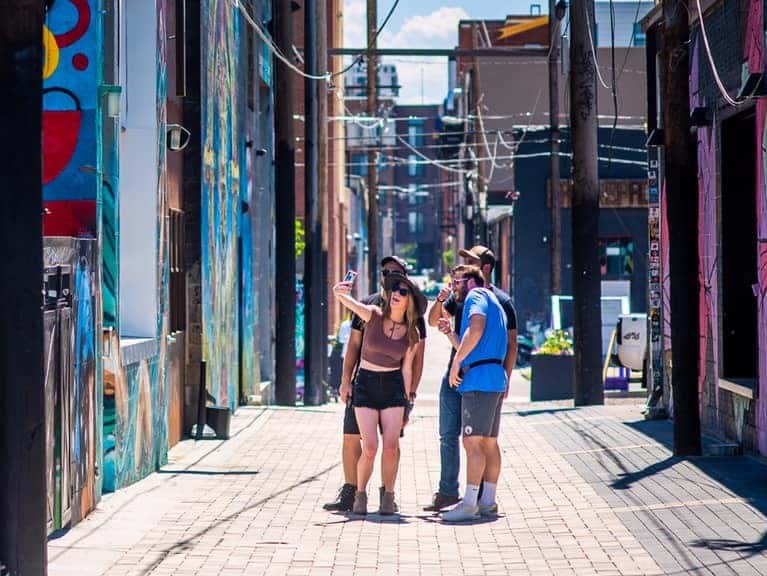 With the help of Let's Roam, team building in Denver is easy — and affordable! Their urban scavenger hunts are available year-round, designed to boost morale and build stronger teams. Plus, they allow you and your group to explore popular attractions and hidden gems throughout the city!
If your team likes to move, solve puzzles, and enjoy time outside, this is the team building idea for you. And note that Let's Roam even offers virtual team experiences! Complete video-based challenges like trivia and drawing games to get to know your co-workers, whether they're in Denver or abroad.
Learn More about Let's Roam >>
11. Surprise Your Team with an Axe Throwing Outing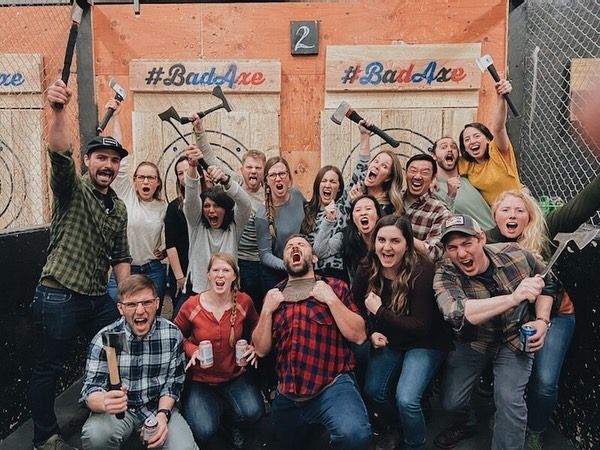 If you're looking for out-of-the-box team time ideas, Bad Axe Throwing is a solid choice. Once a niche pastime among lumberjacks and Canadians, this aggressive activity has become mainstream because, well, it's a ton of fun.
Before sharing their sharp objects, a coach will teach your group how to throw axes like pros. And as an added bonus, their location set north of downtown now serves an extensive list of beer and wine. Bet your co-workers won't see this one coming!
Learn More about Bad Axe Throwing >>
12. Sample Craft Beers from Local Breweries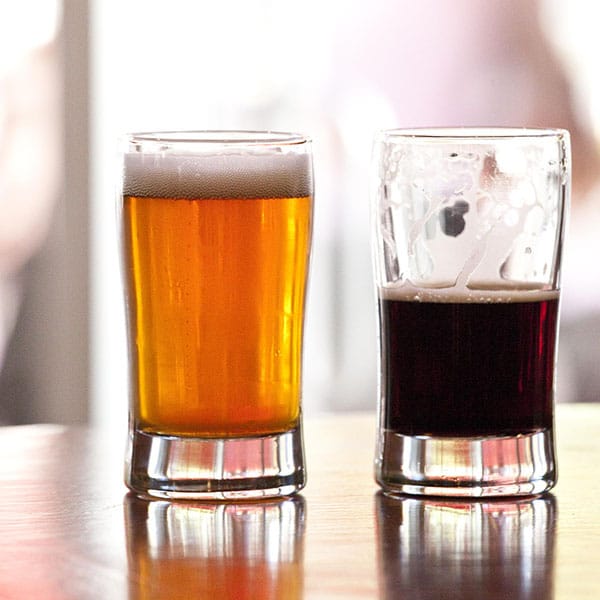 It's no secret: Coloradoans love their craft breweries. Locals would agree that a beer tasting is one of the top things to do in downtown Denver, so why not do so as a team? 
Of course, you could hit an all-encompassing taphouse like ViewHouse or Historians, some of the city's best rooftop restaurants. You could also build your own brewery hopping itinerary — or, leave the planning to the professionals. 
Denver Microbrew Tour treats guests to award-winning, local craft beers across LoDo and RiNo. Book a private experience and your team will have their guide all to themselves. It's a great way to connect and learn about one of the city's proudest industries.
Learn More about Denver Microbrew Tour >>
13. Take a Private Woodworking Class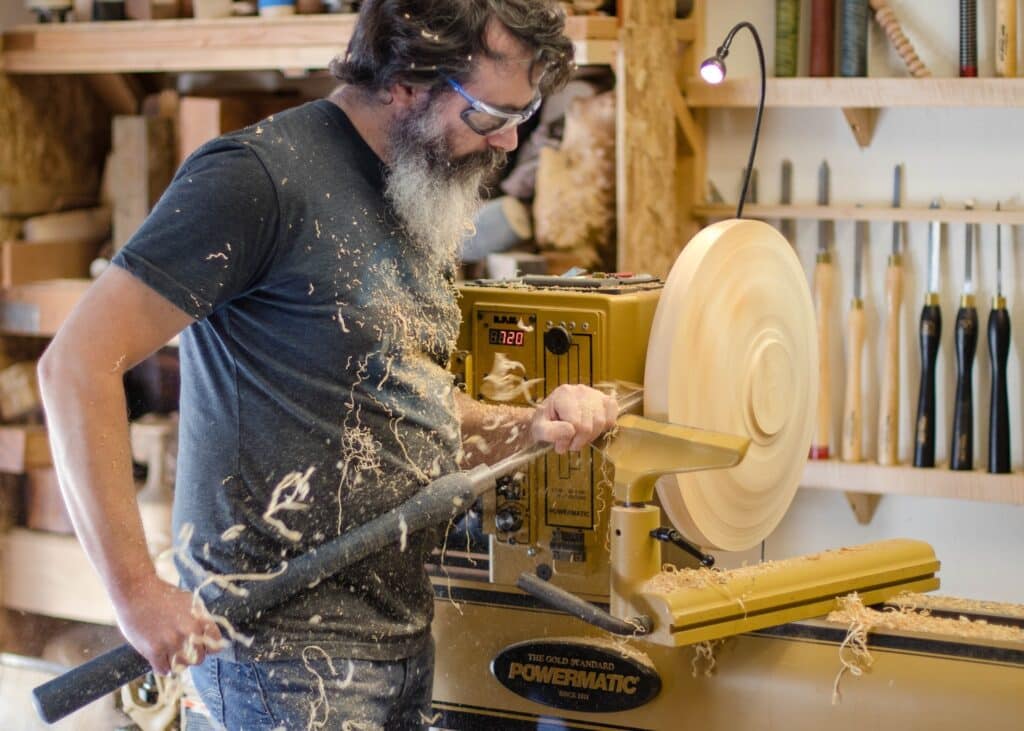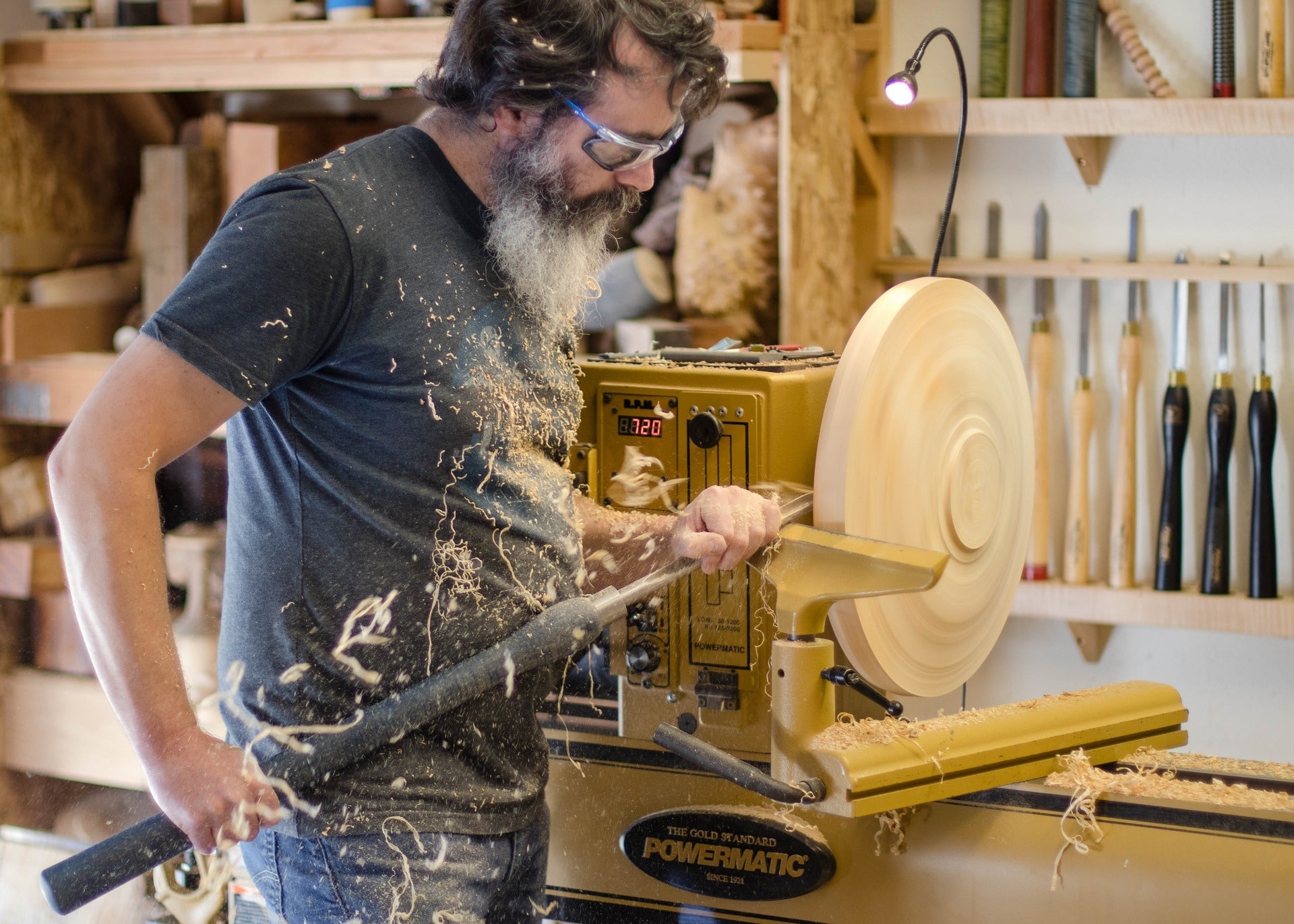 If you have a hands-on group that likes to roll up its sleeves, check out the private classes at the Denver Tool Library. This local non-profit offers affordable classes ranging from welding to woodworking. Beginner-friendly projects include cutting boards, floating shelves, picture frames, and plant stands.
Most classes cost between $125-150 per person, and a minimum number of guests is required for private experiences. However, minimums are as few as three, making this one of the best small team outings in Denver.
Learn More about the Denver Tool Library >>
14. See a Stand-Up Comedy Show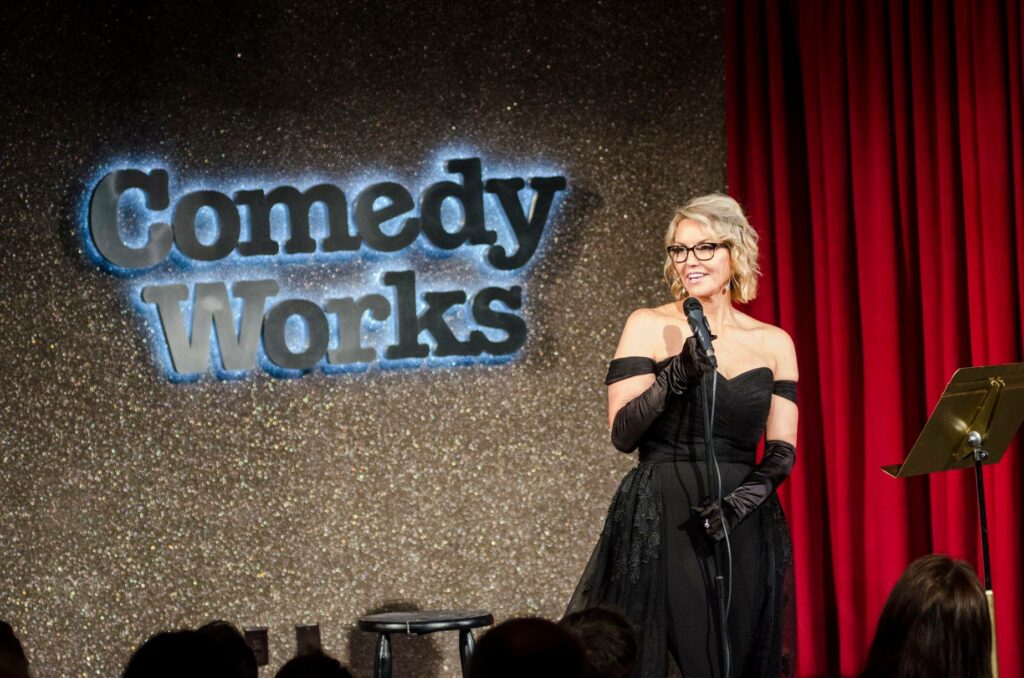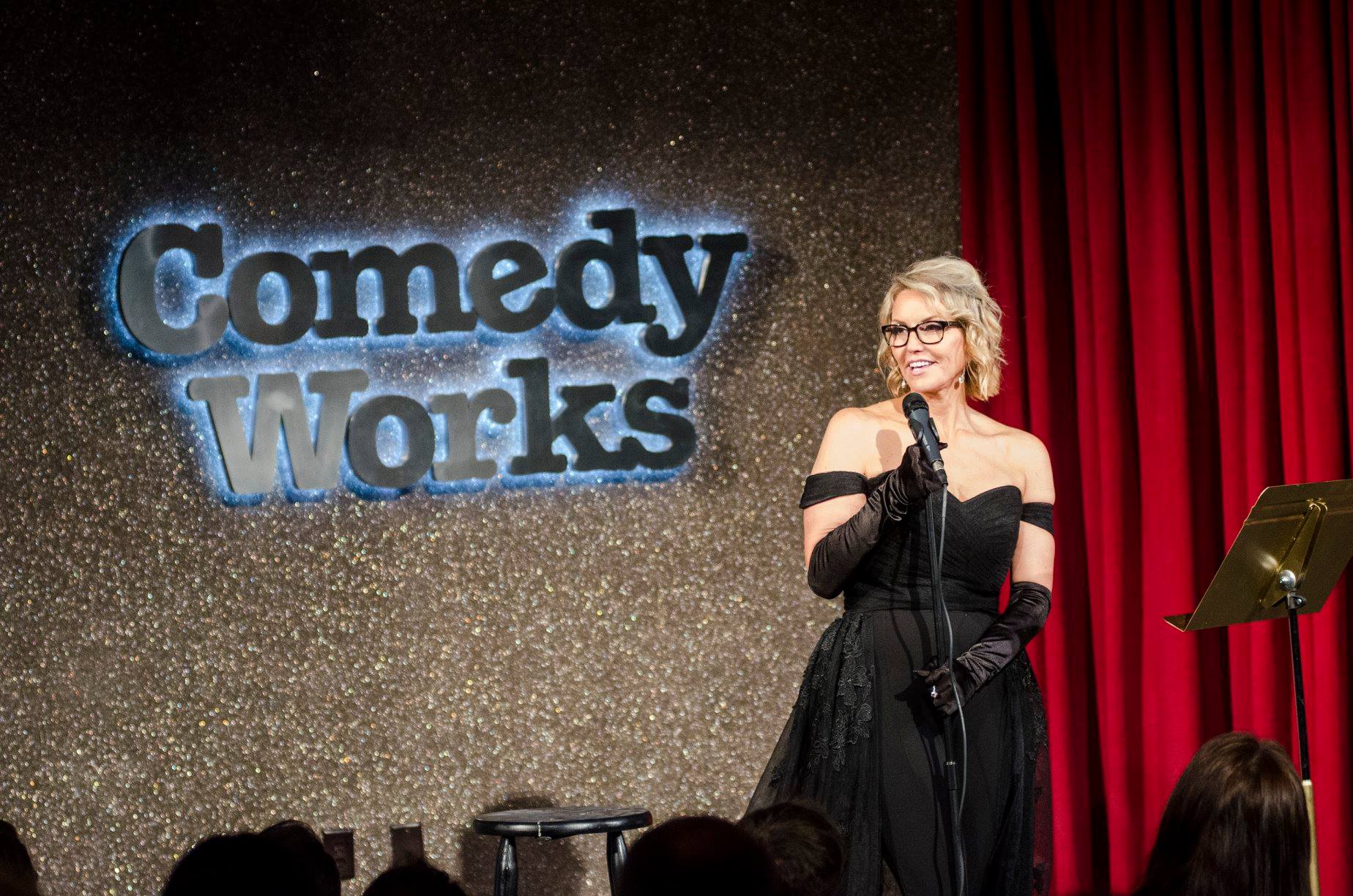 Everyone loves to laugh! You can't go wrong with a visit to Comedy Works, a stand-up comedy venue in the heart of downtown. Or if you work in the Denver Tech Center, there's another location conveniently set in Greenwood Village.
Both indoor clubs draw big-name acts throughout the year, making it one of the best things to do in Denver in winter. If you're looking for holiday team building activities, you can't go wrong with gifting tickets. Kick back, have a few laughs, and complete the experience with dinner and drinks on-site. 
Learn More about Comedy Works >>
15. Bowl a Game at Lucky Strike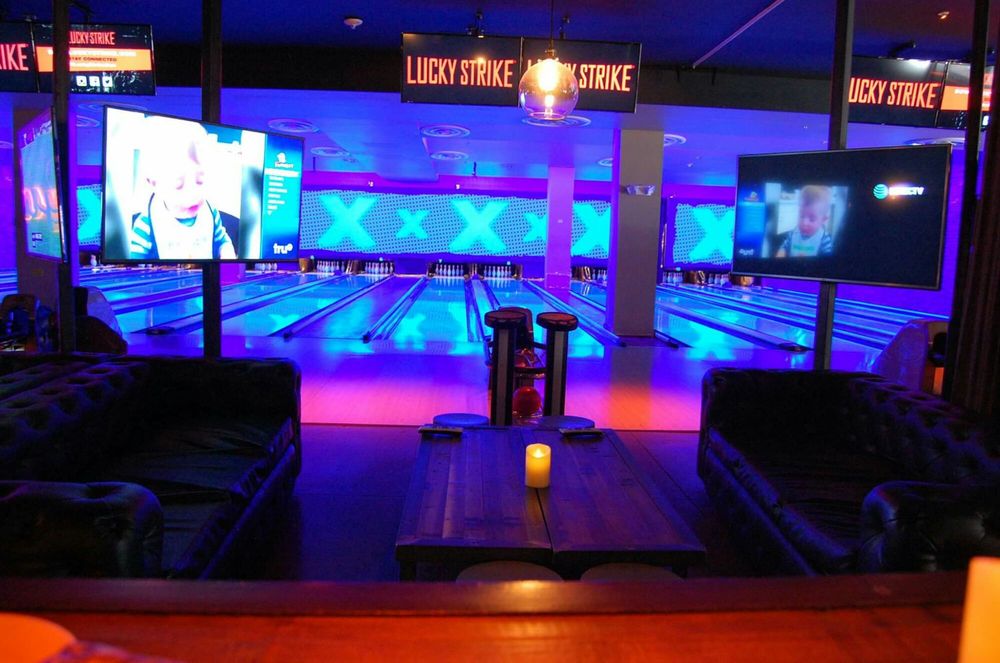 16th Street Mall is home to some of the city's best restaurants and entertainment, which includes Lucky Strike. Luxurious digs, a dozen lanes, and a comfortable lounge redefine the standard bowling alley experience. Arcade games, pool, and ping pong add to the excitement.
The venue becomes 21+ after 9:00 pm, and their extensive food menu and massive bar keep the party going. With so many options to please all types of guests, Lucky Strike is undoubtedly one of the best team building activities in Denver. For coordinating help and a dedicated space, book a private event. Your team will thank you!
Learn More About Lucky Strike >>
16. Pedal Your Private Pub Across Town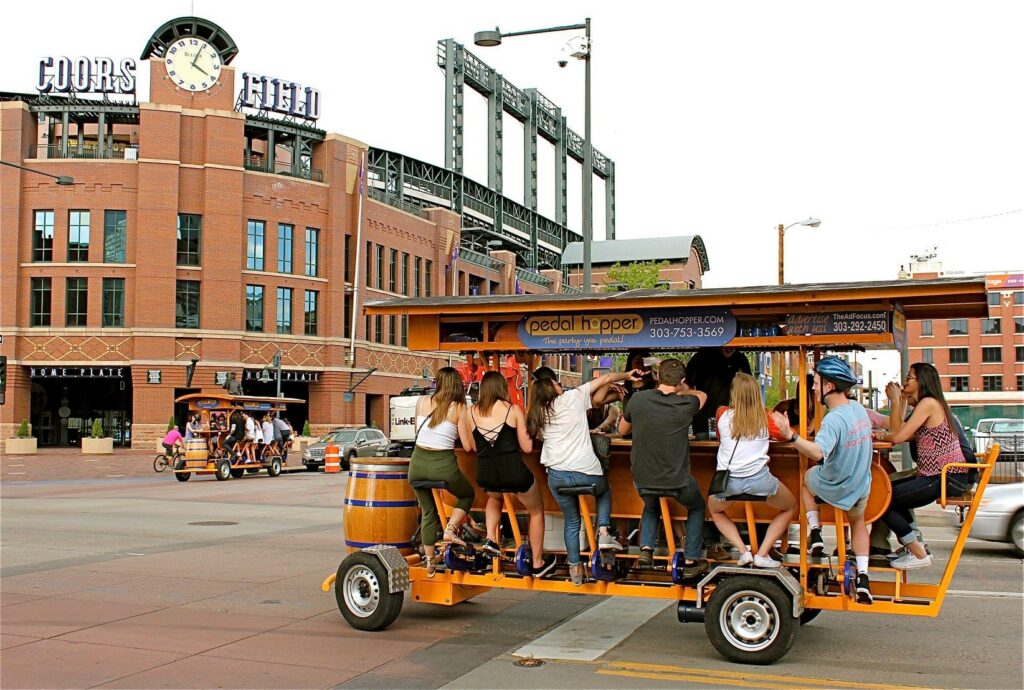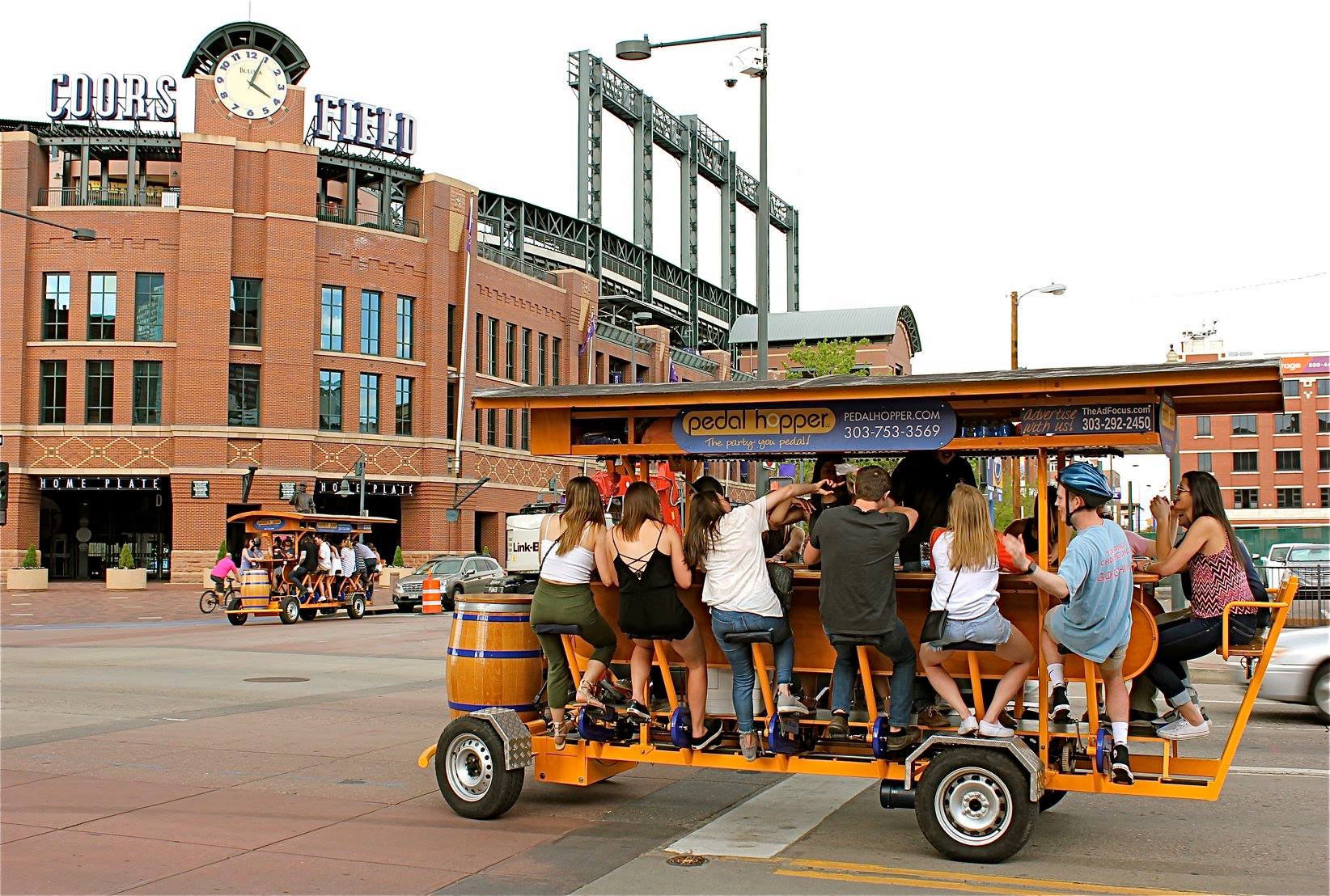 If you're local, you've likely seen (and heard) these mobile pubs cruising through the RiNo, LoDo, and Ballpark neighborhoods. Singing and cheering through the streets, it's undeniable that these groups are having an incredible time!
Pedal Hopper's private bike bars accommodate 10-16 guests and allow you to pick your stops and music. Reserve one to win at team building in Denver, CO — and deservingly, boss of the year, too!
Learn More about Pedal Hopper >>
17. Tour Denver's Best Markets and Food Halls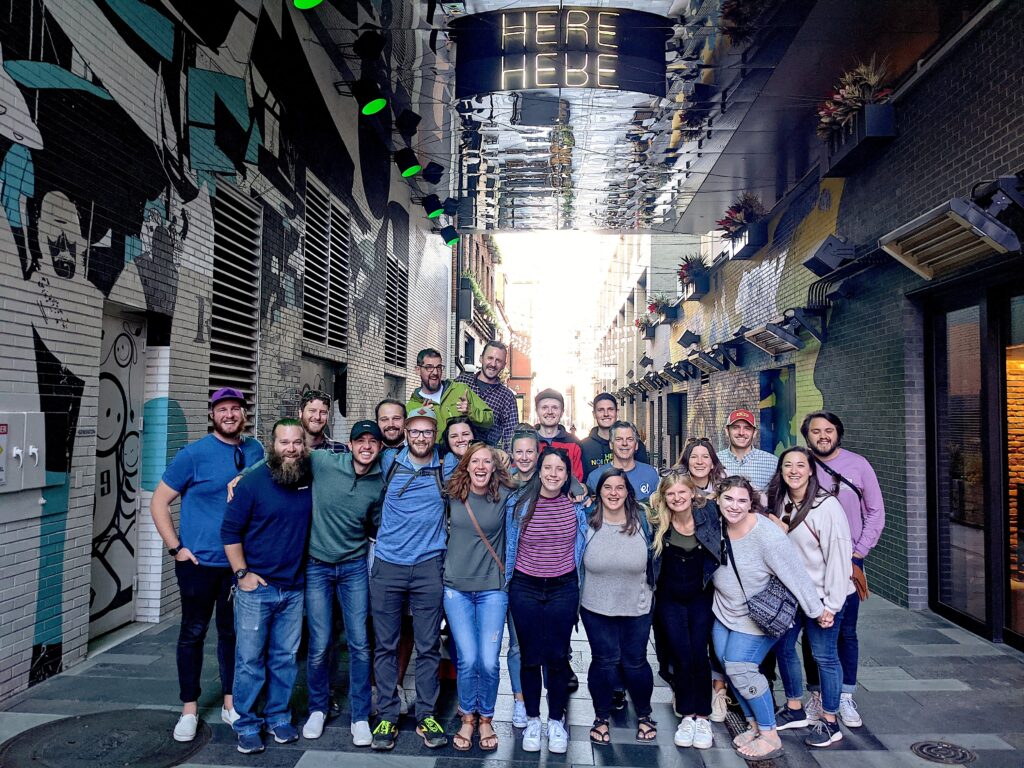 This two-hour roving food and drinks experience is perfect for large groups wanting to explore the Denver food scene while mixing and mingling. Moving from stop to stop and tasting new dishes along the way provides a unique experience sure to spark conversation and team bonding.
Local foodie guides accompany groups to provide information about the delicious tastings and chefs behind them. Groups visit Mile Post Zero on McGregor Square, the Denver Milk Market on the Dairy Block and end with dessert inside the iconic and historic Union Station.
Our guides have a schedule but no script. You choose the level of information for your group: from basic tasting and location introductions (to maximize team bonding time) all the way to a full tour experience with tasting, food and city history.
This experience requires a minimum of 25 guests and can accommodate up to 150. Tours are available Sun-Thur with start times from 1p- 5:30p. Pricing is $99/guest and includes all food (a full dinner), two drink pairings, private foodie guides and all taxes, fees and gratuities.
Learn More about Market and Food Hall Tours >>
18. Work Out Frustrations in a Rage Room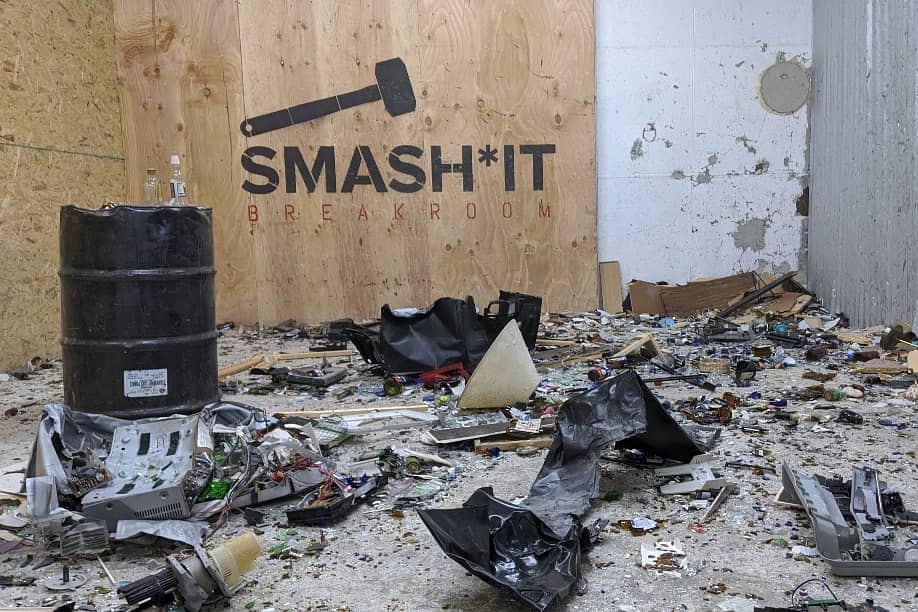 There's no place for destructive behavior in the office, but in a rage room? Let your team run wild. Take a hammer to an alarm clock, a crowbar to your computer, and smash other items that drive you and your co-workers crazy.
Though a bit chaotic, the environment at SMASH*IT Breakroom is safe, fun, and great for working out some stress. Protective gear is provided, as is an assortment of furnishings, electronics, and glass — all ready for shattering. Visit their website to learn about available packages, which cater to groups as large as 30.
Learn More about SMASH*IT Breakroom >>
19. Engage in Ninja Warrior Challenges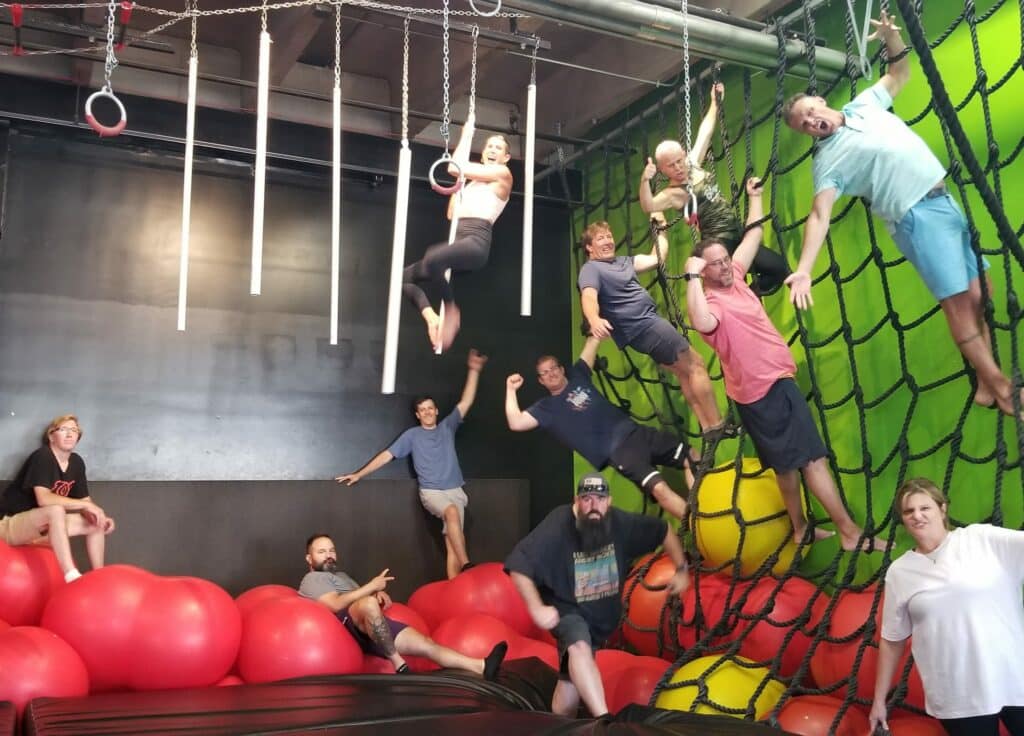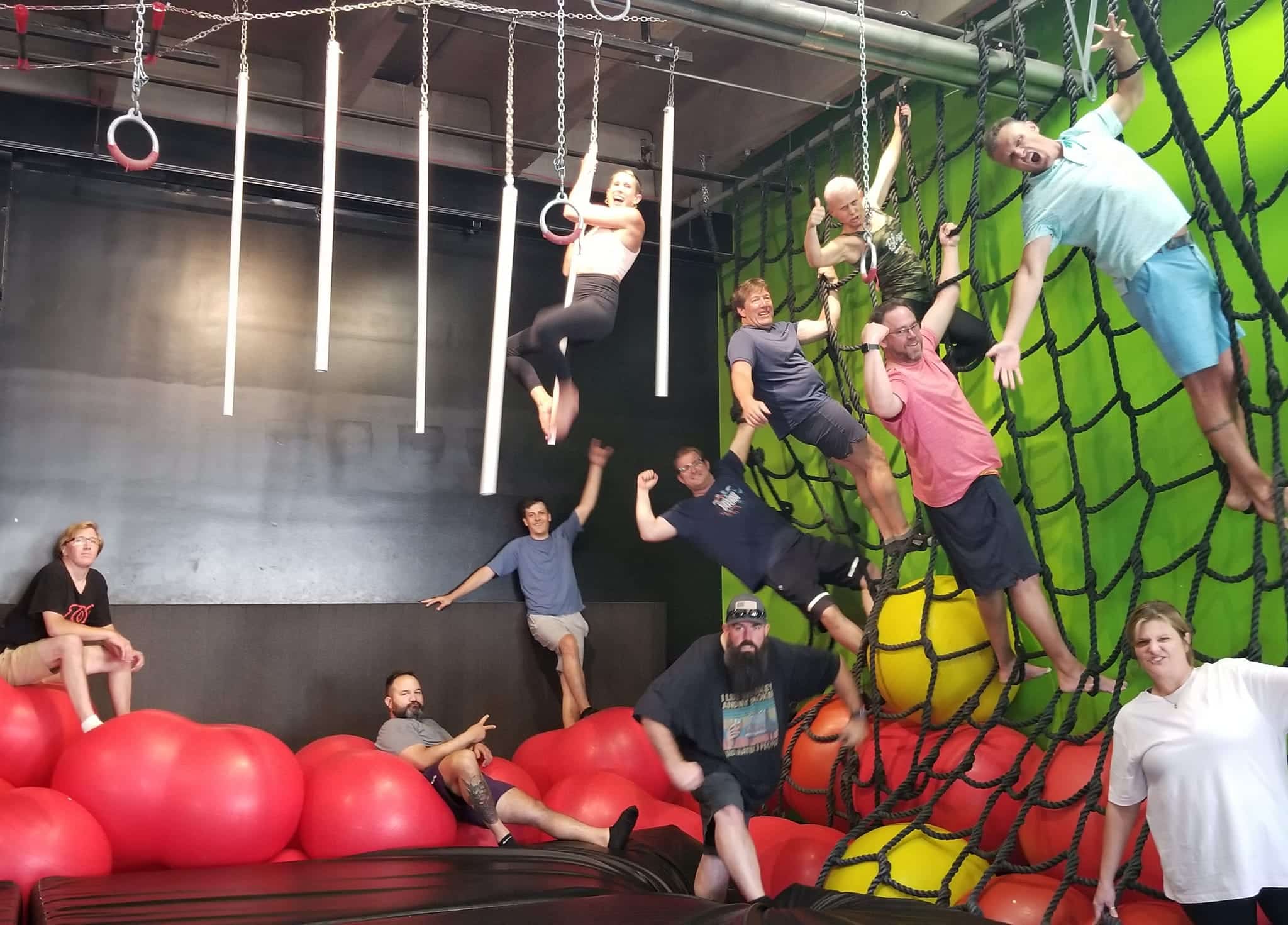 Corporate team building in Denver can take a lot of forms, and for high-energy groups, there's Warrior Challenge Arena. Popularized by American Ninja Warrior, this style of gym features obstacle courses, climbing challenges, and activities for all skill levels.
For group events, the venue will cater the experience to your goals, whether that be team bonding, building, or personal development. Programs last for 1-3 hours, providing a unique way to challenge and engage your team members.
Learn More about Warrior Challenge Arena >>
20. Enjoy a Tasting at Blanchard Family Wines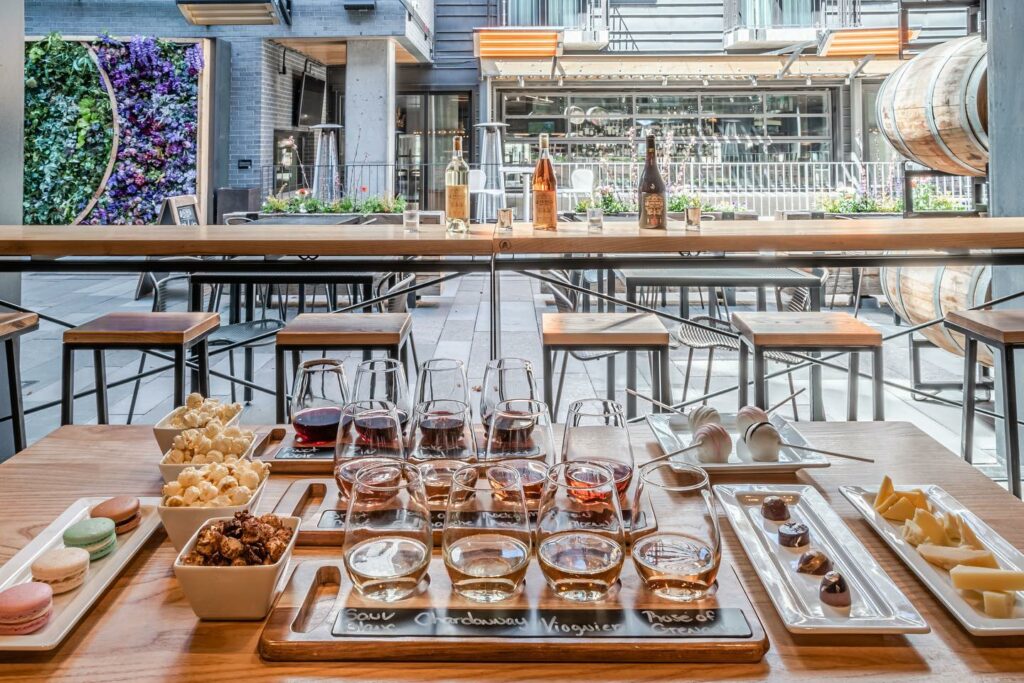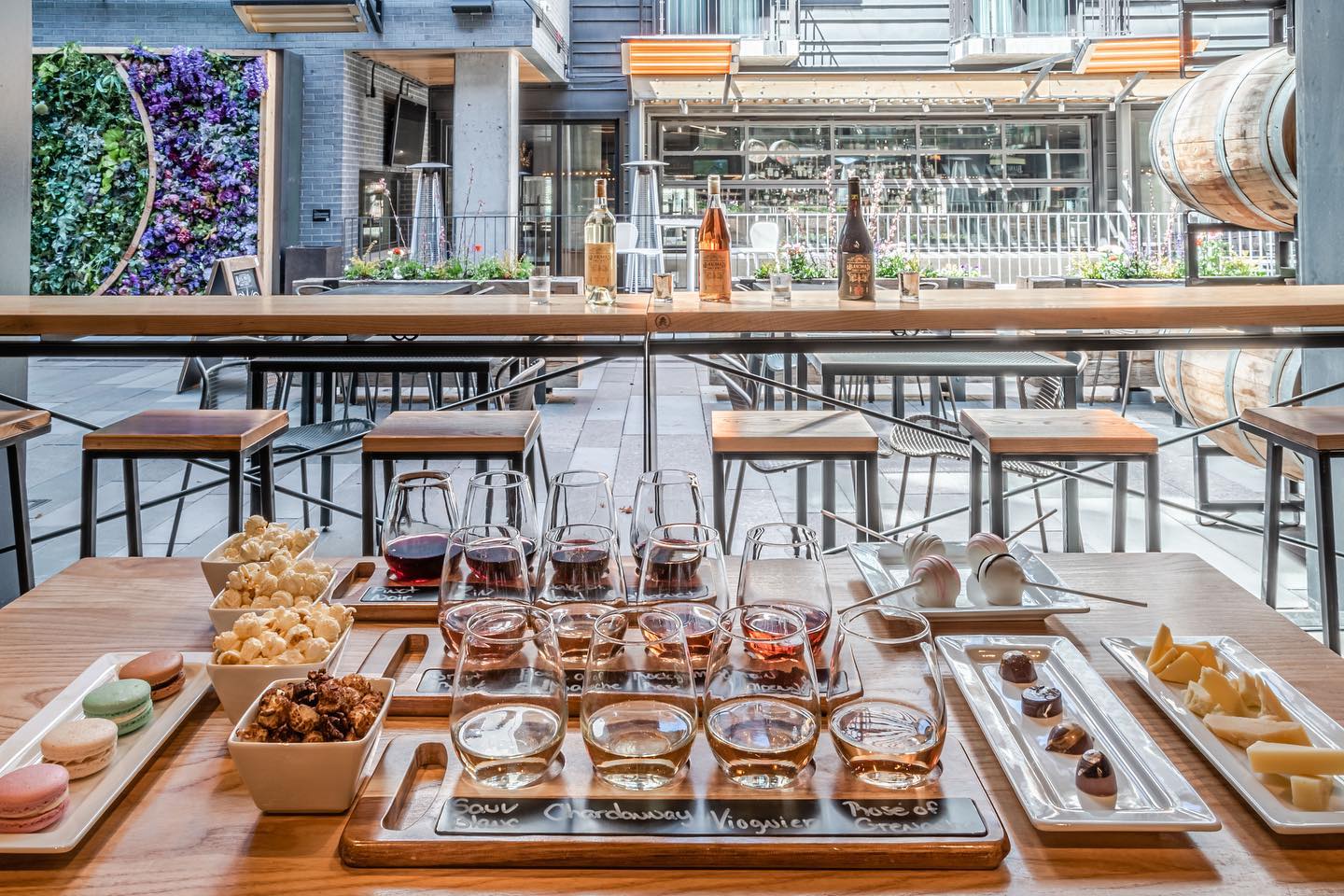 From the name and logo of the company to its daily operations, family is at the heart of Blanchard Family Wines. James Blanchard, formally in the Air Force, was stationed in California's Central Coast wine region, and would tour vineyards to learn about wine making. Meanwhile, his brother, Mark, was a manager and wine buyer for a specialty liquor store, which then led him to work at wineries throughout Napa and Sonoma County.
Their shared backgrounds and interests eventually led them to starting their own operation in Denver's swanky Dairy Block micro-district. They blend California and Colorado-grown grapes to produce a variety of prized vinos, thoughtfully paired with local products. These include Azucar Bakery cake pops, Kettle Head gourmet popcorns, and Bella French macarons. 
Our local businesses support each other, too, as Blanchard Family Wines is a stop on our Denver Wine Walk! Join the tour or stop in anytime to enjoy paired tastings with a small group. Alternatively, you can book a private event, allowing you to customize your experience. 
Learn More about Blanchard Family Wines >>
21. Go Paintballing and Get the Adrenaline Pumping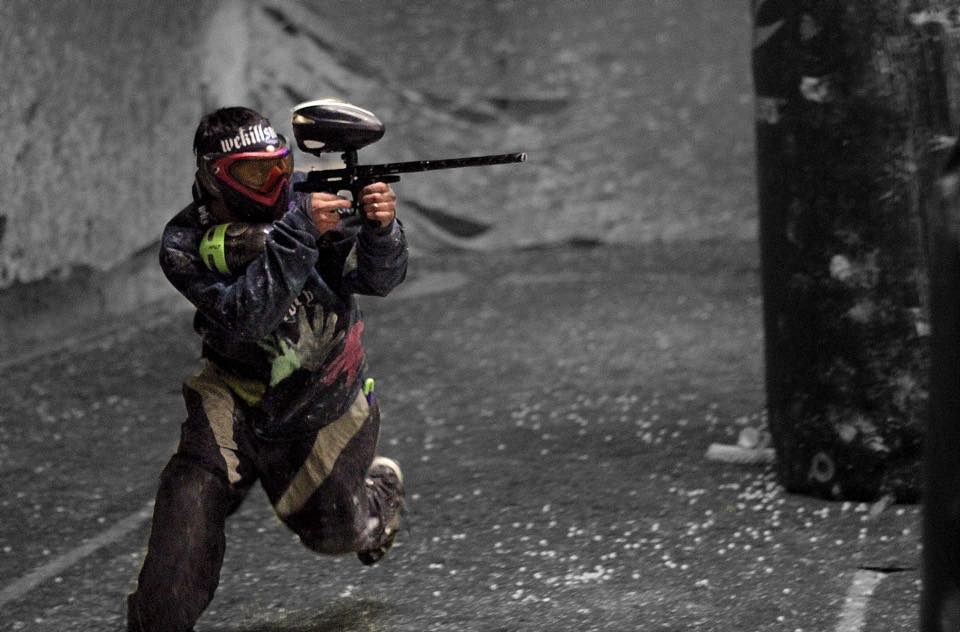 American Paintball Coliseum offers some of the most epic and unexpected team building activities in Denver, CO. You're sure to surprise your co-workers with this one — and even more so when they discover the venue hosts laser tag, axe throwing, and airsoft games, too!
Paintball packages include a safety orientation and equipment, plus all other needed rental gear. But make sure to tell your team that this is not the kind of place for business casual! Wear long sleeves, a light pair of gloves, and your bravest face.
Learn More about American Paintball Coliseum >>
22. Explore the Mind-Bending Exhibits in Meow Wolf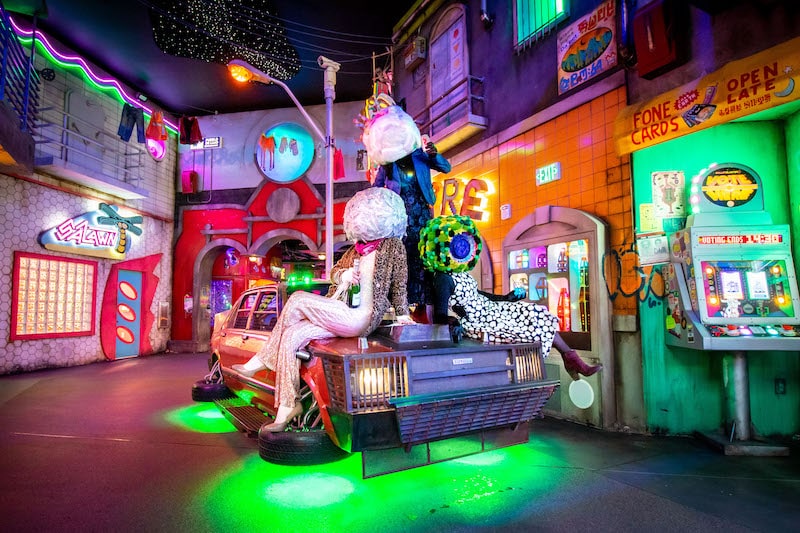 Since opening last year, Meow Wolf has quickly gained recognition as one of the best things to do in Denver. Some describe it as an art museum, but in many respects, the attraction is more akin to an adult fun house, full of sensory experiences.
This location's storyline follows the idea of an intergalactic train station, where each segment represents a unique destination or… dimension? While interpretations vary, all agree that visiting is memorable and will surely leave your team talking.
23. Take a Mixology Class at Deviation Distilling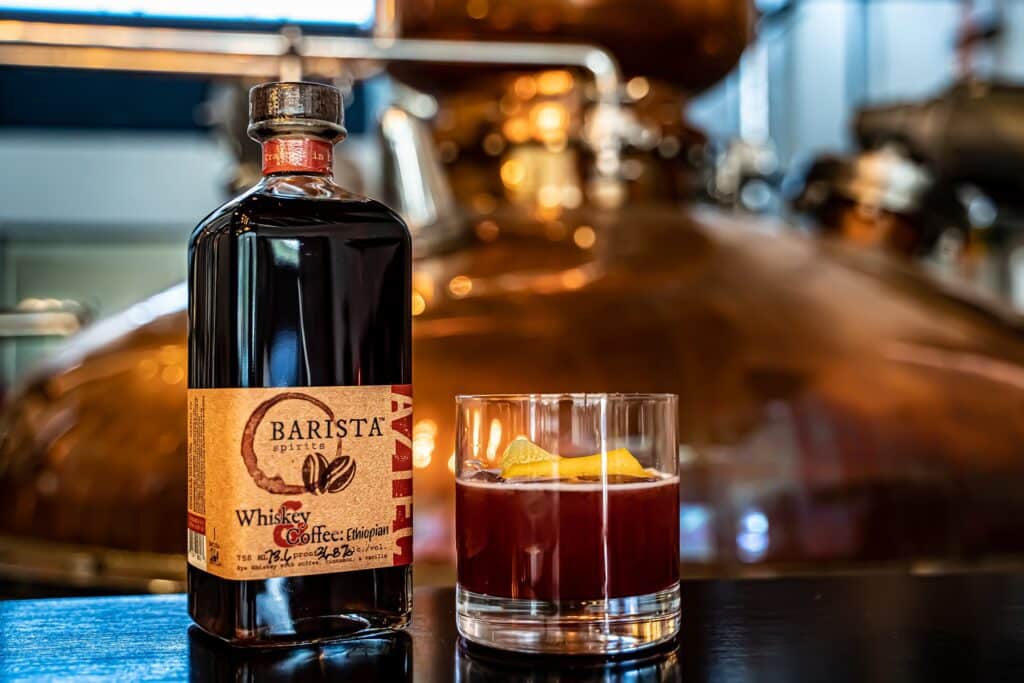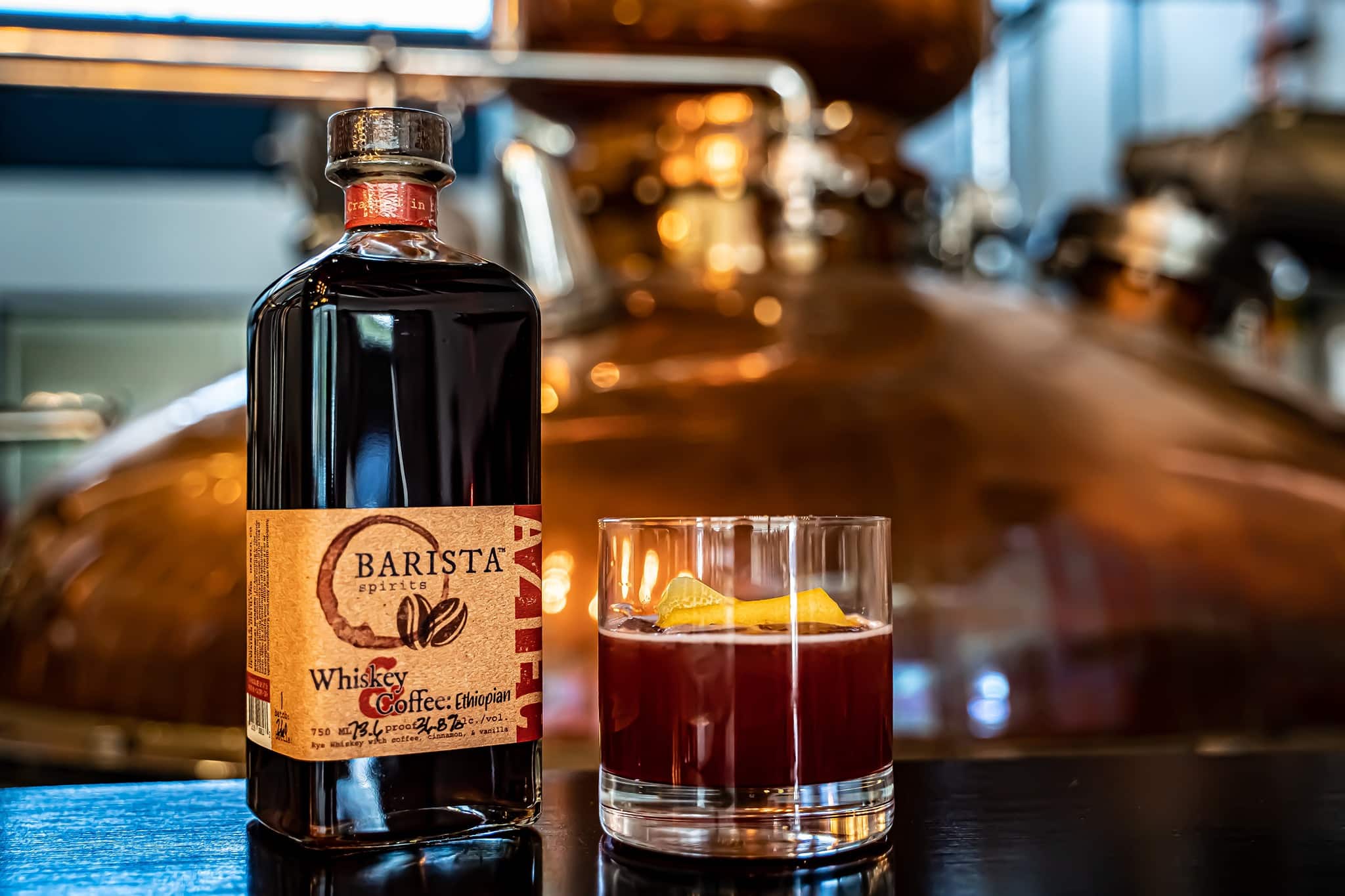 Treat your team to an outing at Deviation Distilling, downtown Denver's only gin distillery. Their innovative spirits include options like the pink Citrus Rosé Gin and Spice Trade Gin, a botanical-forward booze with a twist. It features malted rye and an Asian-inspired infusion of Szechuan peppercorns, cardamom, Thai basil, and ginger.
But that's not all — their Barista Spirits blend whiskey and coffee, and their cocktails take this cafe idea a step further. Their Chai Old Fashioned is truly one of my favorite drinks in the city.
Experience the creativity for yourself with a visit to their Dairy Block lounge. Groups are sure to love their "Shake It Up!" cocktail class series, featuring seasonal gin, whiskey, and bourbon-based aperitifs. For a customized menu, you can also book a private cocktails experience. Cheers!  
Learn More about Deviation Distilling >>
24. Experience the Urban City Park Golf Course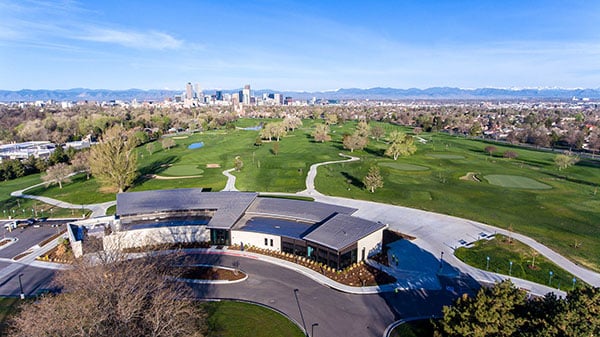 Looking to entertain and have a downtown office? Team building outings are abundant in Denver, but no local golf course compares to that of City Park. Situated in the heart of the city, this engaging course features a variety of challenging terrain.
As you navigate all 18 holes, you and your team will be treated to stunning views of the mountains and Denver skyline. Book a tee time or simply hit the scenic driving range, open year-round.
Learn More about City Park Golf Course >>
---
Looking to plan a Private Food & Drinks Tour for your next team outing? Connect and engage with your team while tasting some of the best dishes and drinks in Denver.