Our local food tour company frequently hosts team building dinner events in Denver. We consider ourselves insiders on the city's ever-expanding culinary scene.
In this guide, we share our key insights and several corporate event ideas for every group size, budget, and interest. Consider popular restaurants, places with stellar entertainment, and a few unexpected team building activities in Denver and nearby destinations.
Best Team Building Dinner Events in Denver
Below, we cover the best team building dinner events in Denver. Then, we get into Colorado team building dinner events with games, team building dinner events with live entertainment, and unique company team building dinner activities in Denver and beyond. Jump ahead if a particular section piques your interest!
Appreciate Local Eateries on a Dinner Tasting Tour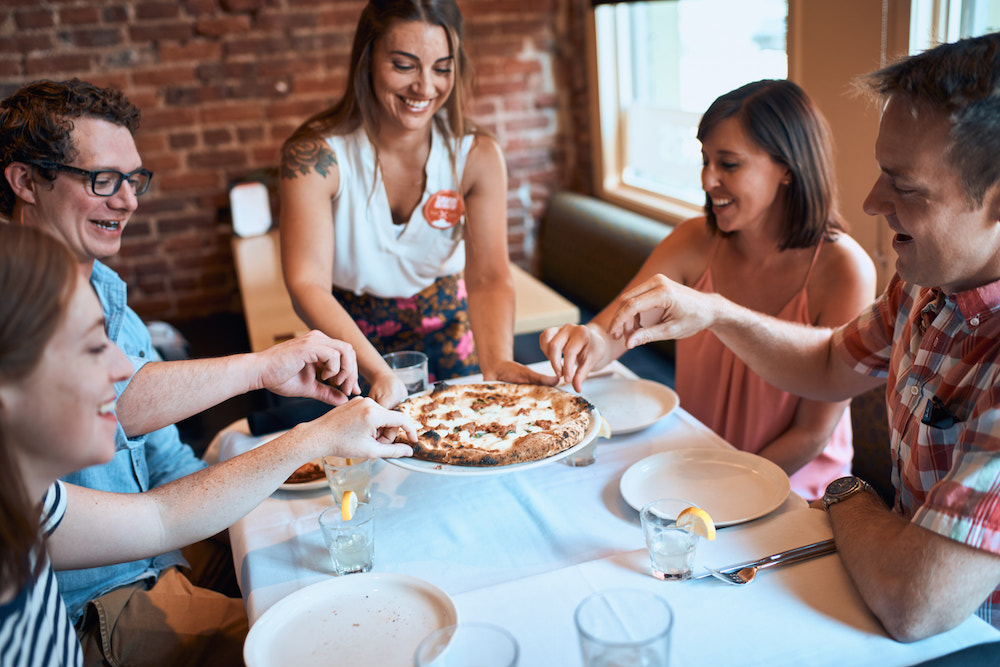 It's tricky to mix and mingle when seated at a traditional dinner event. Rather, get to know your entire team by booking an evening with Delicious Denver Food Tours!
Our dinner tasting tour features three award-winning local establishments. Savor seven tastings including dessert, as well as three alcoholic drink pairings. Think authentic Margherita pizza with house-made limoncello, fry bread tacos with refreshing margaritas, and much more for every dietary need and preference.
Your expert guide will overview each eatery and share interesting tidbits about the city and its dining scene as you walk between stops. Tours occur Sundays through Thursdays with start times between 4 and 7 pm. This team building activity is suited for groups of 8-25 individuals. See our corporate events page for more available experiences!
Plan an Interactive Evening at Cook Street School of Culinary Arts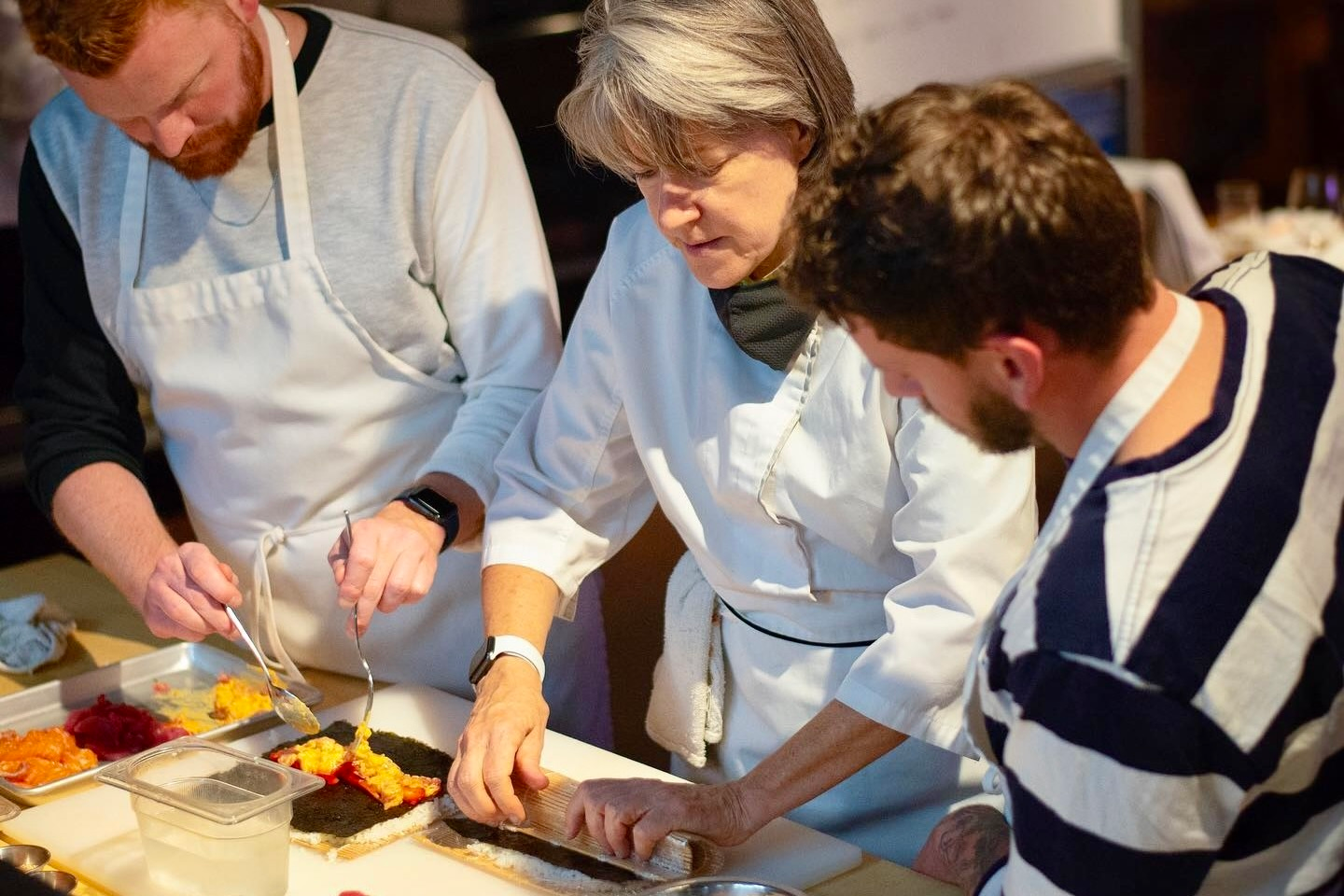 Cook Street School of Culinary Arts hosts stellar team building activities. Here, your Denver team will enjoy a fabulous dinner — so long as they follow instructions! Fortunately, the institution's chefs are accustomed to working with students of all skill levels.
Classes cover a variety of cooking styles and global cuisines. Consider learning to create street food from Taiwan or Morocco, or traditional dishes from France, Japan, or Peru. There are also lessons on American regional cooking that highlight fare iconic to California, the South, and New Orleans.
Public classes can be reserved for groups of up to 14 persons. Cook Street School of Culinary Arts also hosts private team building events for larger groups.
Snack on Pub Grub and Play Games at Topgolf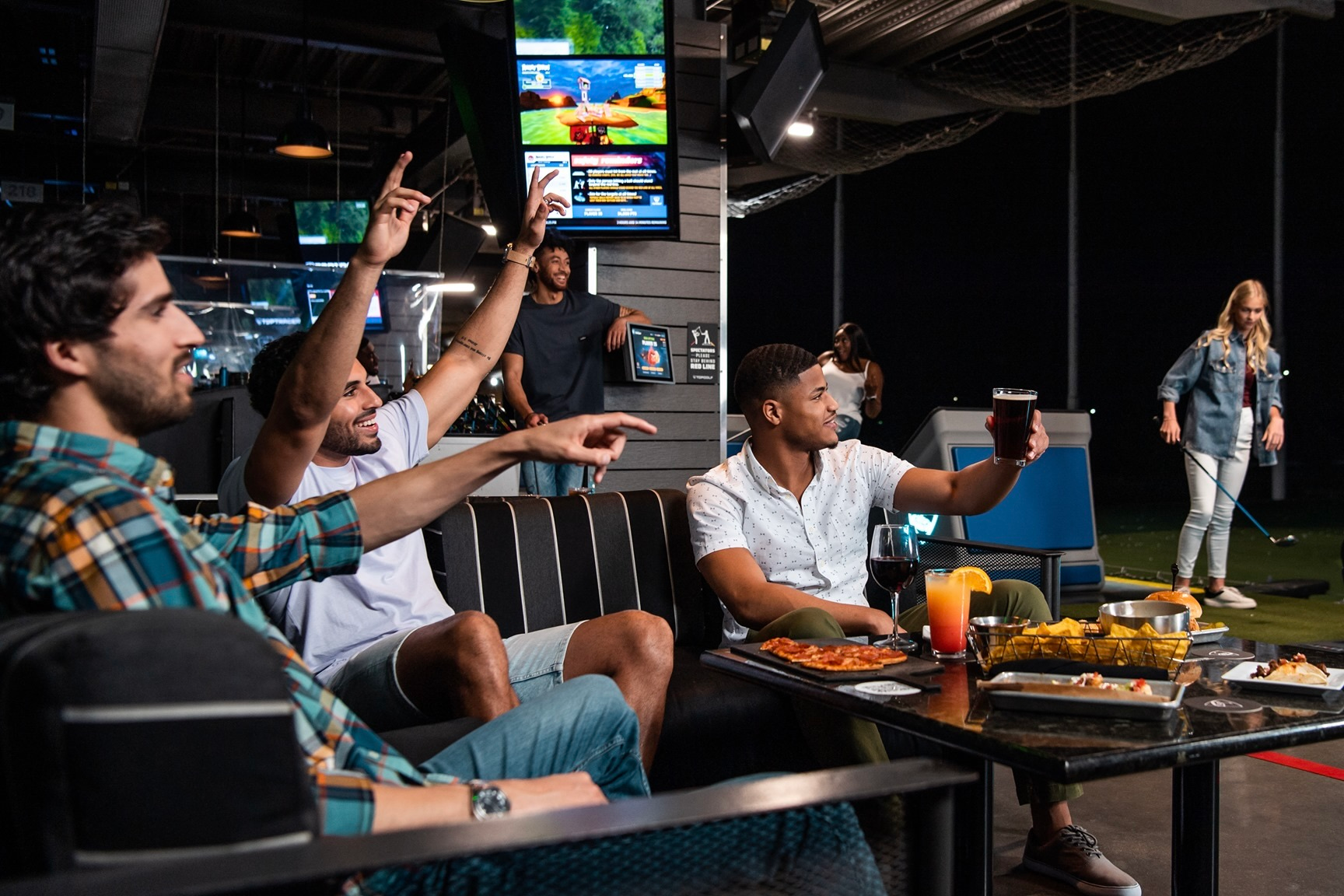 Topgolf is one of the best team outing ideas, offering a laid-back atmosphere and approachable golf games. Even novices to the sport will quickly get into the swing of things! Participants drive from elevated bays, aiming for large, netted targets in order to score points. But this team building activity is less about competition than simply having a good time.
Still, if co-workers need some help loosing up, Topgolf has a full bar on-site, plus a large menu of elevated pub grub. Order share-ables like flatbreads and loaded nachos, along with hearty mains like stacked burgers and sandwiches.
Bays accommodate up to 6 people and can be reserved in blocks for larger corporate events. Topgolf also has team building packages for groups as large as 204 individuals, which include private corporate event space.
Complete Escape Rooms Next to Solutions Lounge & Restaurant
Have a team that enjoys strategic team building activities? If so, plan your next team outing at Escapology. This Denver escape room features several exciting games. Complete challenges like finding treasure in the Lost City, identifying the killer on the Budapest Express, and stopping outlaws at an Arizona shootout!
After your team's mission, head next door to Solutions Lounge & Restaurant. The lengthy menu at this adjacent eatery features small plates, salads, sandwiches, and a variety of entrees. Its craft cocktails and mocktails are inspired by the escape rooms. Of course, Bourbon anchors the shootout-inspired beverage. Beer and wine round out the selection.
This Denver escape room and restaurant often host team building events and can accommodate groups of up to 150 persons.
Dine at The Ponti at the Denver Art Museum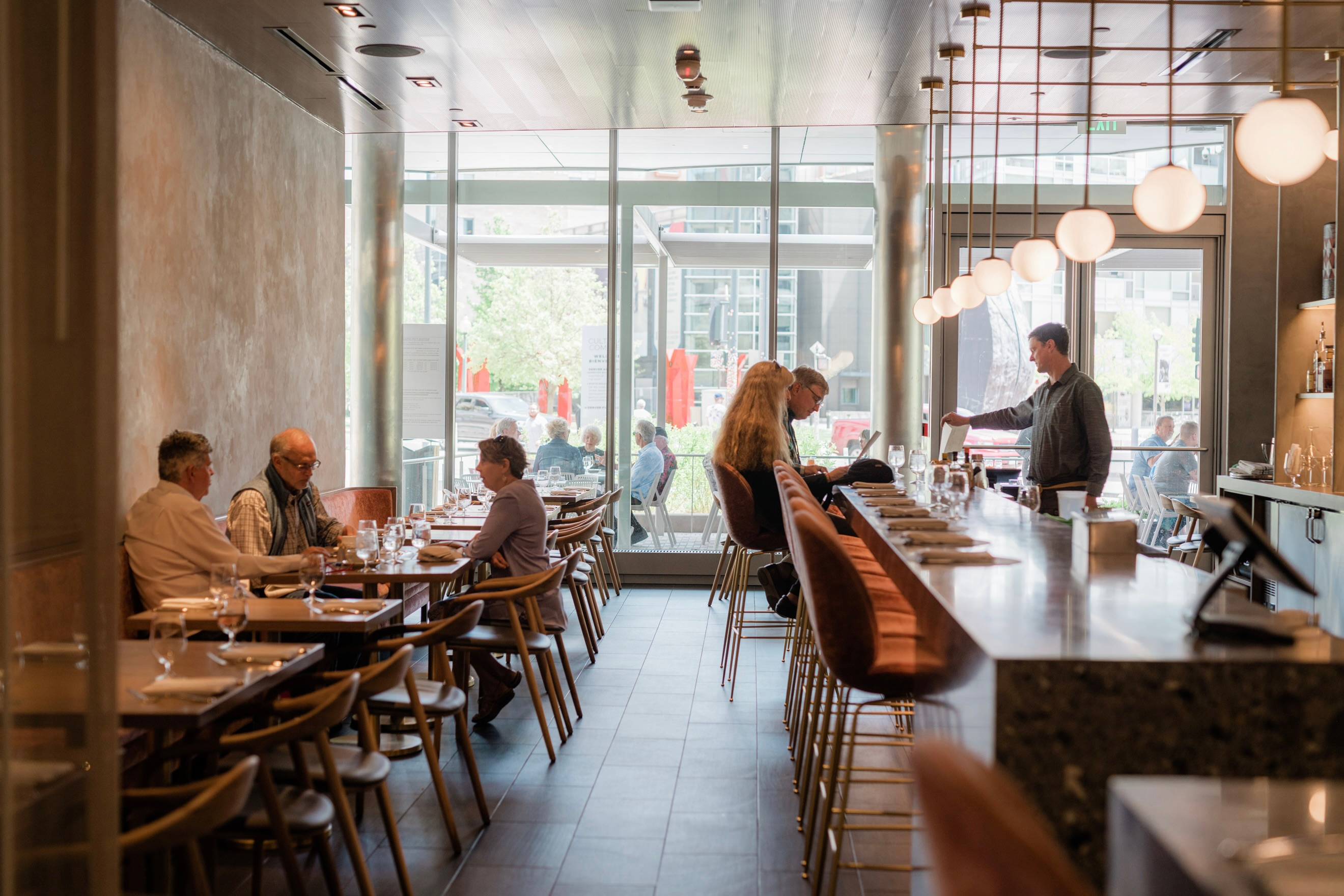 The Denver Art Museum is a fabulous place to hold team building activities. If you're inclined to host an evening corporate event, opt for Tuesdays when the museum's hours are extended to 9 pm. Peruse the range of exhibits, then enjoy a fabulous meal at its on-site restaurant, The Ponti.
This sophisticated eatery serves New American fare. Its entree options include ricotta gnudi with morel mushrooms and sugar snap peas, as well as scallops with farro verde and artichokes. Save room for dessert — its upside-down rhubarb cake is one not to miss.
Experience the City's Best Markets and Food Halls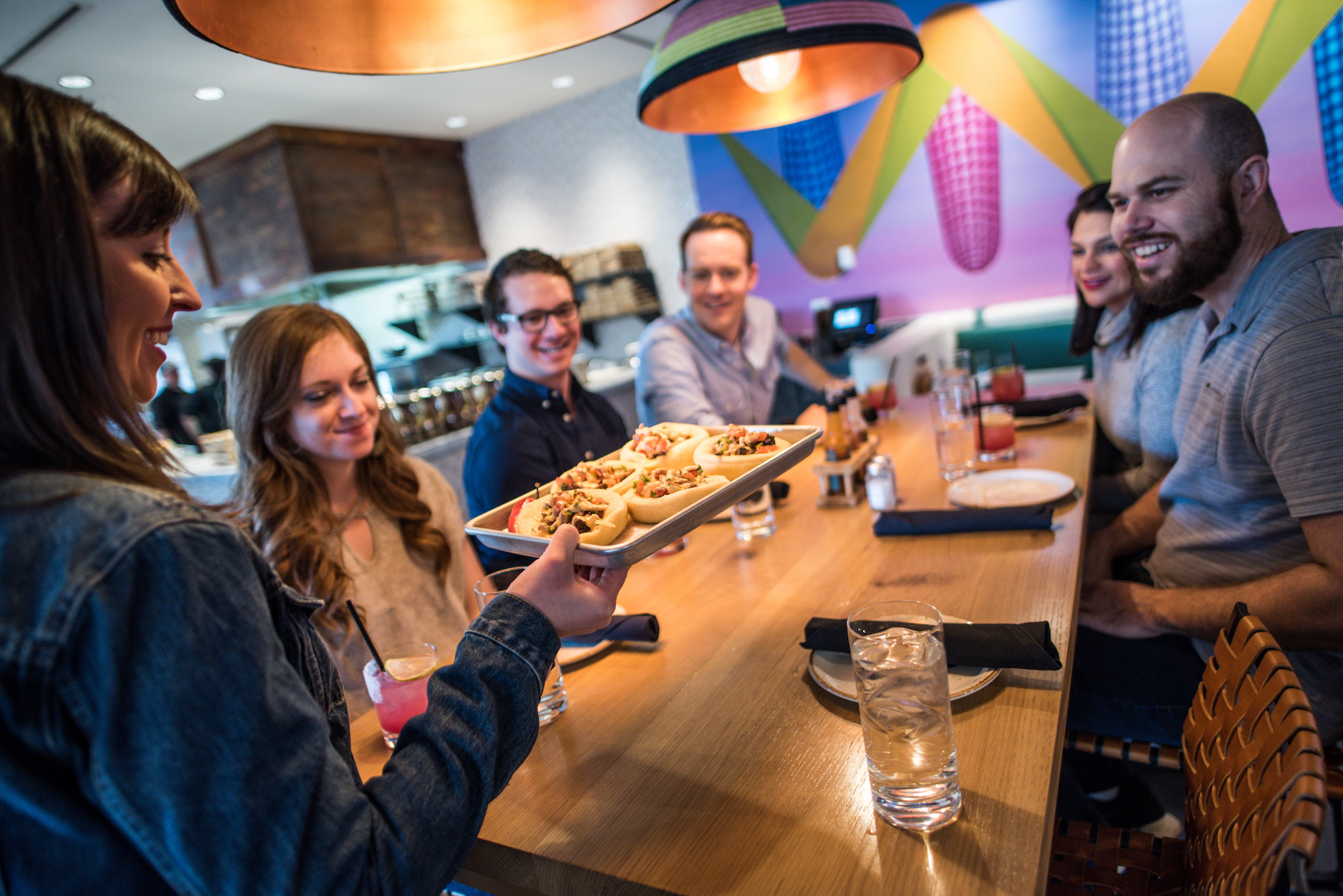 It can be difficult to please a crowd. Fortunately, Denver has several markets whose food stalls meet a variety of tastes and preferences.
Consider Avanti Food & Beverage in LoHi, one of the city's best rooftop restaurants. Or pay a visit to the Denver Central Market, home to several of the RiNo neighborhood's top dishes. There's also Edgewater Public Market, as well as Stanley Marketplace in nearby Aurora.
Among the various options, our personal favorites are the Denver Milk Market and Milepost Zero in LoDo. The former lies on Diary Block and is home to 16 incredible local establishments, including globally-inspired restaurants, a winery, and more. The latter resides within McGregor Square and features 6 food stalls, plus a self-serve tap wall that pours craft beer and cocktails.
Discover the best of the Denver Milk Market and Milepost Zero on the food hall tour by Delicious Denver Food Tours! This team building activity accommodates groups of 25-150 persons.
Catch the Game at ViewHouse Eatery, Bar & Rooftop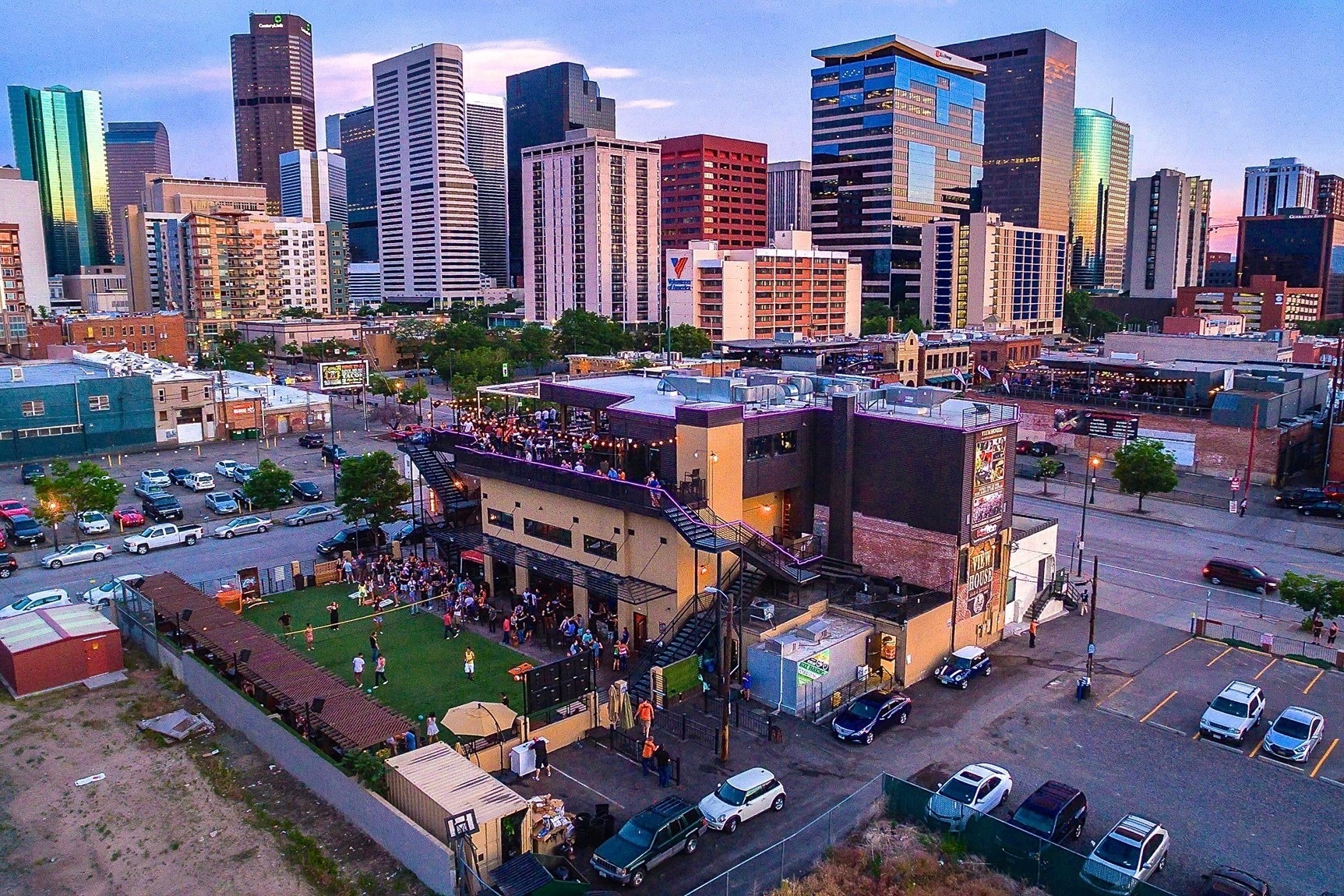 ViewHouse in Ballpark is the place to be on game day. Set across from Coors Field, this spacious eatery and bar features a massive rooftop. Catch sports on its dozens of TVs, challenge your co-workers to a cornhole tournament, and even catch live music on certain evenings.
Its menu includes traditional pub grub like pizza, burgers, and buffalo wings. But it also has healthier grain bowls and hearty salads to meet others' preferences. Mules and margaritas dominate its cocktail list, though its two full bars also serve classic concoctions alongside beer and wine.
Enjoy Dinner and a Show at Comedy Works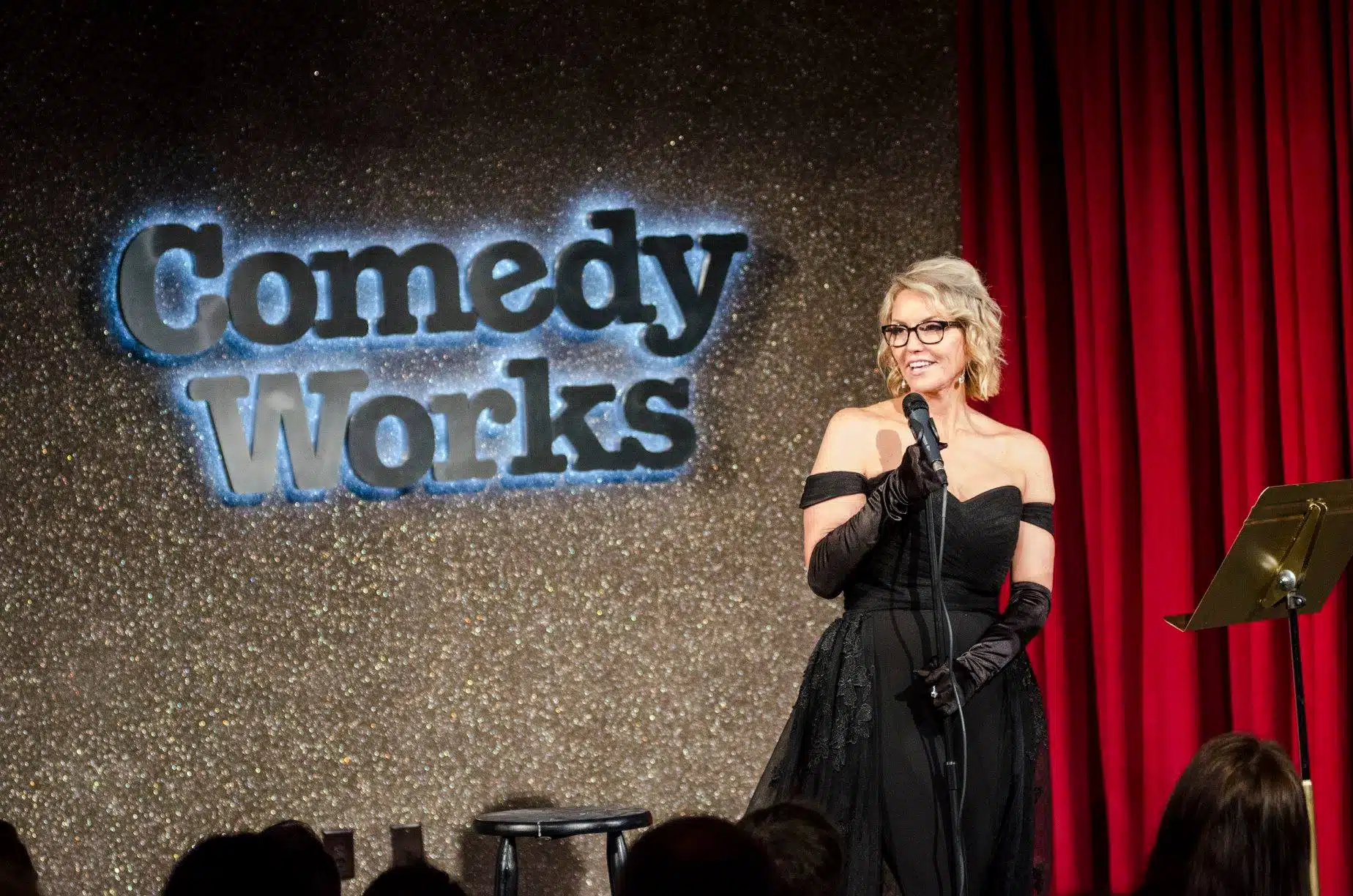 Head to Greenwood Village for these fun team building activities! Start the evening at Lucy Restaurant, an American eatery set directly above Comedy Works South. Its menu features an assortment of libations, as well as appetizers, soups and salads, and several entrees. Signature items include its tuna tartare, bistro steak, and the classic Lucy burger.
As an added bonus, dining at Lucy Restaurant grants parties preferred seating in the comedy club's first six rows. Comedy Works draws world-famous comedians and up-and-coming performers who are sure to put on a great show.
Team Building Dinner Events with Games
Take in The Wild Game Entertainment Experience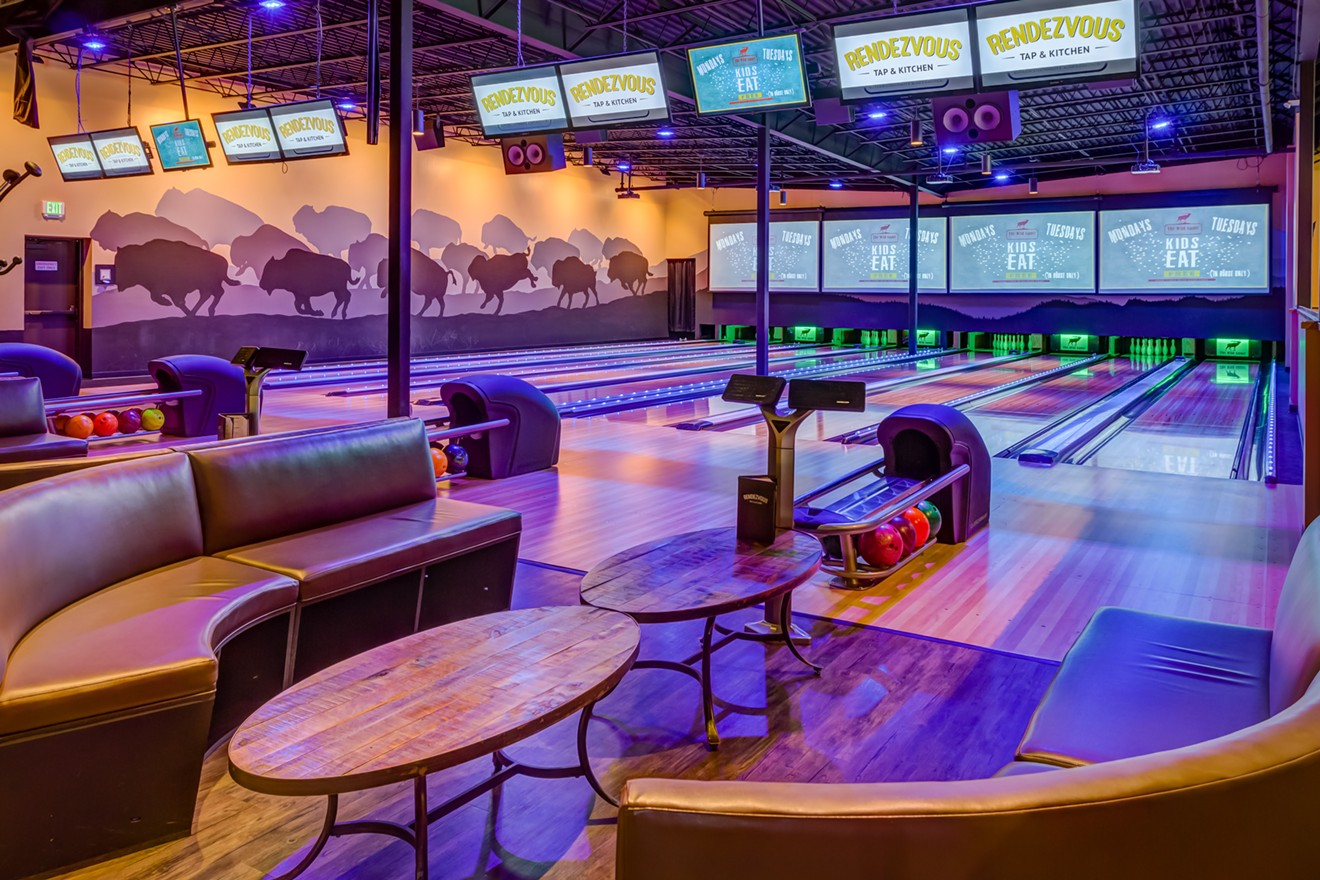 Located in Evergreen, The Wild Game Entertainment Experience offers several team building activities under one roof. Attractions include its bowling alley, arcade games, and outdoor pickleball courts. Inside its clubhouse, guests will also find shuffleboard, billiards and ping-pong tables, TVs for catching the game, and even a live music stage.
In addition, The Wild Game Entertainment Experience has a full bar and pub grub menu. The adjacent Casa Tequilas restaurant also serves food and offers catering to those who book private corporate events.
Discover Tons of Team Building Activities at FlyteCo Tower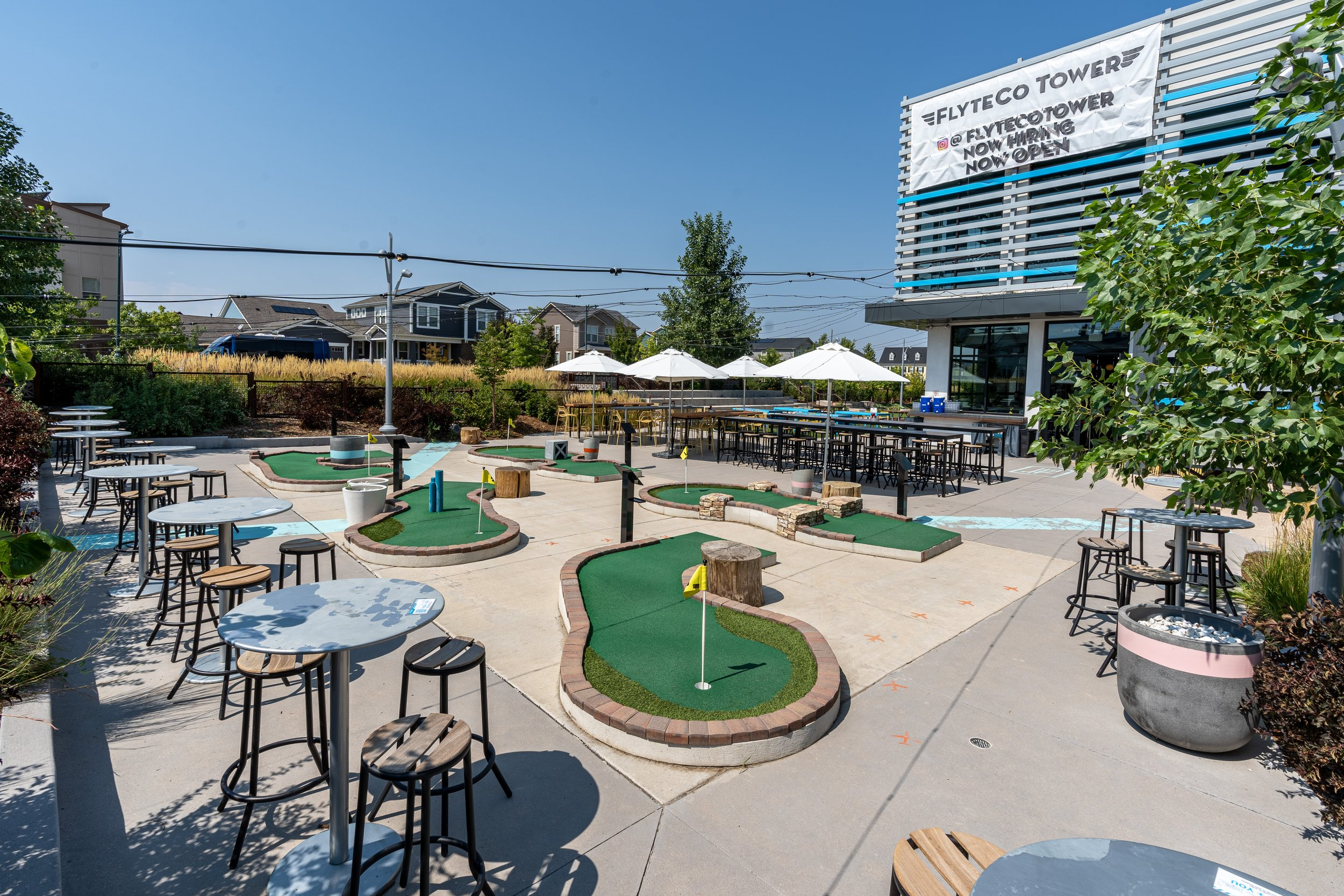 FlyteCo has completely renovated the air traffic control tower at the former Stapleton International Airport. Today, it's home to many team building activities including bowling lanes, mini golf, pinball and other classic arcade games, axe throwing, and more! Attractions reside both inside and outside, making FlyCo Tower one of the best Denver team building activities in winter.
As far as the dinner component, FlyCo serves hearty salads, burgers, pizza, and more tasty pub grub that pairs great with its selection of craft beer. With its space encompassing 20,000 square feet, this establishment is well suited to host large corporate events.
Enjoy Jumbo Games and German Beer at Bierstadt Lagerhaus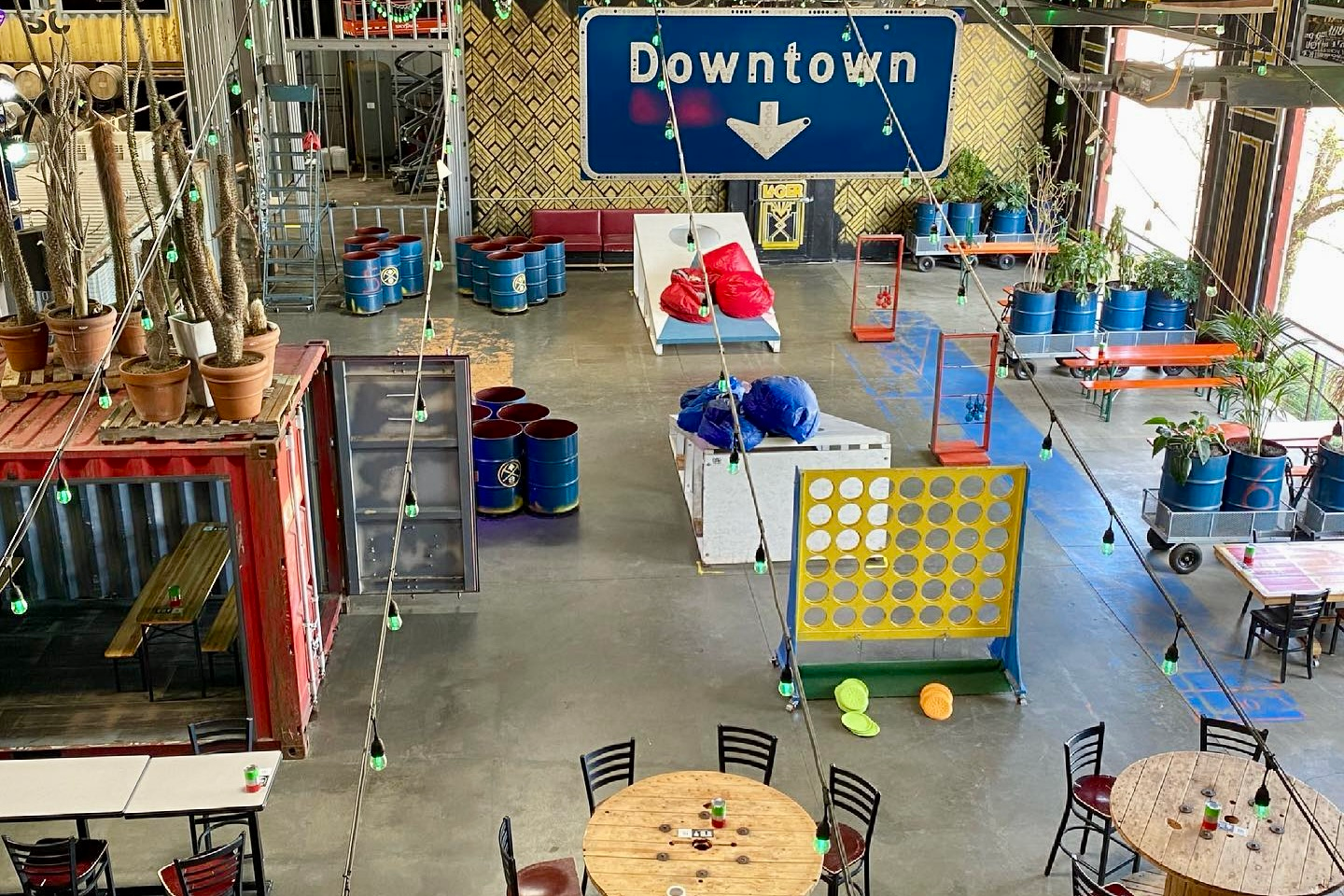 Bierstadt Lagerhaus is one of the best places to find fun team building activities in Denver. It advertises itself as an "indoor adult playground," an accurate description given its assortment of entertainment. Pinball machines and oversized games like cornhole and beer pong decorate its interior. Comedians and musicians often perform, and live pro wrestling occurs on the first of every month!
Of course, German lagers appear on the menu, like its Slow Pour Pils and popular Dunkel. Its food is also German-inspired, with options like Bavarian pretzels, schnitzel, and a bratwurst burger. Opt for Das Feast, a generous party sampler, if planning a large corporate event.
Pair German Fare with Bocce Ball at Rhein Haus
Rhein Haus is another German establishment that knows how to put on a fun corporate event. Its draft beer selection also sticks to German pours but features a number of local craft breweries. Sample the Kölsch by Prost, No Shade Pilsner by Ratio Beerworks, Pretzel Assassin by Denver Beer Co., and more.
Its food menu pairs perfectly, featuring house-baked pretzels, sausage topped with sauerkraut and other bratwurst creations, and vegetarian spätzle with roasted vegetables.
Following a hearty meal, challenge your co-workers to a game of bocce ball! Courts are available on-site, making Rhein Haus one of the best spots for team building activities in Denver.
Savor Asian Eats and Play Ping-Pong at Ace Eat Serve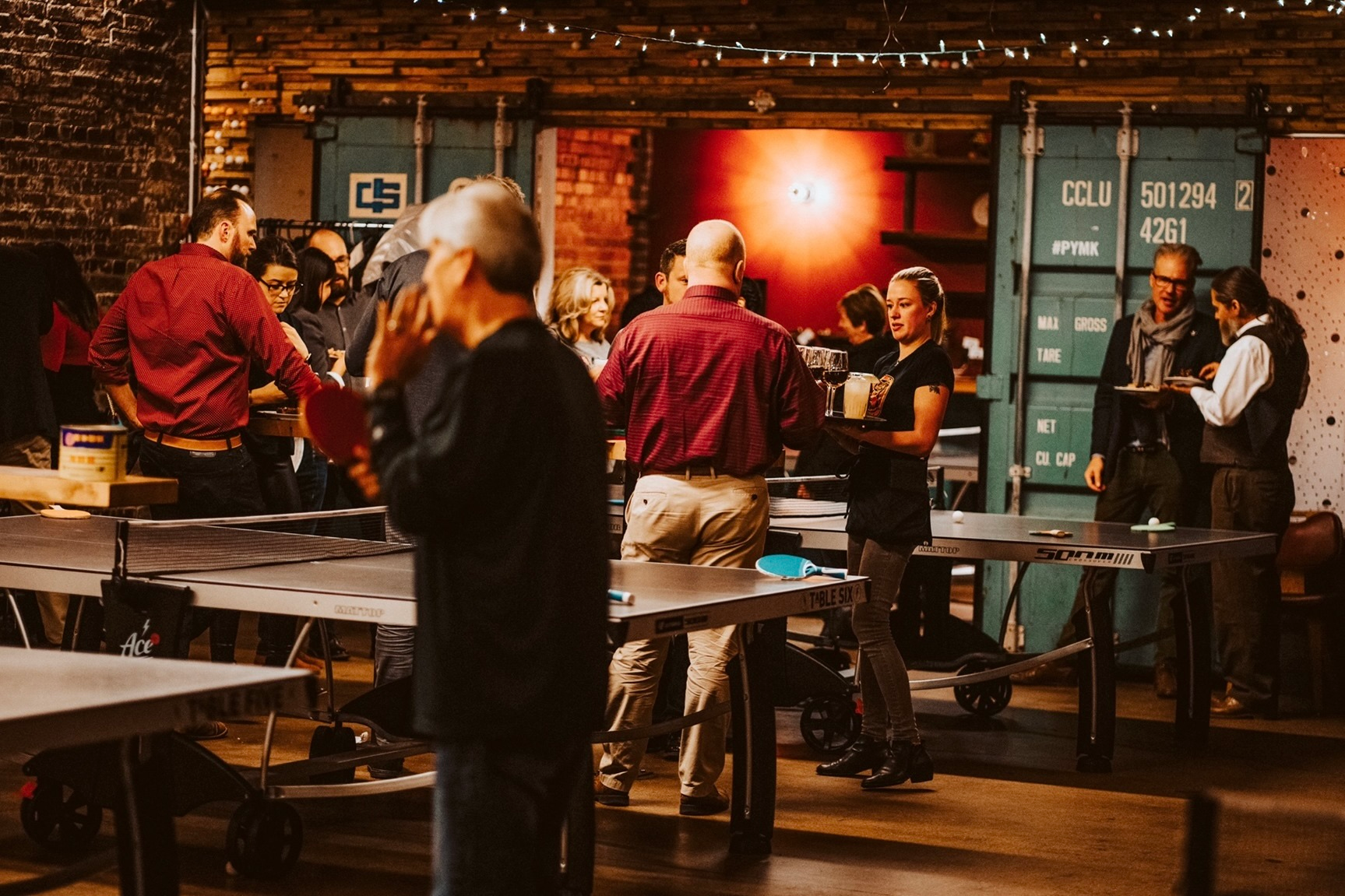 Head to Ace Eat Serve to experience one of the best restaurants in Denver. This lively Pan-Asian eatery serves up tasty dim sum, bao buns, and delicious mains like green curry mussels and cashew chicken. Sake flights and house cocktails add to the experience, though its drink menu also has great non-alcoholic beverages, too.
In addition to the food, locals love Ace Eat Serve for its live music on weekends and most importantly, its ping-pong hall. Eight tables are available by the hour and can be reserved for private team building events. The eatery can accommodate groups of 15-150 team members.
Challenge Co-Workers to a Game of Pool at Wynkoop Brewing Co.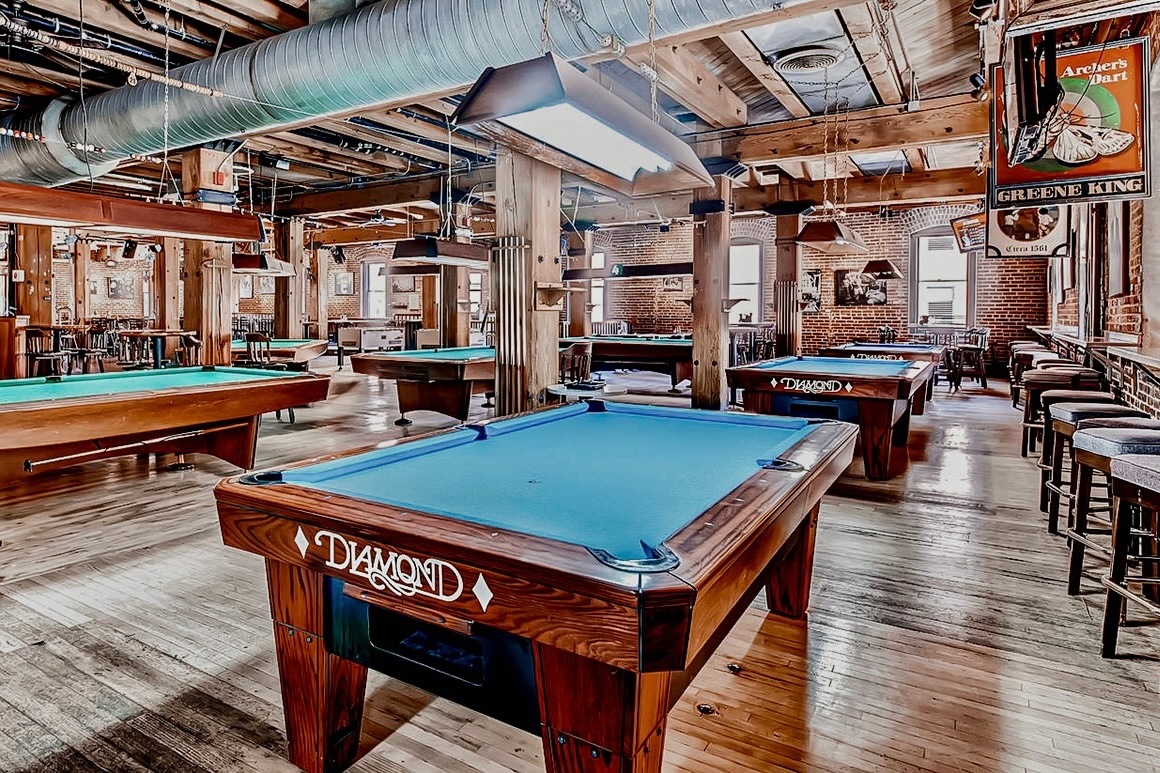 Wynkoop Brewing Company is set in downtown Denver across from Union Station. It's a central, easy-to-reach location for Colorado team building events. The menu features elevated pub grub and New American fare. Mains include a bison burger, BBQ pulled pork, veggie shepherd's pie, and crispy fish tacos. Complete the meal with signature cocktails, wine, or in-house brews like its flagship beer, the Rail Yard Ale.
Several pool tables, shuffleboard, darts, and foosball provide plenty of entertainment. Wynkoop also features several TVs, allowing team members to tune into their favorite sports in the company of their co-workers.
Please a Crowd at Punch Bowl Social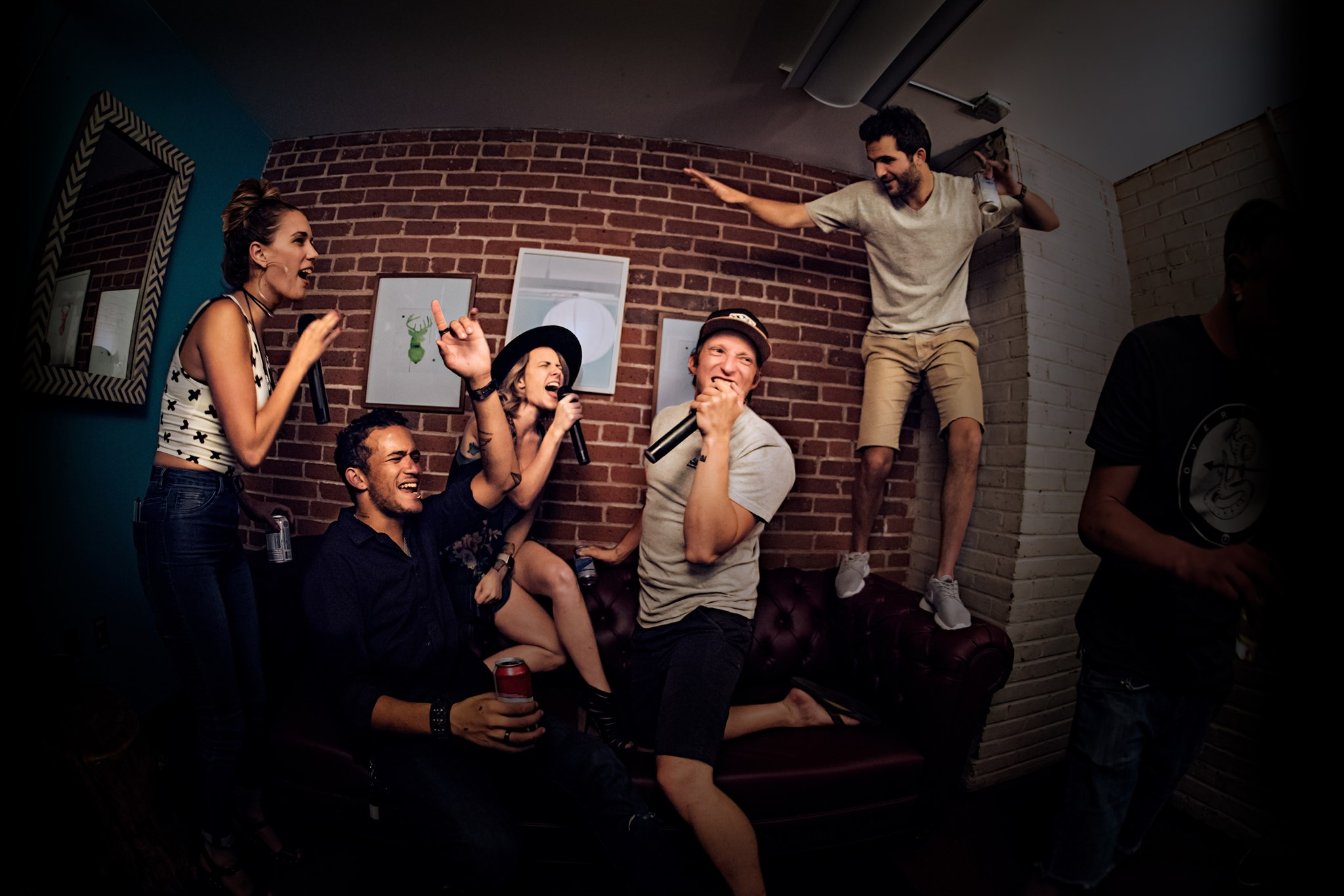 Looking for corporate team building activities in Denver that will meet a variety of interests? Punch Bowl Social has you covered. This amusement complex on South Broadway is the place for team bonding.
Enjoy bowling and old-school video games in its arcade. Play table games like ping-pong and billiards, enjoy friendly competition over cornhole and bocce ball, and challenge team members to jumbo-sized Scrabble and Jenga. Punch Bowl Social also has private karaoke rooms, a great team building activity.
The menu features share-ables including loaded fries, several burger creations, street tacos, and tasty mains like chicken n' waffles and a cast iron NY strip. Late-night bites are available until 2 am, as are libations from its full bar.
Team Building Dinner Events with Live Entertainment
Be Impressed by the Concessions at Coors Field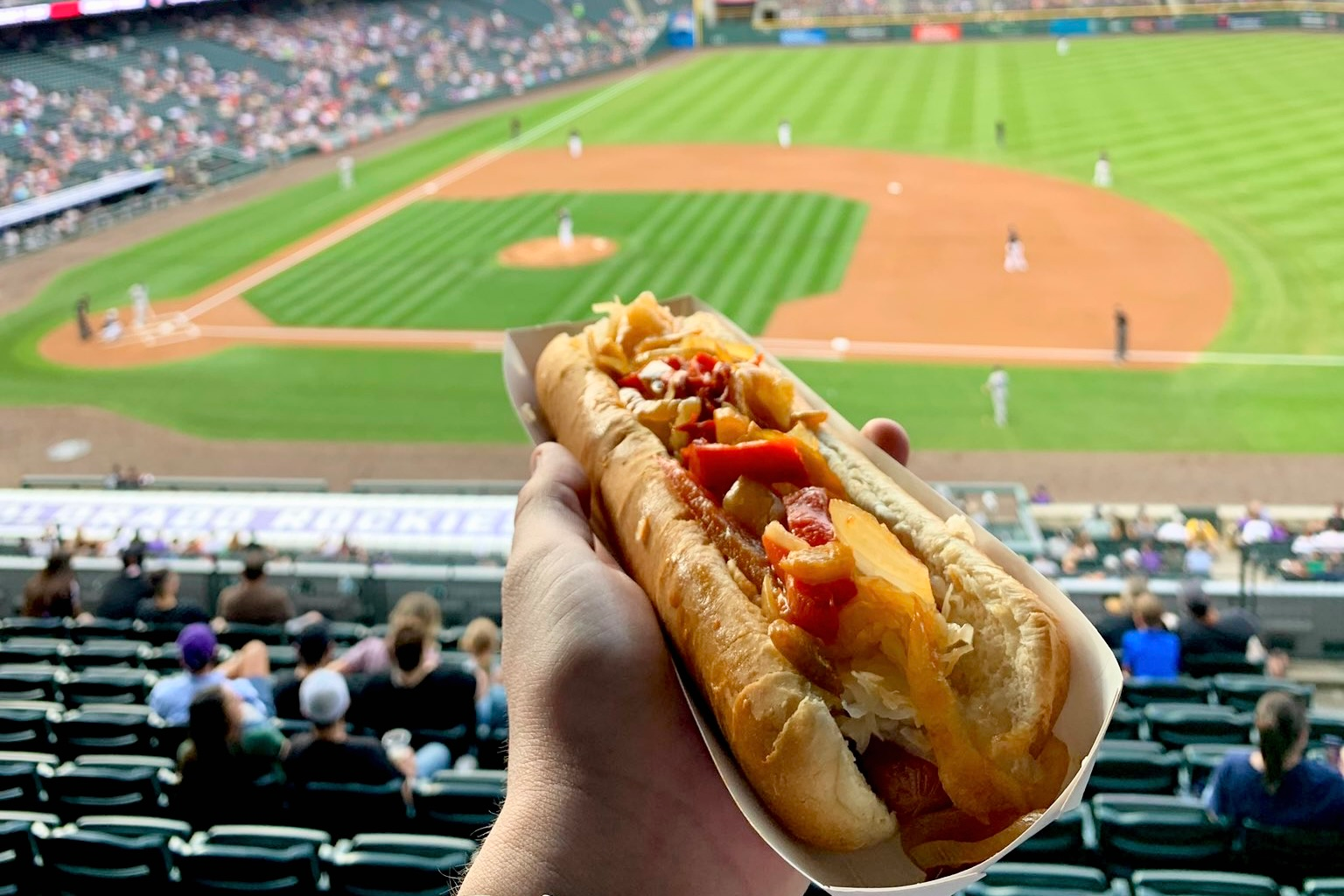 Don't think Coors Field is the place for team building dinner events? Think again. The Colorado Rockies' stadium has several dining options outside of standard concessions.
Check out Blake Street Burrito for Mexican fare and bottles of Corona. Head to Famous Dave's for BBQ mac and cheese and ribs sold by the bone. Stop by Biker Jim's for an elk bratwurst or vegan hotdog. Coors Field also has gluten-free food and beer for those with dietary restrictions. Enjoy all this and more while watching the Rockies play beneath a beautiful Denver sunset!
Nosh on Burgers and See a Concert at Number Thirty Eight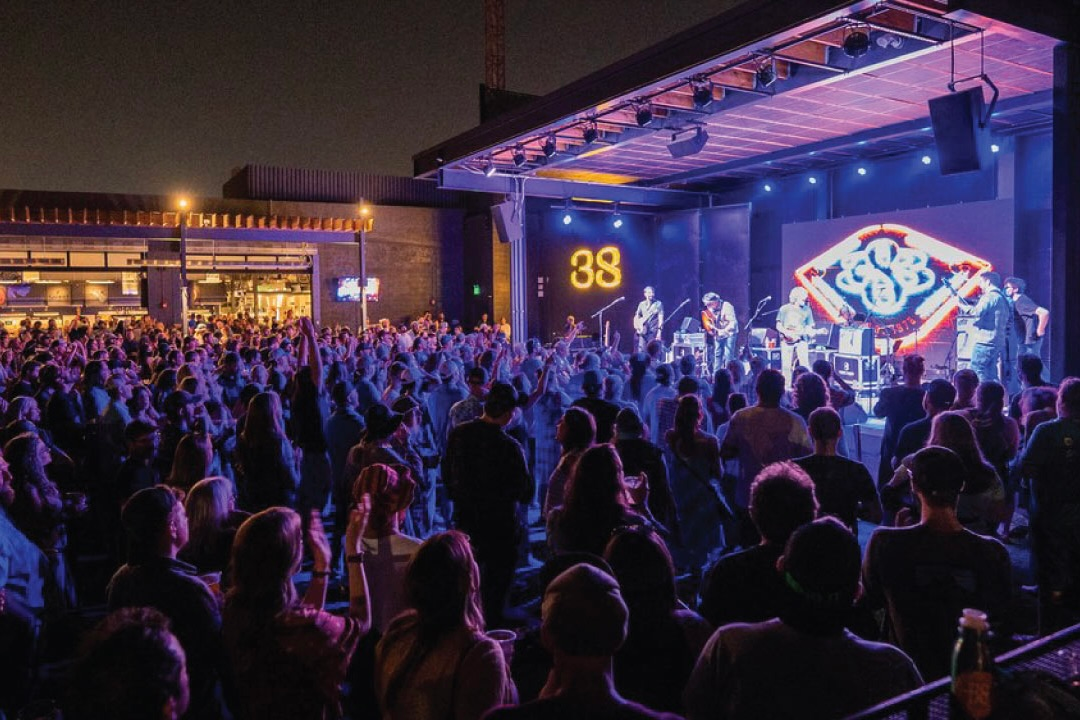 Experience one of the best things to do in RiNo at Number Thirty Eight. This spacious indoor/outdoor hangout offers free entertainment every night of the week. Renowned and up-and-coming musicians set the ambiance, as do the lively crowds playing sand volleyball, tossing cornhole bags, and chatting over beer.
The 20,000-square-foot establishment has several brews on tap and serves a variety of signature cocktails. Its food is created by Split Lip, one of RiNo's top restaurants. Nosh on regionally-inspired burgers, tasty sandwiches, and pizza sold by the slice.
Dance and Dine at Ophelia's Electric Soapbox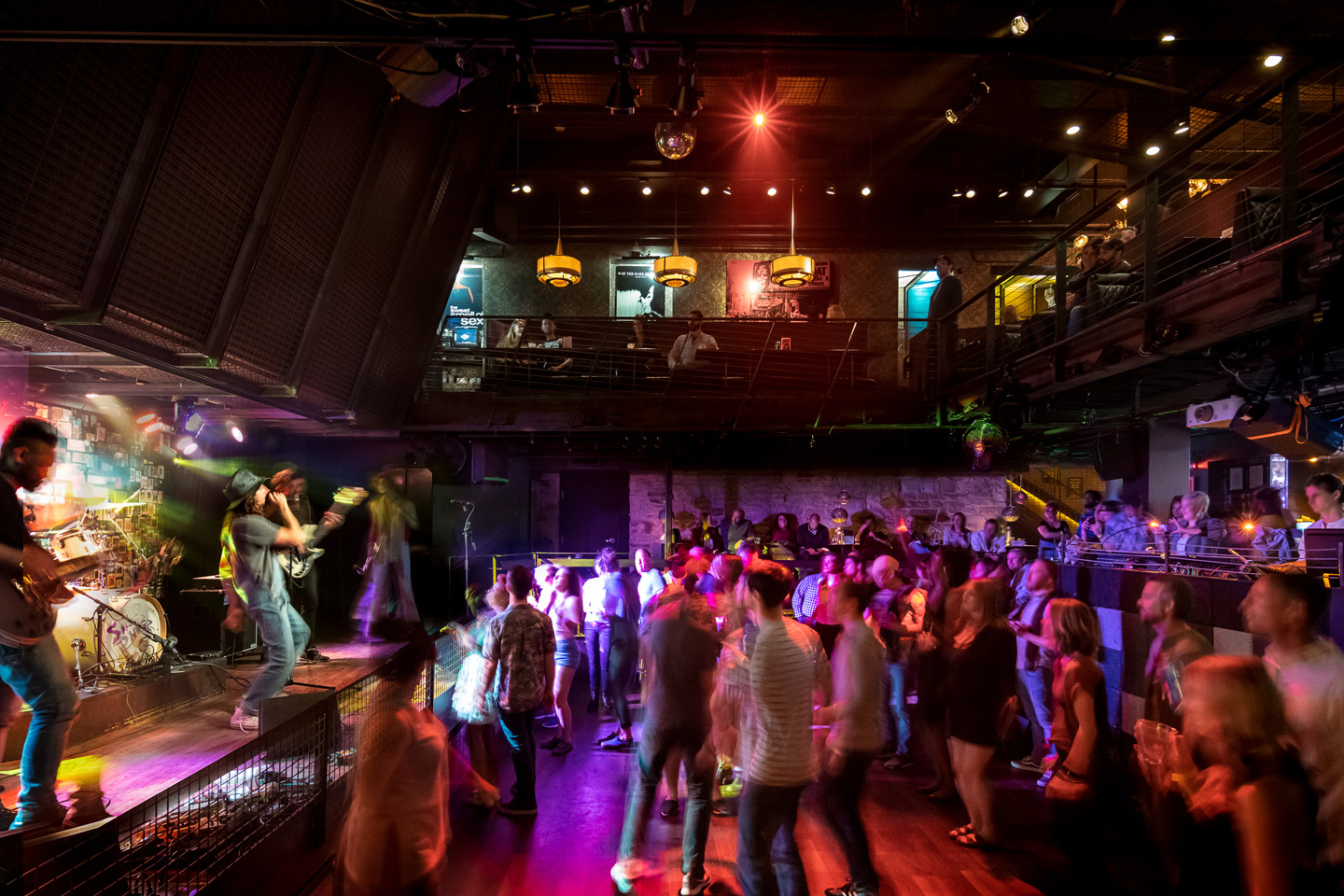 Ophelia's Electric Soapbox hosts ticketed and free shows, highlighting musicians of all genres. Unlike most venues, this establishment features a dedicated pit space, allowing guests to dance the night away.
Fuel up with an eclectic menu of small plates, pizza, and homestyle entrees. Options include the sharable Low Country picnic board, Fun-Guy slices topped with ricotta and Koji mushrooms, and Colorado bison paired with local Olathe sweet corn. Enjoy dinner with vibrant house cocktails or other tasty beverages.
Visit The Walnut Room for Live Music and Golf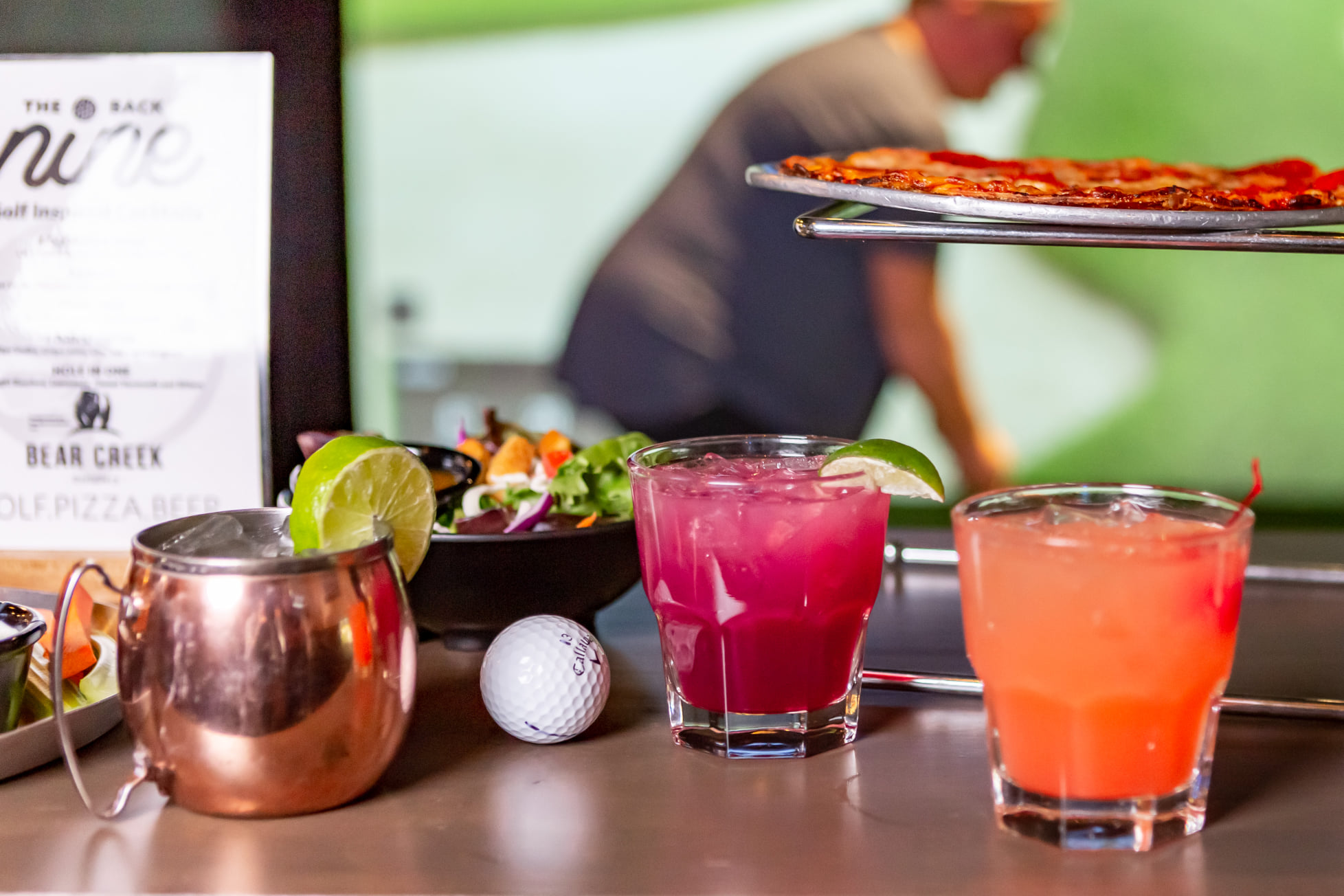 This RiNo mainstay is one of the best places for team building activities in Denver. Every Saturday and Sunday, The Walnut Room hosts live musical performances on its outdoor patio. Inside, guests can enjoy The Back Nine, a year-round corporate event space that features two golf course simulators.
The menu lists sharable starters, hearty sandwiches on house-baked bread, pizzas that can be made gluten and/or dairy-free, and more. Local spirits appear in several of its craft cocktails and many Colorado breweries are featured on tap.
Catch the Culprit over Cocktails at Adams Mystery Playhouse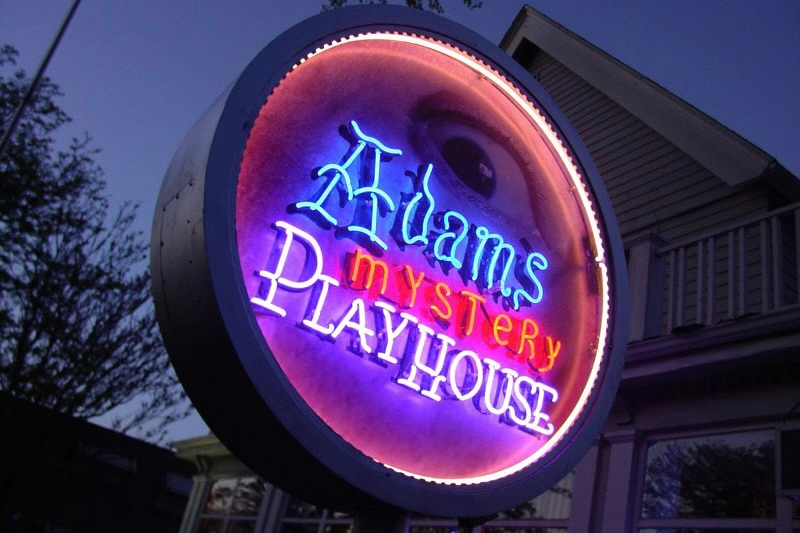 Want to plan a unique team building activity? Look no further than Adams Mystery Playhouse. This establishment is set within a historic mansion-turned mortuary-turned dinner theater restaurant. It pays homage to its spooky past with interactive murder mystery performances. Guests will enjoy dinner and drinks while following an intriguing narrative, aiming to identify the culprit.
Adams Mystery Playhouse is one of the best team building activities in Denver, as it's engaging and easy to plan. But if you'd prefer a more personalized team building experience, consider working with The Murder Mystery Company. It allows you to pick from a variety of themes, and The Murder Mystery Company will perform at any of the event venues in Denver.
Unique Team Building Dinner Events
Climb Aboard the Royal Gorge Dinner Train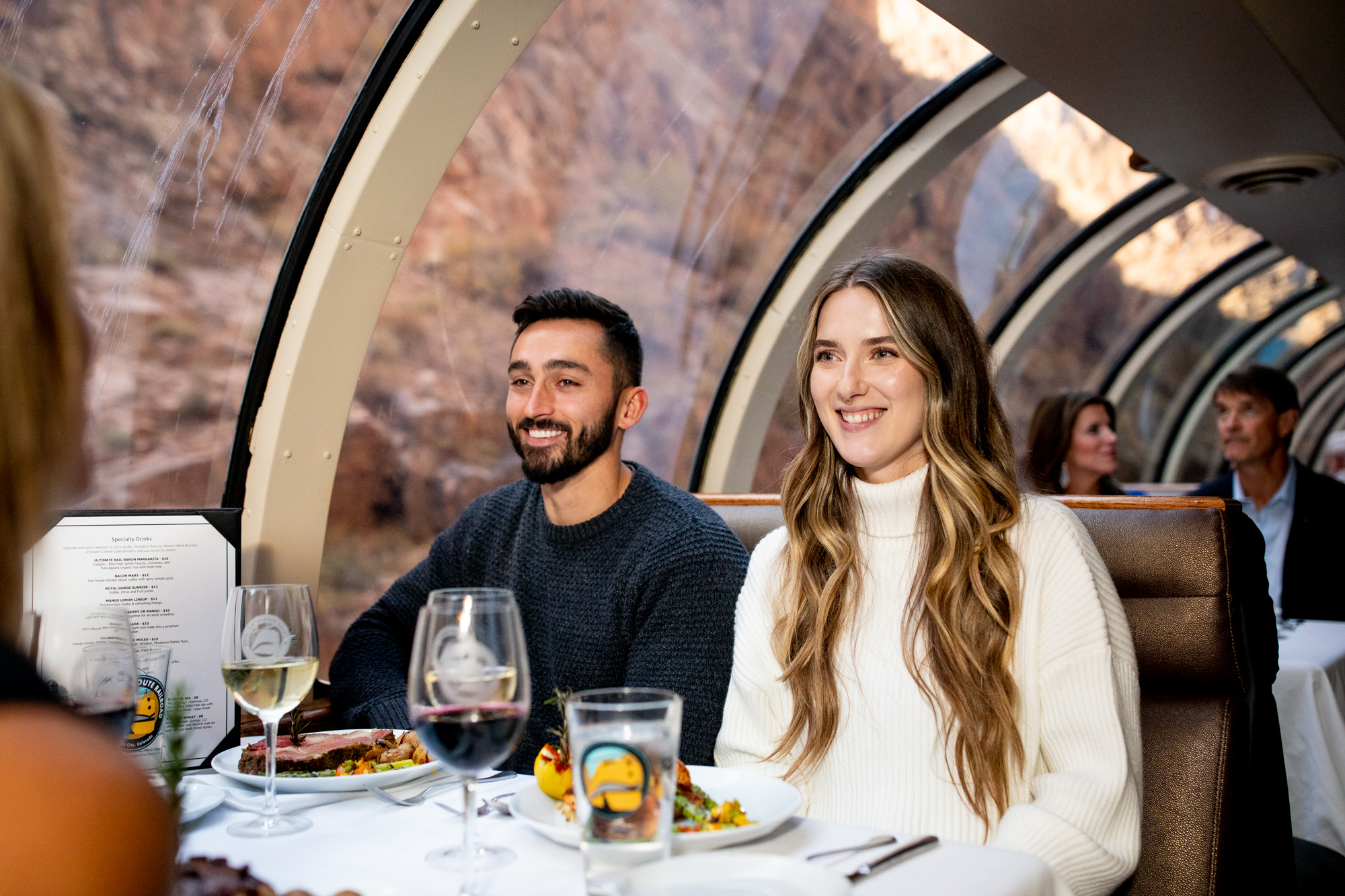 Traditional team building retreats aren't nearly as exciting as a day trip into the Rocky Mountains. Head to Cañon City for this unique corporate event hosted by the Royal Gorge Route Railroad. Its scenic dinner train experience grants team bonding over delicious food. The four-course menu kicks off with a glass of complimentary champagne.
Dinner trains depart at 6:30 pm on select Friday, Saturday, and Sunday evenings. Groups can take in views of the dramatic canyon and roaring Arkansas River from the enclosed dining car and a private open-air car. Without question, this team building idea is sure to impress.
End an Afternoon at Chatfield State Park at Seagull's Restaurant
Chatfield State Park is one of the best places to host outdoor corporate events. The Littleton destination offers several enjoyable team building activities, like boating, kayaking, and horseback riding. Start your fun team outing with these experiences, then head to Seagull's Restaurant for an early dinner.
Through 5 pm, its kitchen plates up burgers and sandwiches served alongside coleslaw or fries. Its interior may be simple, but the waterfront eatery's patio offers lovely views of the docked boats and large body of water. Overall, Seagull's Restaurant is a great way to cap off a summertime team building activity.
Snack on Concessions at the Denver Zoo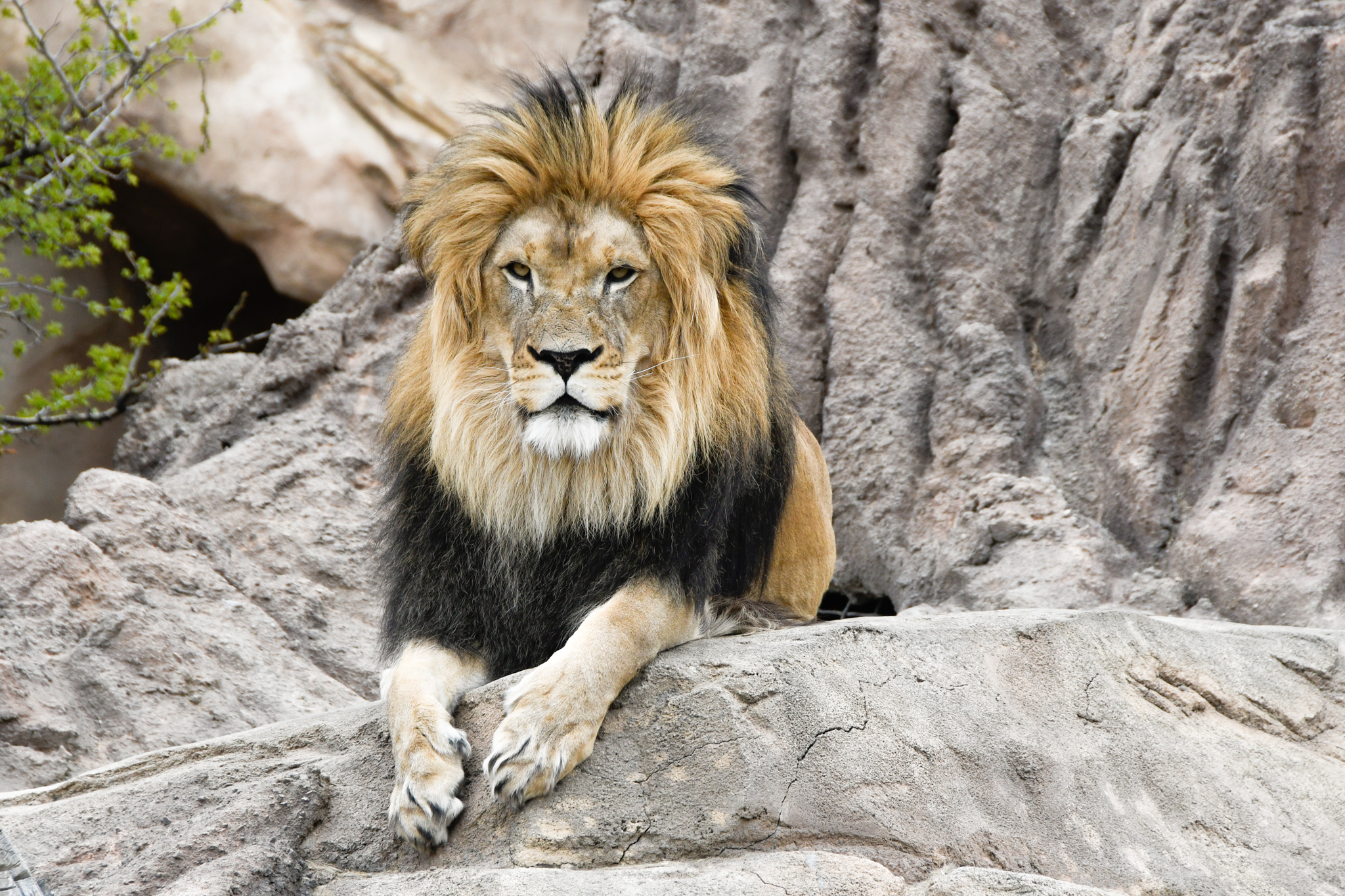 Surprised to see the Denver Zoo on a list of corporate team building activities? Many don't realize that the zoo offers programming for all ages, including its Adulting with the Animals series! This 18+ event takes place on select Thursdays from June through October.
Guests can enjoy leisurely viewing the exhibits and noshing on elevated concessions, like Korean corn dogs, Nashville hot chicken, house-made mushroom burgers, and more. Of course, boozy beverages add to this good team building activity!
Watch Sea Creatures Swim by at the Aquarium Restaurant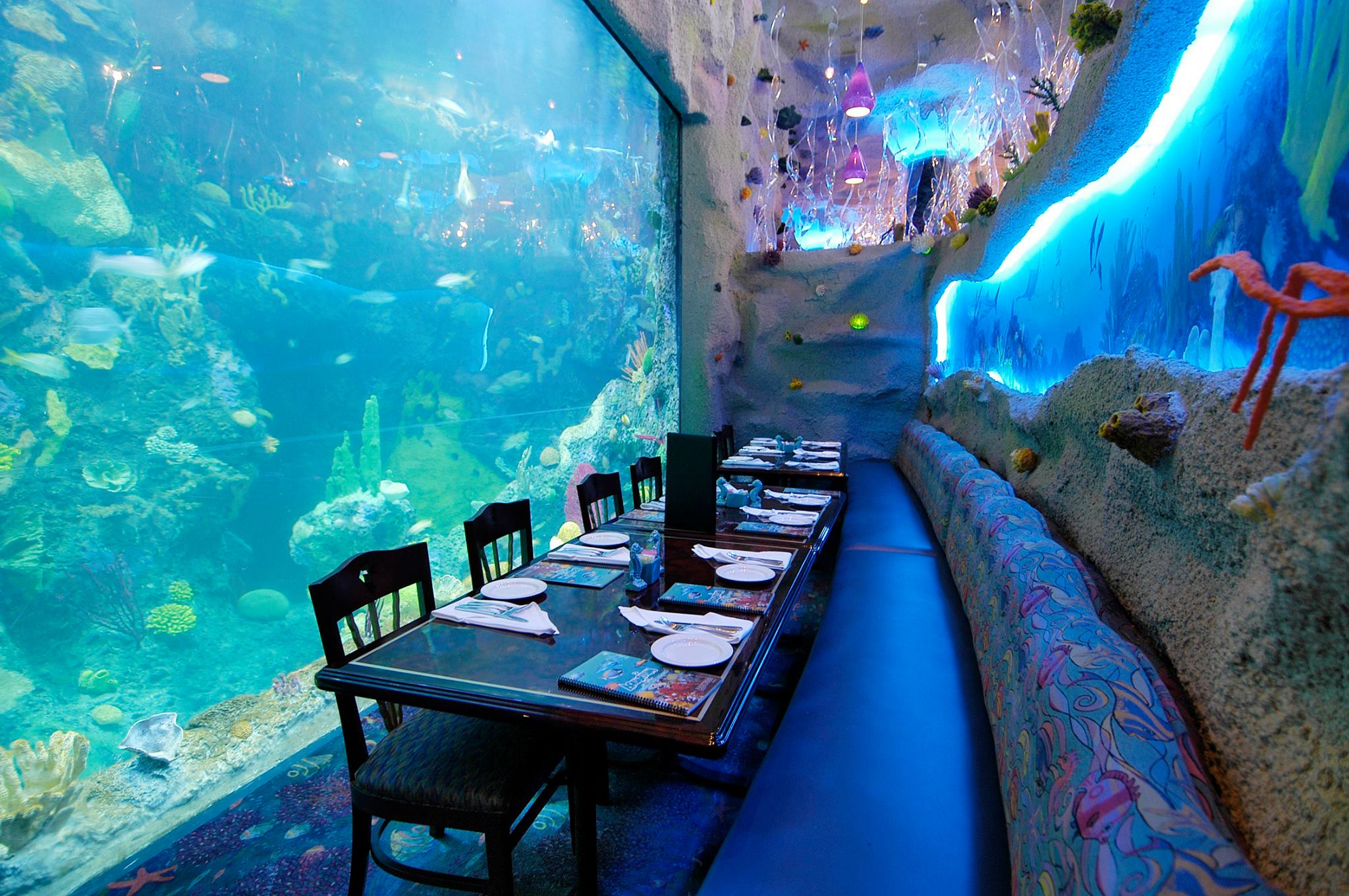 The Downtown Aquarium is one of the best team building activities in Denver! This popular attraction features several exhibits that house over 500 marine species. Enjoy team bonding as you and your co-workers point out tropical fish and other exotic creatures floating by.
Afterward, head to the on-site Aquarium Restaurant. Its ambiance is similar to the aquarium itself, with a massive fish tank spanning the length of the space. The menu includes sharable appetizers, seafood and steak, pasta bowls, burgers, and other approachable entrees.