Originally built in 1880 and renovated in 2014, Denver's Union Station remains the heart of downtown Denver.
Called Denver's Living Room, it's also a popular hang out spot for locals and visitors.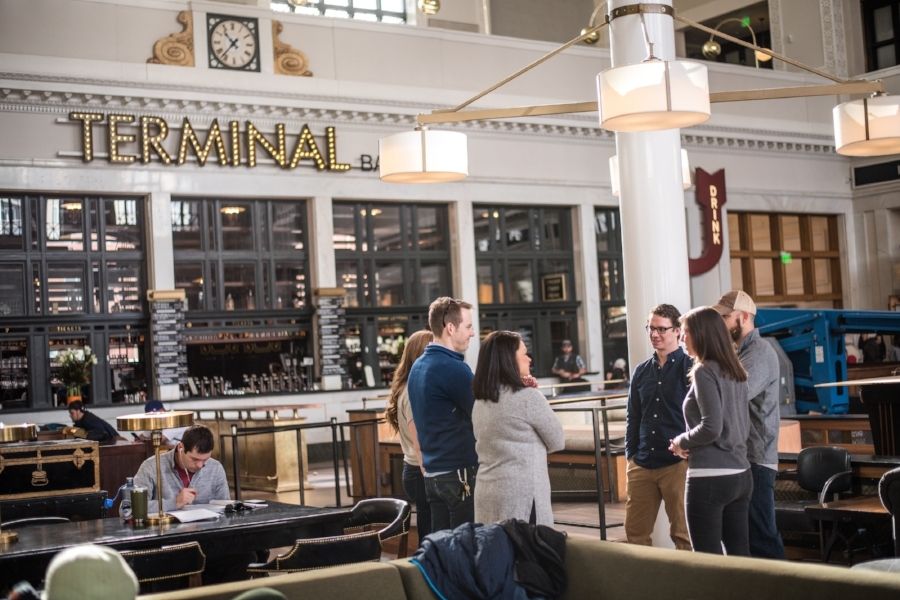 Whether you decide to play a round of shuffle board, sink into one of the comfy couches to get some work done, or sip a local beer from Terminal Bar, there's plenty to do inside the station.
Denver's Union Station is also home to some of the city's best restaurants. From small food counters to sit-down fine dining restaurants, there are so many delicious things to taste inside the station.
Here are our top picks of delicious things to try in Denver's Union Station:
1. Salted Oreo Ice Cream
Where: MilkBox Ice Creamery
Little Man makes some of the best ice cream in town. While its main location resides inside a large dairy can in the Highlands just north of Denver's downtown (you'll spot it when you see the line around the block), many people don't realize that they sell their delicious, creamy ice cream to a handful of shops in town. Milkbox inside Union Station is one of the lucky few. Swing by their small location inside the station to try one of their many unique and delicious flavors. Our favorite is the salted Oreo, packed with bite-sized Oreo chunks and little crystals of Kosher salt.
2. Sheep's Milk Cheese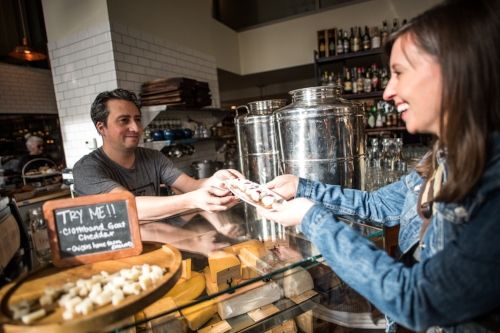 Where: Mercantile Dining & Provisions
You might not guess that one of the city's top restaurants is located right inside Denver's Union Station. Mercantile Dining & Provisions boasts an ever-changing menu based on fresh, seasonal ingredients they source directly from their farm just south of Denver. One of those delicious treats is their sheep's milk cheese. Try one of their four sheep milk cheeses at the market counter, or grab some to go with a fresh baguette for a delicious snack.
3. Granita Vodka Cocktail
Where: Stoic & Genuine
This upscale oyster bar was opened by James Beard award-winning chef Jennifer Jasinski and features sustainably caught fresh seafood. Also a highlight on their menu is their granita vodka cocktail, which rotates daily and will set you back just $4 at happy hour. If you haven't tried a granita cocktail, it's like a adult slushy. Their granita cocktails are the perfect alcoholic treat on a hot day in downtown Denver.
4. Churros with Tempered Chocolate
Where: Ultreia
Just down the hall from their sister restaurant, Stoic and Genuine, is Ultreia, the newest concept from Chef Jasinski featuring delicious menu items based around the Iberian Peninsula. This cozy, chic concept just opened in late 2017 and features an incredible variety of gin tonics at the bar. In the restaurant, we love their freshly made churros served with semi-sweet tempered chocolate. These little deep-fried doughnuts come tossed in cinnamon sugar and are the perfect sweet treat at the end of a great meal.
5. Iced Latte
Where: Pigtrain Coffee Co
Coffee lovers should head over to Pigtrain Coffee just off the station's Great Hall to try some of their freshly-brewed javas. Our favorite is the iced coffee, which is perfect on a hot summer day in downtown Denver. Hungry? Check out their fresh pastries to pair with your coffee.
6. Aperitif Cocktail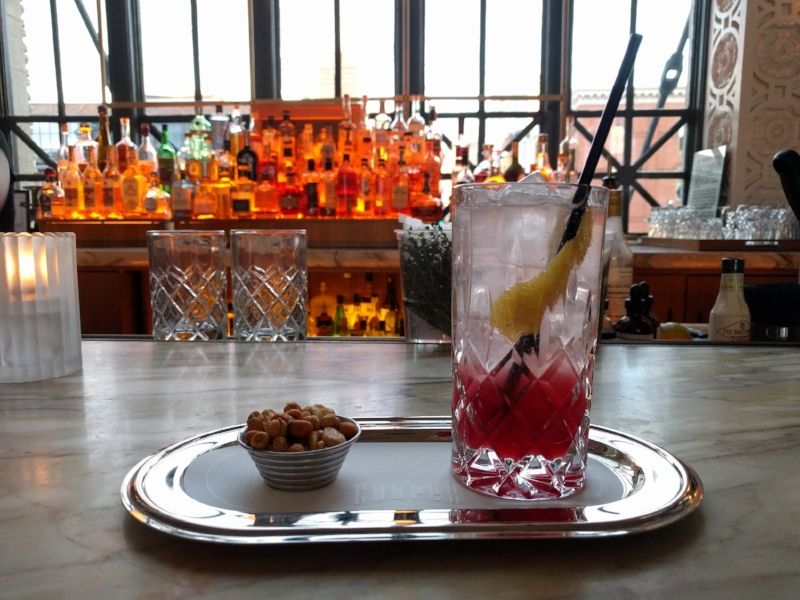 Where: Cooper Lounge
Most visitors and locals make it to Terminal Bar downstairs, but some don't realize that there's a great craft cocktail spot just overhead. On the second floor of Denver's Union Station, overlooking the Great Hall is Cooper Lounge, one of our favorite spots in the city. Modeled after an old railcar, this bar belongs to the Crawford Hotel and features silver service. You'll feel as though you've gone back in time and are boarding an upscale dining car on a train. Visit during Aperitif Hour (4-6:30 p.m. daily), and try any of their rotating cocktails for just $9. Hungry? Order one of their fancy snacks off of the cart that's rolled through the bar's seating area.
Want to learn more about Denver's historic Union Station? Or explore our growing food scene? Join us for a daily food tour through downtown Denver and taste your way across the Mile High City.
Book Tickets