We're a local tour company that frequently entertains corporate teams, and we like to think of ourselves as Mile High City experts. Make planning your next corporate event easy with our insights! This article covers team building activity ideas and the very best corporate event venues in Denver, CO.
Top Corporate Event Venues in Denver, CO
Downtown Denver Food Tour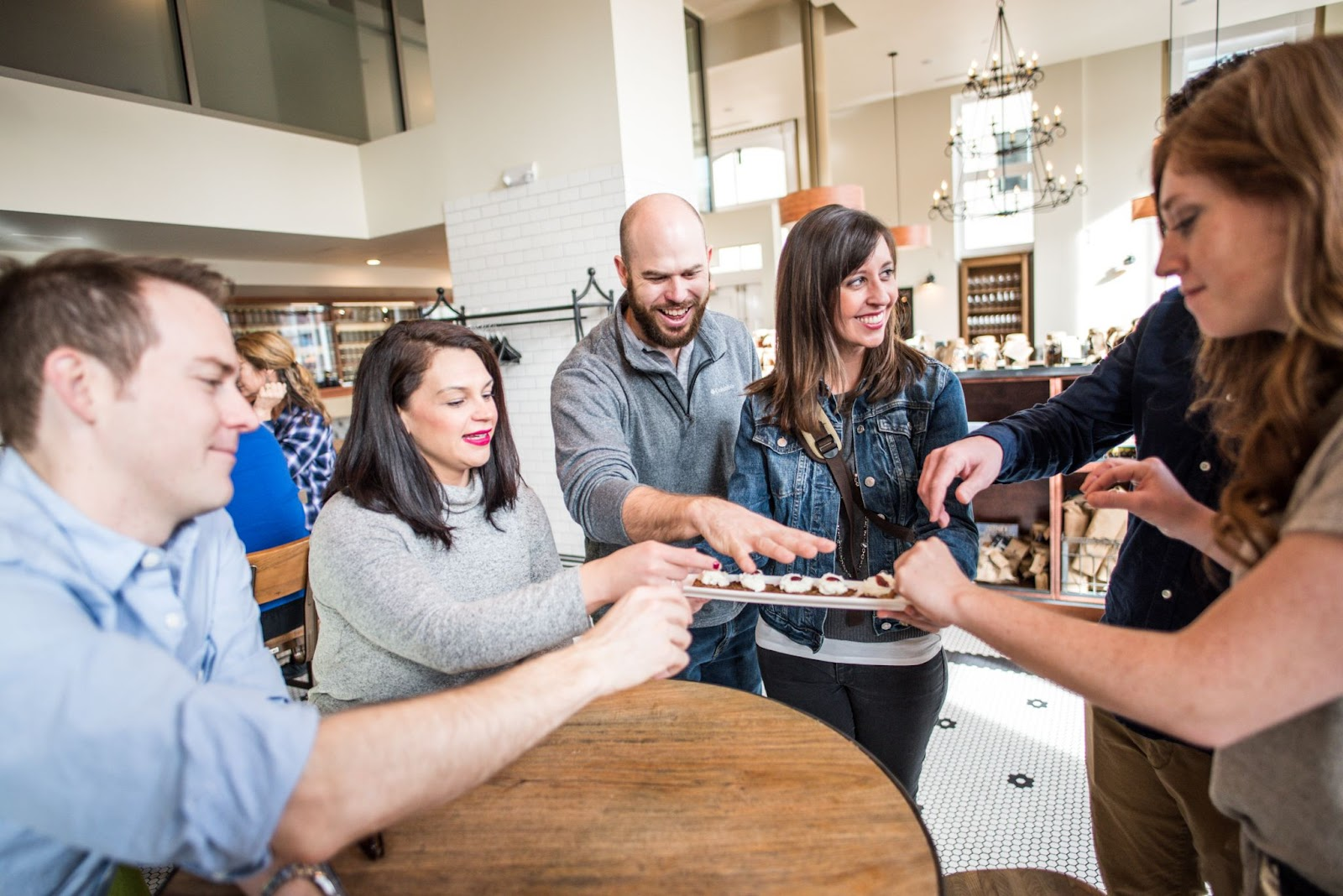 The city's top restaurants make for wonderful corporate event venues! Visit several on a Denver food tour with Delicious Denver Food Tours. Event planners will love the ease of coordinating this outing. Simply book a public or private experience and let our team handle the rest!
We work with groups as small as 8 and as large as 150, highlighting local chefs and restaurants for a delicious and delightful walking tour of Denver. We can handle a variety of dietary restrictions and run tours 7 days a week with start times between 11 am and 7 pm.
Tours can focus on food or drinks and vary from heavy appetizers to full meals with alcohol pairings and dessert. Attendees gain insights into the local exciting dining scene, as well as Denver's past and present. For more info, check out our corporate events page!
Union Station
Union Station in downtown Denver is a beautiful and versatile corporate event venue. Private parties are all managed by The Crawford Hotel, situated inside the station.
If hosting a corporate meeting, opt for one of four board rooms at Union Station. If your next corporate event is more social, you have several event space options. These include Terminal Bar Beer Hall and Terminal Bar on the Plaza, its outdoor patio. There's also The Cooper Lounge, The Great Hall, and the Webb Gallery for groups of varying sizes.
The Crawford Hotel offers on-site catering for corporate events. Though, don't miss the other delicious things to try at Union Station when visiting!
The Oxford Hotel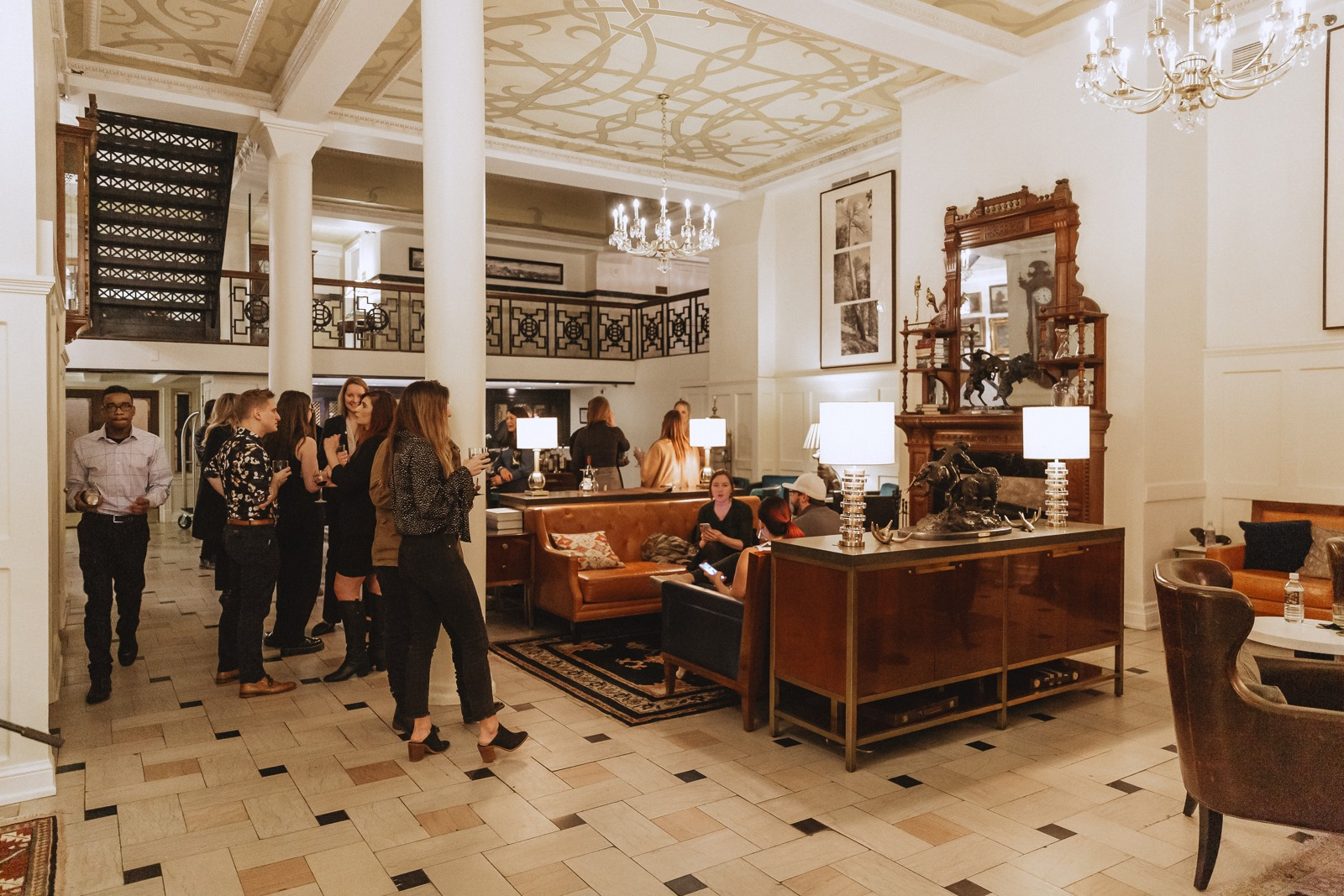 Less than a block from Union Station lies The Oxford Hotel. Established in 1891, this historic hotel has a luxurious interior indicative of the city's past. Features speak to the Gilded Age and Art Deco style, as well as modernity.
A corporate event could be hosted in one of its multiple event spaces. These include four private rooms, ideal for both networking events and corporate meetings. Larger parties can reserve the Oxford Theater or Grand Ballroom.
If planning a simple happy hour, consider The Cruise Room. Open since 1933 and inspired by the Prohibition era, this landmark holds the title of Denver's longest-running bar.
Wynkoop Brewing Company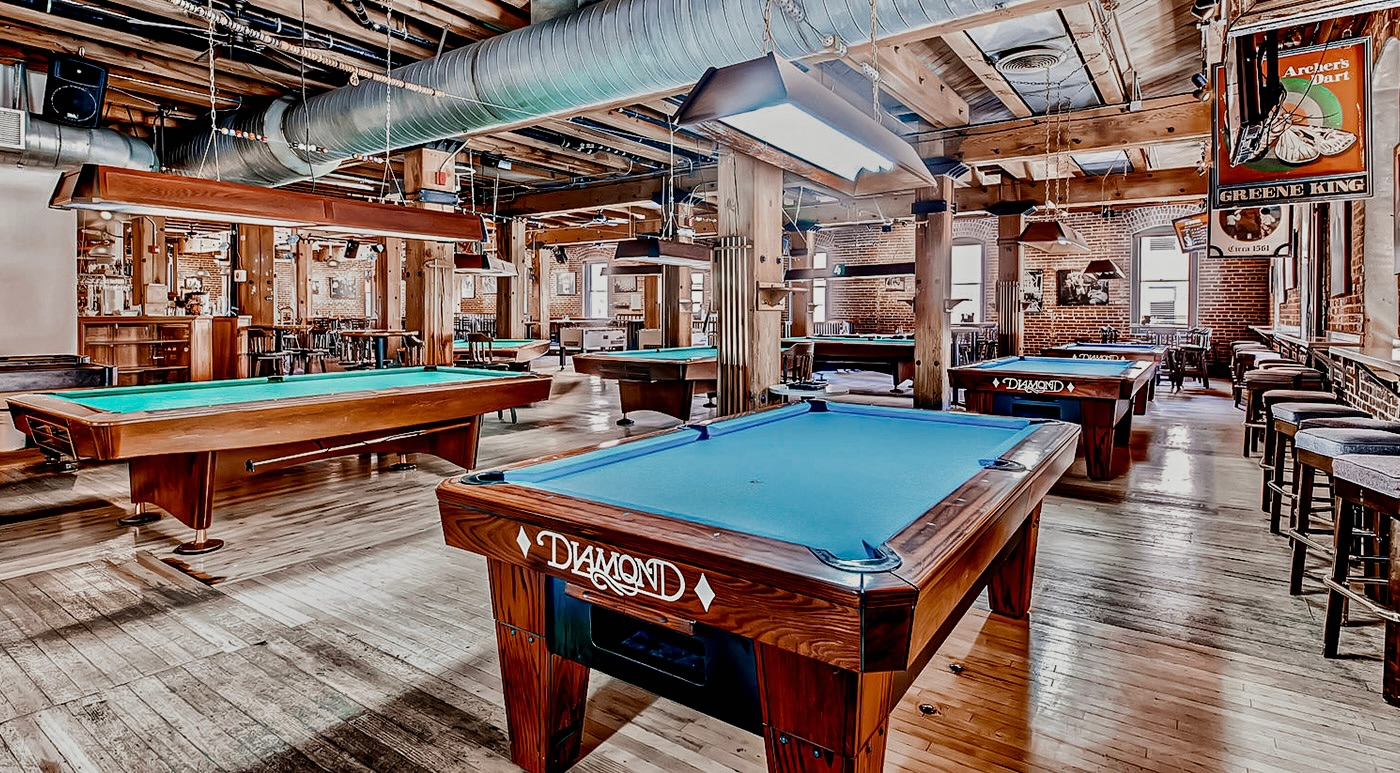 Founded in 1988, Wynkoop Brewing Company is another historic gem. It's famed as Colorado's first brewpub and housed in a late-1800s warehouse. The J. S. Brown Mercantile Building is full of character with exposed brick and an industrial feel.
Wynkoop Brewing Company can accommodate anywhere from 12 to 1200 guests. Buy out the entire event space for your corporate event, or reserve one of several rooms. Complete with pool tables, the Morey-Brown Room and Billiards Parlor are two of the most fun event venues. Both beer and food service are required when booking a private party.
Wings Over the Rockies Air & Space Museum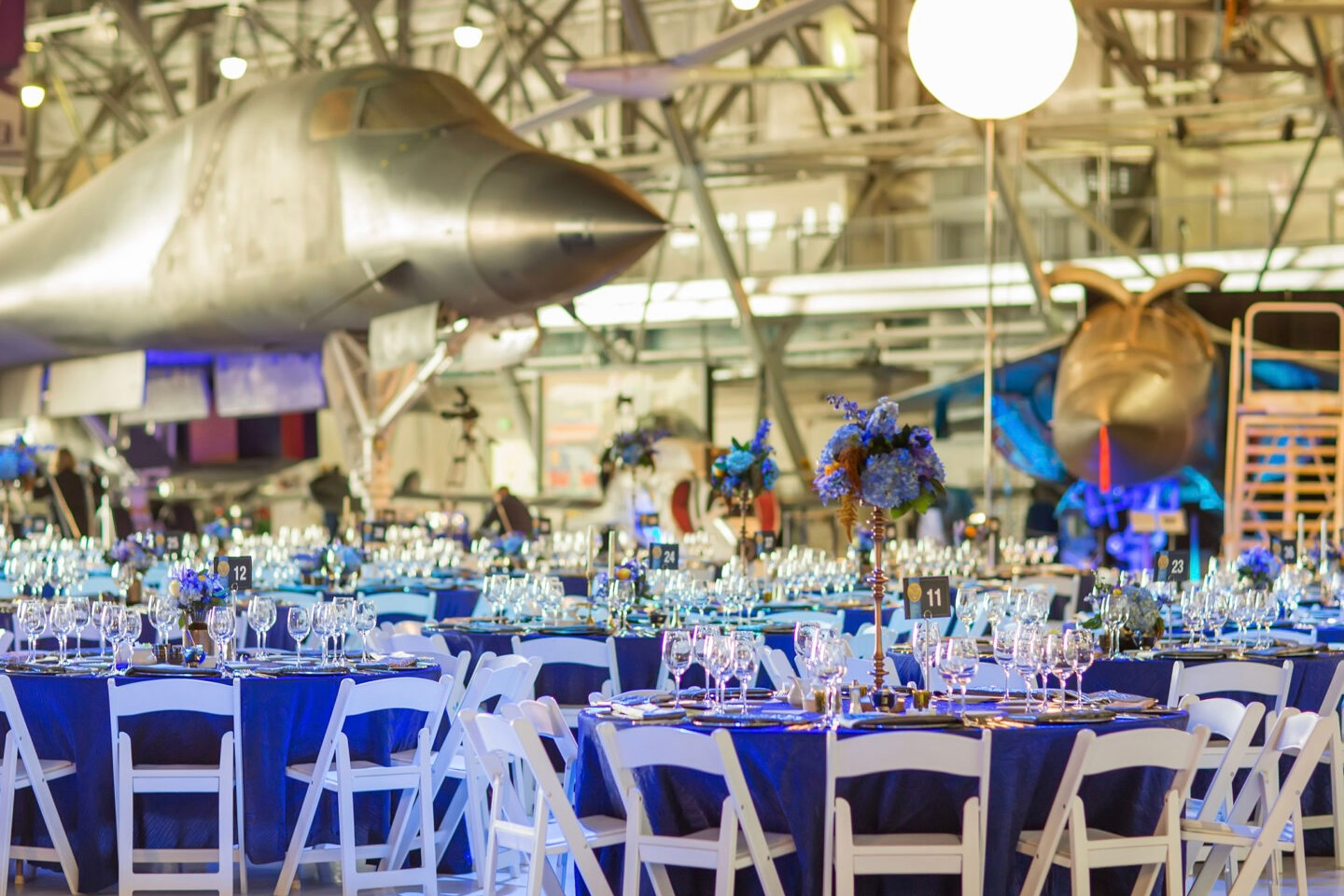 Wings Over the Rockies Air & Space Museum is one of the most unique venues in Denver. Set in the Lowry neighborhood, this attraction houses engaging aircraft and aerospace exhibits. Visitors can peruse the collection featuring simulators and a 3D flight demonstration.
The museum can host a small corporate meeting of 12 guests, as well as large corporate gatherings. Its 44,000-square-foot space can service up to 3,500 standing attendees or 1,200 seated.
Colorado Convention Center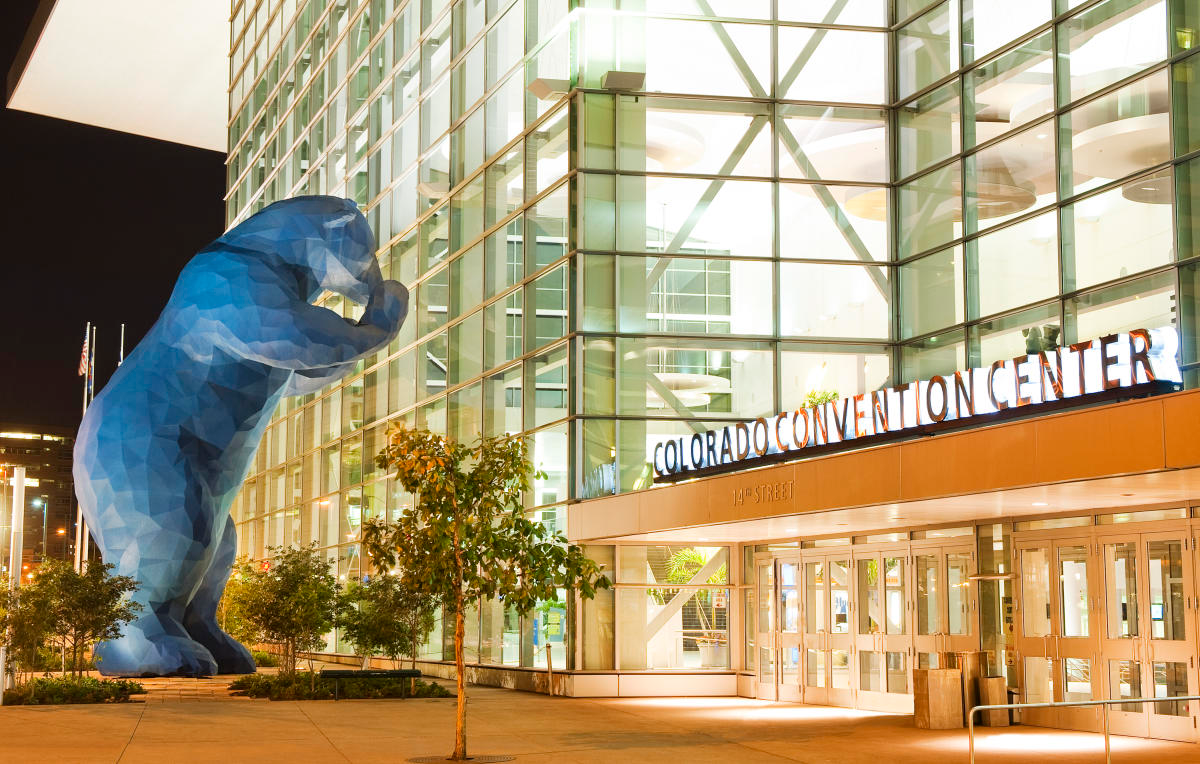 The Colorado Convention Center lies in the heart of Denver's Central Business District. This premier event venue is often associated with trade shows and large-scale events. After all, its event space spans 584,000 square feet!
However, the six halls can be divided into smaller corporate event venues. There's also the Four Seasons Ballroom, Mile High Ballroom, and Bellco Theatre. Each is available for private events, as are 63 meeting rooms. The Colorado Convention Center truly caters to a variety of needs and preferences.
Mile High Station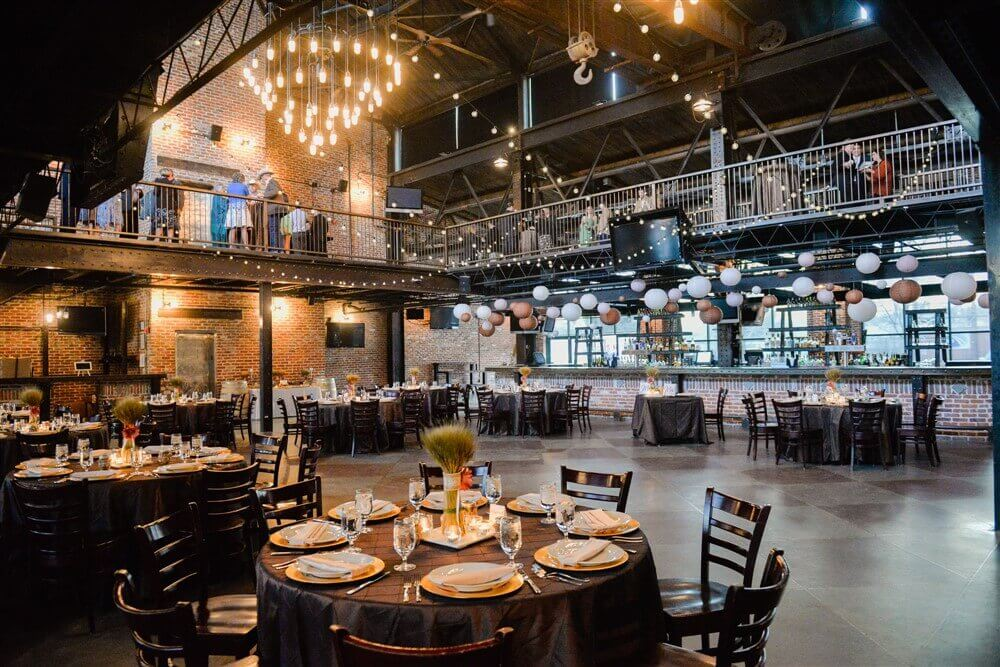 Built in 1897, Mile High Station was formerly the Midwest Steel and Ironworks building. It has a historic charm with exposed brick walls and a steel structure. The addition of industrial-inspired chandeliers, a full kitchen, and a spacious patio add to today's atmosphere.
Mile High Station is located near Empower Field at Mile High (formerly Sports Authority Field). Though a bustling area, guests have convenient access to 200+ complimentary parking spaces. The corporate event venue can accommodate 100 – 1,200 guests, ideal for both corporate and social events.
Denver Botanic Gardens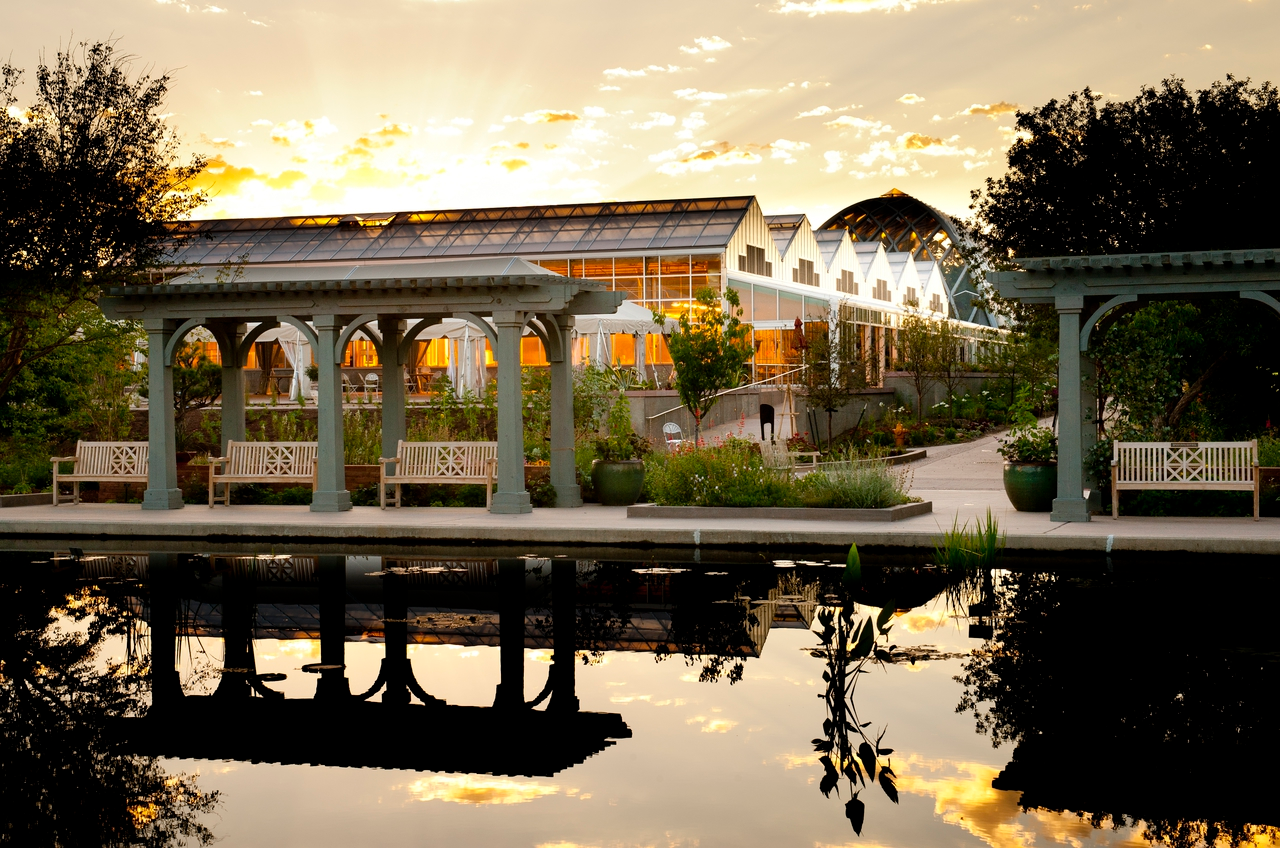 Few corporate event venues rival the beauty of the Denver Botanic Gardens. Locations are found in downtown Denver on York Street, as well as the southern suburb of Littleton.
Attending a workshop at either site is one of the best corporate event ideas for Denver businesses. Classes discuss gardening, cooking, and art, as well as health and wellness. Though, simply wandering the gardens is a wonderful team building activity.
Space Gallery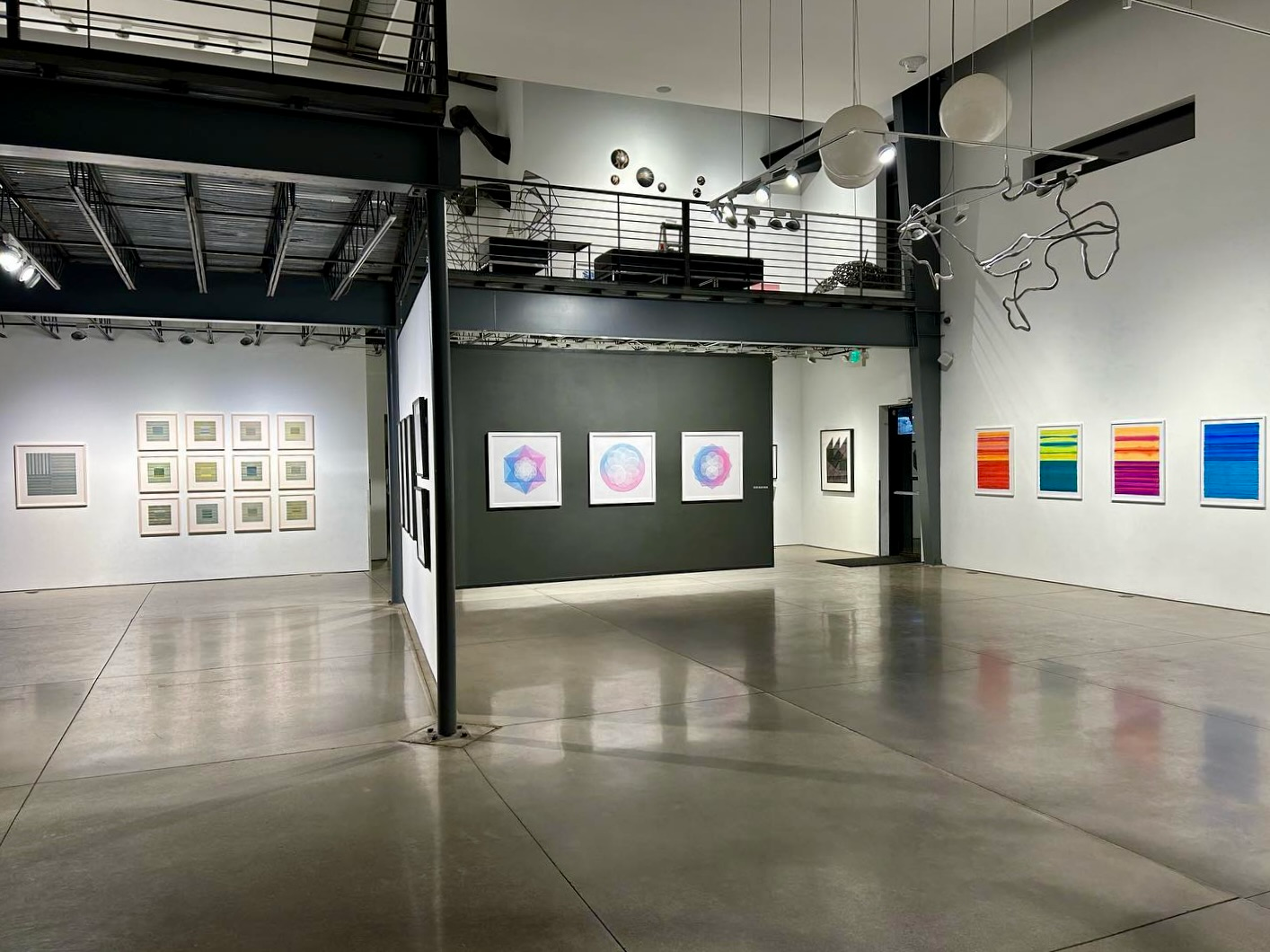 Space Gallery features a 4,000-square-foot interior and a 3,000-square-foot outdoor sculpture garden. Rentals including tables, chairs, a video projector, and a sound system are all included with event packages. There's also a catering room accessible for corporate events.
This stunning private event space is set in the Santa Fe Arts District. It can accommodate 300 standing guests or 250 seated. Free street parking is accessible, as are 15 complimentary spaces. If your corporate event involves a larger group, an 80-car private lot can also be reserved.
Skylight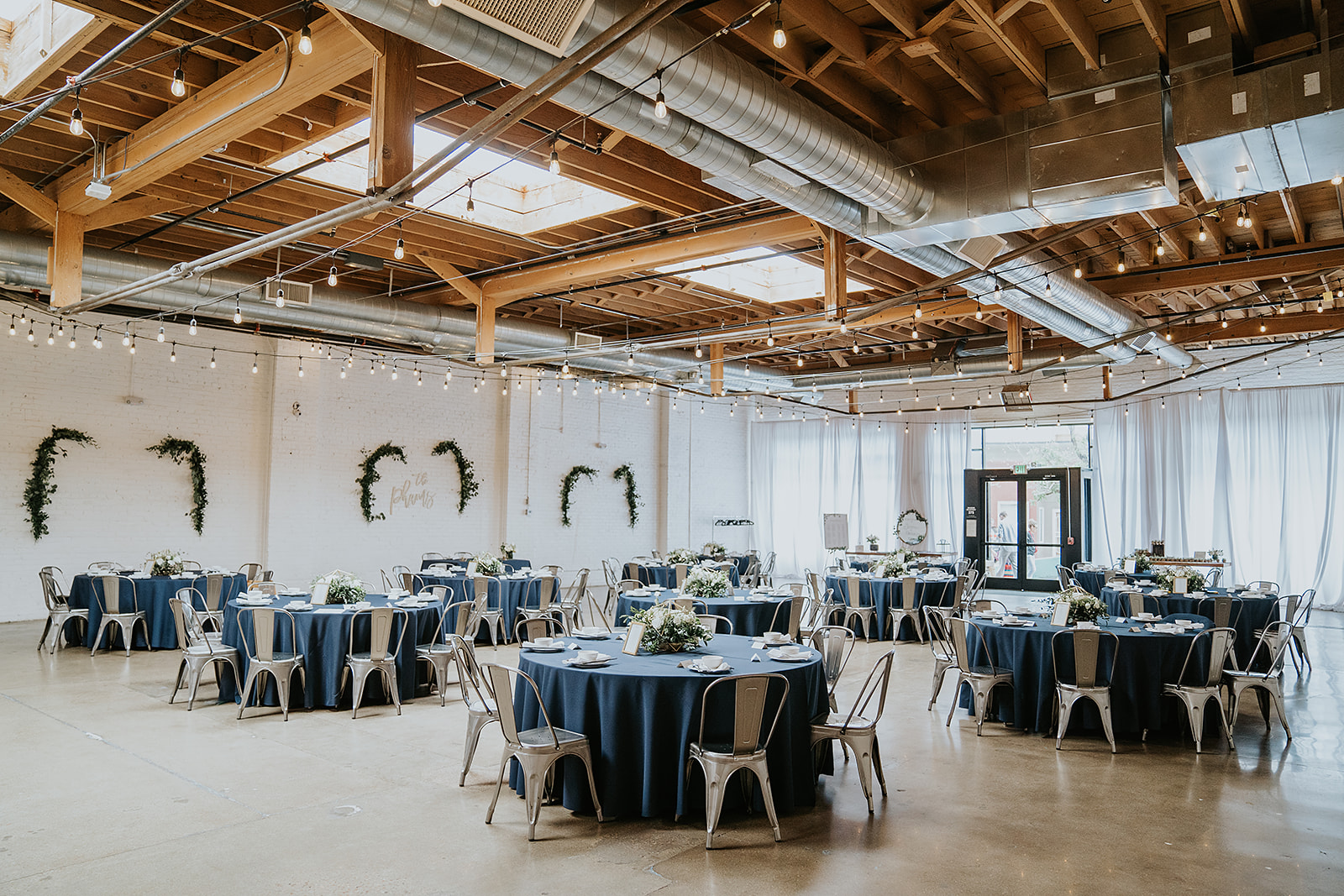 Also located in the Santa Fe Arts District, Skylight is a modern event venue with a 200-person capacity. Its floor space spans 4,200 square feet and has a minimalist, bright aesthetic. Picture white brick walls, vaulted ceilings, and concrete floors. It's easy to dress this canvas up or down depending on your desired event.
Skylight also allows companies to bring in their own vendors. Though, it has suggested partners to make corporate event planning easy. It's a wonderful spot to host a private dinner, launch parties, training sessions, and the like.
Catbird Hotel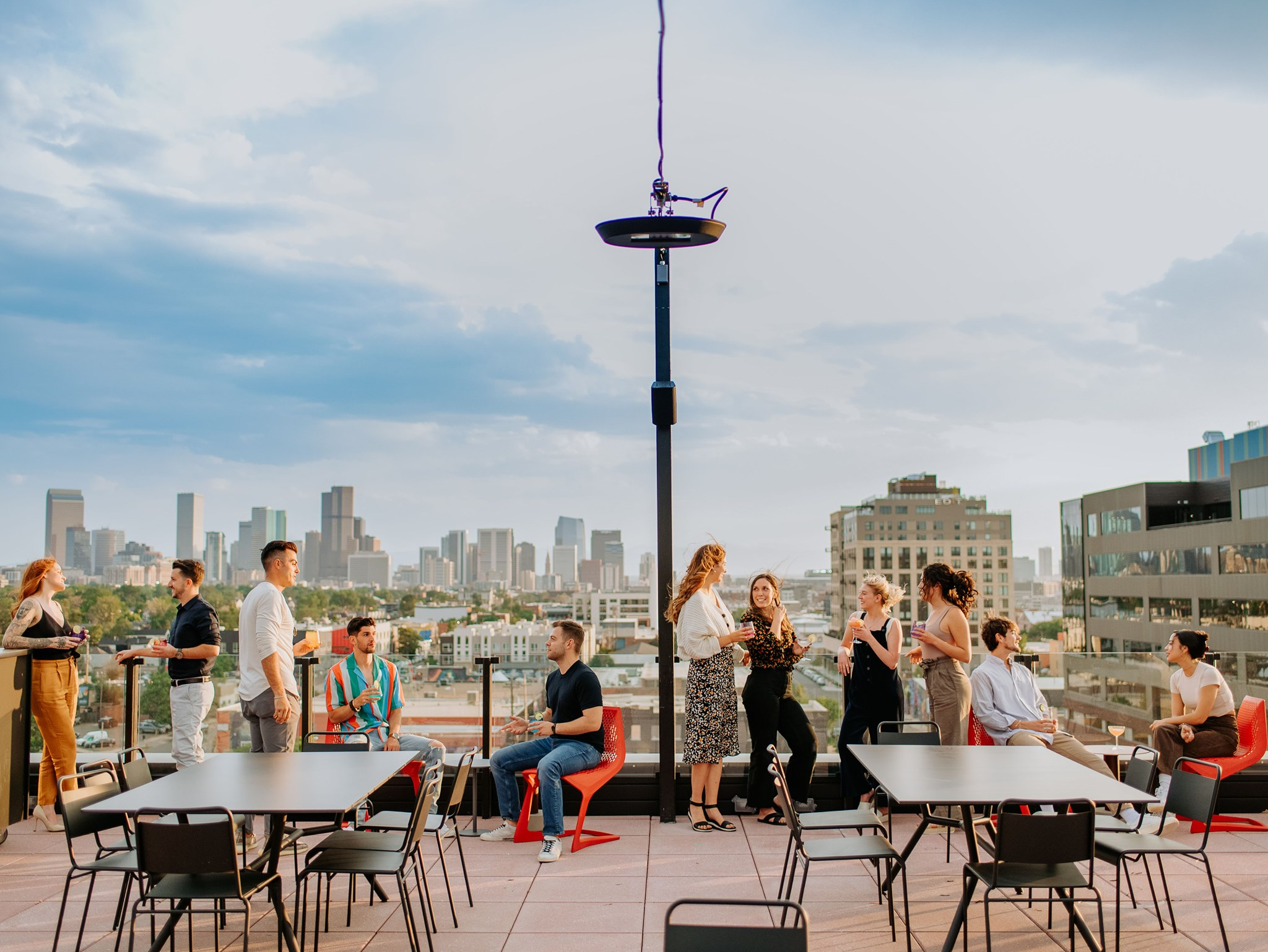 The Catbird Hotel is set in the city's RiNo Arts District. It has 3,330 square feet of dedicated event space which can serve various purposes.
The Parlor features floor-to-ceiling windows and a presentation screen. This intimate space is the perfect venue for a training session, board meetings, and small corporate events. Though, it can be paired with the adjacent Media Room and Klee House for mid-size corporate events.
The Catbird Hotel is also home to The Red Barber, one of Denver's best rooftop restaurants. Reserve this deck to enjoy on-site catering and stunning views of the skyline and the Rocky Mountains.
The Ramble Hotel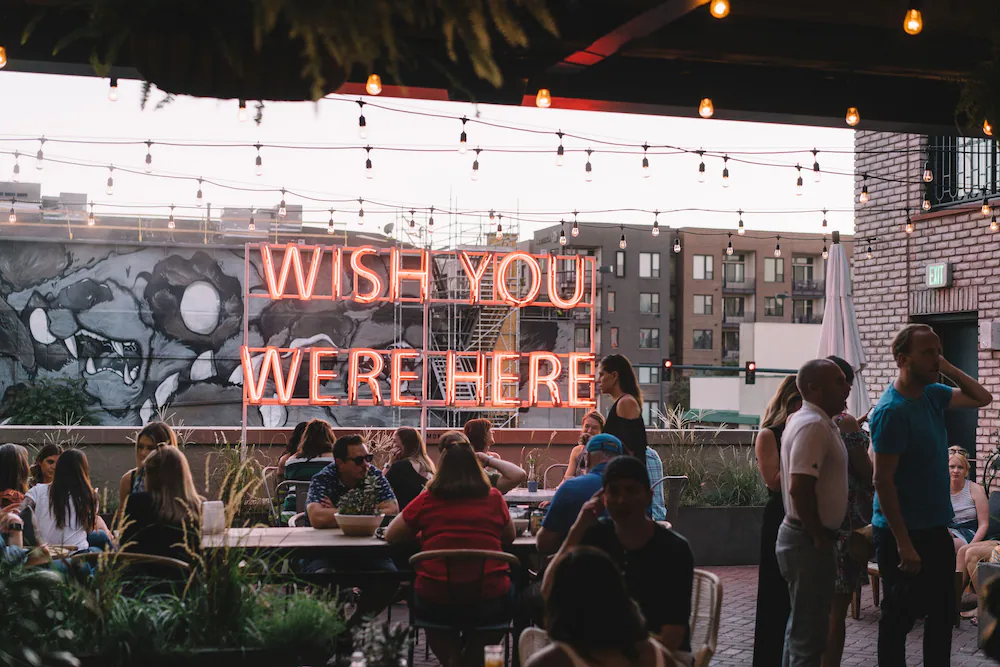 Also located in RiNo, The Ramble Hotel is one of Denver's best corporate event venues. For a small, casual outing, visit its incredible lobby bar, Death & Co. Those planning a more formal corporate event can rent one of several private spaces.
These include Suite 6A, found on the mezzanine level. It can accommodate 22 seated guests or 35 standing, perfect for cocktail receptions. There's also Vauxhall, a spacious ballroom that will dazzle up to 72 guests. Lastly, consider booking your corporate event within The Garden. Lush with plants and decorated with bistro lighting, this seasonal outdoor event venue can cater to 96 people.
Great Divide Barrel Bar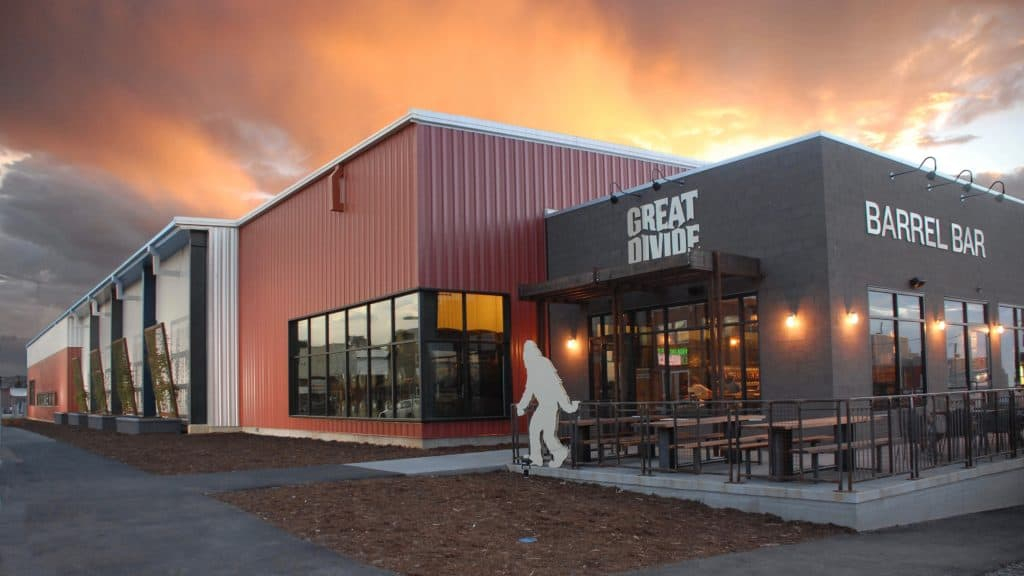 Great Divide Barrel Bar is another of the best attractions in RiNo. This local favorite features a dedicated event space, known as the Barrel Cellar. It truly captures the Colorado brewery aesthetic. Picture stacked spirit barrels and multiple televisions to catch all the sporting events. Of course, there are also cornhole boards for hours of entertainment.
Companies can also rent out the entire space for their corporate events. By including the Barrel Bar, the capacity increases to 75 guests. Hands down, Great Divide is one of the most fun, casual event venues in Denver, CO.
Red Rocks Park and Amphitheatre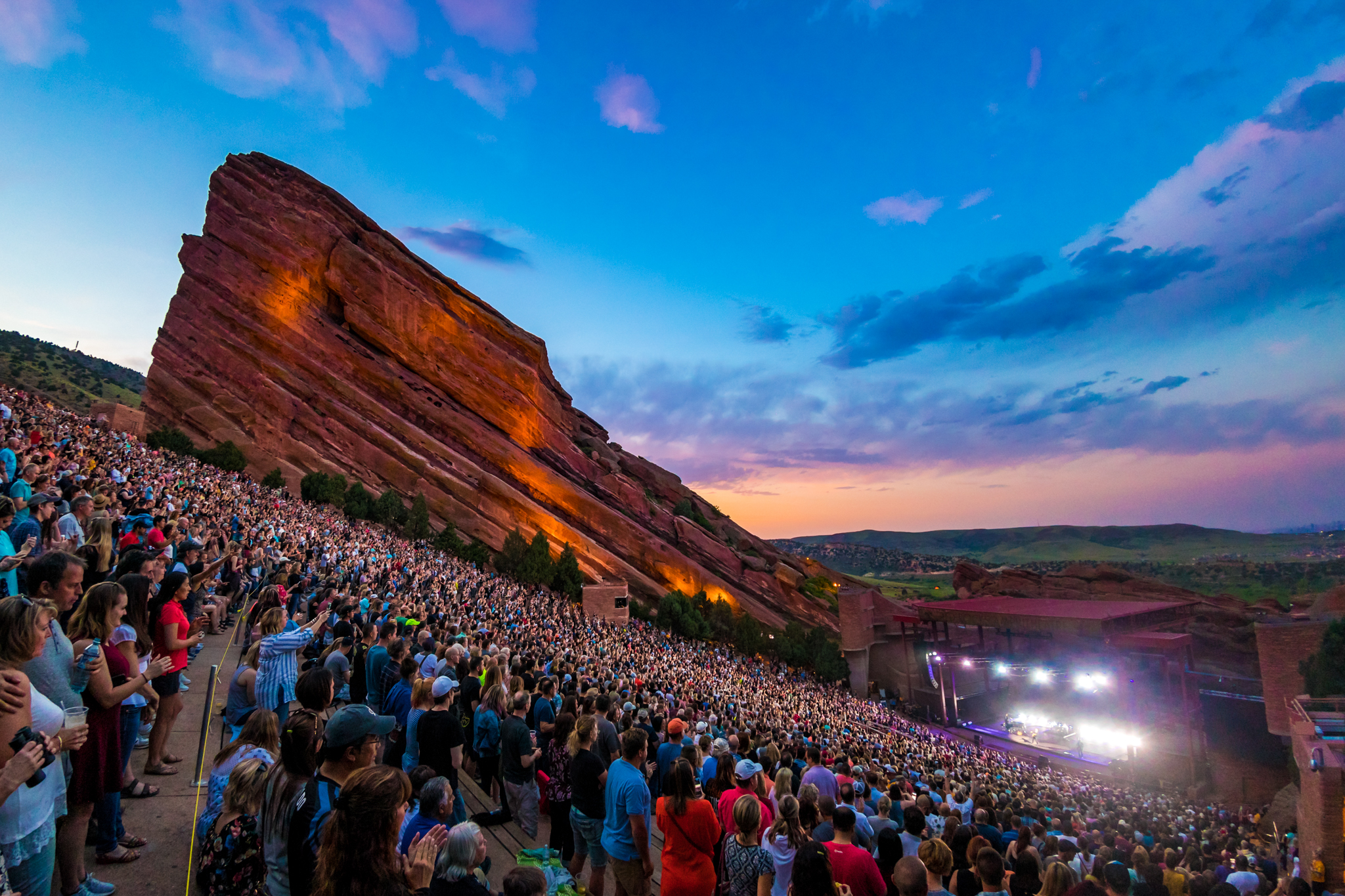 Visiting Red Rocks Amphitheatre is one of the best things to do in Denver. This concert venue hosts world-famous performers and local artists in an iconic outdoor setting. Red Rocks is also a premier venue for comedy acts, movie screenings, and activities like Yoga on the Rocks.
Few corporate event venues are as exciting and scenic as Red Rocks Amphitheatre. Teams can further enjoy the beauty of the area on one of several hiking and mountain biking trails.
Boettcher Mansion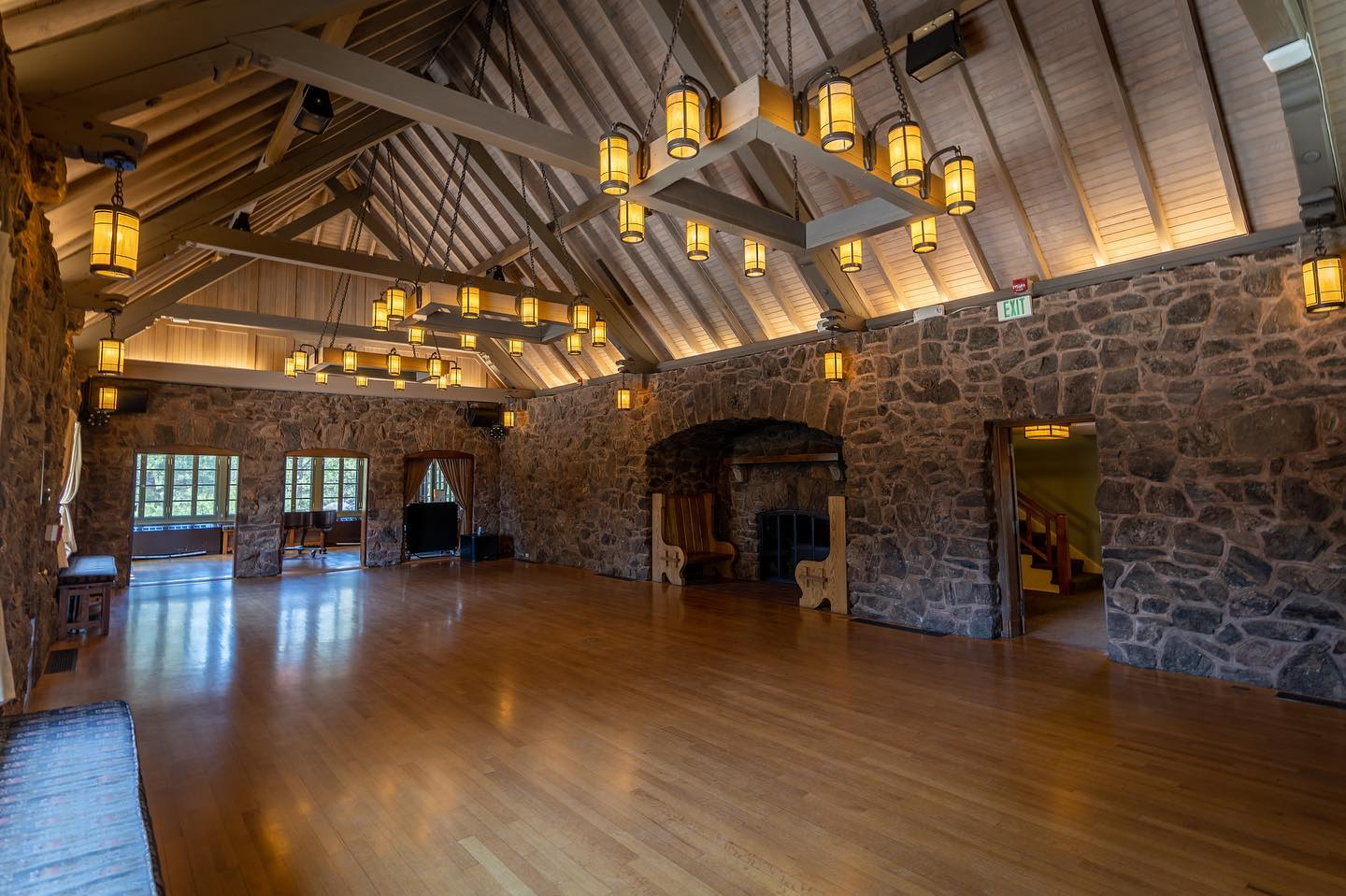 Just northwest of Red Rocks Amphitheatre lies Boettcher Mansion on Lookout Mountain. As the name implies, the area offers breathtaking views. It's often regarded as one of Denver's most beautiful wedding venues. Though, the historic building can also serve as a great spot for corporate events.
The Columbine Room, Carriage House, and Fireside Room can all be reserved as meeting spaces. They accommodate up to 6, 24, and 72 guests respectively. Tables, chairs, and AV equipment are available to rent on-site.
The Cable Center
Set within the University of Denver, The Cable Center is a great pick for your next corporate event. Need an intimate meeting space? Reserve the Active Learning Lab, the Kahn Conference Room, or one of two boardrooms.
Looking for larger event venues? Consider the Malone Theater, the Rogers Amphitheater, and the scenic Drendel Gardens at The Cable Center.
Lastly, while maybe not ideal for corporate events, make a note about its reservable Tech Studio. This audio and video production studio is perfect for building your brand presence, and a great resource for those in creative industries.
Halcyon, a Hotel in Cherry Creek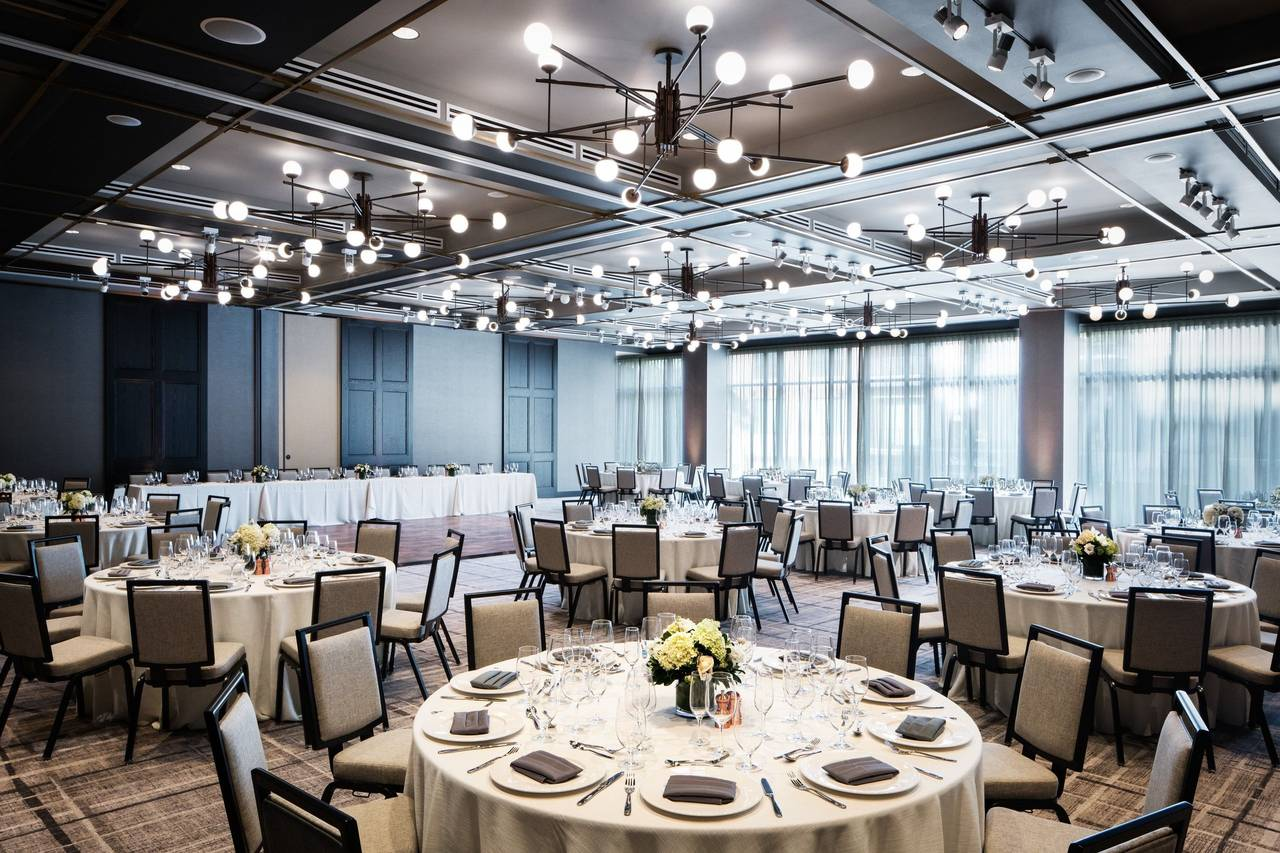 Located in the luxurious Cherry Creek neighborhood, Halcyon dedicates 6,500 square feet to corporate events and private parties. Booking options include its elevated ballroom, executive board room, and versatile spaces.
It offers a number of packages for holiday parties, corporate retreats, and more. Think room discounts, catering specials, and complimentary beer and wine receptions. Halcyon is also home to Elevated, one of Denver's best rooftop bars. It's the perfect place to continue team building when the clock strikes five!
Vehicle Vault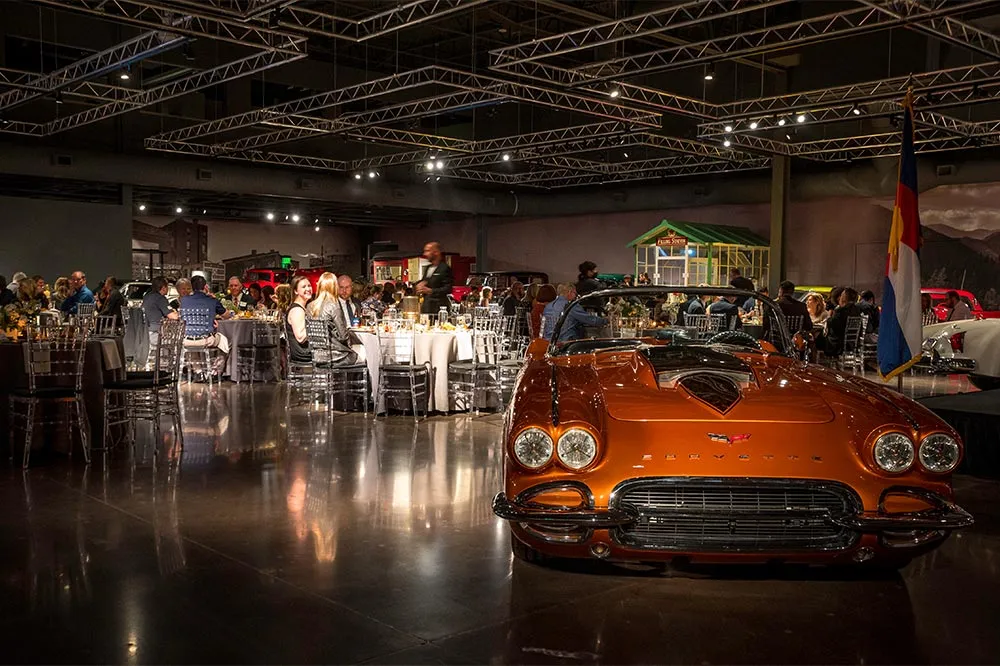 Vehicle Vault lies in the southeast suburb of Parker and is well worth the commute. This automotive museum features rare and exotic vehicles of historical significance. Spotlights and themed murals add to the ambiance of these elevated exhibits.
Without question, it's one of the most unique corporate event venues in Denver Metro. Vehicle Vault offers 28,000 square feet of indoor and outdoor space. The Gallery Floor can accommodate up to 500 seated guests, who will be dazzled by the cars throughout. The Mezzanine looks down onto this floor and is also available for private parties. There's also the executive Board Room and spacious outdoor Plaza.
Gaylord Rockies Resort & Convention Center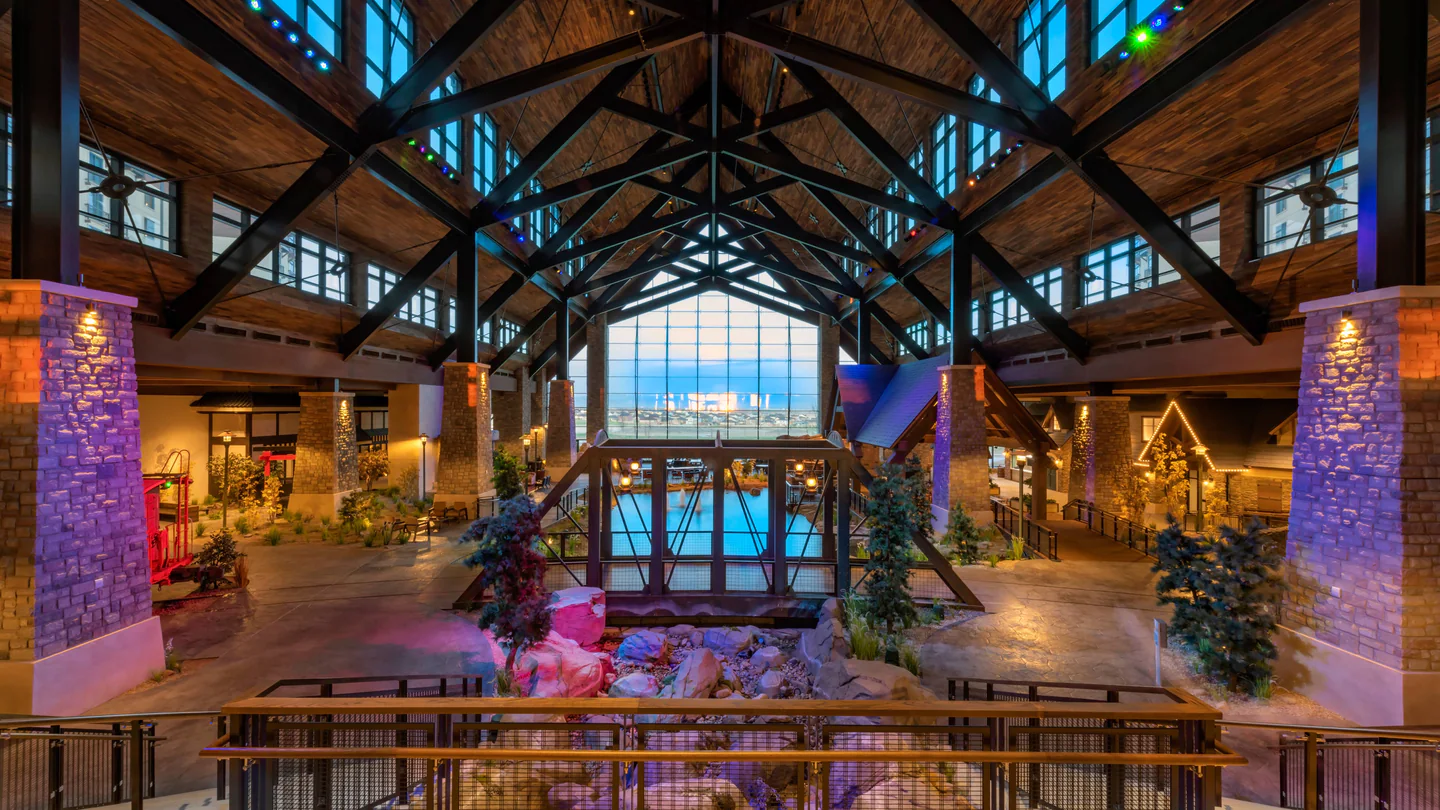 Gaylord Rockies Resort & Convention Center is also a bit of a drive from downtown Denver, CO. However, it's situated near Denver International Airport, convenient for guests who may be traveling from outside the Mile High City.
It boasts over 500,000 square feet of flexible event space. The Aurora Ballroom & Exhibit Hall is its largest event venue, spanning over 179,520 square feet. There are also four spacious ballrooms, along with 78 breakout rooms for corporate meetings, workshops, and more. On-site dining, accommodations, and entertainment give even more reason to book your next event at Gaylord Rockies.