As a local food tour business, we're very familiar with hosting team outings. In this article, we've rounded up the best and most creative corporate event ideas for Denver businesses.
In addition to our own tours, this guide features outdoor adventures, urban activities, and unique attractions. Whether your team is active, analytical, or food-loving folks like us, this list has you covered. Dive in to discover Denver team building activities that will earn you boss of the year!
The Best Ideas for Your Next Corporate Event
To help you navigate this article, we've broken it up into sections. Below, we've listed our top recommended corporate event ideas. This is followed by food and drink-centered outings, sporty and active events, artistic activities, educational opportunities, and unique options.
Regardless of what you choose, these corporate event ideas will forge lasting bonds among team members. Plus, many of these activities will expose them to some of the best things to do in Denver!
Sample Local Eateries with Delicious Denver Food Tours
Few corporate events will have employees as engaged as one that surrounds food! On a downtown Denver food tour, groups are provided five tastings from renowned local eateries. These include Marco's Coal Fired, Kachina Cantina, and more of the city's best restaurants. Boozy drink pairings are optional, and private tours are available to teams of twelve or more.
Participants leave this lunchtime tour full, but also more knowledgeable about the city's dining scene and history. At each stop and while walking between eateries, your local guide shares interesting facts and activity recommendations. By the end of the tour, you may walk away with several more corporate event ideas that will keep your company tight-knit and highly functional!
Root for the Home Team at Coors Field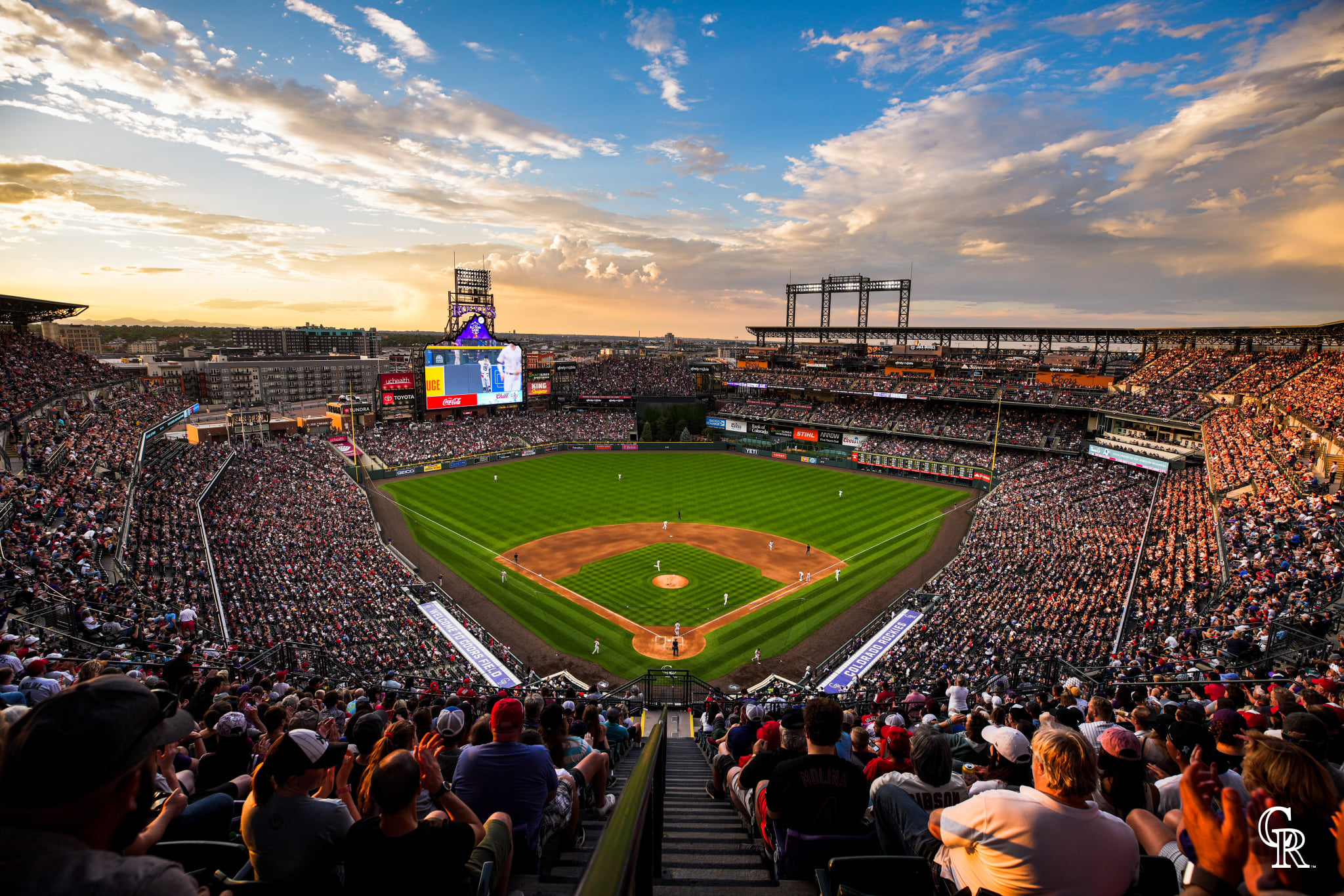 Seeking corporate event ideas for your sports-loving team? Cheer on the Colorado Rockies at Coors Field! There's no bad seat in this scenic stadium and an option for all team dynamics.
Opt for premium club seating if you're aiming to impress. Or consider seats in the rock pile or up on The Rooftop bar for a fun, casual experience. Catering and on-site concessionaires make it easy to plan this team building event.
Attend an Event at Red Rocks Amphitheatre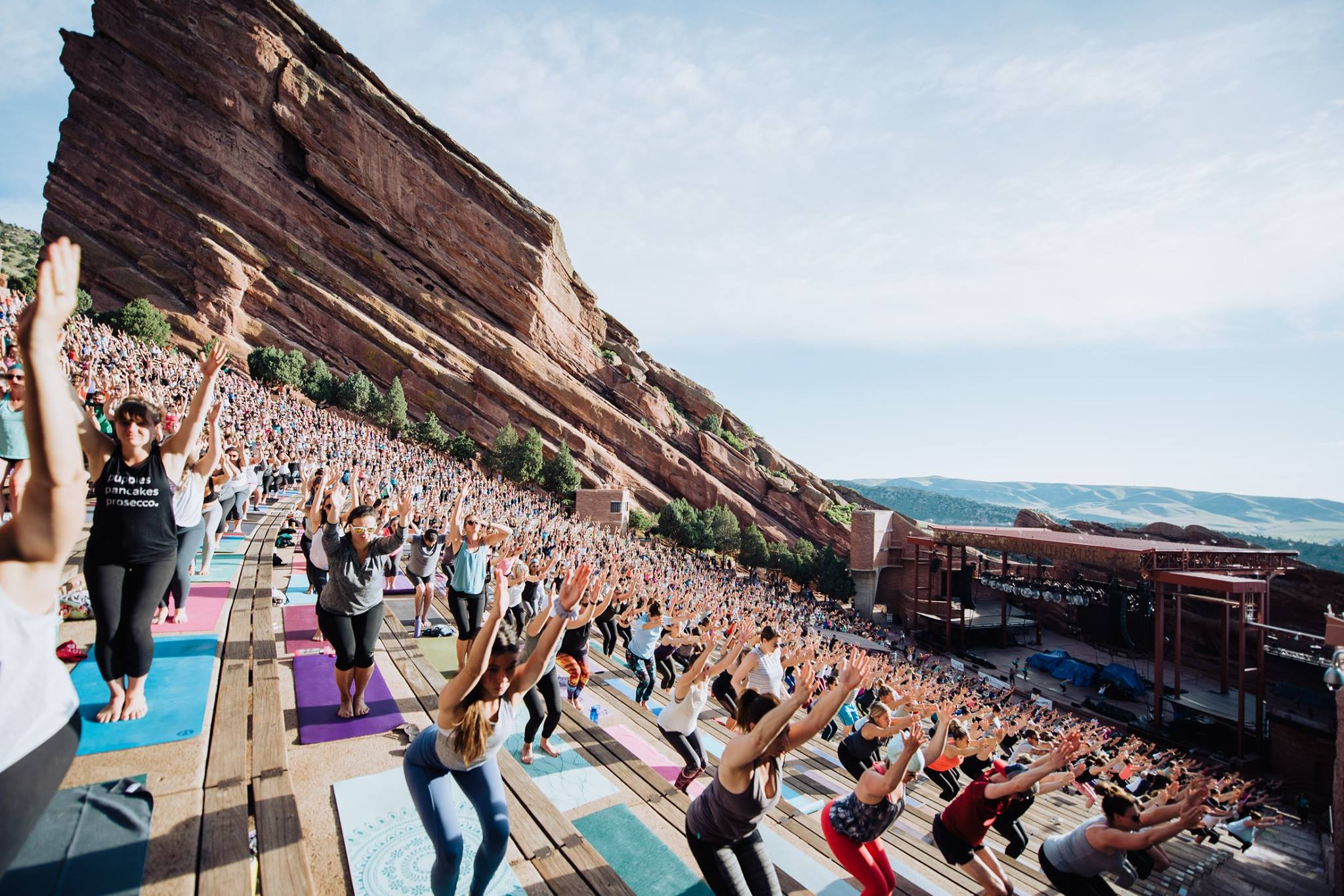 Looking for corporate event entertainment ideas? Red Rocks Park and Amphitheatre is the place to be. This Morrison attraction is just west of Denver and features a jam-packed calendar.
It's most known for its concerts which cover a variety of genres. World-renowned performers frequently play at this scenic outdoor venue, as do local favorites. The amphitheatre also hosts comedy acts, summer movie screenings, and Yoga on the Rocks. Hiking and mountain biking trails are another draw. Regardless of the event you plan, team members are sure to enjoy Red Rocks.
Go Whitewater Rafting through Clear Creek Canyon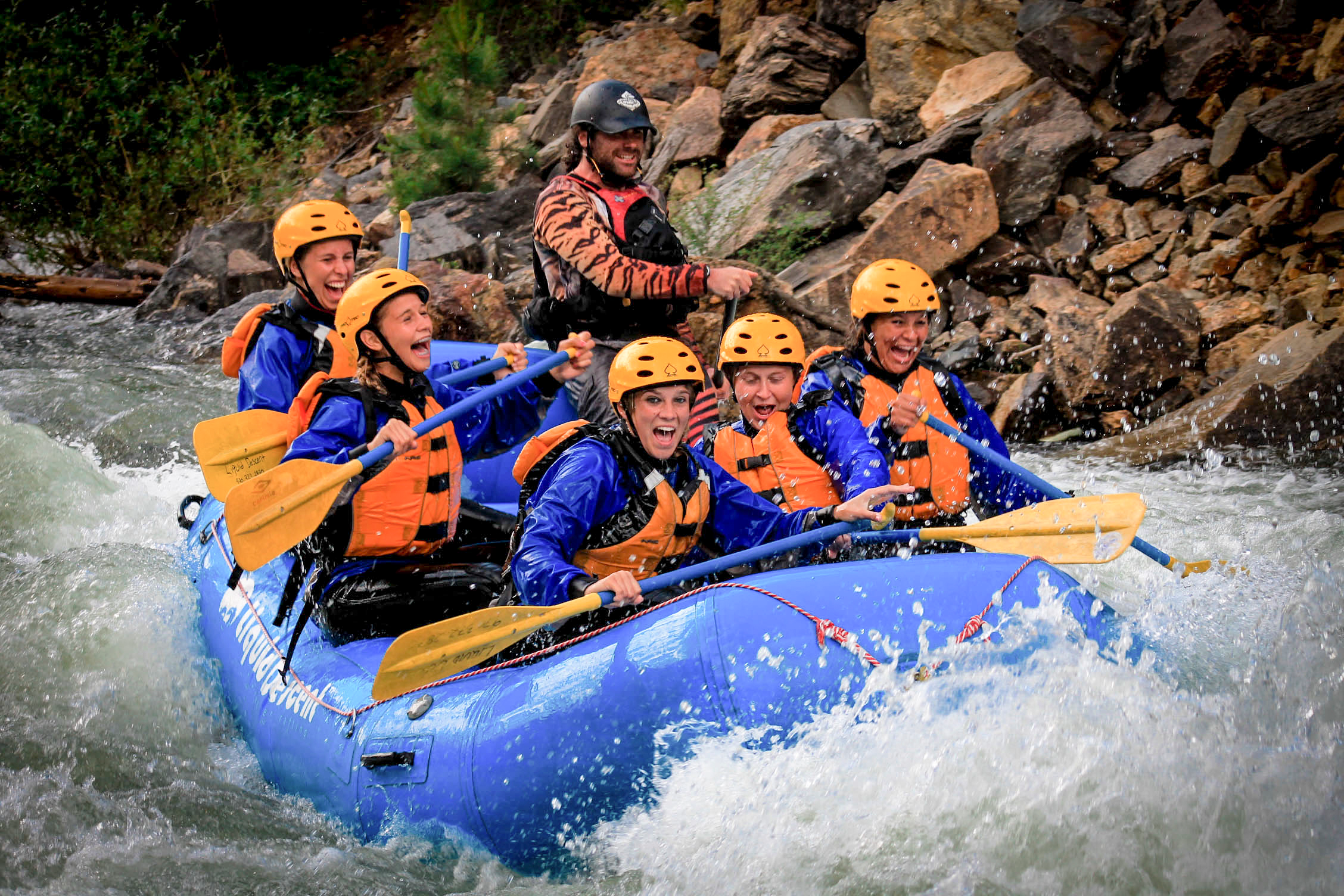 For an exciting and memorable team building activity, consider whitewater rafting! This adrenaline-pumping experience encourages employees to take on challenges, work together, and communicate. Plus, the photos of your drenched co-workers are sure to make for an epic company holiday card!
From Denver, Clear Creek Canyon is the nearest spot to book a rafting tour. There are several outfitters including AVA Rafting and Zipline, Rocky Mountain Whitewater Rafting, and KODI Rafting. Each company offers a variety of tours for all skill levels and can accommodate both small and large groups.
Take a Swing at Topgolf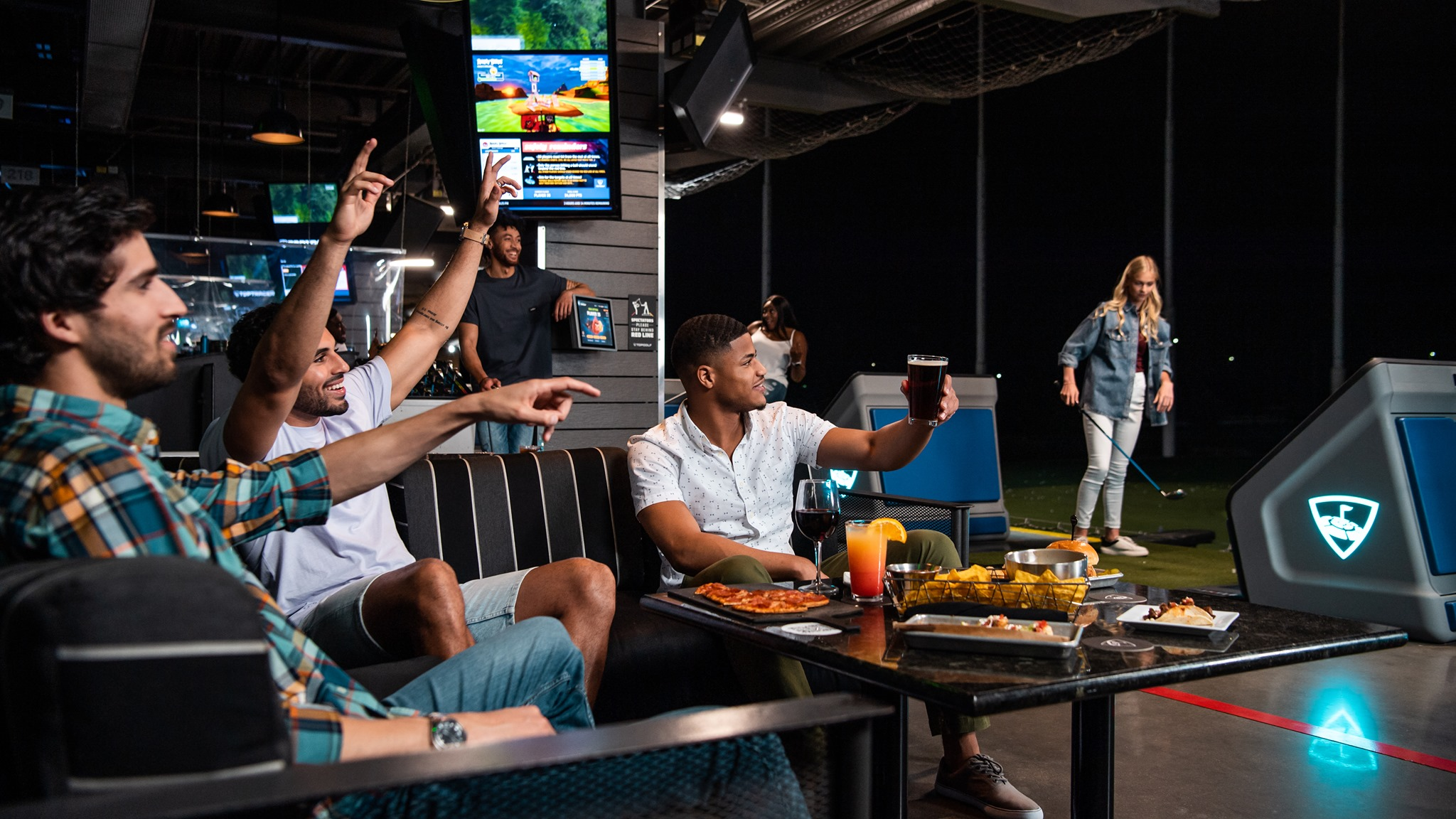 Topgolf has two traditional locations in the Denver area — one in Centennial and another in Thornton. Both are incredibly spacious and feature several attractions. Golfing bays accommodate groups of six per and games encourage friendly competition.
Food and drinks are available on-site. Menus feature elevated pub grub, pitchers of craft beer, and tasty cocktails. Hundreds of TVs also make Topgolf a great spot to catch the game, and an arcade provides even more entertainment. This engaging, relaxed environment will make for a stellar corporate event.
Drive through the Mountains in an Oxotic Supercar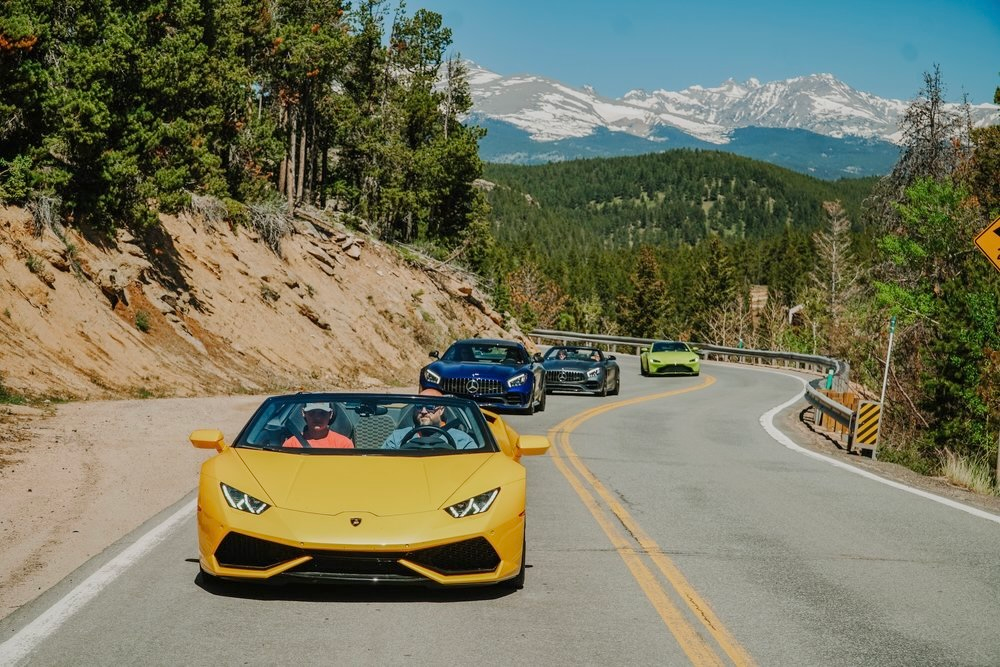 Oxotic hosts one of the most impressive corporate events. Its supercar driving experience allows team members to take luxurious vehicles into the Rocky Mountains. Think models made by Lamborghini, McLaren, and Aston Martin.
Each vehicle is private, granting one driver and passenger. Your tour guide leads the fleet in their own vehicle, and a photographer captures the best of the experience. Packages range from twenty minutes to four hours. Regardless of the length you choose, it's sure to build excitement at the office.
Plan a Corporate Retreat to Rocky Mountain National Park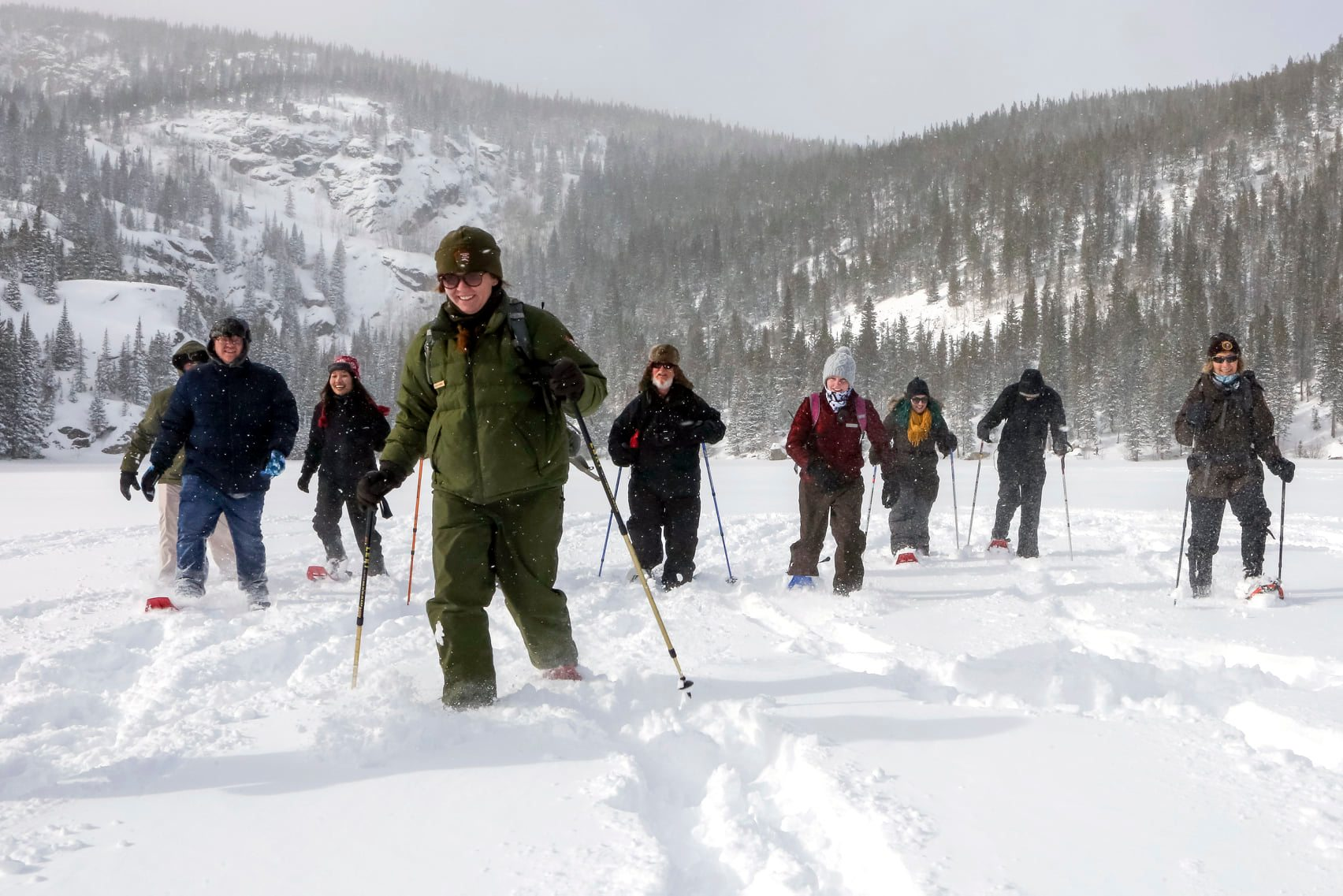 Just a stone's throw away from Denver, Rocky Mountain National Park is the perfect spot for a corporate retreat. Take a summer day trip to enjoy hiking trails, horseback rides, and scenic drives. In winter, team building activities include cross-country skiing and ranger-led snowshoeing tours.
Campgrounds and lodging in nearby Estes Park allow for an even longer corporate event. Regardless of the time of year, it's easy to fill an itinerary in this outdoor paradise. Here, you'll escape the hustle and bustle of city life and create bonds that go beyond office cubicles.
Food and Drink-Centered Corporate Events
Take a Brewery Tour in the "Napa Valley of Beer"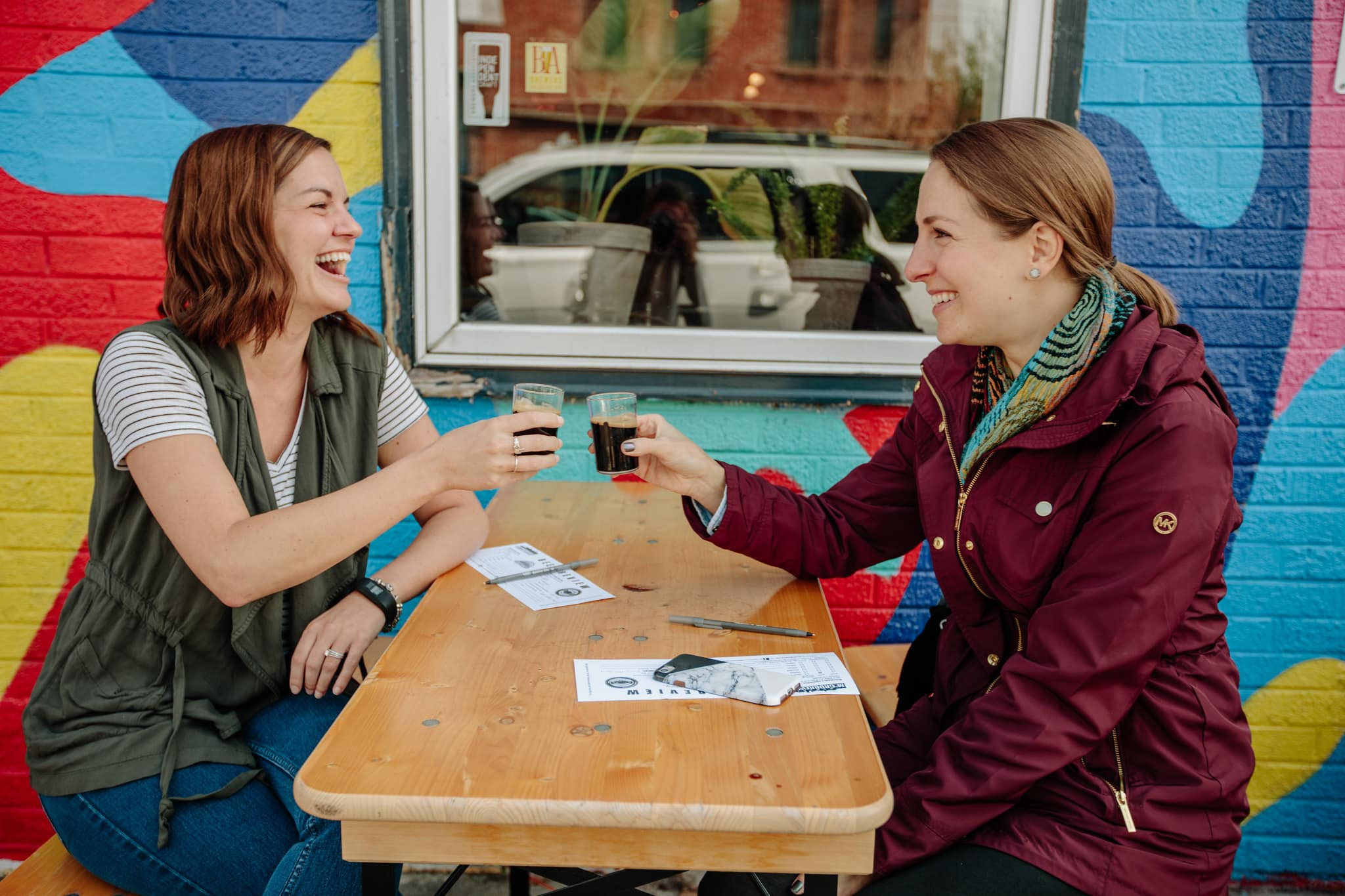 In Denver, we love our craft beer as much as our mountains. This fun corporate event idea could be as simple as gathering at a local favorite. But for a more unique experience, consider booking a Denver Microbrew Tour!
Customized private tours are available, as are two standard tours. Both feature at least ten beer tastings at four establishments. Wynkoop Brewing Company is one iconic stop on the LoDo Historic District tour. It's Denver's first brewpub and one of the top things to do around Coors Field.
The RiNo Beer and Graffiti Tour visits Ratio Beerworks, Bierstadt Lagerhaus, and other stellar breweries. Your group can expect nothing short of a great experience on one of Denver's best tours.
Book a Wine Walk with Delicious Denver Food Tours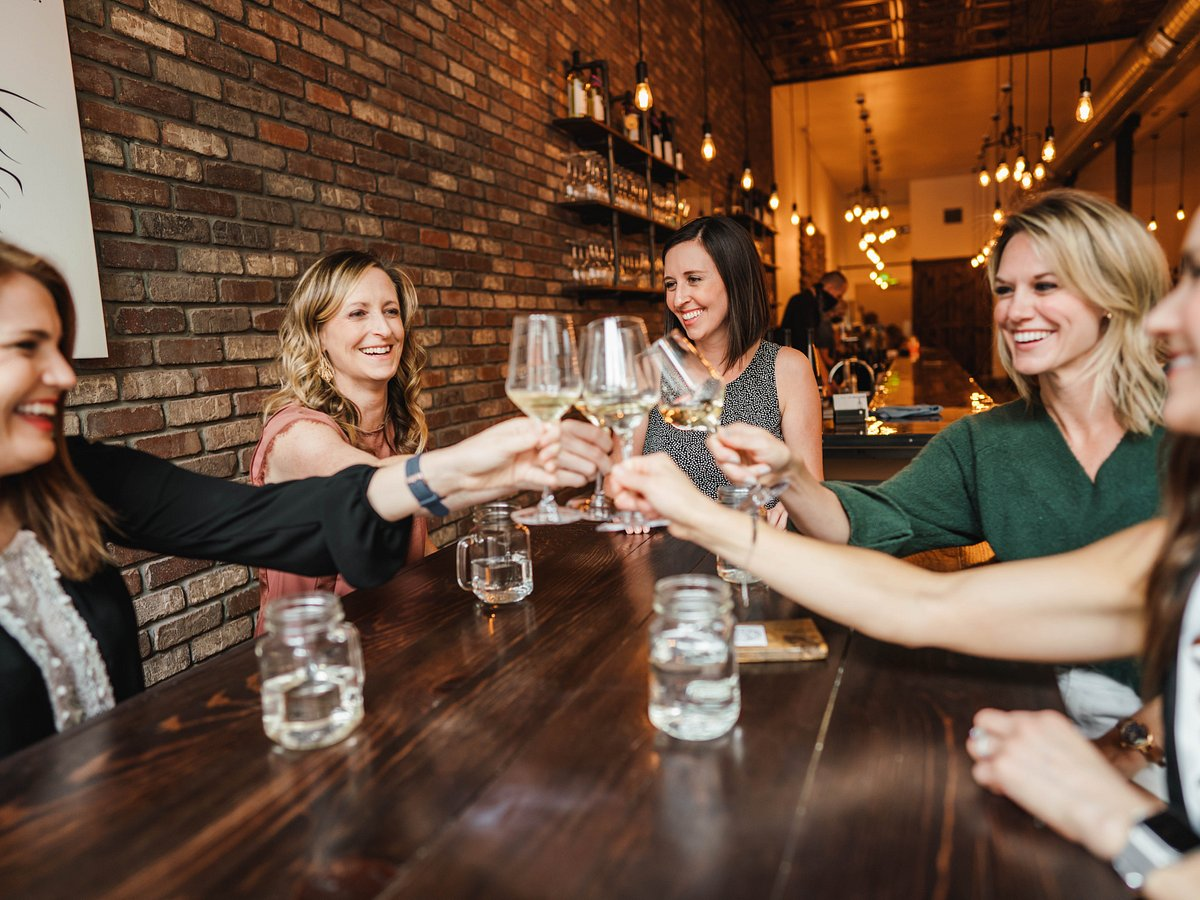 Happy hour is a go-to company gathering and throughout Denver, there are several happy hour specials for wine drinkers. But for a more intimate and engaging experience, book a wine walk tour with Delicious Denver Food Tours!
Participants will be treated to eight wine tastings and small plate pairings. Stops include Le Roux, Sunday Vinyl, and Blanchard Family Wines. Your local guide will overview each sample and throughout the walk, share interesting tidbits about the city and its dining scene.
Tours are available on Fridays and Saturdays from 4 – 6:30 pm. They're the perfect way to end a work week and celebrate a company's success!
Attend a Cooking Class at Cook Street School of Culinary Arts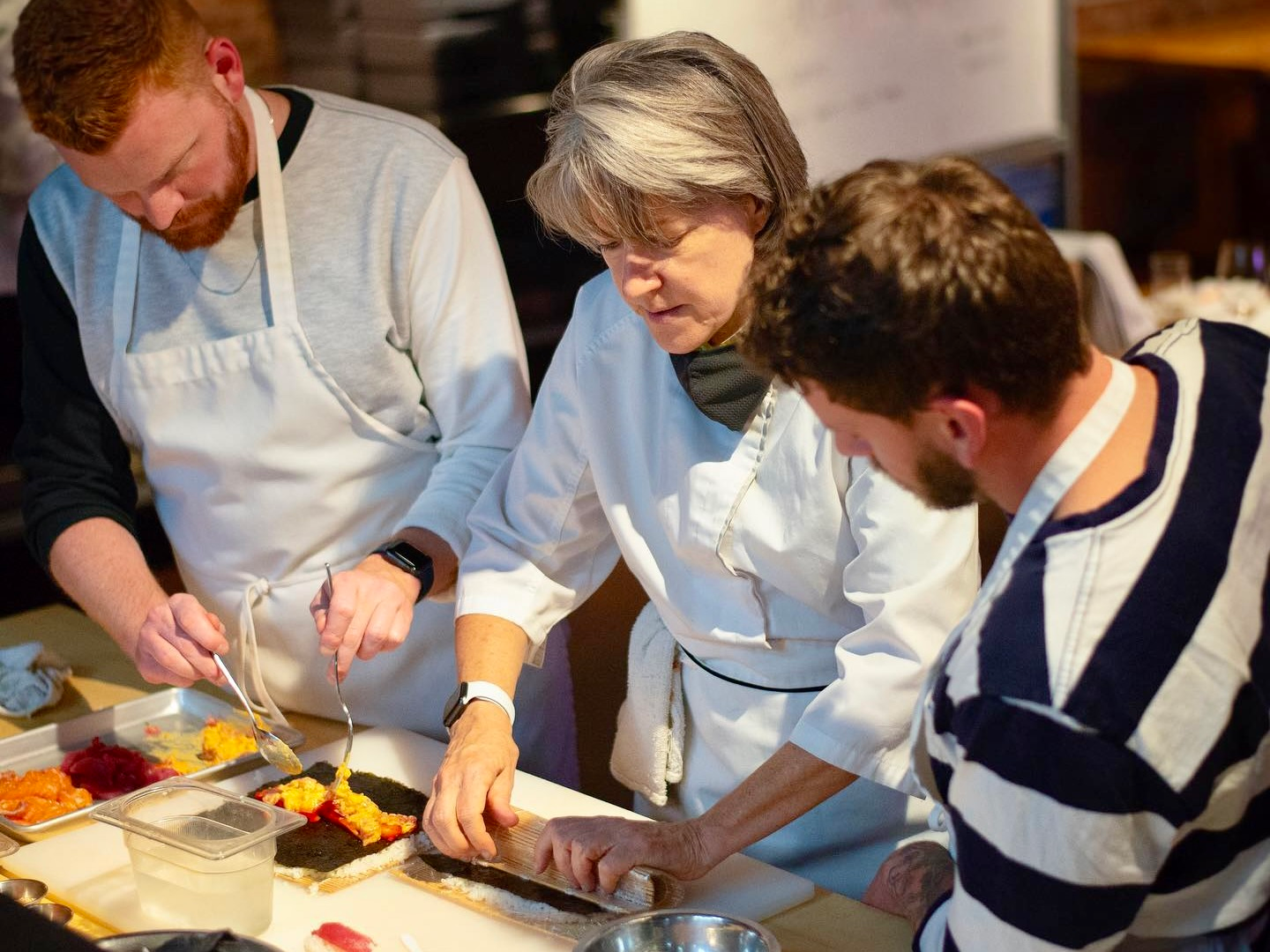 An interactive cooking class is a corporate event that provides a lasting impact. Your team members will walk away from the experience with practical skills! Plus, classes at Cook Street School of Culinary Arts encourage creativity and collaboration.
During a corporate event, employees work together to create delicious dishes. Class themes include many international cuisines, like Korean street food and Spanish tapas. There are also baking and pastry classes, as well as guided overviews of wine, beer, and spirits.
Savor Global Cuisines at Avanti Food & Beverage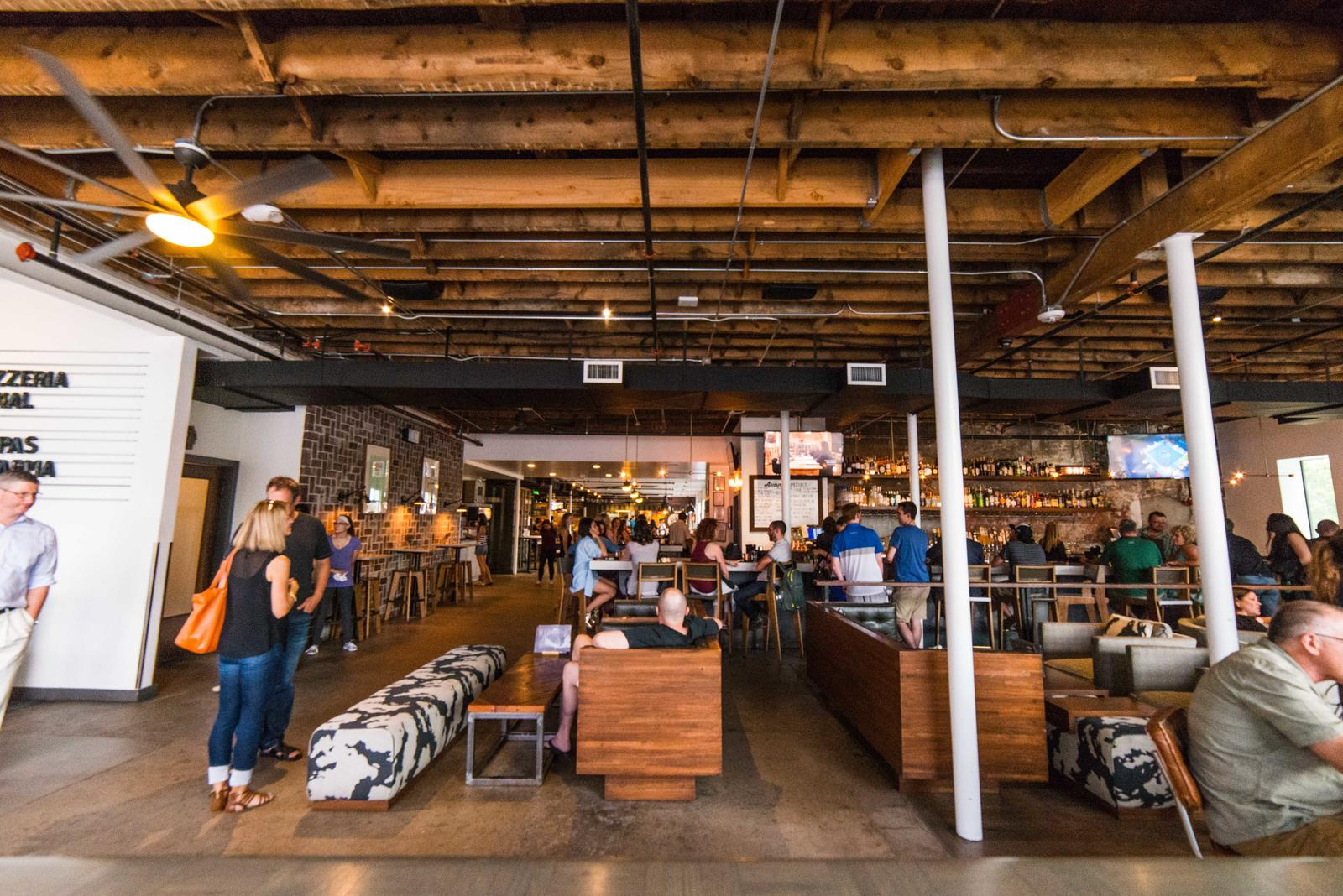 Avanti Food & Beverage is one of the city's favorite foodie destinations. This collective features several food stalls ranging from Vietnamese fusion to Venezuelan arepas, modern Mexican, and more. If your group is small, you can likely snag a main-level table or outdoor patio seating.
But to secure a space for your corporate event, consider booking with Avanti. This allows you to reserve particular seating throughout the venue. It also grants dedicated cocktail servers. These tasty beverages pair perfectly with the elevated, eclectic eats.
Sip Boozy Beverages on a Cocktails + Tastes Tour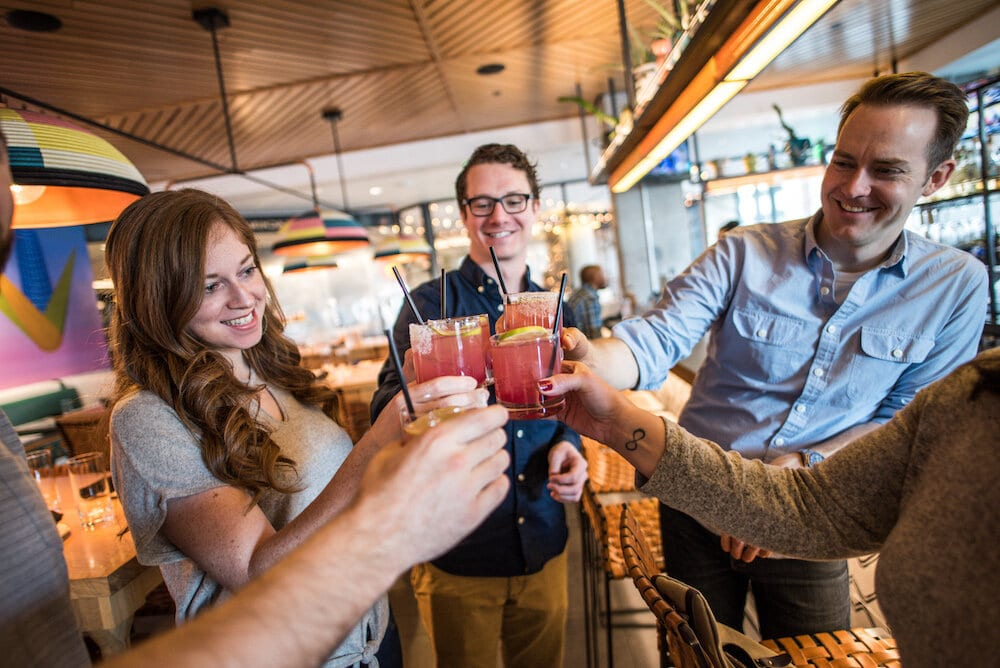 In addition to breweries and urban wineries, Denver is home to stellar craft distillers. Cheers to team spirit on a cocktails + tastes tour by Delicious Denver Food Tours!
At this corporate event, your co-workers will sample four boozy beverages and three small plate pairings. Think prosciutto, olives, and focaccia between sips of Venetian Aperol Spritz. And who could turn down a butter pecan old fashioned?
This next-level happy hour is a great way to connect and celebrate company culture. And you may leave with more event ideas, as your local foodie guide is a great resource. Get insights into the city's dining scene and other fun attractions.
Sporty & Active Team Building Activities
Host a Team Building Event at Podium Karting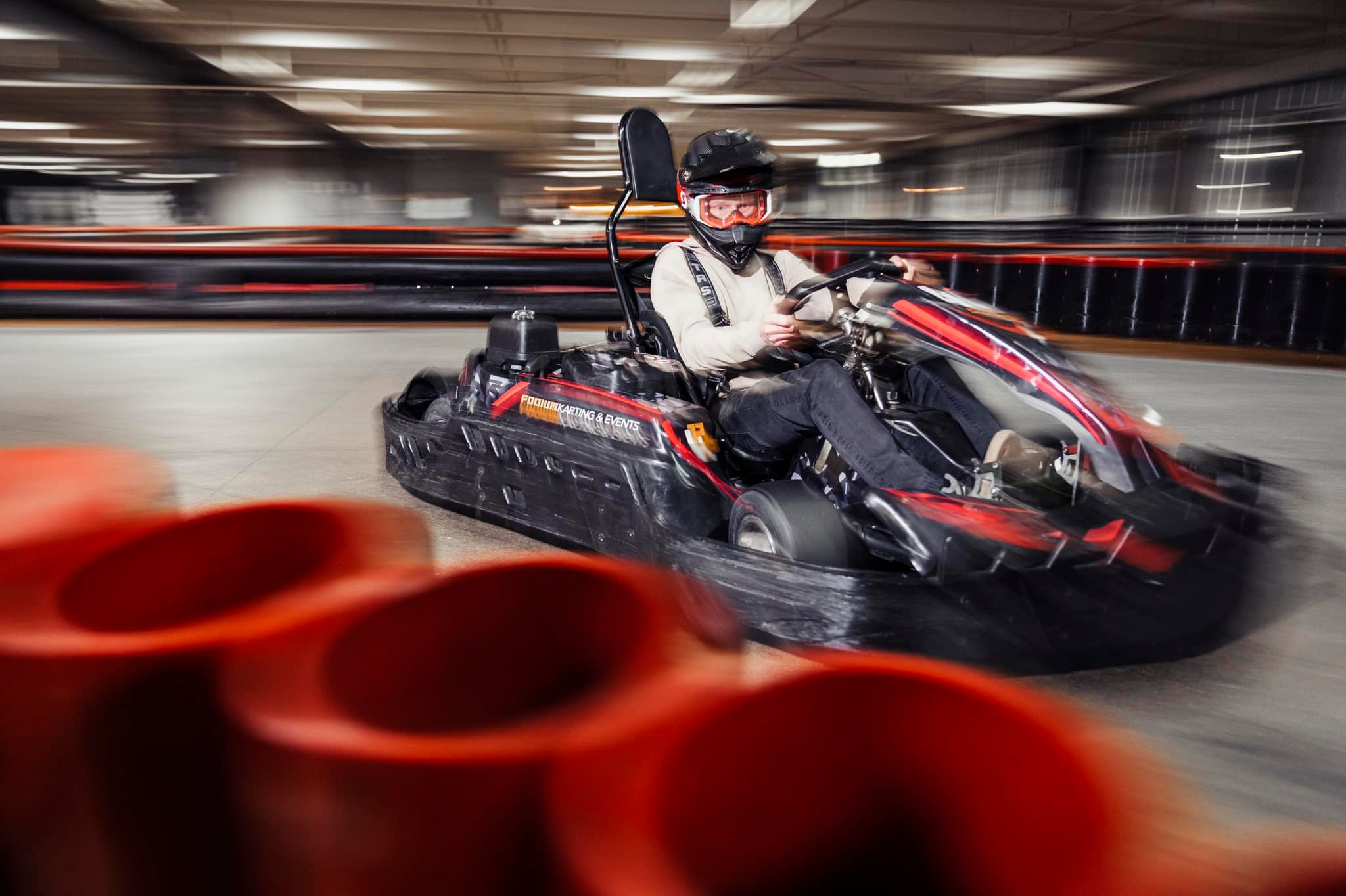 Have a team that thrives in the fast-paced corporate world? Host your next team building activity at Podium Karting & Events! Activities at this exciting Denver attraction include go-kart racing and axe throwing.
Podium Karting & Events is well accustomed to corporate events. It takes care of many of the event planning logistics. Three private rooms can be reserved, as can a space in its Trackside Tavern if your group is small. Order individual entrees from the on-site restaurant, or opt for a catering package. A dedicated staff is also available, allowing all team members to simply show up and have a great time.
Rent Lanes at Lucky Strike Bowling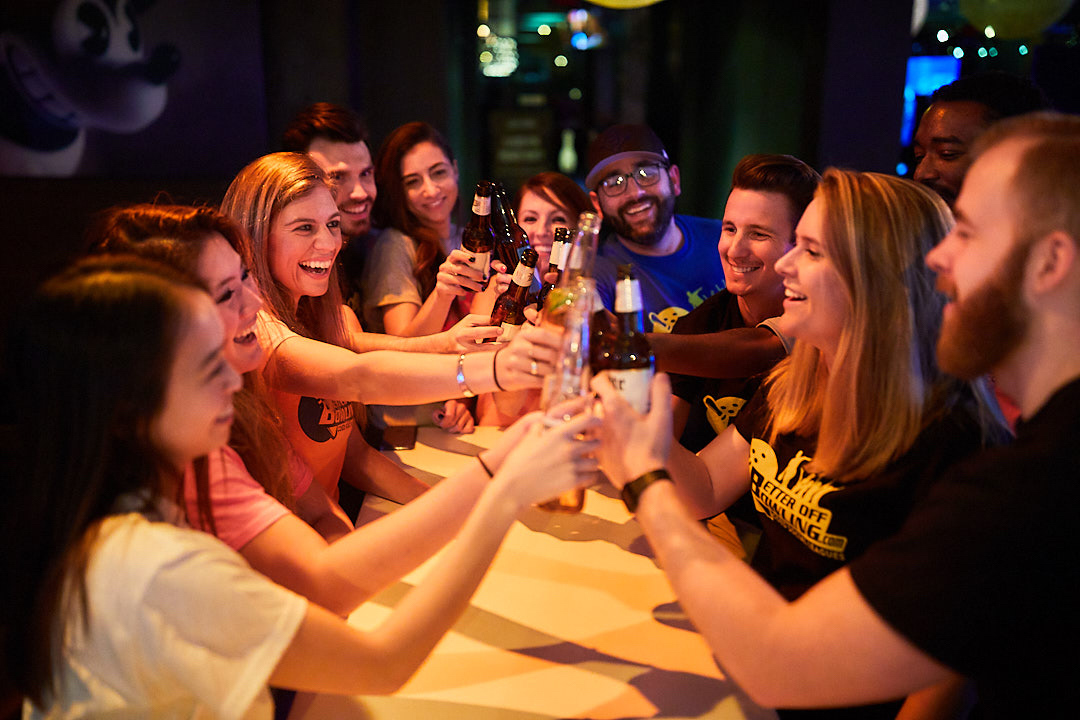 Denver has a number of bowling alleys, but none are as popular for corporate events as Lucky Strike. Its massive 20,000-square-foot space is centrally located along downtown's 16th Street Mall.
Here, teams can lounge in comfortable booths while taking turns bowling. Order from an eclectic food and drink menu, and enjoy the arcade which features more than one hundred games. This classic team building outing is laid back, competitive, and so much fun — especially for the winning team!
Cheer on the Denver Broncos at Empower Field at Mile High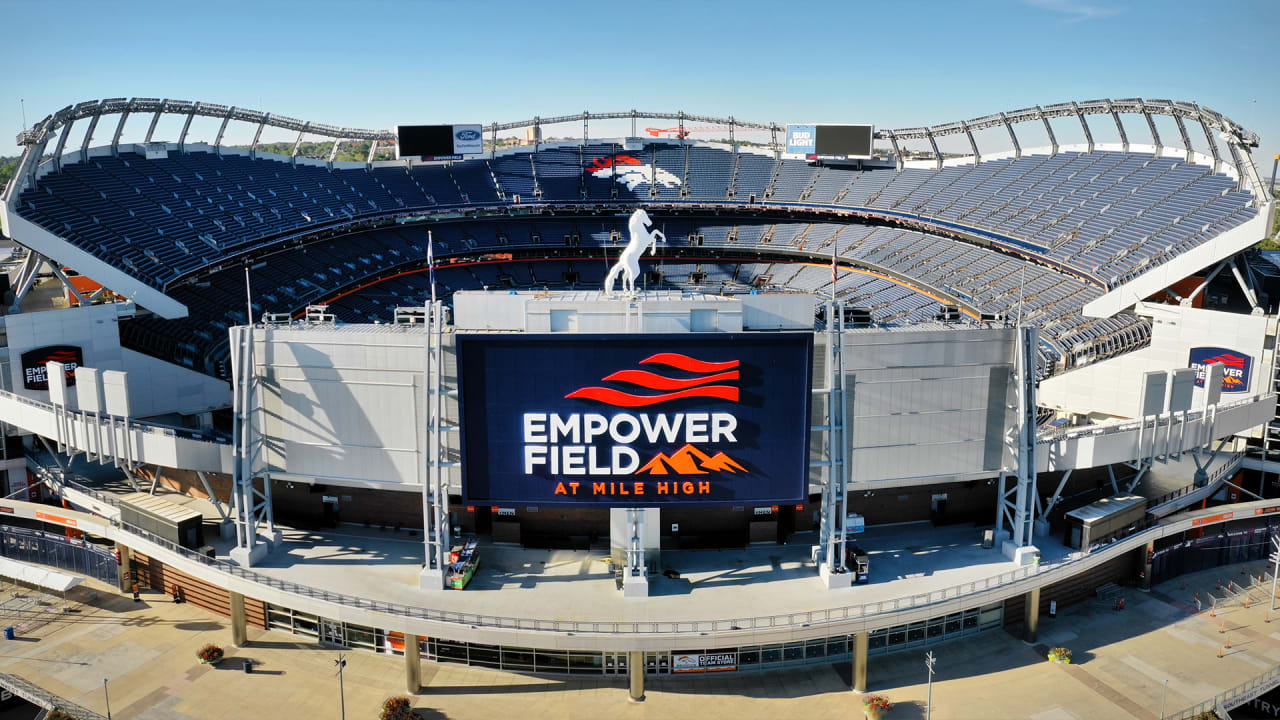 Few corporate entertainment ideas will get a group rallied like seeing the Denver Broncos. Tickets to games at Empower Field don't come cheap. But every team member is sure to feel rewarded by a team building event like this!
Catch home games all throughout September to December. Though, the first game of this season might be the best to attend. Crowds are sure to be excited to see the Broncos play against its rival team, the Raiders, mid-day on September 10.
Battle Your Co-Workers at Archery Games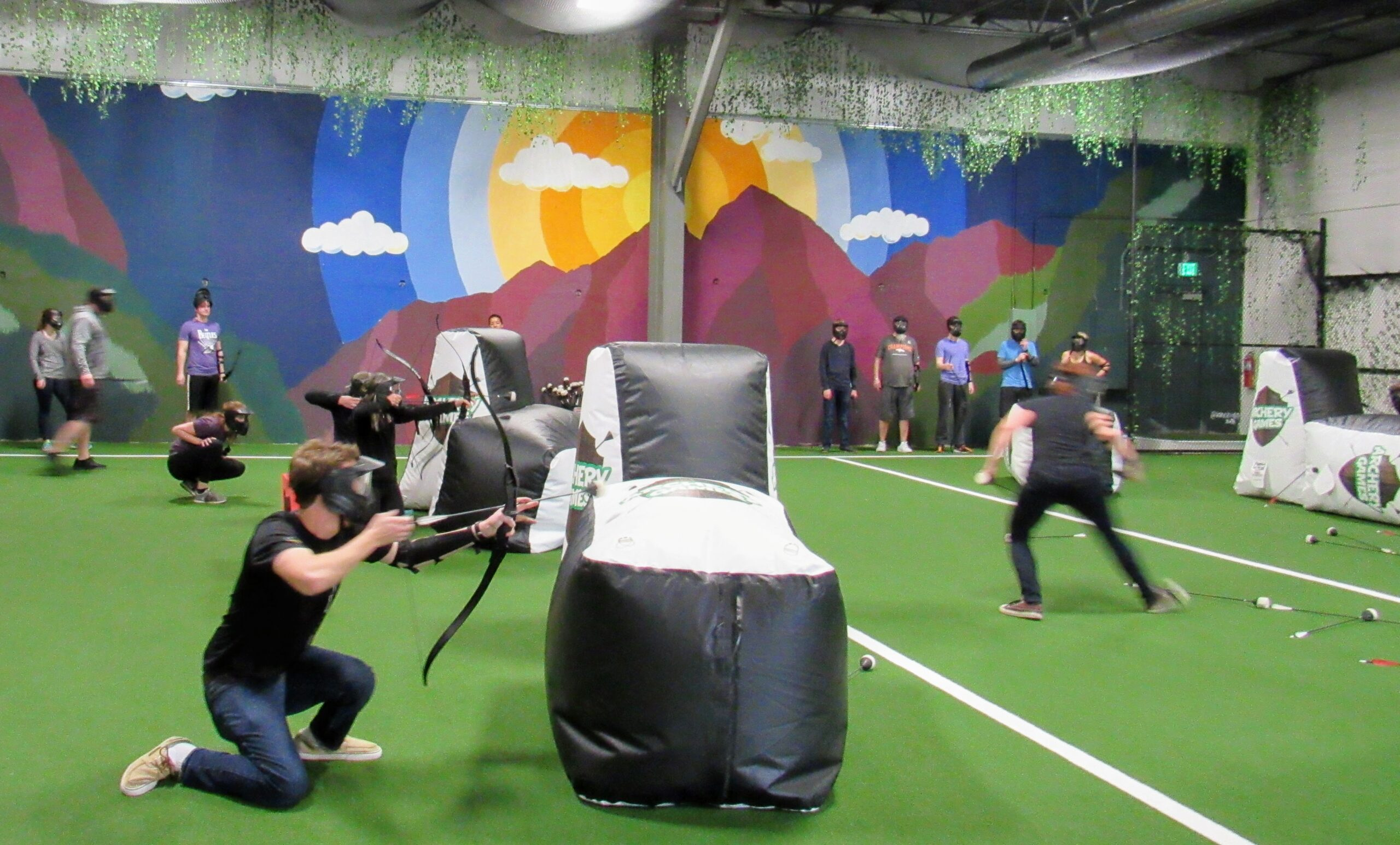 If your team loves competitive corporate events, Archery Games is a sure win. This attraction lies in Arvada, just northwest of Denver. Its indoor battlefield hosts games that resemble dodgeball. But it mixes things up by providing players with archery bows and painless, foam-tipped arrows.
It's a great corporate team building activity, regardless of how many employees participate. Small groups can join public sessions, while larger businesses can reserve the entire facility. Either way, it's an experience that encourages teamwork, strategy, and friendly competition.
Skate around the Ice Rink at Skyline Park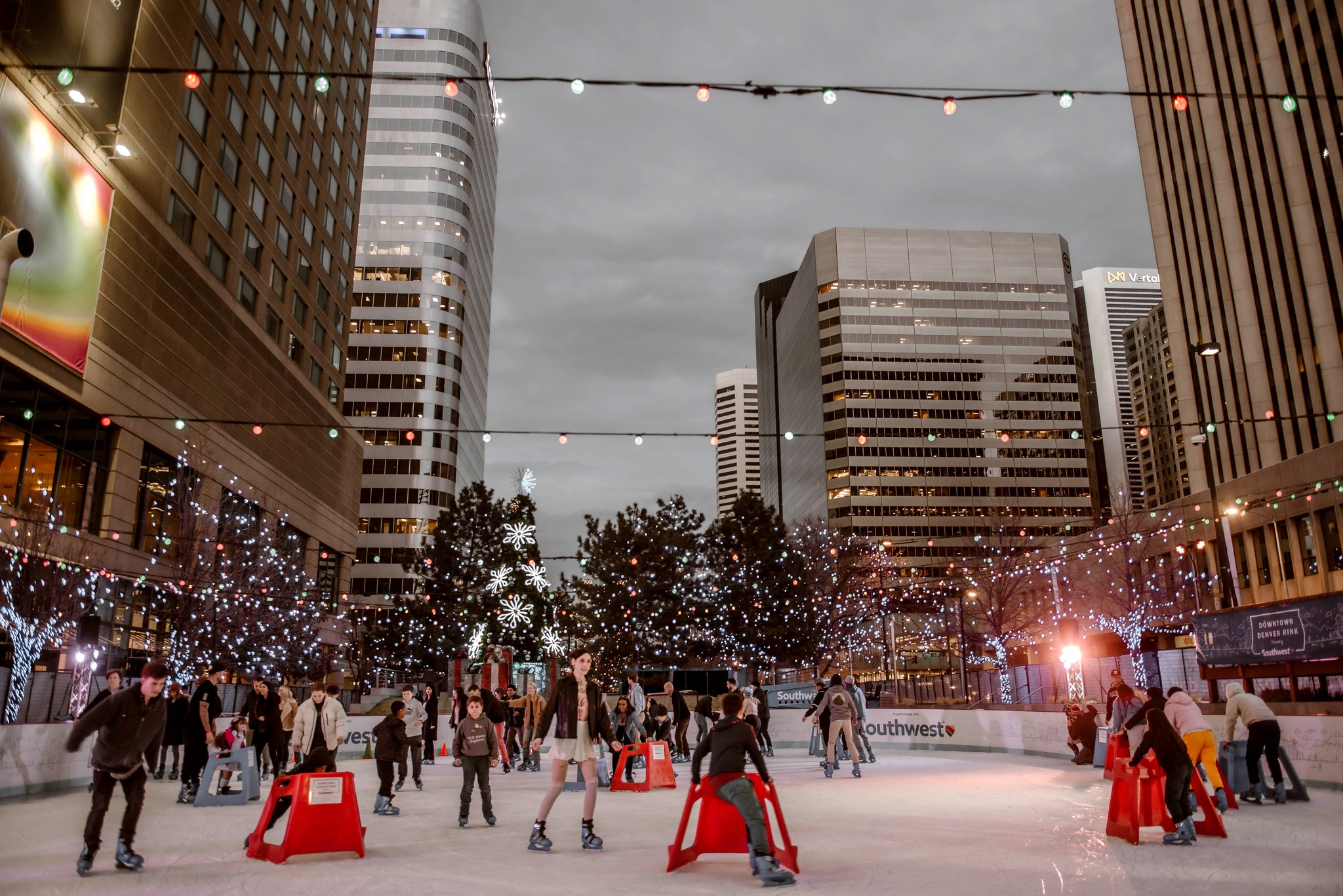 Ice skating at Skyline Park is one of the best things to do in Denver in winter. This corporate team building activity is affordable and available from November to February.
It's a great spot to visit during the holiday season when the city is decked in lights. Tuesdays may also be an ideal event time. Last season, Skyline Park offered a buy one, get one special on skate rentals from 3 – 5 pm when visitors shared their business cards. Clock out early and enjoy some camaraderie!
Test Team Work at a Movement Rock Climbing Gym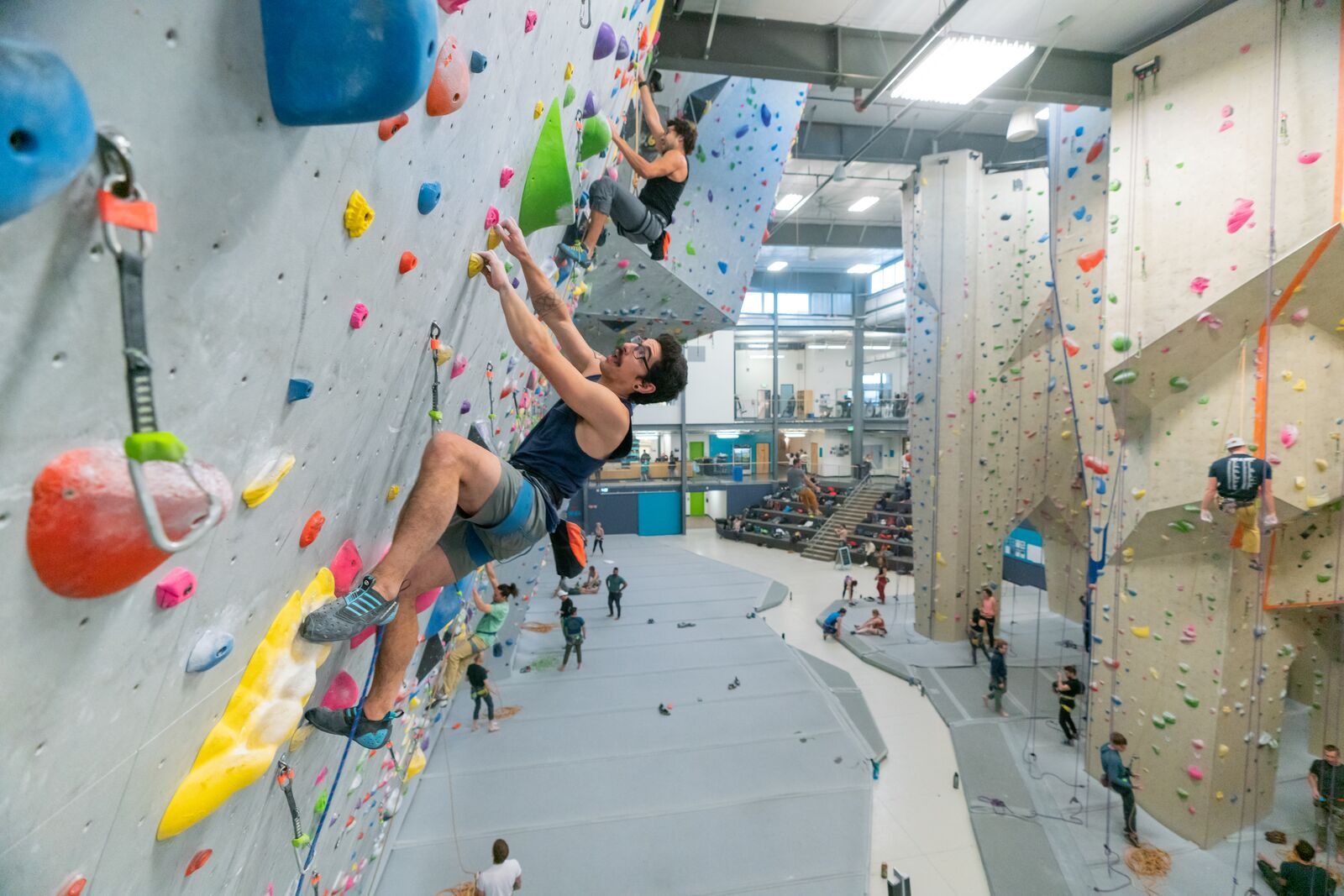 Active, adventurous teams will love a trip to one of several Movement rock climbing gyms. Locations are found in two Denver neighborhoods. One is in Baker and the other is one of the best things to do in RiNo. There are also locations in nearby suburbs. In fact, Movement in Englewood is the largest climbing gym in Colorado!
Experienced groups are welcome to each facility's sport routes and bouldering problems. Though, gyms also host events for corporate groups of all skill levels. Select between 2-hour climbing or bouldering packages, or build a custom event. Regardless of what you choose, these team building exercises will promote collaboration, communication, and company culture.
Take on an Obstacle Course at Warrior Challenge Arena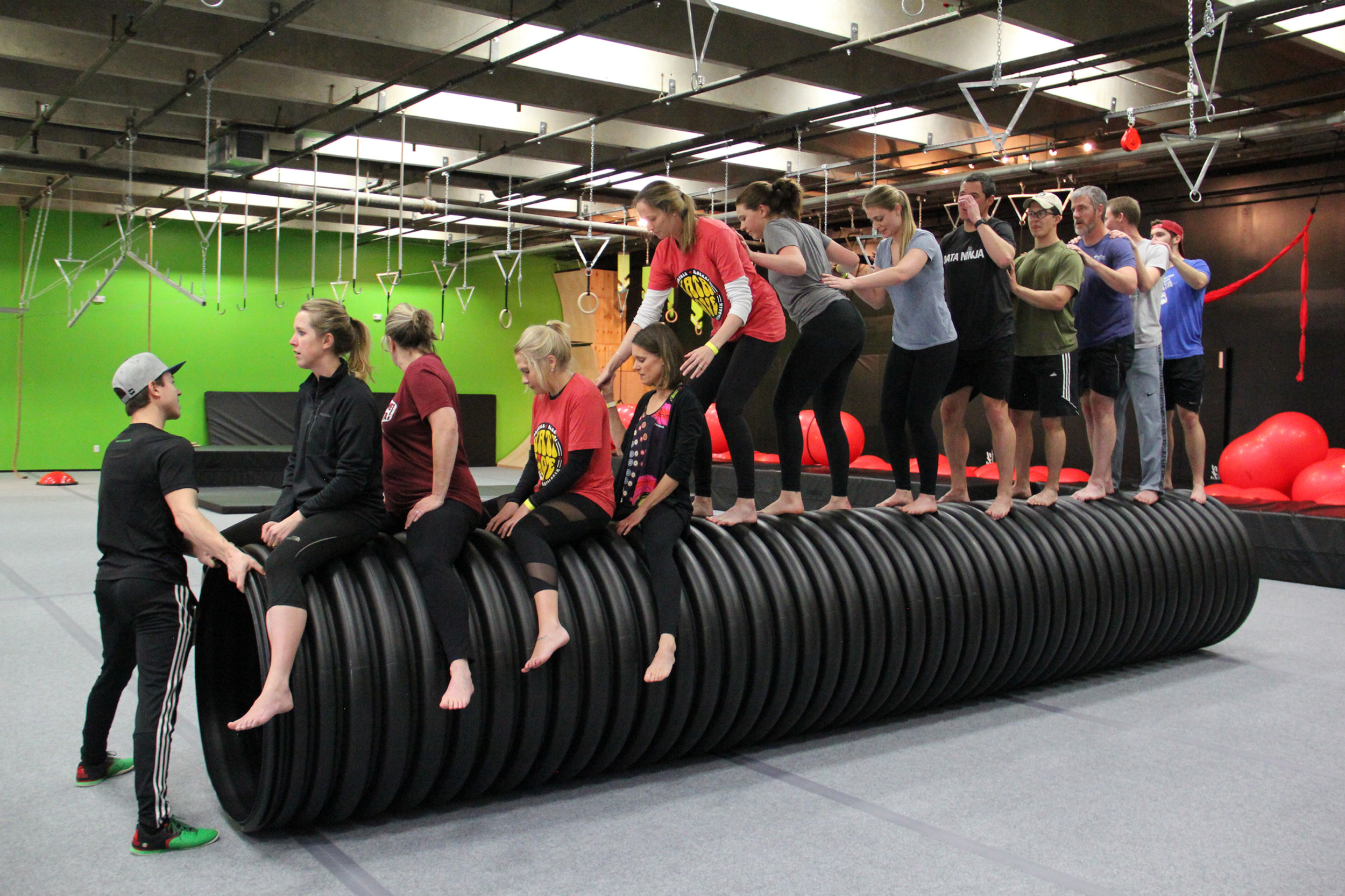 Warrior Challenge Arena is an expert at corporate team building events. In designing its packages, the Ninja Warrior-inspired gym took company objectives into consideration. Is your goal team bonding or to develop certain skills? Would your staff benefit from professional development activities?
Through workshops and engaging obstacles, Warrior Challenge Arena aims to meet those goals. Programs range from 1 – 3 hours and can be tailored to various fitness levels. All packages provide an opportunity to improve your team's communication and highlight individual strengths. Plus, it's simply a fun way to engage your co-workers outside of the office!
Get Outdoors at City Park Golf Course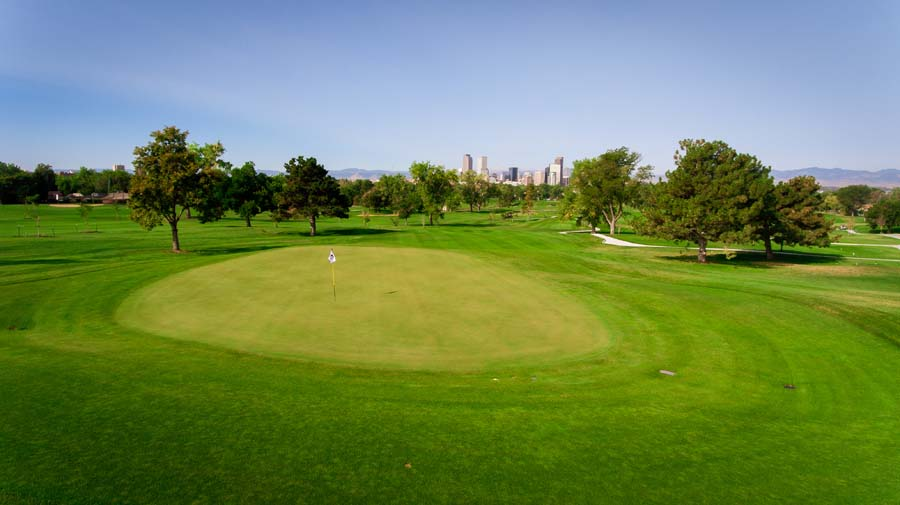 There are golf destinations all throughout Denver Metro, but none offers an urban experience like City Park Golf Course. This eighteen-hole course is adjacent to the Denver Zoo and the Denver Museum of Nature and Science. It also offers great views of the city skyline and the mountains beyond.
City Park Golf Course also features an expansive clubhouse and on-site restaurant. After a friendly game with co-workers, kick back on the patio with a satisfying lunch and good conversation.
Volunteer to Create and Maintain Local Trails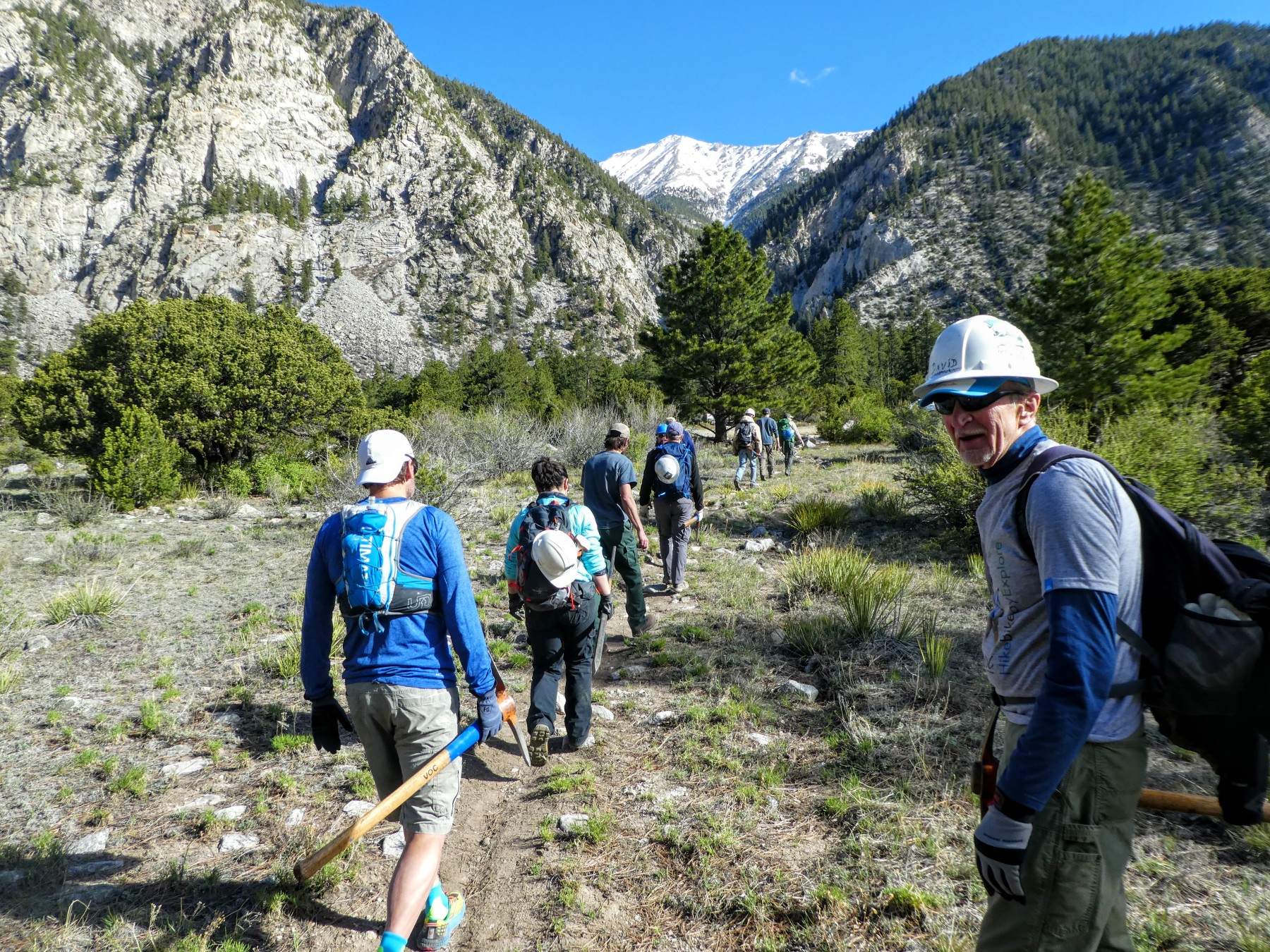 If you work in Denver, chances are that at least a few of your co-workers are the outdoorsy type. Consider centering your next corporate event around trail building or maintenance! After all, who doesn't love a trip into the mountains?
There are a number of non-profit organizations your team can partner with. The Colorado Trail Foundation is one of these entities. It allows your group to join or form a trail crew that addresses projects spanning 1 – 8 days. Employees can also band together to adopt a section of the Colorado Trail, carrying out maintenance in the spring and fall.
Volunteers for Outdoor Colorado is another organization. From April to October, it offers fifty-plus volunteer opportunities all across the state. It also has a Team Stewardship Day program for corporate groups. This option can be catered to your team members' abilities and needs.
Artistic & Creative Corporate Event Ideas
Marvel at Massive Sculptures on a Public Art Tour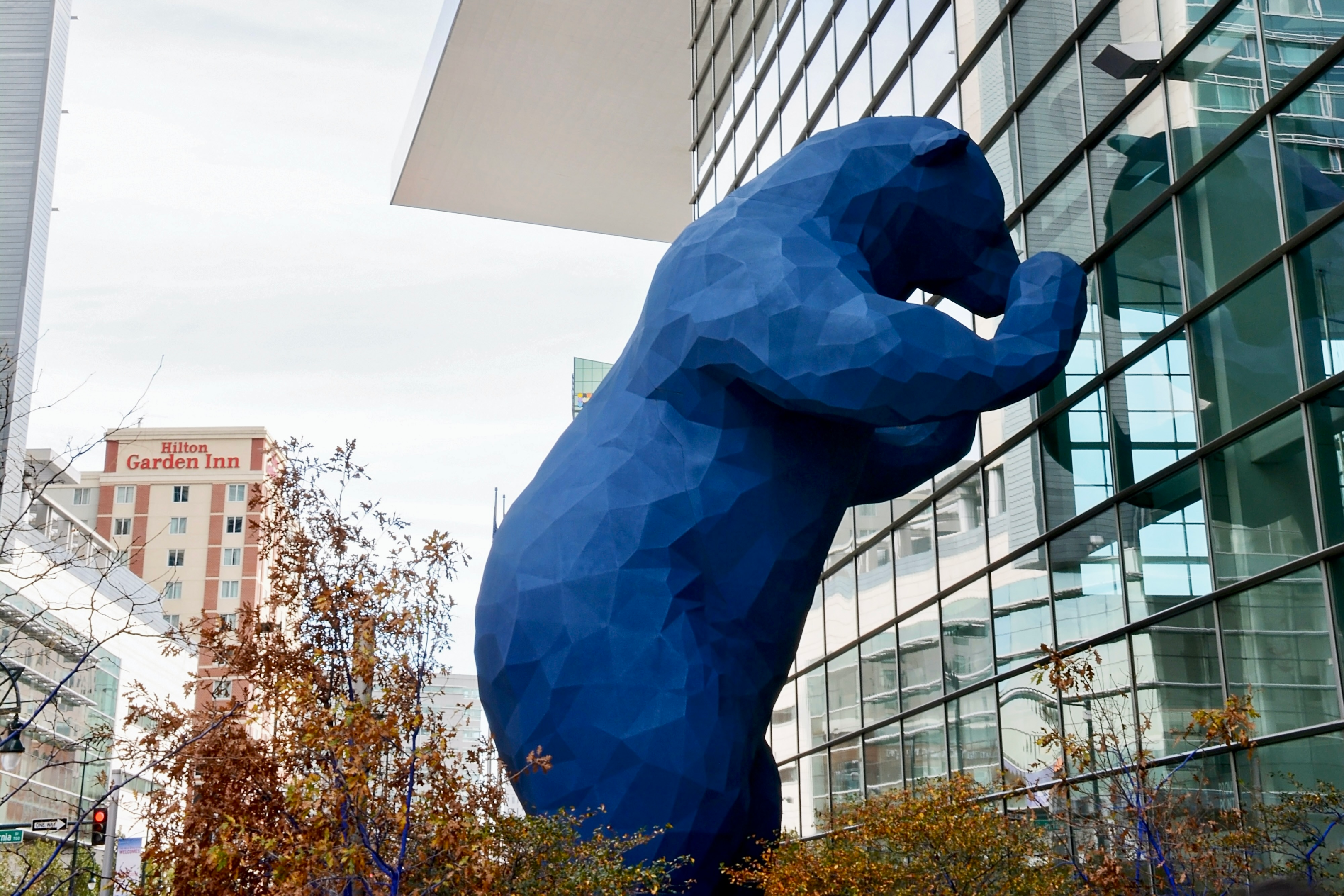 You don't need to plan an expensive social event to boost team spirit. In fact, some fun corporate events are even free! For example, the Larger than Life public art tour is a great way to engage your team members.
More than sixty sculptures and murals can be seen throughout Denver. This self-guided walking tour features some of the best. It includes sites like I See What You Mean, also known as "The Big Blue Bear." Marvel at Big Sweep and Scottish Angus Cow and Calf outside the Denver Art Museum. See The Dancers near the Denver Performing Arts Complex and many other impressive works.
Interact with Art at Meow Wolf Convergence Station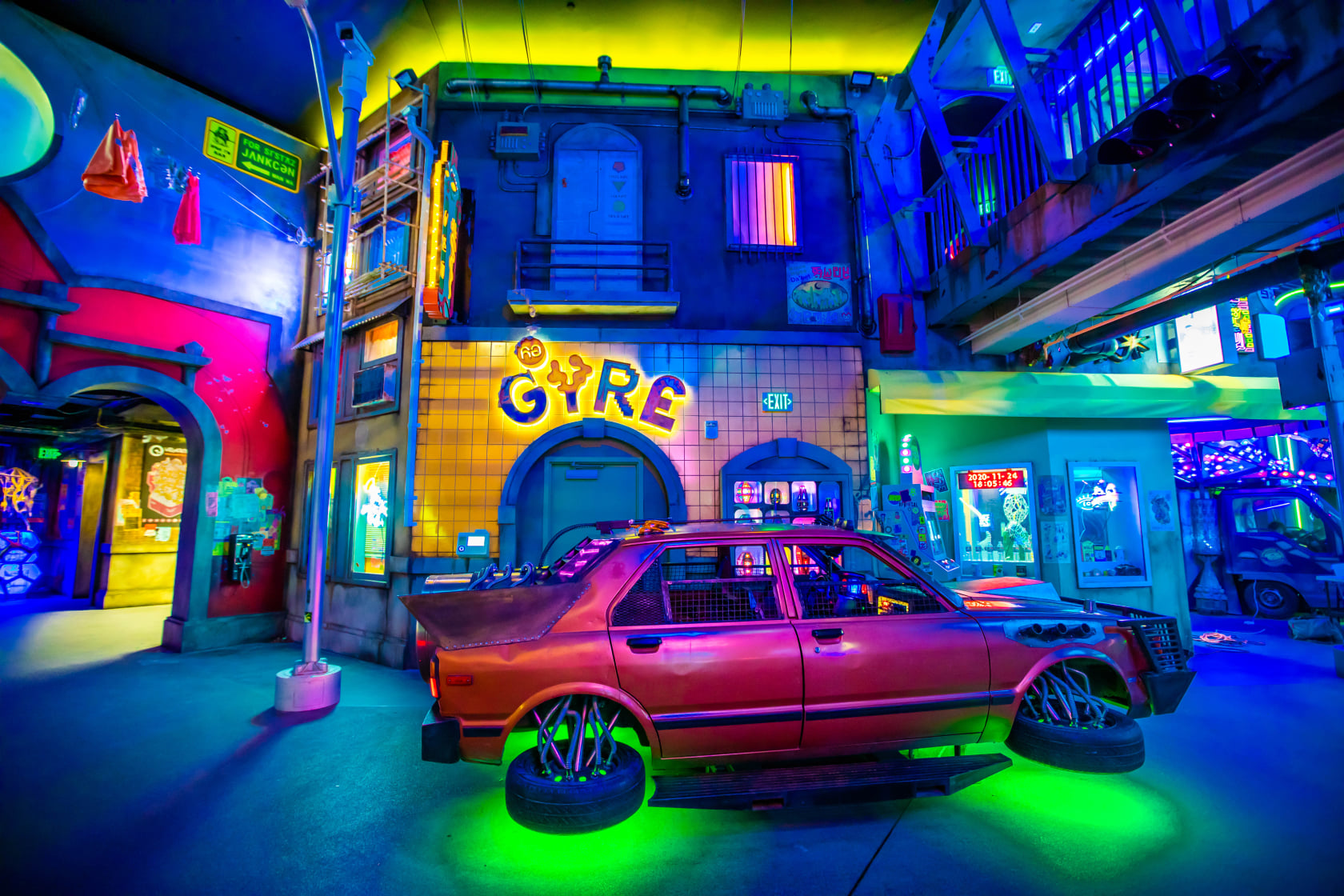 In many ways, Meow Wolf Convergence Station resembles an adult fun house. Its vibrant, interactive art feels a bit psychedelic and sometimes, downright confusing. Many of its photo-worthy installations are sure to spark conversations among co-workers.
With multiple levels, this expansive attraction offers plenty to explore. It's a feast for the senses and especially suited for fun-loving, creative teams.
Paint and Sip with Your Co-Workers
There are a number of paint and sip establishments throughout the Denver area. Painting with a Twist has three locations, convenient for those near Lakewood, Lone Tree, and downtown Denver. Class participants can sip wine while learning to paint a lovely scene. Public classes, private classes, and even off-site demonstrations are available.
Whimsy Studios is another highly-rated option, set in northeast Denver. Unlike similar businesses, it has a full bar, accommodating a variety of tastes. Attend a public class or rent the entire event space for a dedicated party.
Laugh and Loosen Up at Comedy Works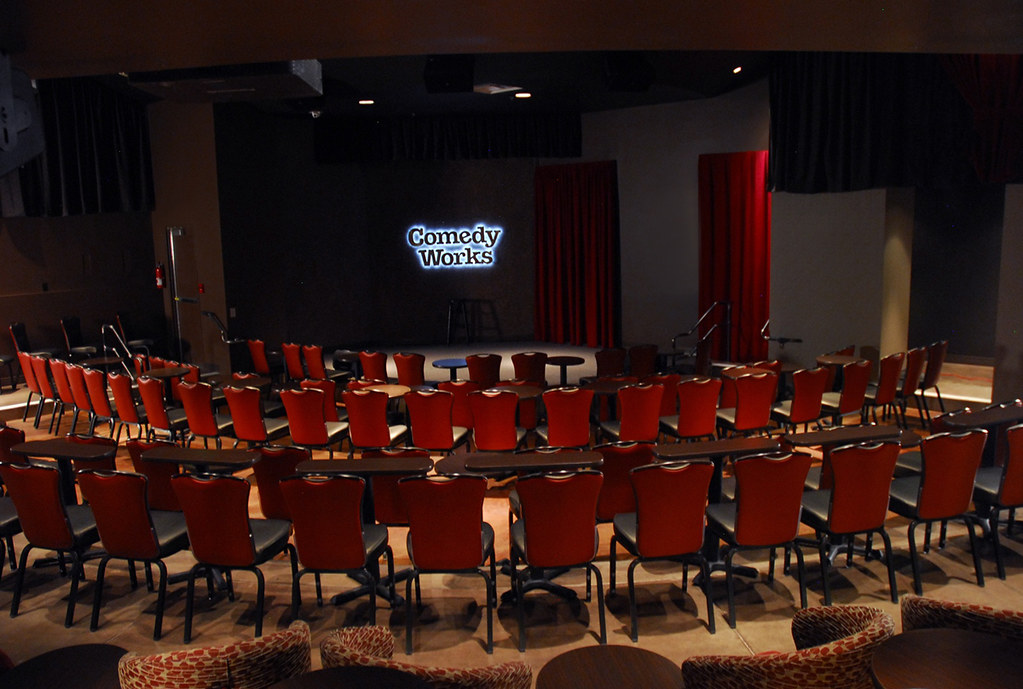 Want a laid-back event space that allows your team to loosen up? Head to either Comedy Works location in the Denver Metro area. Both the downtown and Greenwood Village establishments draw famous comedy acts and up-and-coming performers.
Both locations also have a full bar and snacks. Though, if you're looking to feed your group, opt for the Greenwood Village site. Its adjacent restaurant, Lucy, serves New American fare directly to your table. No one can complain about dinner and a show!
Educational Corporate Event Ideas
Join a Workshop at the Denver Museum of Nature and Science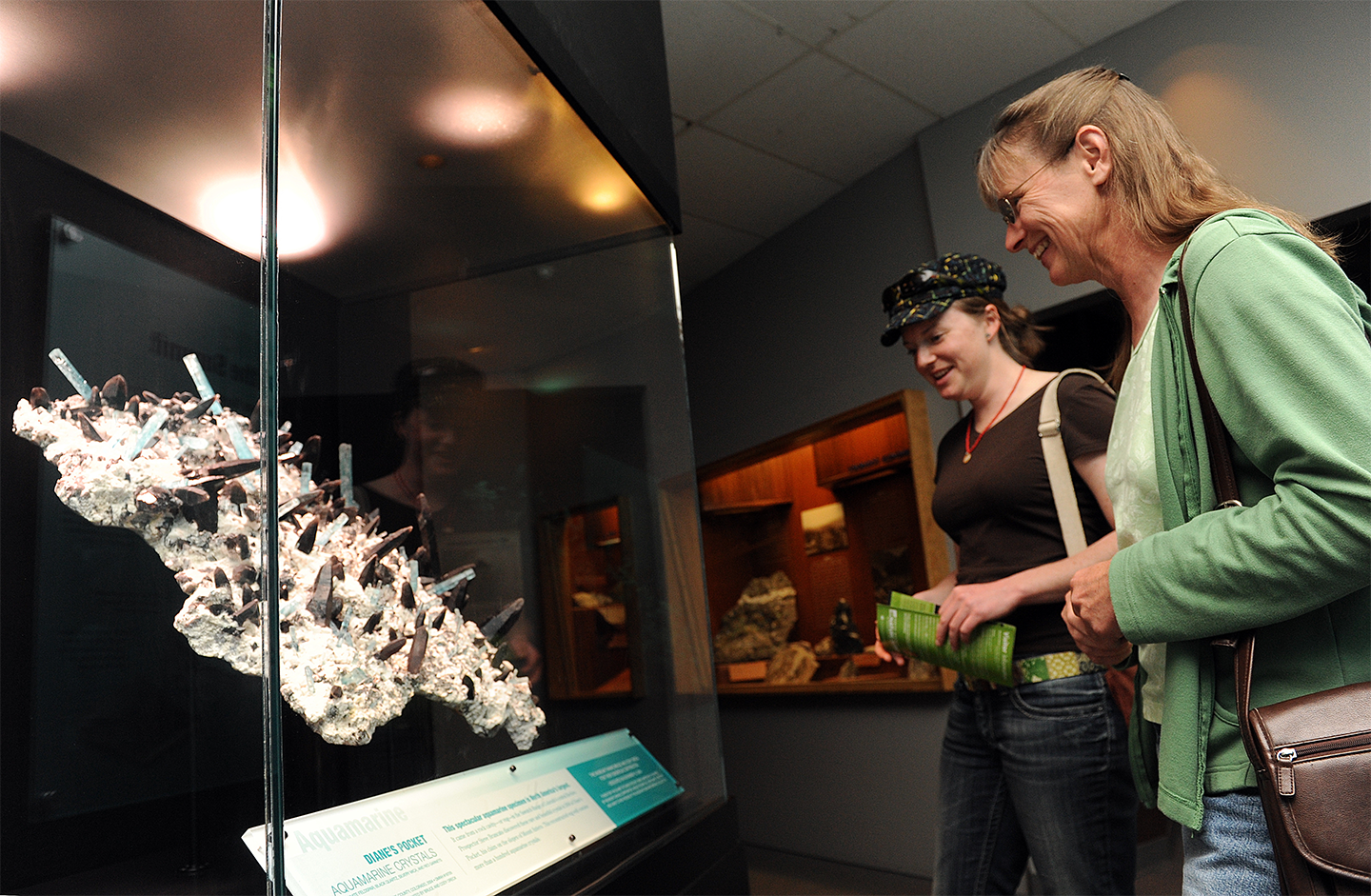 Of course, touring the Denver Museum of Nature and Science is a team building option. But for an even more engaging experience, opt for a hosted workshop event.
One professional development workshop is specific to educators. These classes provide insights and practical approaches to K-12 curriculums. Though perhaps more informational than fun, they promote team learning and classroom success.
Other fields can also appreciate events at the Denver Museum of Nature and Science. Its calendar often includes film screenings and interesting lectures. These overview everything from the cosmos to the microscopic world.
Enjoy Adulting with the Animals at the Denver Zoo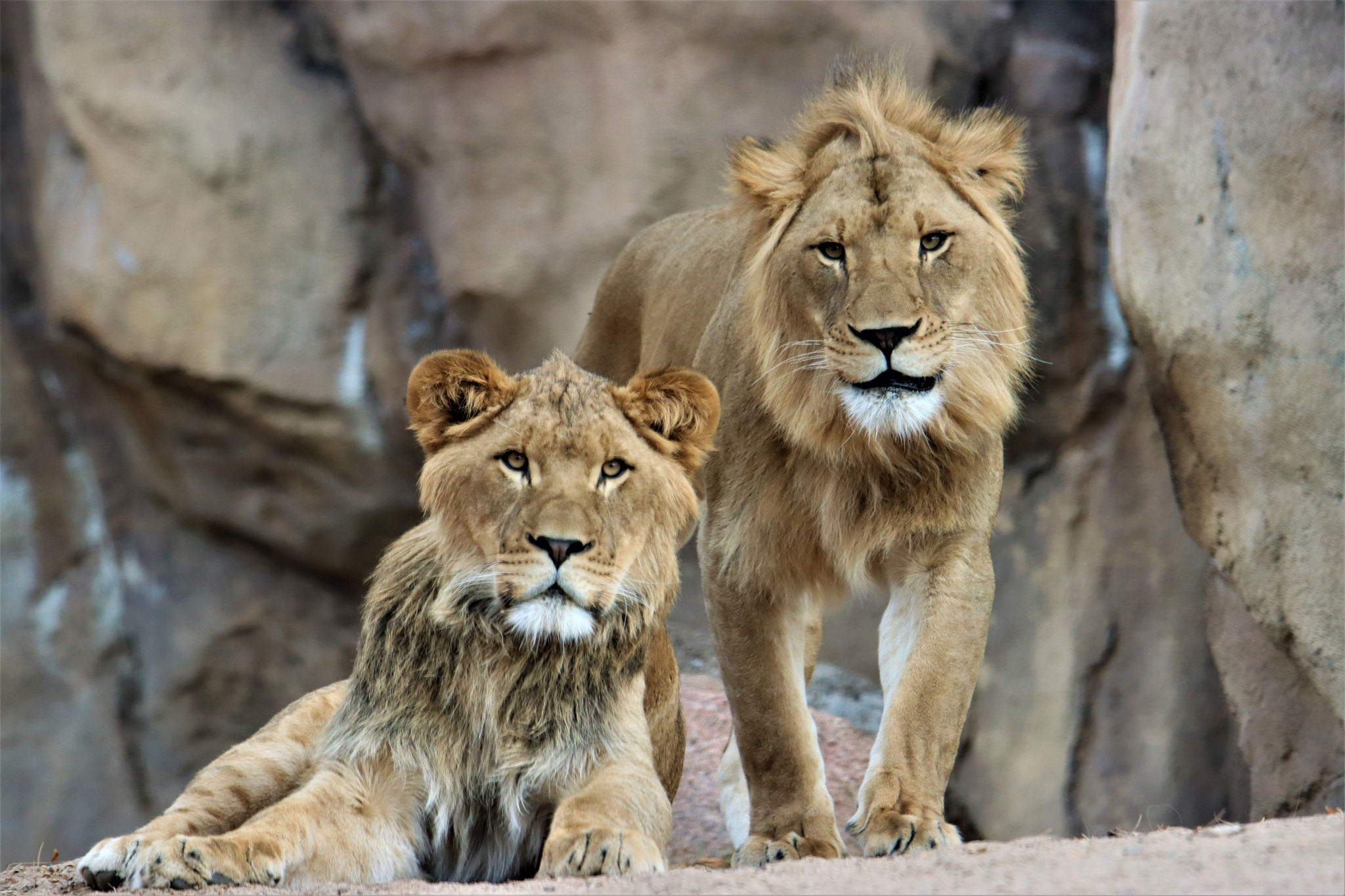 The Denver Zoo is a popular family attraction, but it's a great site to host a corporate event, too! Adulting with the Animals occurs on select Thursdays from June through October. These events are held from 5 – 9 pm and are only open to those 18+.
You and your co-workers can enjoy a peaceful stroll through the zoo on these evenings. Take in each exhibit and savor delicious bites and (alcoholic) sips along the way.
Attend a Festival or Workshop at the Denver Botanic Gardens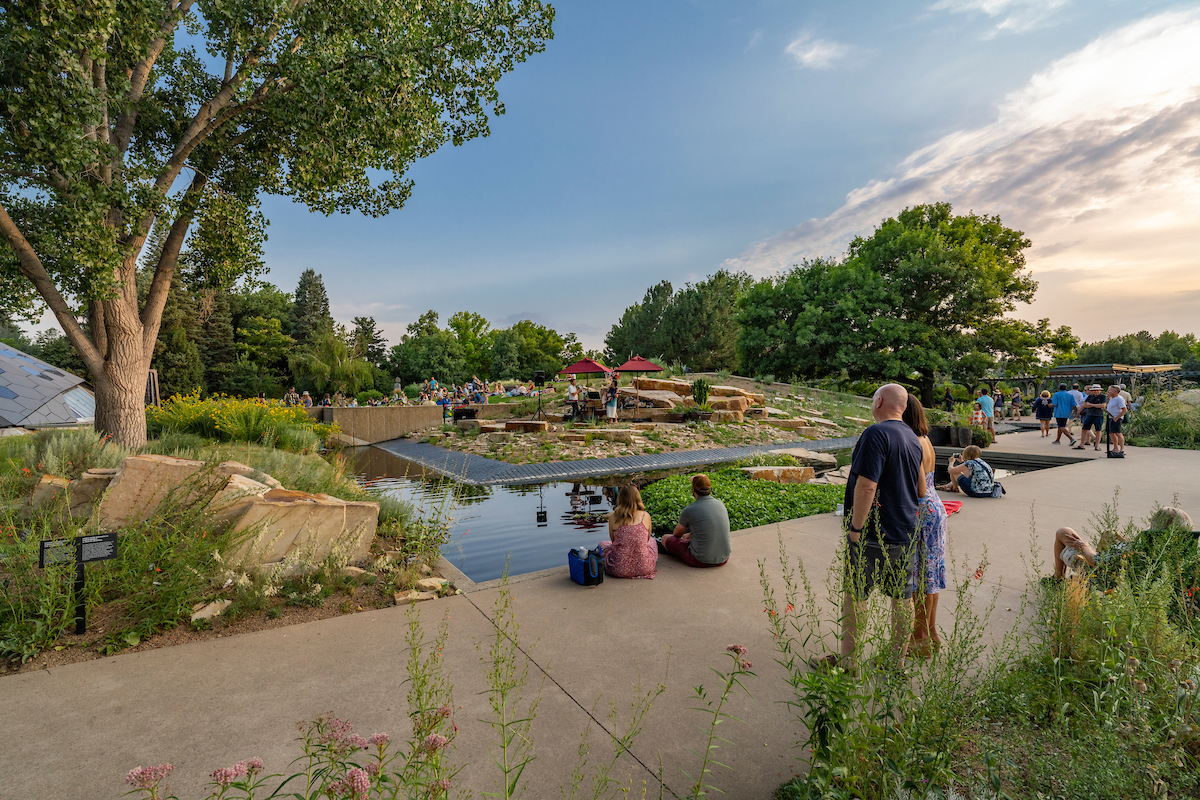 Simply visiting the Denver Botanic Gardens would be a fun corporate event. Both its downtown York Street location and Chatfield Farms site in Littleton are stunning.
But to further engage employees, consider attending one of its special events. These include concerts and seasonal festivals, like the summer Lavender Festival and the holiday season's Blossoms of Light.
For more corporate event ideas, consider adult programs at the Denver Botanic Gardens. Classes and workshops center around gardening, cooking, art, and even health and wellness. These relaxed, hands-on activities encourage connection and are sure to boost morale at the office.
Discover Co-Workers' Interests at Trivia Night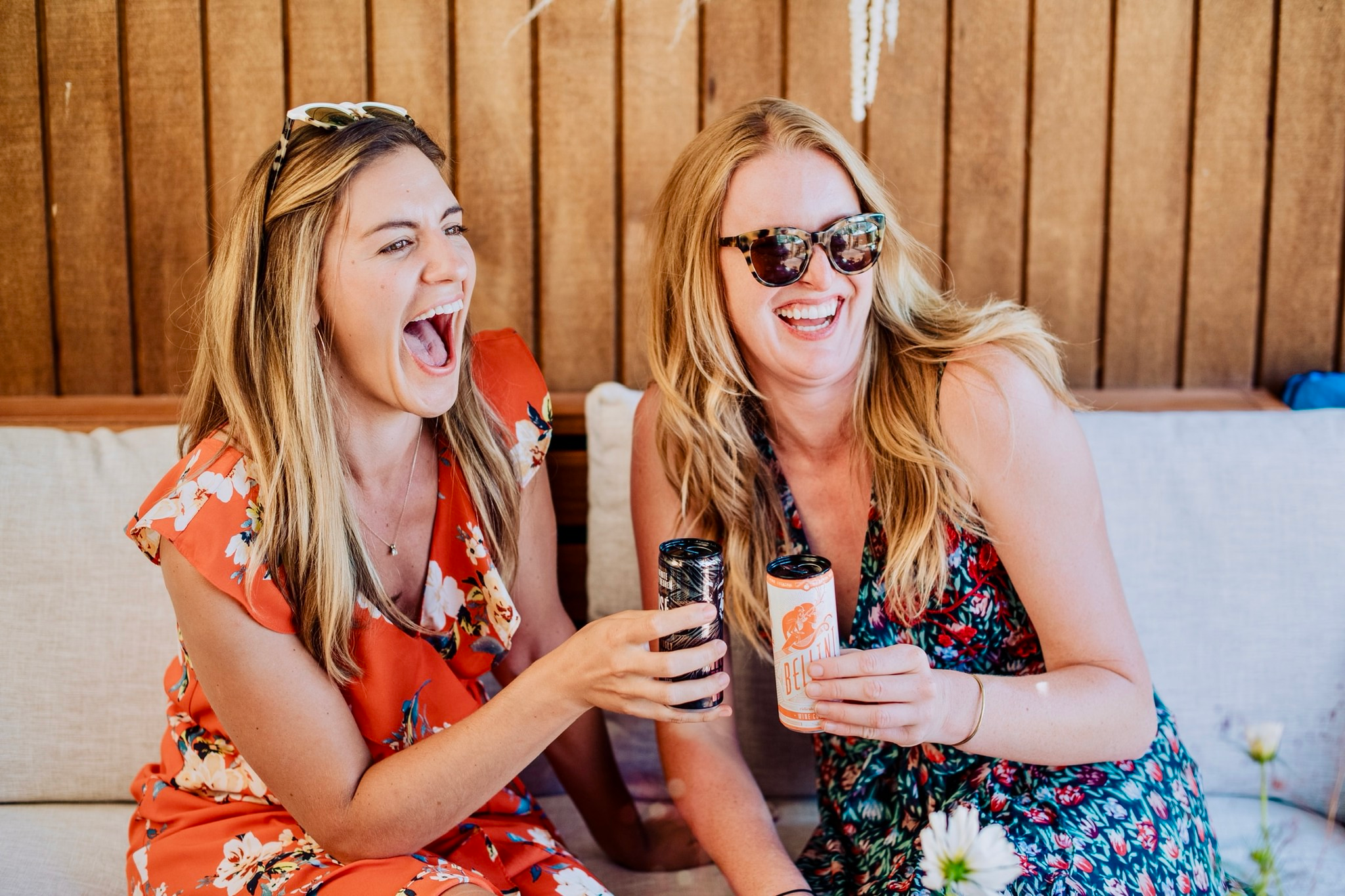 Plan your next corporate event around a trivia night! This type of team building event allows staff members to discover each other's interests. It also encourages collaboration and some healthy competition.
Several breweries, wine tasting rooms, and other Denver establishments host recurring events. In RiNo, The Infinite Monkey Theorem has trivia nights every Tuesday from 7 – 9 pm. Oasis Brewery in the West Highland neighborhood hosts trivia every Thursday from 7 – 9:30 pm. On South Broadway, The Irish Rover Pub is another spot for trivia. Join on Wednesdays from 8 – 10 pm.
Unique Team Building Activities
Scavenger Hunt in Denver Neighborhoods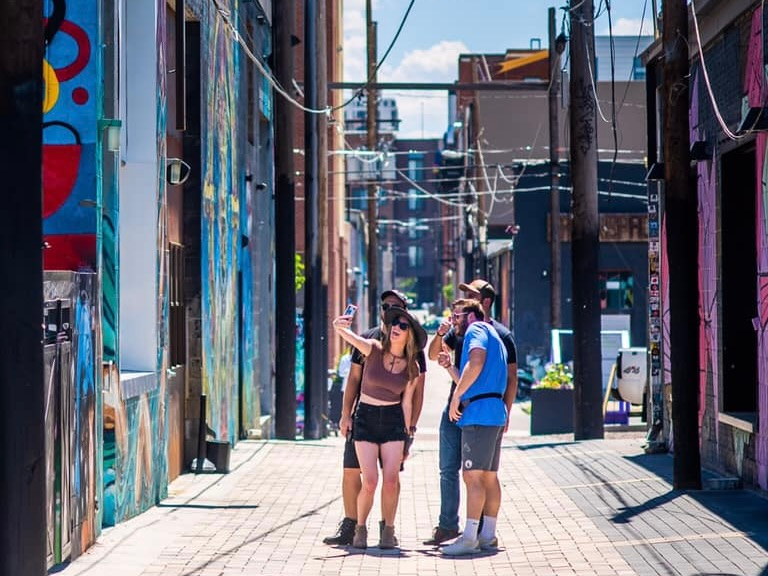 This fun corporate event idea can be catered to a variety of interests. For example, creative teams will love the RiNo Past and Present tour by Let's Roam. Spot all the listed murals in this vibrant arts district and pick up on some history along the way. Trivia will also help to keep your group engaged and encourage conversation.
Other options include the Where Hip Meets History tour, which highlights the city's historic and modern sites. The Denver's Golden Treasures scavenger hunt is a great option for team members who are new to Denver or visiting. It overviews several iconic attractions in the heart of the Mile High City.
Complete an Escape Room at EscapeWorks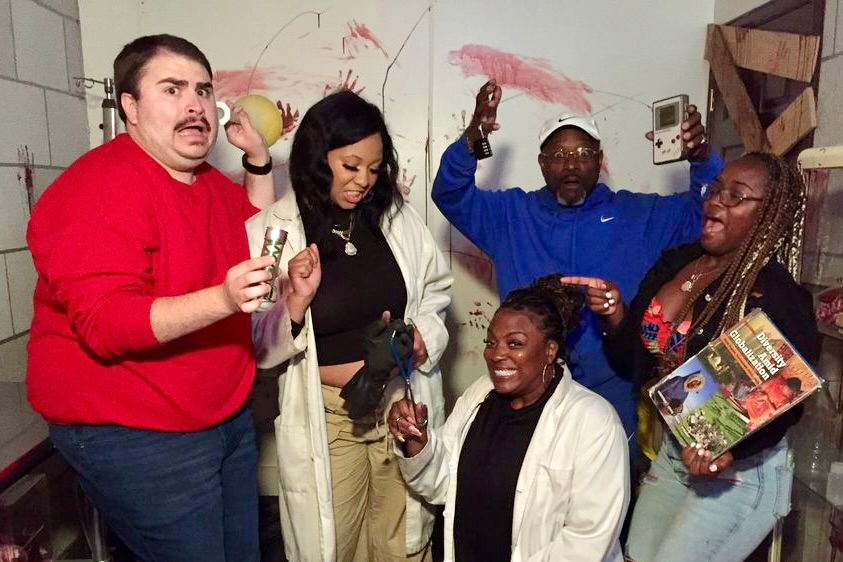 Looking for creative corporate event ideas that encourage teamwork? Few team building activities are as collaborative as an escape room!
EscapeWorks features several fun, challenging escape rooms. Themes include a casino heist, a prohibition-era speakeasy, Blackbeard's Brig, and an Egyptian tomb. Participants will have to rely on each other to be detail-oriented, solve puzzles, and communicate. Private rooms are available for groups of five or more.
Host a Company Picnic at Washington Park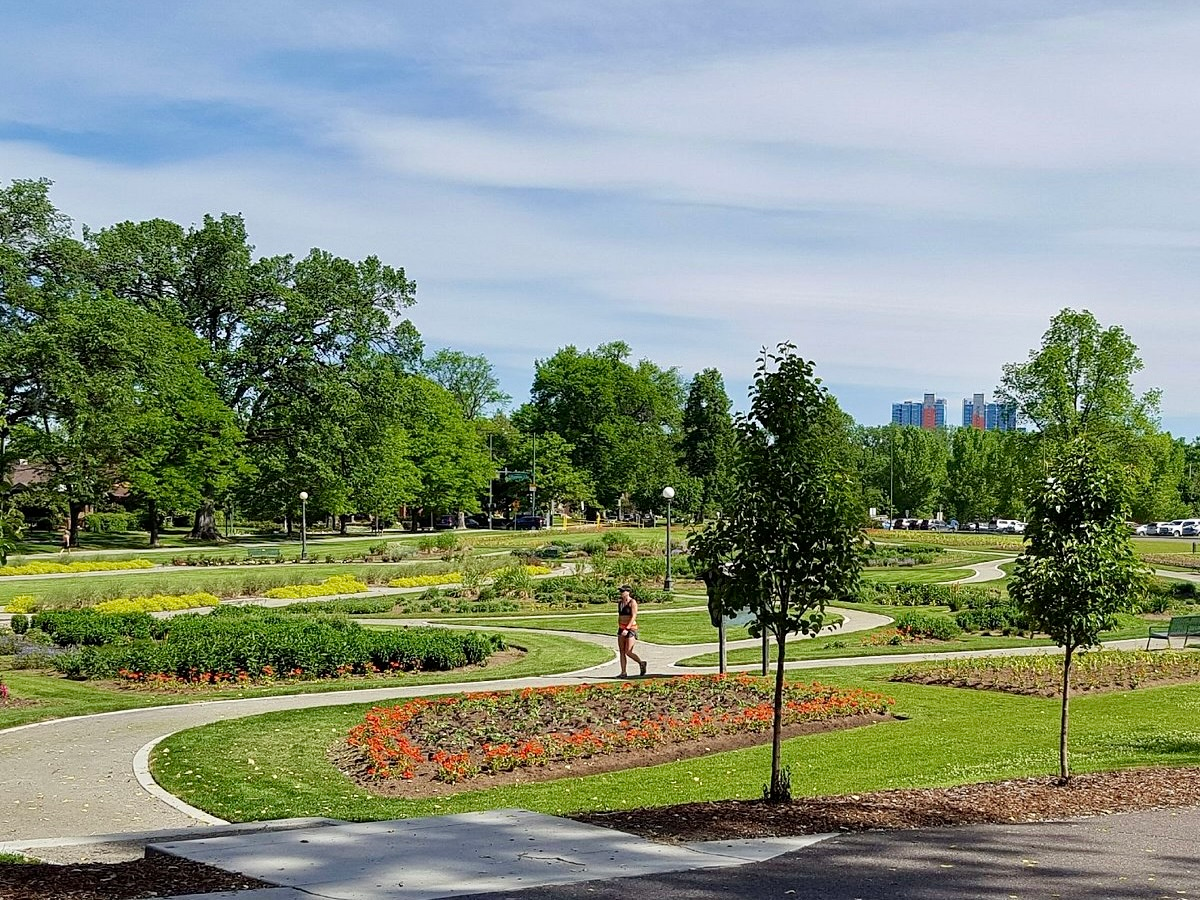 Washington Park in south-central Denver is an urban oasis that spans 160 acres. Here, your corporate event could include a number of outdoor activities. Teams can enjoy walking paths, scenic gardens, and courts for tennis and basketball.
It's a lovely place to host a company picnic and even has on-site equipment rentals. Collect bikes from Wheel Fun Rentals, as well as kayaks, pedal boats, and paddle boards. Wash Park features two lakes, though Smith Lake will be the most convenient option for boating.
Explore the Attractions within FlyteCo Tower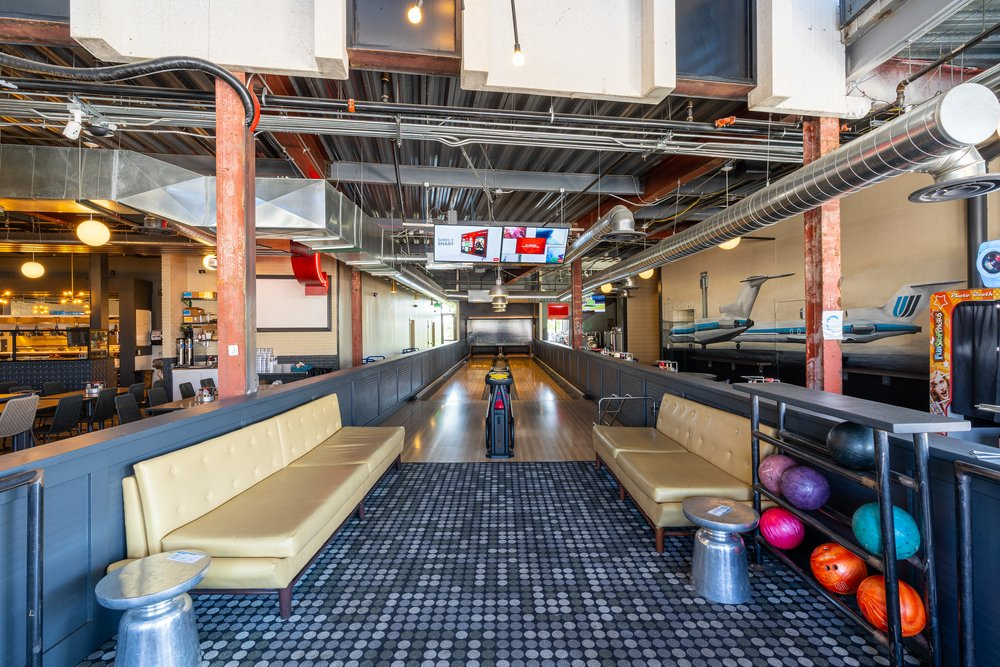 FlyteCo Tower is a relatively new establishment in the northeast Central Park neighborhood. Previously an air traffic control tower, this venue spans over 20,000 square feet. Its renovated complex features bowling, mini golf, yard and board games, as well as arcade games. Soon, its third floor will open and offer axe throwing, golf suites, ping pong, and a private event space.
Needless to say, there's an abundance of entertainment options. With food and drinks also available on-site, event planning at FlyteCo is easy. It's a fun idea that guarantees employee engagement and a great night out!
Build Bikes with Wish for Wheels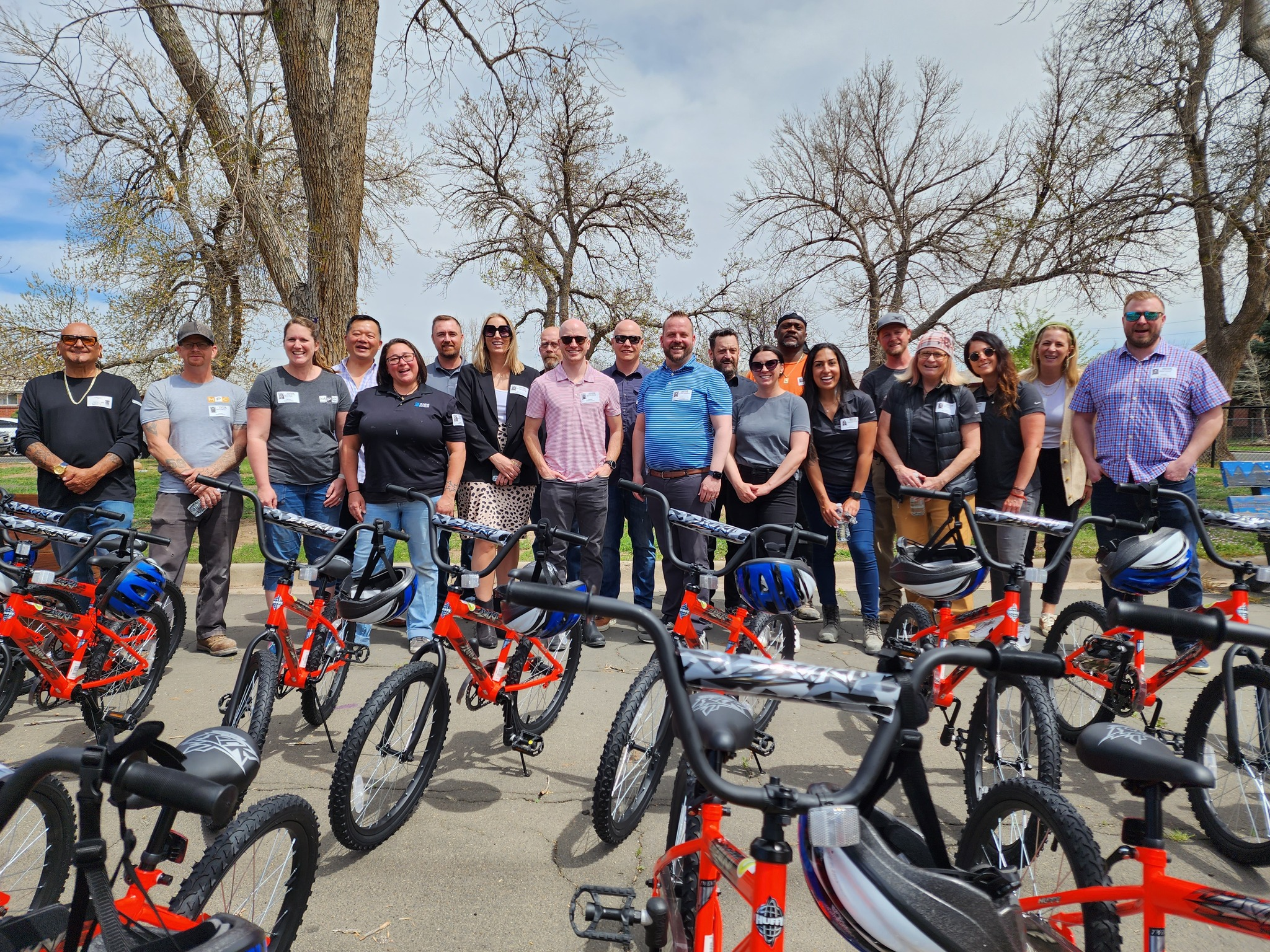 Wish for Wheels hosts team building events that do good for the community. This non-profit organization works with companies in major cities across the United States. In Denver, a business like yours would be partnered with a Title 1 school classroom. Then, you and your staff members work together to build bicycles for under-resourced children.
The seven and eight-year-olds receiving these bikes will be thrilled by your company's contributions. Wish for Wheels is a great way to address corporate responsibility and make a lasting impact.
Experience an Inflatable Amusement Park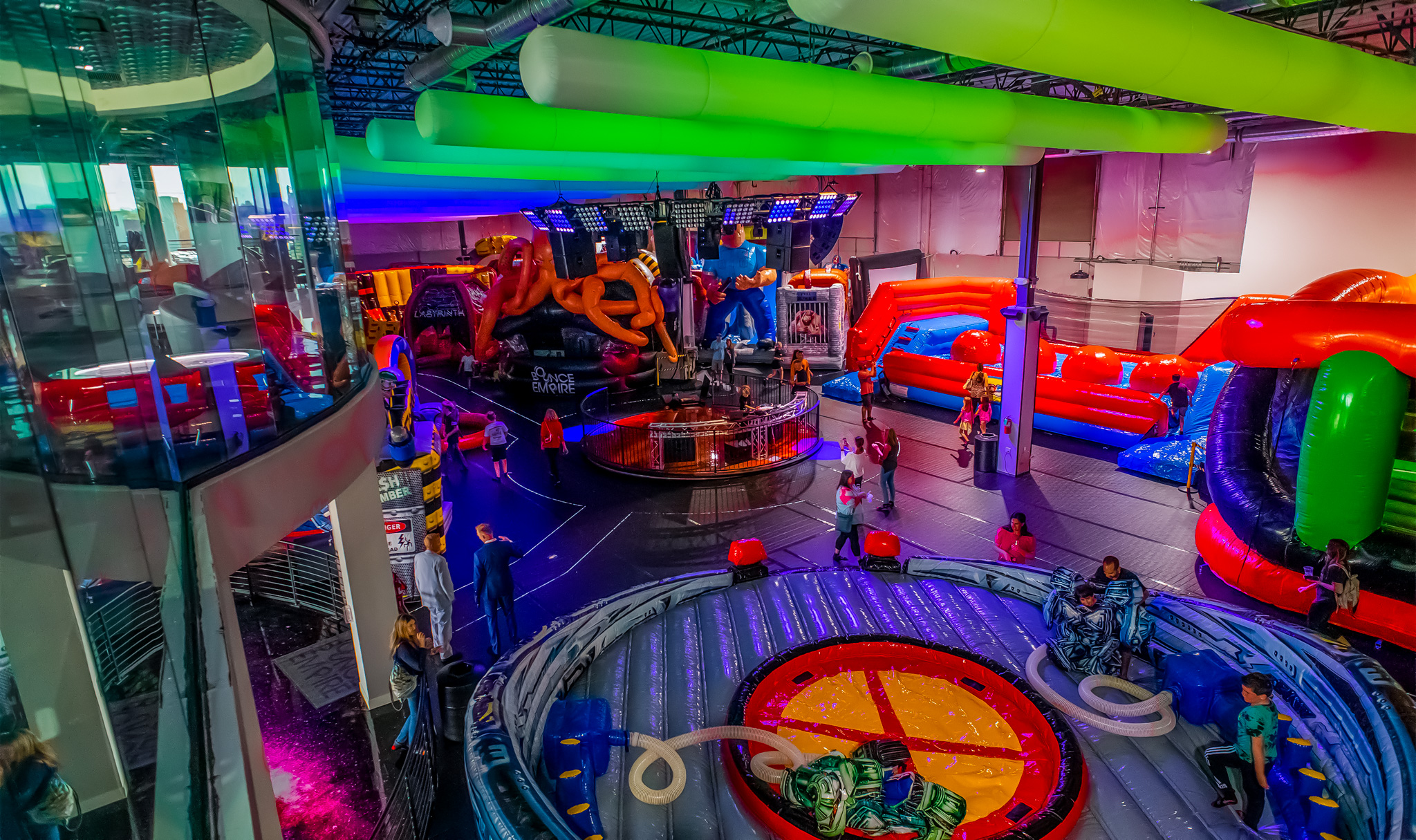 At first glance, Bounce Empire may appear to be a kid-centered attraction. But this indoor inflatable amusement park in Lafayette is one of the most unique corporate event ideas!
Competitive team members will be drawn to the inflatable games and obstacle courses. Meanwhile, those seeking a laid-back experience will gravitate towards the bar and rooftop terrace, complete with a mountain view. Food is available at the on-site Bison Bistro, and special events add to the variety. Think EDM concerts that last until 2 am!
In addition, Bounce Empire can accommodate a variety of private party sizes. Your rented event space can be on the terrace, at the bar, or in a movie room. Groups can even rent their own, dedicated inflatable by the hour.