With year-round sunshine and an exciting culinary scene, Denver is the perfect city to enjoy a meal on a rooftop restaurant with stunning views of the Denver skyline.
From lively taqueria's with views of the RiNo Arts District to sleek, upscale date-night spots overlooking Denver's downtown, there's something for everyone on this list of Denver's best rooftop restaurants.
Order food or a drink, pull up a seat and take in the beautiful views of the Mile High City.
Rooftop Restaurants by Denver Area
Looking for rooftop bars?
RiNo Rooftop Restaurants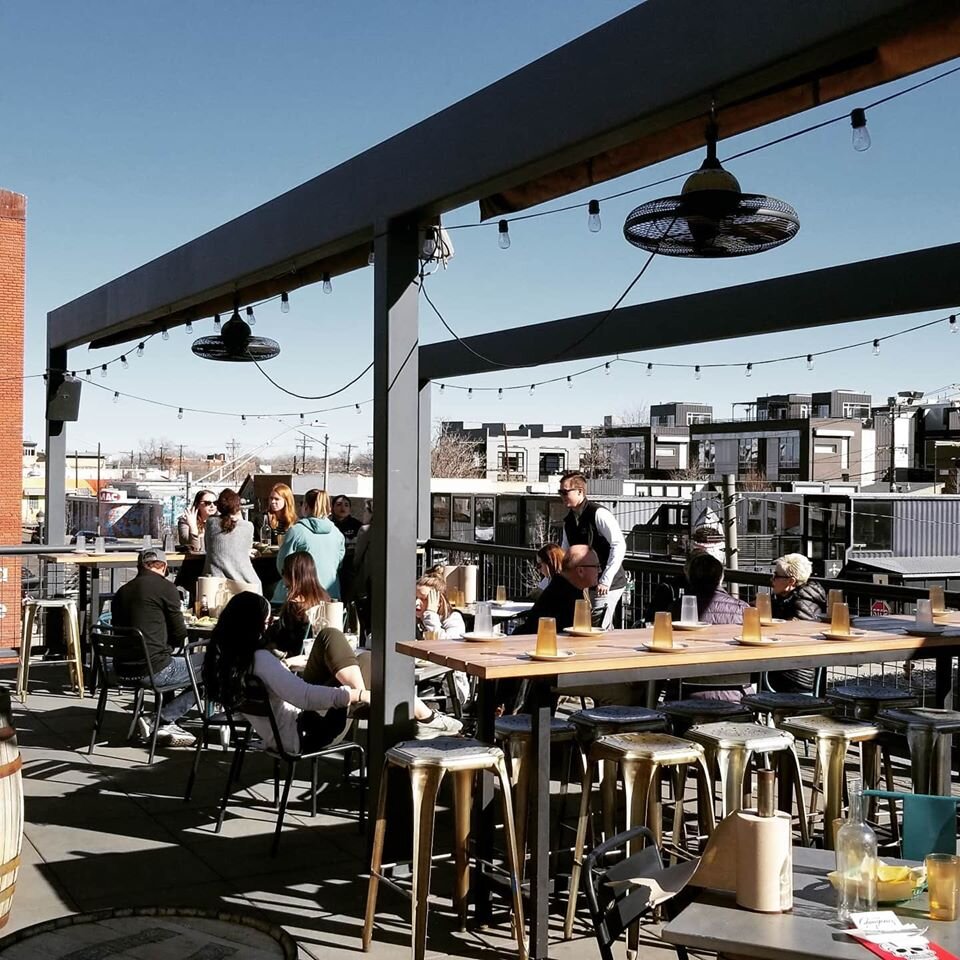 NEIGHBORHOOD: RINO
$$
This awesome neighborhood spot is located in the heart of RiNo, short for River North and home to some of the best street art in the city. Owned by popular chef and restauranteur Troy Guard (of Guard and Grace, Tag, Tag Burger Bar and a host of other Denver favorites), the menu boasts delicious tacos, margaritas, lots of locally brewed beers and Mexican street food.
Our favorite is their adobo chicken taco, garnished with fuego takis. Enjoy a drink or a taco on their downstairs patio (great for people watching along Larimer Street) or head upstairs to their rooftop bar and enjoy a nice view of the Ramble Hotel and the surrounding RiNo neighborhood.
Many of the bars and restaurants in Denver are pricey, but this is one of the most affordable rooftop restaurants in Denver. Stop by for Happy Hour (weekdays 3:00 – 5:30 p.m.), and you'll see a number of $5 menu items like chips and guacamole, house margaritas, borracho street corn and quesadillas.
Learn more about the team behind Los Chingones and visit for a tasting on the RiNo Arts District Food Tour.
The Woods at the Source Hotel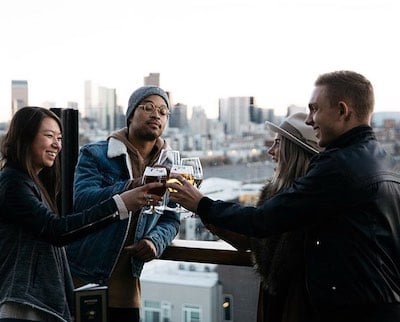 Neighborhood: RiNo
$$
Located on the rooftop of the Source Hotel + Marketplace in RiNo is The Woods, a great rooftop spot for craft cocktails, bites, New Belgium Brews and beautiful views of Denver.
Start off with a shared plate like the Korean sweet soy cauliflower or a soft pretzel. Then move onto the main dinner menu. We suggest the Reuben burger, Rocky Mountain seared trout or flat iron steak.
Whatever you choose to order from the menu, be sure to pair it with a beer here. New Belgium brews on site in the hotel lobby below.
Make a reservation at The Woods here.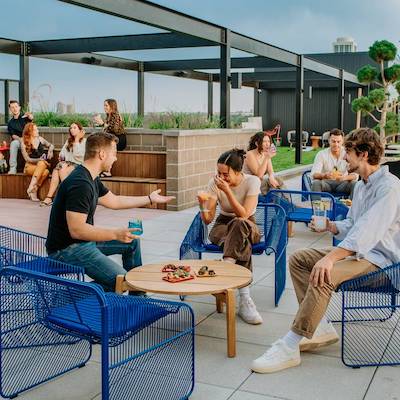 Neighborhood: RiNo
$$
Located on the roof the Catbird hotel in Denver's RiNo Art District, Red Barber offers an interesting drink menu with 360-degree views above the city.
Red Barber's space includes intimate fire pits and yard games, live music and tons of events.
The food menu includes bites like stuffed peppers, beef sliders and chicken wings, and their drink menu includes bottled cocktails, beers and froze.
Reservations are unavailable, but see the full menus here.
If you have kiddos, heads up. Red Barber is a 21+ only spot.
LoHi Rooftop Restaurants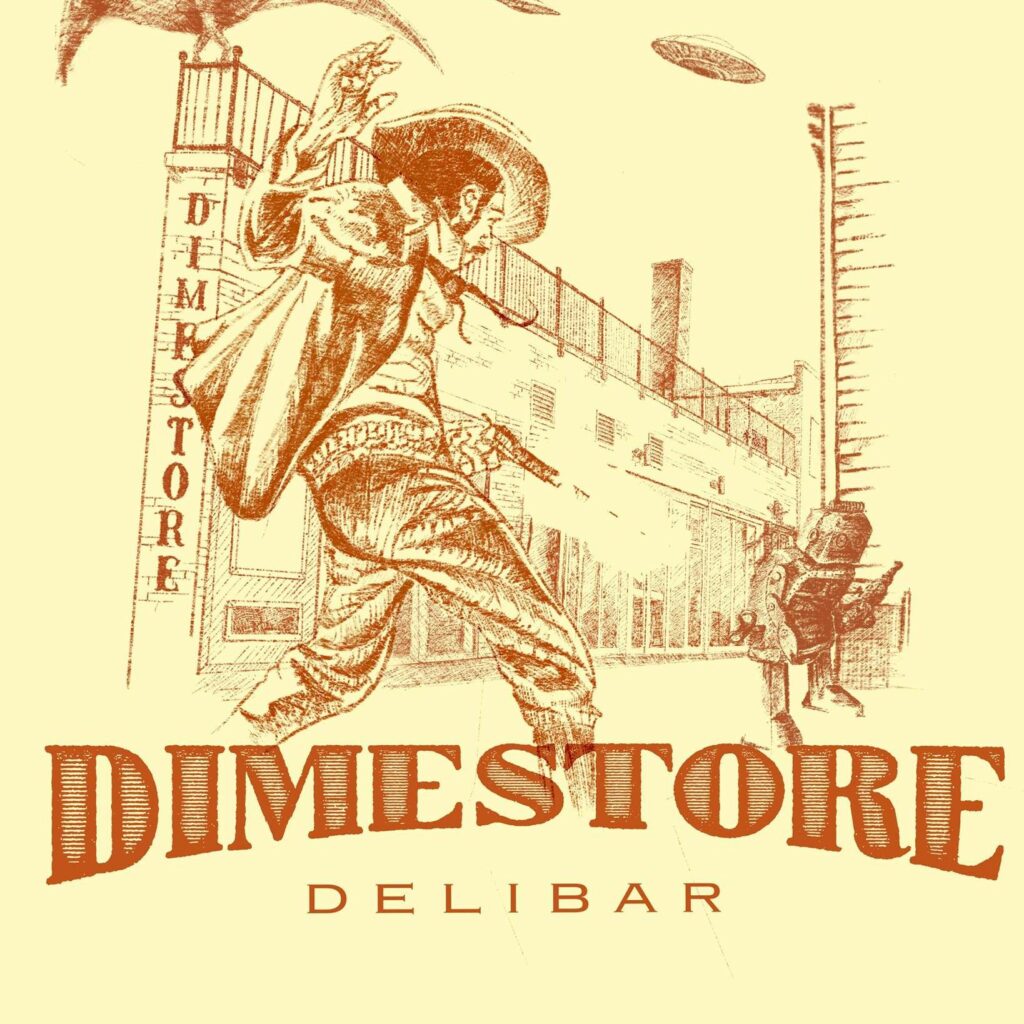 NEIGHBORHOOD: LOHI
$$
DimeStore DeliBar is easily one of the most unique rooftop restaurants in Denver.
This eatery that opened up in late 2019 includes a restaurant, deli and market, all rolled into one. Occupying the old Low Country Kitchen space on Boulder street in the Lower Highlands, DimeStore DeliBar is the product of several heavy-hitting Denver restauranteurs setting out to offer affordable eats in an otherwise expensive neighborhood.
You can't visit without ordering their house specialty, a sandwich on rolled focaccia called a "dimeroll." Head over to the market and you can buy everything from fabric softener Pepto to pasta.
No reservations are available, but you can see the full menu and order ahead here.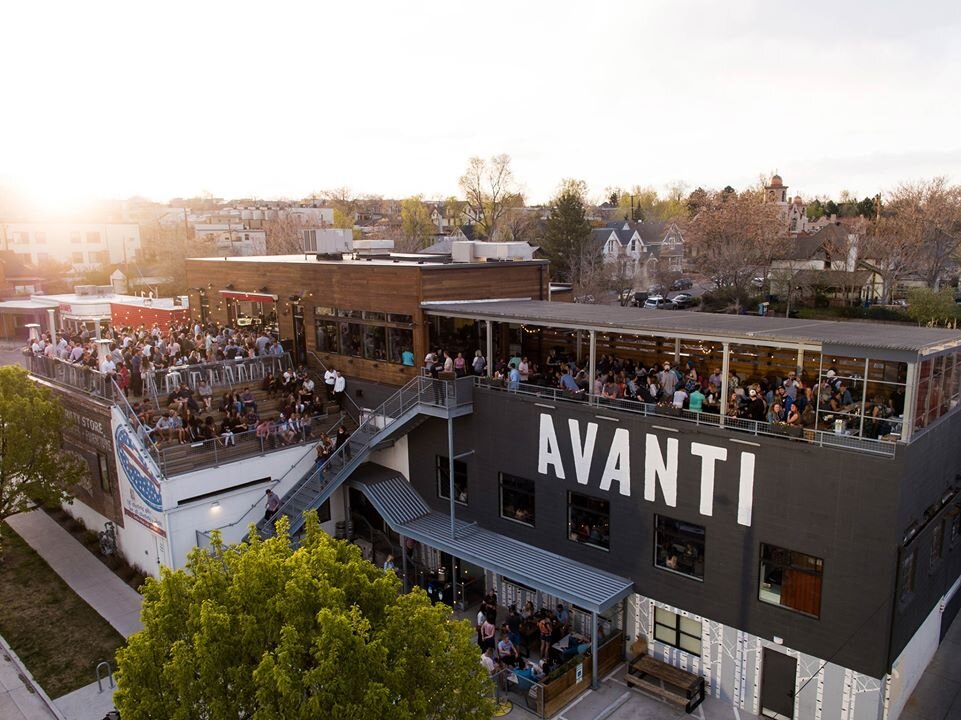 NEIGHBORHOOD: LOHI
$$
One space, seven restaurants. Avanti F&B, located in LoHi (the Lower Highlands) and now Boulder, CO, calls themselves a "collective eatery" inspired by European markets and food truck roundups. That means you can enjoy food from seven different restaurant concepts (and those concepts rotate out every few months) all under one modern roof.
An added bonus? The most successful concepts that start in Avanti often expand out after, getting their own separate locations, making the eatery a great spot to try brand new and up-and-coming Denver restaurants.
Try the Bada Bing pizza from Gorlami or chow down on the Areina Pepiada Arepa (chicken breast and avocado in a citrus mayo dressing) from one of our favorite long-standing Avanta vendors, Quiero Arepas.
For a cocktail, beer or glass of wine, head to the bar on either of the two floors. And of course for gorgeous views of downtown Denver, head upstairs to their rooftop, one of our favorites in the Mile High City.
Avanti is always busy, so come early and be ready for a packed house and a great time. (No reservations are available)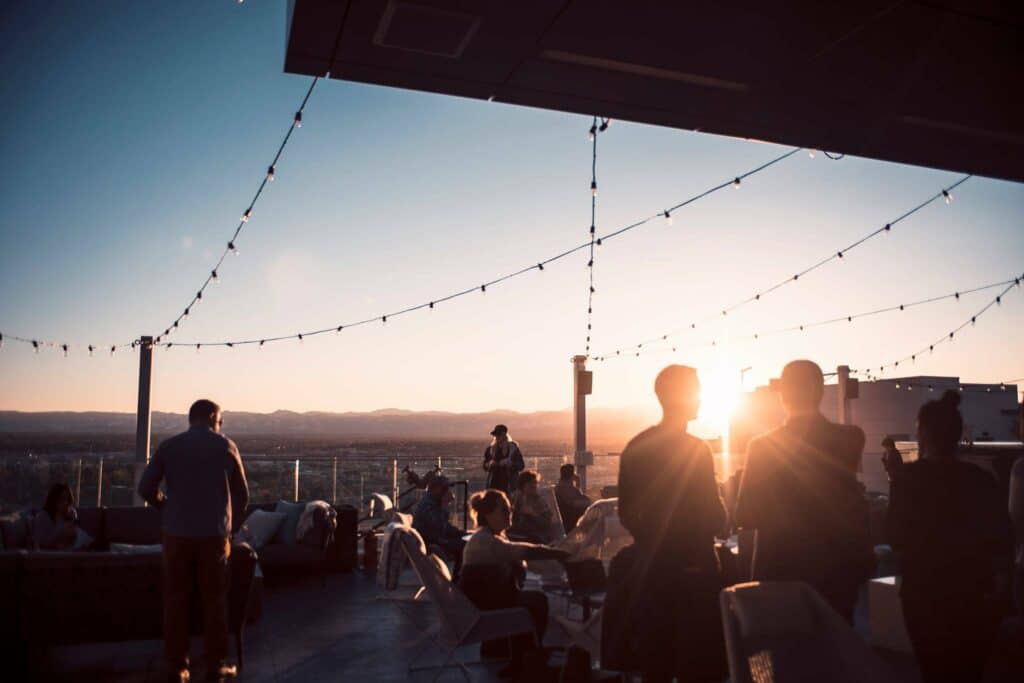 Capitol Hill Rooftop Restaurants
Neighborhood: Capitol Hill
$$$$
Enjoy Denver views with a drink in hand at Fire Terrace on the rooftop of the ART Hotel in Capitol Hill. At this year-round rooftop restaurant you can eat and drink alfresco. Gather around the fire or enjoy a more private setting with couches and umbrellas.
The menu features creative cocktails and seasonal bites from local Colorado producers. The terrace is the best way to experience the cosmopolitan side of the mountain-town lifestyle in a comfortable, upscale environment with beautiful views of downtown Denver.
See the full menu and hours for Fire Terrace here.
South Broadway Rooftop Restaurants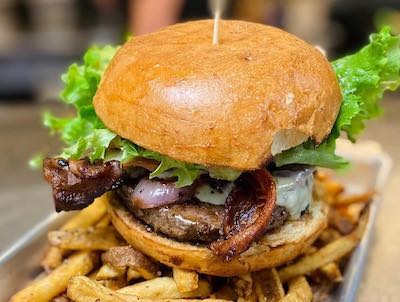 Neighborhood: South Broadway
$
Historians Ale House, located in the South Broadway neighborhood (just south of Denver's central business district), is an approachable, casual spot with a great beer list and fun views of Broadway street below.
Downstairs is your typical bar, but head upstairs for great views from their rooftop restaurant. Another bonus: Happy hour at Historian's starts at 11 a.m. everyday Monday – Friday and goes until 7 p.m.!
Start with an order of Poutine or Cheese Curds and then head onto mains like the Bootlegger Burger (served with housemade whiskey sauce) or Portabella Pita.
Historians doesn't take reservations, but you can see their hours and full menu here.
Ball Park Rooftop Restaurants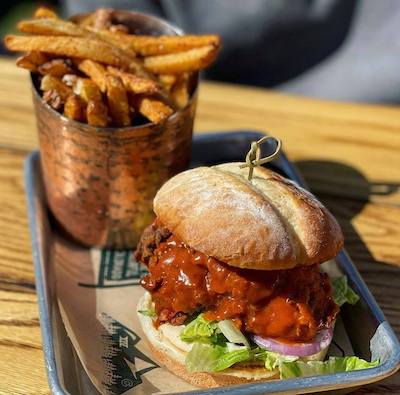 Neighborhood: Ballpark
$
Located just steps away from Coors Field in the Ballpark neighborhood of LoDo, Tap Fourteen is a rooftop restaurant and beer garden just above Hayter's & Co that boasts 70 Colorado beers, over 50 Colorado whiskeys and a Colorado-sourced food menu.
Not a beer or whiskey fan? They have a menu featuring nine signature cocktails as well. Bites from the kitchen feature Colorado raised beef, pork and chicken.
Tap Fourteen doesn't offer reservations, but you can see their full menus and hours here.
Cherry Creek Rooftop Restaurants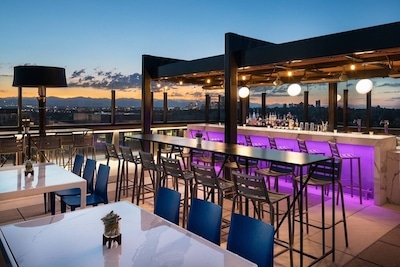 Neighborhood: Cherry Creek
$$$
Located on the top of the Jacquard Hotel in Denver's upscale Cherry Creek neighborhood, Kisbee on the Roof features curated cocktails and small bites with stunning mountain views from the rooftop deck.
The rooftop pool is also open for overnight guests of the hotel, but you can stop by the bar for a drink and appetizers any time.
Make a reservation at Kisbee on the Roof here.
Looking to hear to dinner in the neighborhood after your rooftop drink? Check out Quality Italian (upscale, modern Italian) or Cherry Creek Grill (lots of good wood-fired menu items).
Lodo Rooftop Restaurants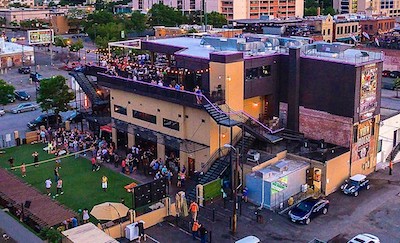 Neighborhood: Ballpark, LoDo
$
ViewHouse Ballpark opened in 2013 in Denver's Ballpark neighborhood across from Coors Field and quickly became a local favorite for game day (and non game day) fun and drinking festivities.
The rooftop restaurant and bar has since expanded with three other locations in Centennial, Littleton and Colorado Springs.
ViewHouse Ballpark has a fun, lively atmosphere with indoor and outdoor flatscreens and a variety of bar activities for sports fans, backyard-game-junkies, and casual diners.
Make a reservation at ViewHouse Ballpark here.
Heading to dinner after your rooftop drink? The Cherry Cricket Ballpark (fantastic burgers and Colorado beers) and The Original (upscale funky diner on the brand new McGregor Square) are just blocks away.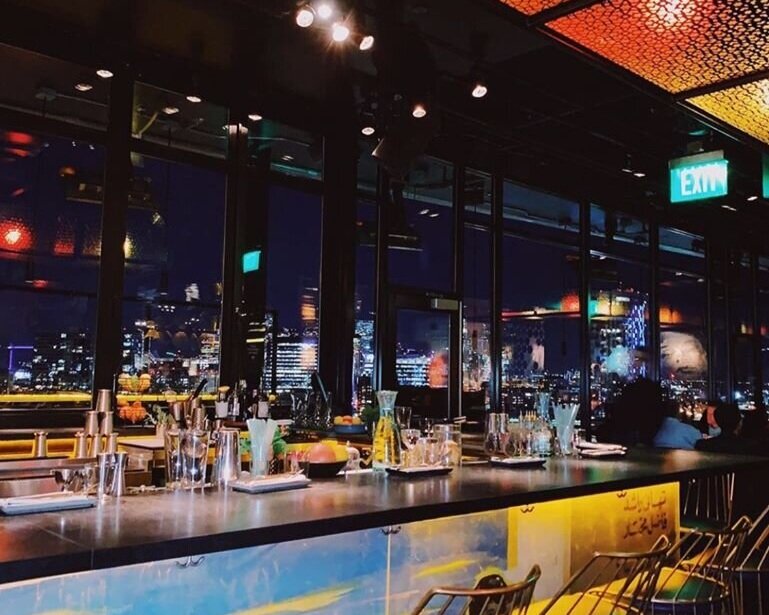 NEIGHBORHOOD: LOHI
$$$
Aptly named El Five because of its position on the 5th floor of their building, this sexy modern hang out boasts spectacular, unobstructed city views of Denver's skyline.
This makes it the perfect spot for a drink and dinner with unrivaled sunset views.
You can choose to dine inside (menus are focused around Mediterranean cuisine), or opt for a seat on their large open-air patio. This LoHi hot spot never fails to disappoint and is definitely one of the best rooftop restaurants in Denver.
Make a reservation at El Five here.
Heading to dinner at a different spot after your rooftop drink? Mizu Izakaya (super yummy Japanese pub) and Cart Driver (wood-fired pizzas and delicious oysters) are just a few blocks away.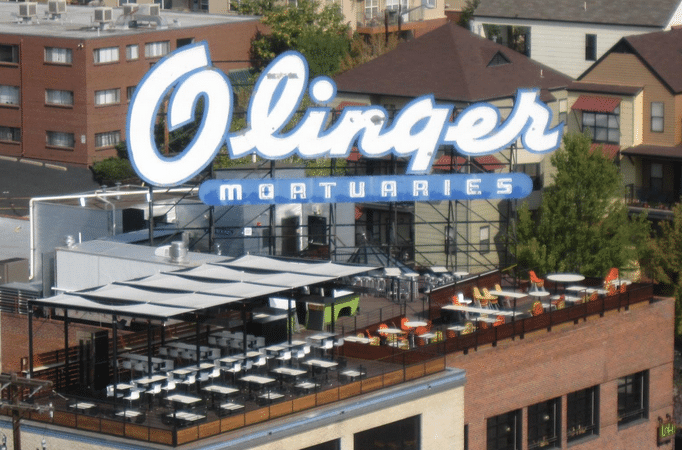 NEIGHBORHOOD: LOHI
$$
It's only fitting that we plug Linger right after El Five as the two are under the same, popular restaurant group in Denver. Like its sister, Linger offers a rooftop deck with a stunning view of the city skyline from its LoHi location as well as an eclectic food menu including everything from bao buns (the BBQ duck buns are amazing!) to yellowfin tostadas.
In addition to the fun, funky vibe, diners and drinkers love Linger's history. In 1908 the building was first built as a mortuary for the Rocky Mountain region, and its original sign has been adapted from "Mortuary" to Linger's current "Eatuary."
Make reservations at Linger here.
Heading to dinner at a different spot after your rooftop drink at Linger? Cantina Loca (new Mexican spot run by one of our beloved chefs Dana Rodriguez) and The Bindery (another female-chef run upscale spot) are very closeby.
South Pearl Rooftop Restaurants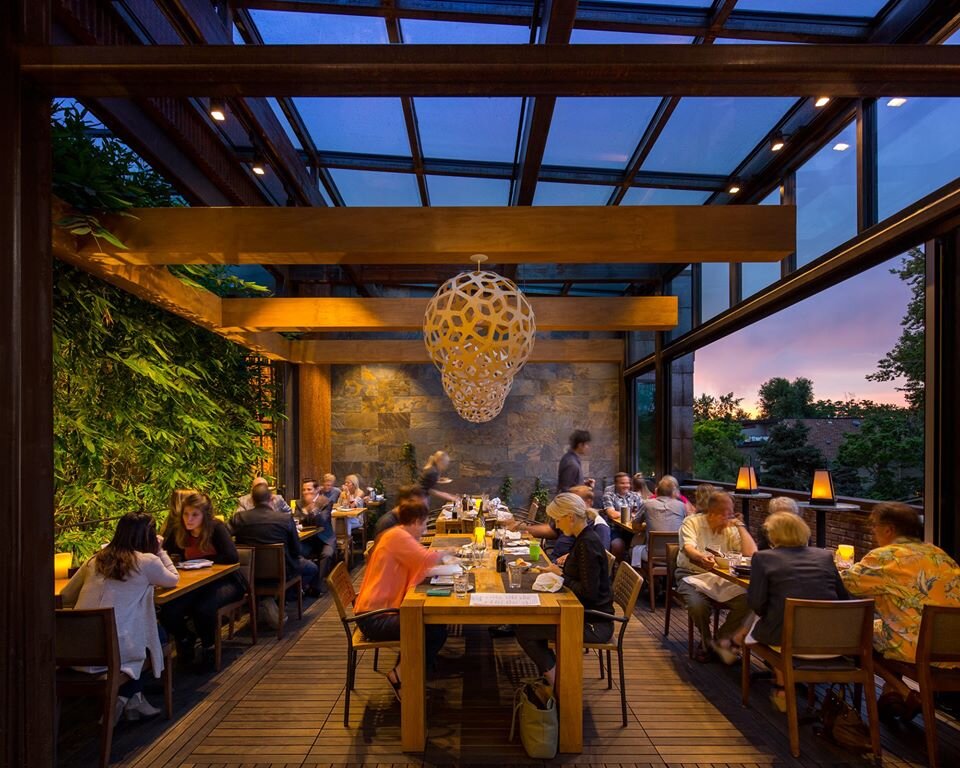 NEIGHBORHOOD: SOUTH PEARL
$$$$
Izakaya Den is Sushi Den's sleek little sister, located next door on Old South Pearl Street in Denver.
This local spot has taken home the American Architecture Award for its refined design that pays homage to its Japanese roots.
Head to the second floor, and you'll see the retractable glass ceiling, making it the perfect spot to eat and drink al fresco. The menu features global cuisine and freshly sourced sushi.
This is both a full rooftop restaurant and bar, so we definitely suggest staying for dinner!
Jefferson Park Rooftop Restaurants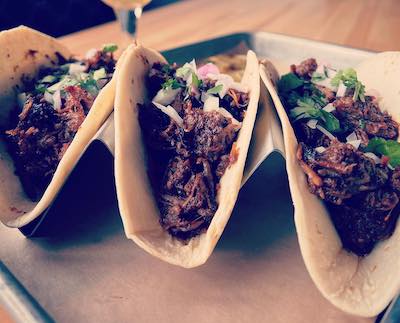 NEIGHBORHOOD: JEFFERSON PARK
$$
This Jefferson Park gastropub started as a small craft beer brewery back in 2013 and expanded into a full brewpub in 2016.
On the menu you'll find interesting and unique beers (green chile German-style lager) and upscale pub food with entrees like the Nashville Hot Chicken or Mac and Cheese (made with Briar Beer cheese sauce).
The rooftop patio is a great place to watch the sun set in the Summer.
Briar Common doesn't take reservations, but you can check out their full menu here.
Explore Denver
Looking to explore more of Denver's food and drink scene?
Looking to explore more of Denver's food and drink scene? Join a Denver food tour!