Click the neighborhood below to find Denver's best happy hours:
Denver has world class craft breweries, distilleries, wine bars and tastings rooms and no matter your location we have the answer to the question: "What's the best happy hour near me?" Whether you are searching for a team building outing for your Denver meeting or company, or just want a place to grab a bite with friends, our list below has you covered.
---
UNION STATION- SOUTH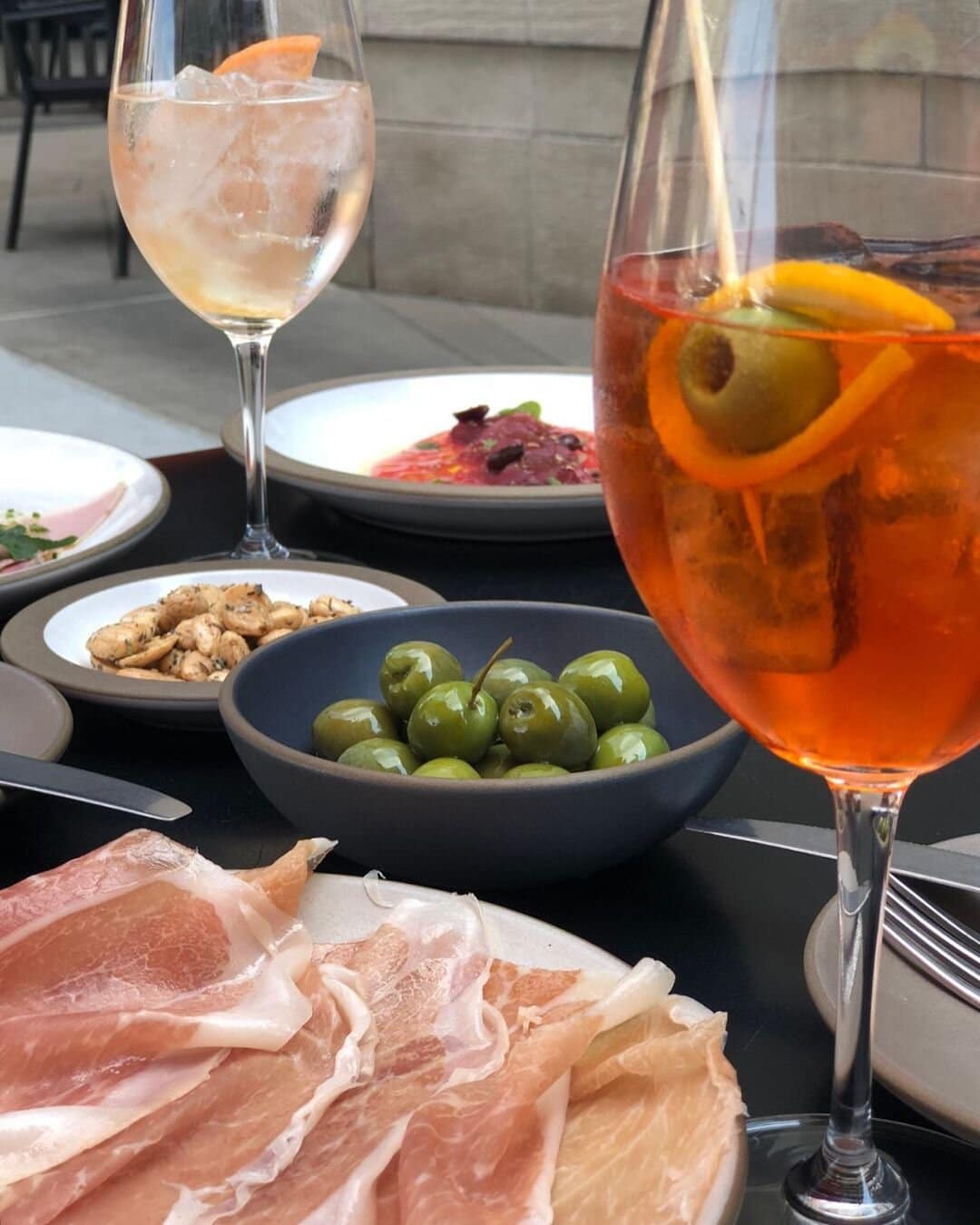 What to Order: Aperol Spritz, Olives and Marcona Almonds
This upscale Northern Italian eatery located in the heart of downtown Denver just off the Union Station train platform may appear to be a better option for special occasions or higher-priced dinners, but midday they offer the best Happy Hour in Denver. It's part of why they are highlighted on our Insider's Guide to Denver Dining.
From 4-6 p.m. daily (yes, even on weekends), Tavernetta's Happy Hour menu includes $7 cocktails (the Venetian spritz is our personal favorite), $7 glasses of wine, $6 beers and a host of reasonably priced small plates like hierloom tomato crostini ($10) and Cacio e Pepe ($15). No reservation necessary for Happy Hour, and the lounge is especially cozy when the fireplace is lit in winter.
To experience Tavernetta's amazing happy hour in style, join us on our Cocktails + Tastes Tour which runs everyday at 4:30p. You'll taste four amazing cocktails and small bites while learning about food, drinks and the Mile High City.
UNION STATION- NORTH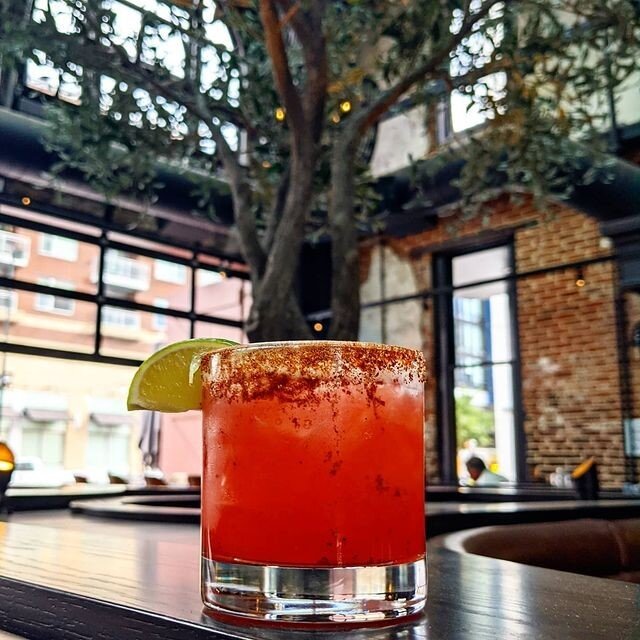 What to Order: House Burrata, Wings, Craft Cocktails
We love the atmosphere at this gorgeous restaurant located a few blocks from Union Station in LoDo. Woodie Fisher sits inside one of the oldest standing structures left in Denver, the city's original Hose House #1. It was restored a few years ago and pays homage to its former fire station structure by offering all first responders 20% off.
We love their Happy Hour, offered seven days a week from 4-6 p.m. and featuring $6 glasses of wine, $1 off signature craft cocktails and $2 off draft beers.
Pair your cocktail with their crispy chicken wings with a Thai peanut sauce ($8) or their Woodie Fisher burger ($19). You can opt to sit at the bar, at a table in the dining room or in their cool, cozy lounge area, which features great views right into their open kitchen. Woodie Fisher is also a partner on our Dinner Tasting Tour which is perfect for small groups and company offsites. Check out our corporate events page for more info.
Check out Woodie Fisher's Happy Hour menu >>
16TH STREET MALL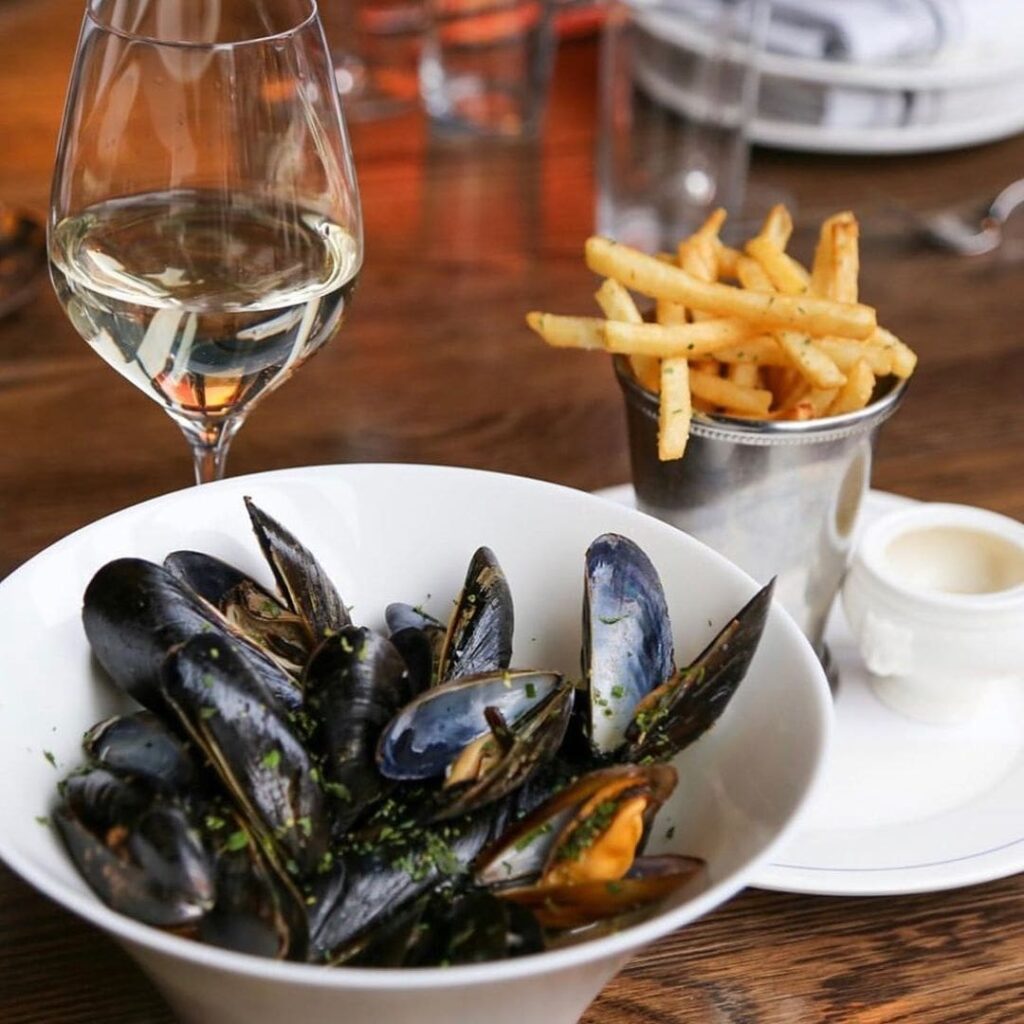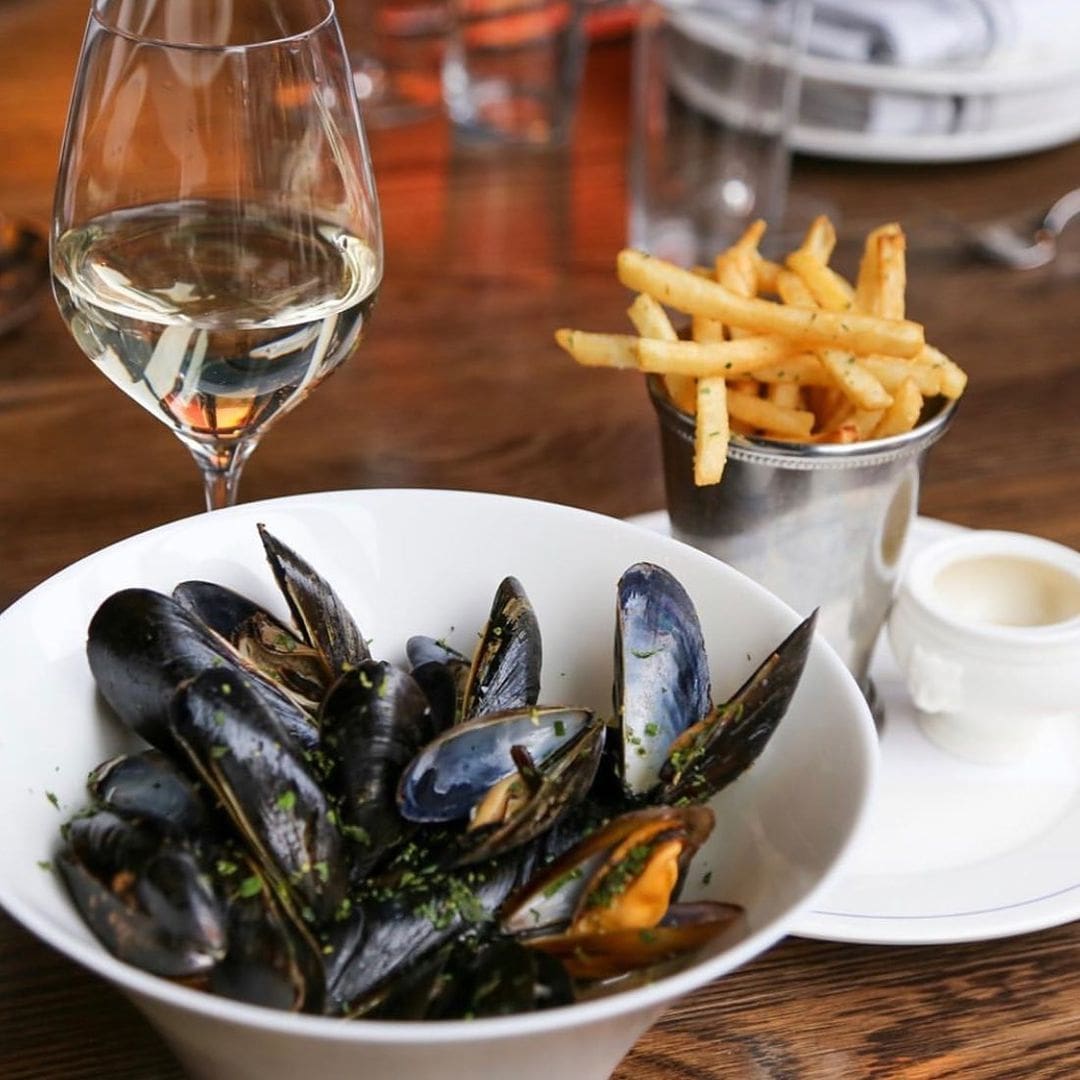 What to Order: Radish Crudite, Chicken Liver Mousse, Sparkling Rose
From Lon Symensma and Cholon Concepts, this French bistro is a richly appointed and romantic space that feels intimate and luxurious. The happy hour menu is extensive with 15 (!) items under $5.
The Radish Crudite is fundamentally french: raw crisp radishes with a drizzle of honey, a dusting of coarse salt on a soft piping of high fat butter. They are crisp, salty, sweet and spicy at the same time. The Chicken Liver Mousse is served with grilled brioche toast points and a fig jam. Warm, soft, cool, crispy, sweet and savory- it hits every taste bud you possess. The Boards and Bottles is also an amazing deal: a charcuterie plate and a bottle of wine for $25! If wine is your thing, check out our Denver Wine Walk which visits LeRoux and two other amazing downtown wine bars. You may also want to check out our post on the 10 Best Happy Hours for Wine Drinkers.
Happy hour is 4:00p-5:30p Wed to Sunday. They are always 2-4 house wines on happy hour also just $5/glass. You can't go wrong with the sparkling rose or white. Specialty cocktails, well drinks and even some draft beers are all reduced if you are in before the dinner hour.
Check out LeRoux's Happy Hour menu >>
SOUTH BROADWAY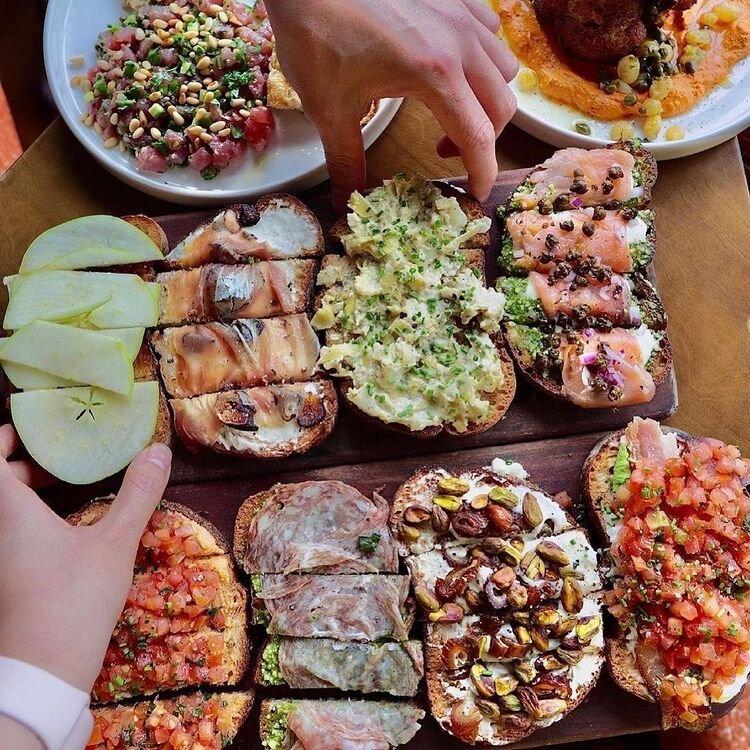 What to Order: Wines by the glass, Bruschetta Boards
Postino may be a chain with locations outside of Colorado, but it's Happy Hour is so legendary around the Mile High City that we'd be remiss if we didn't include them here. With three locations across Denver (Broadway, LoHi and the newest in the 9 + CO development), it's hard not to miss Postino.
You'll need to plan early with this one. Their best drink specials run up until 5 p.m. everyday with $5 glasses of wine (yes every wine on their menu is just $5 by the glass before 5 p.m.) and $5 pitchers of beers. Pair those drinks with some of their food specials like their bruschetta boards, which include options like brie, apple and fig (our favorite) and classics like basil, mozzarella and tomato.
If you miss the early window, head to Postino for late Happy Hour after 8 p.m. on Mondays and Tuesdays and you can enjoy a bottle of wine and bruschetta board for just $25.
Check out Postino's Happy Hour Menu and Locations >>
CAP HILL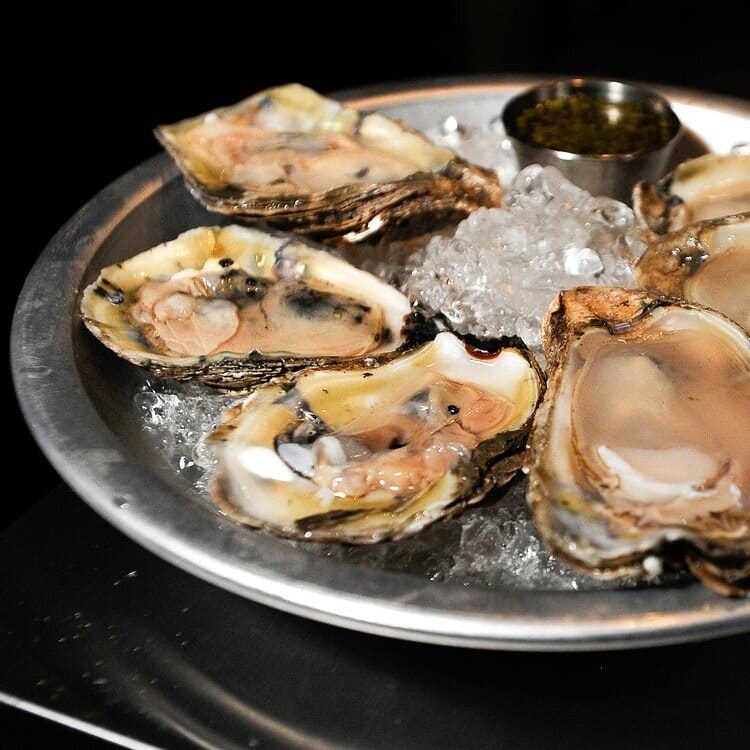 What to Order: Oysters, House Wines
This comfortable and approachable neighborhood spot in Capitol Hill boasts an amazing Happy Hour that runs daily and includes great drink specials as well as $1 oysters. From 3-6 p.m. and 9 p.m. – close everyday, you can enjoy $1 off all draft beers, $2 off wines on tap and $4 well drinks.
Pair those with $1 oysters (premium oysters are market price), $2 chargrilled oysters for those guests not into the raw stuff, and small plates like $6 pizzas.
We recommend getting to Angelo's early as Happy Hour is very popular with locals in the neighborhood, and tables can fill up quickly.
Check out Angelo's Happy Hour menu >>
RINO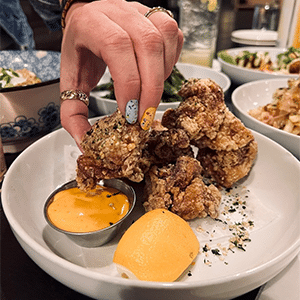 What to Order: Jelly Sake, Spam Musabi, Kara Age Chicken
Located just off the main strip of Larimer St. in RiNo, Osaka serves a variety of izakaya (Japanese pub food) small plates.
Monday thru Friday from 4-5p you can get 25% off small plates and 50% off select drinks. They also have great rotating drink specials by day of the week with 25% off beers (Mon), Sake (Tue), Wine (Wed) and selected cocktails (Thu).
There are tons of great small plates on the menu, but we love the Spam Musabi which is sush rice wrapped with crisped Spam and seaweed paper and the Kara Age Fried Chicken which is Shoyu marinated thighs served with a spicy mayo and lemon. The Kara Age is always a highlight on our RiNo Food Tour which runs most days of the week from 1:30p-4:30p.
Check out Osaka's full menu >>
LODO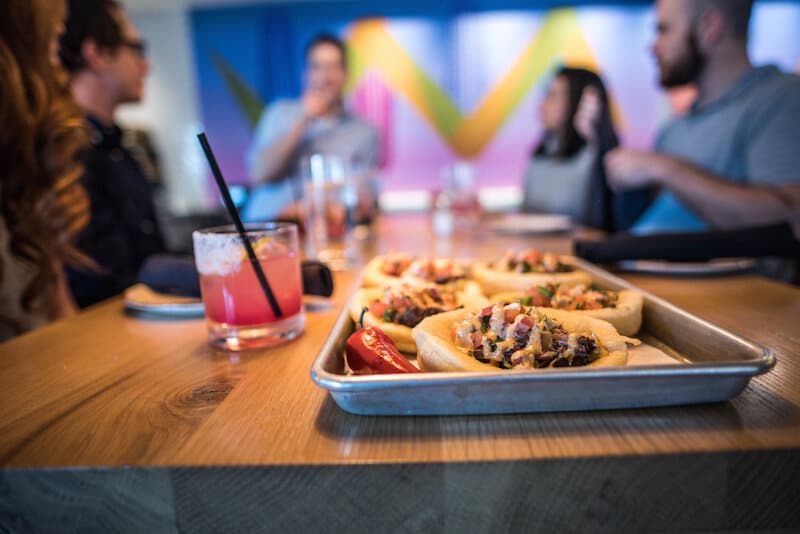 What to Order: Margaritas, Fry Bread Tacos
Located on the fun and funky Dairy Block just steps away from Union Station, Kachina is our go-to for margaritas and delicious tacos. Tequila fans will love their tequila and mezcal flights, and they have an awesome Happy Hour that runs daily from 3-6 p.m. with strong drinks and good food.
Don't miss their house margarita or Kachina paloma (both just $6 on Happy Hour) or their white sangria ($6 at Happy Hour too) if you're not a tequila drinker.
If you're hungry, order the carne taco, just $2 during Happy hour or upgrade to switch out the corn tortilla for Navajo fry bread. Join us on our signature Downtown Denver Food Tour and you'll taste the carne taco and the house margarita!
Sit at the indoor/outdoor bar with nice views of Coors Field right down the block and the colorful mural of the Four Corners inside the dining room. The location is right in the middle of a bunch of our favorite activities from our definitive list of Things to Do in Denver including the Ballpark, Union Station and the Dairy Block
Check out Kachina's Happy Hour menu >>
HIGHLANDS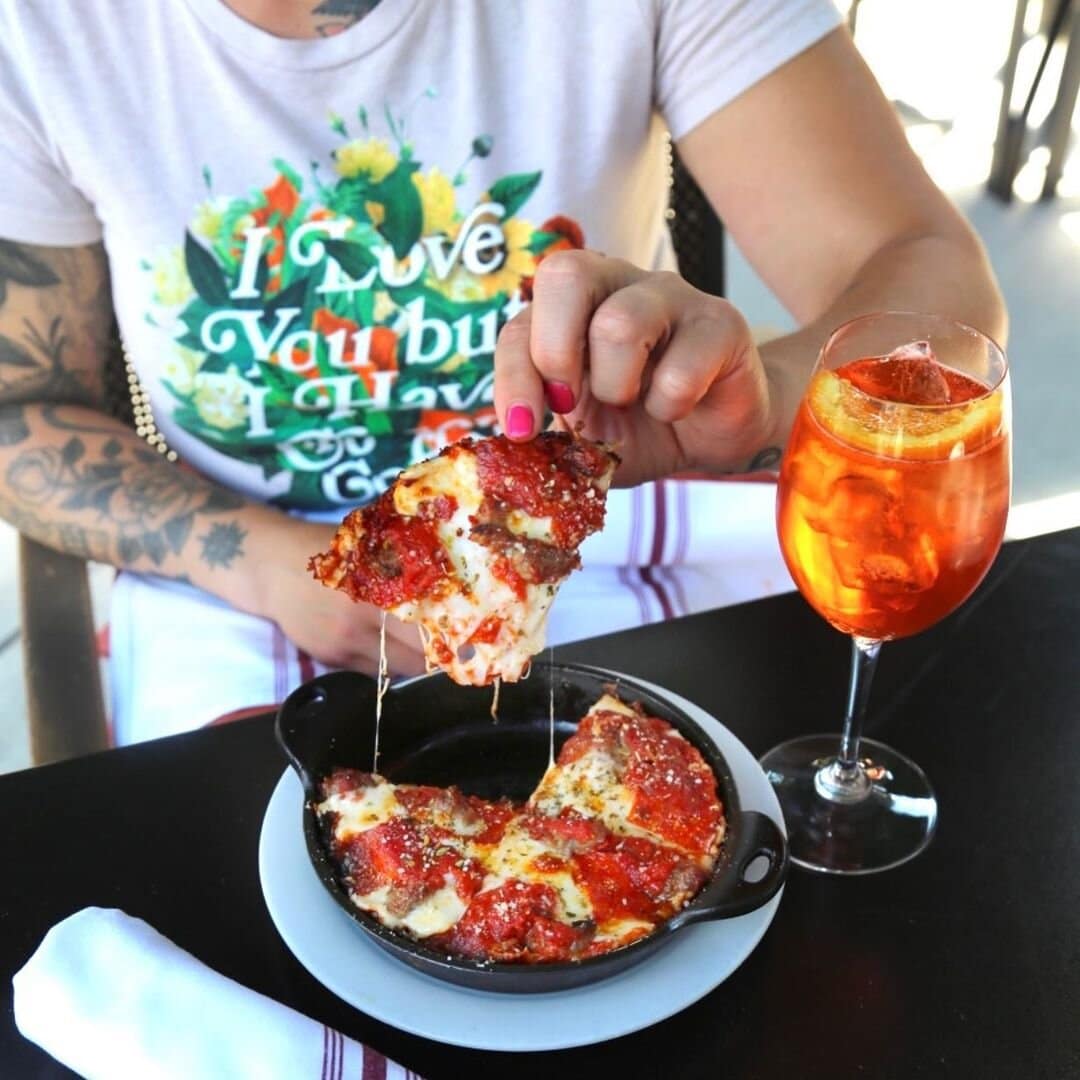 What to Order: Basil Mojito, Personal Pan Pizza
Bar Dough is the brain-child of Top Chef Colorado Alum Carrie Baird and features two types of dough driven foods: pasta and pizza. The bright modern space is lined up right on 32nd in the Highlands with other great spots like Lady Jane, Uncle Ramen and Williams and Graham. The restaurant has a italian style cocktails and at $7 the happy hour Basil Mojito is a steal. Upgrade your 5th grade fantasy to adulthood with a happy hour personal pan pizza with house made fennel sausage for just $5. Happy hour happens everyday from 3p-5p.
If you don't mind spending a bit more there's no better place for an authentic Negroni ($11) with a charcuterie plate of imported meats and cheeses ($15-30). If after work drinks lead to dinner we recommend the seasonal pasta Bolognese. It changes a few times a year but is always a highlight.
Check out Bar Dough's Happy Hour Menu>>
BALLPARK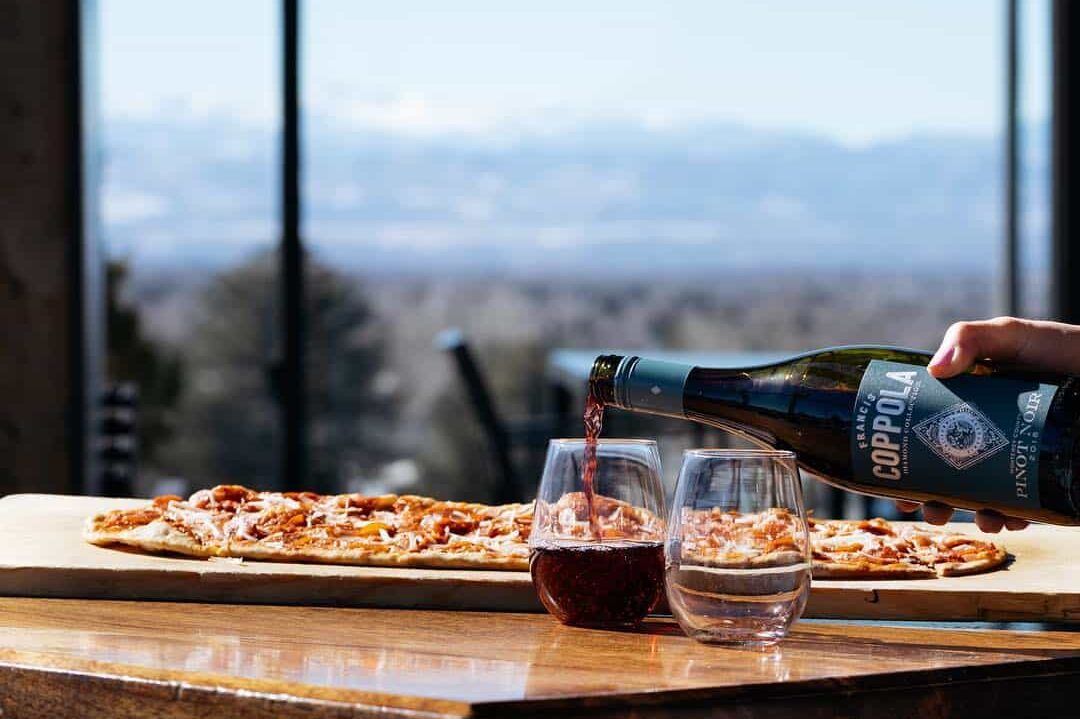 What to Order: Wine and Board- Bottle of Wine and a Flatbread for $22. We love the pinot noir with the pepperoni flatbread.
Viewhouse is not only our list of the Best Rooftop Restaurants in Denver and Best Roof Top Bars in Denver, it also has a massive happy hour drink and food list including bar classics and specialty cocktails.
Happy hour is Monday to Friday 3p-6p and is a gold mine for budget diners with $4 well drinks and wines. Take advantage of the locations outdoor activity space and play bags or other games with friends. The rooftop is shaded and enjoys cool breezes in summer months. Viewhouse Ballpark is always lively and loud; a great choice for happy hour any day of the week.
If you are searching for something to do in the Ballpark area with your group, check out our signature Downtown Denver Food Tour. It runs every afternoon and visits local award winning restaurants serving amazing bites and paired alcoholic beverages.
DENVER TECH CENTER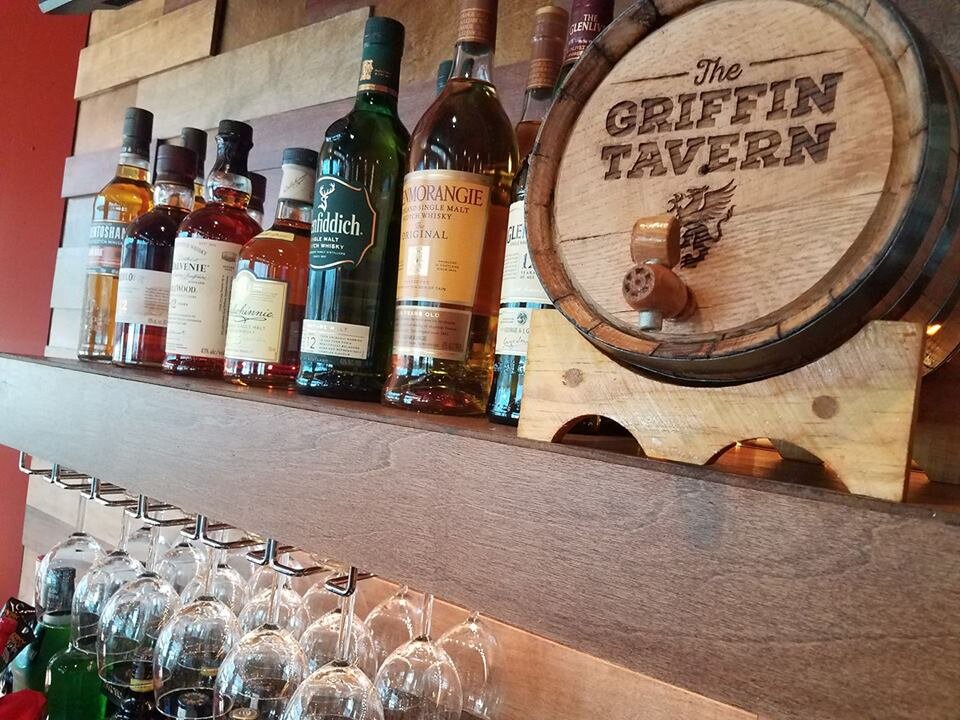 What to Order: Griffin Old Fashioned, 10 hour Brined Wings
Griffin Tavern can get a bad rap due to its strip-mall location, but there's little that isn't boring boxy beige down in the DTC. Inside you'll find quality made food and drinks, a fantastic staff and a great whiskey and beer list. The food is pretty standard pub fare, but its well made and reasonably priced.
Monday to Friday you can get $2 off pretty much everything, draft beers, wines by the glass and their signature cocktails. We recommend the Griffin Old Fashioned. It's nothing fancy, but its well made and just $8 during happy hour. For a snack you can't go wrong with their happy hour wings. Brined over night you get your choice of Buffalo, BBQ or Cajun.
You don't need a huge bankroll to be a whiskey snob at Griffin's. They have a huge list of local and national brands and so whether you are a fan of American bonded spirits or local beers, there's something for everyone.
Check out Griffin Tavern's Happy Hour Menu>>
CENTENNIAL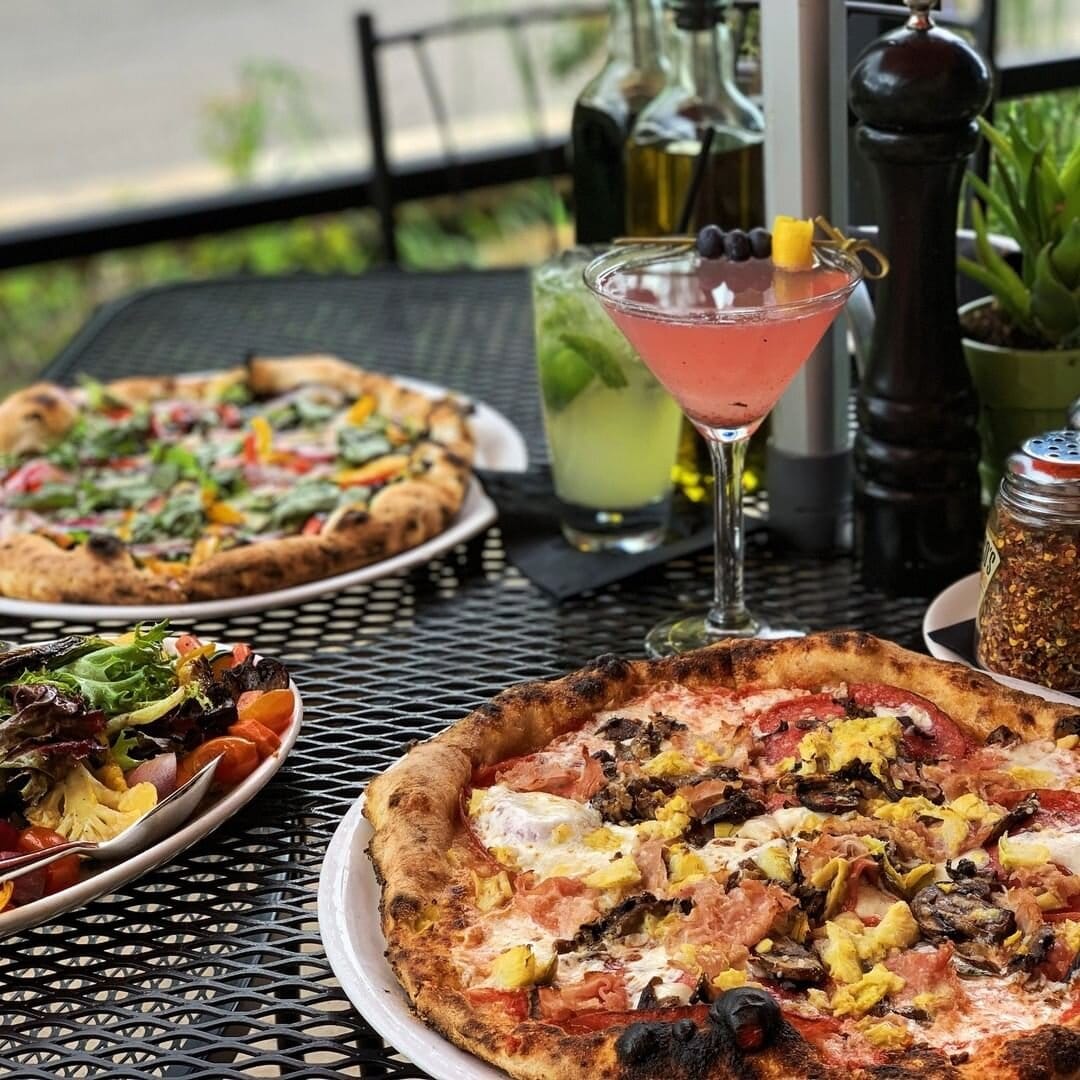 What to Order: Meatball Sliders, Personal Margherita Pizza, Beer and a Shot
Marco's is one of only two AVPN certified pizzerias in Colorado and less than a hundred in the US. What does being 'AVPN' certified mean? It means its as close to having a pizza in Naples that you can get on this side of the Atlantic. Happy Hour is every day from 3p-6p at their location in Centennial.
Had a rough day? How about a beer and a shot for just $8! Marco's also makes a house limoncello with vodka from Mile High Spirits that costs just $6. Pair that with a meatball slider or a personal Margherita Pizza – each just $5 – and you have a recipe for a perfect post work unwind with friends or by yourself.
Marco's is also a partner on our signature Downtown Denver Food Tour. Our tour's are great unforced team building activities that are perfect for company outings or celebrations. Check out our corporate events page for more info on how to book your team!
Check out Marco's Happy Hour Menu>>
---
Want to learn more about Denver's food and drink scenes? Join Delicious Denver Food Tours, Denver's #1 ranked tour company, for a walking food tour, offered daily from $70. Visit award-winning local restaurants for delicious tastings and learn about Denver along the way.
Check out our tours: