The Complete Guide of 88 Amazing Things to Do in Denver
With 300 days of sunshine and plenty to do both downtown and in the mountains nearby, it's easy to see why Denver has become a top destination to visit in the U.S. Take in a Broncos game, sip high tea at the Brown Palace, or lounge in Cheesman Park with the locals. We've got it all, and we hope you'll enjoy our city as much as we do!
1. Grab a Pint at the City's First Brewpub
When Wynkoop Brewery opened its doors in 1988, downtown Denver had no ballpark, no farm-to-table restaurants, no valet parking. But its founders, including now Colorado governor John Hickenlooper, were committed to making great beer. Twenty years later, it's a Denver institution and must thing to do in Denver for beer lovers. Try a flight of beers, or if you're adventurous, order the Rocky Mountain Stout, a beer brewed with bull testicles. Check out their menu and the list of current beer selections here.
2. Visit Red Rocks
Just 10 miles outside Denver, this open-air amphitheater has been built into the mountainside with huge vertical rocks jutting out from around the stage. The space has held concerts for over 100 years and been host to bands like The Beatles, U2, Radio Head and the Grateful Dead. There are shows offered at the Red Rocks Amphitheater throughout the year and a number of great hiking trails around the area. Visit during the day, and you can even hop right up onto the stage and stand in the spot that legends like Jimi Hendrix performed. Learn more and check out upcoming concert schedules here.
3. Take a Food Tour
There's no better way to see a city than to taste your way through it! These daily Denver food tours feature 6 of the best restaurants in the city with curated tastings and fun stories about Denver history and architecture. A local foodie guide will introduce you to Denver's growing food scene, and you get to visit historic landmarks along the way. You'll leave full and with a better understanding of how Denver live and eat in the Mile High City. Learn more and book a tour here.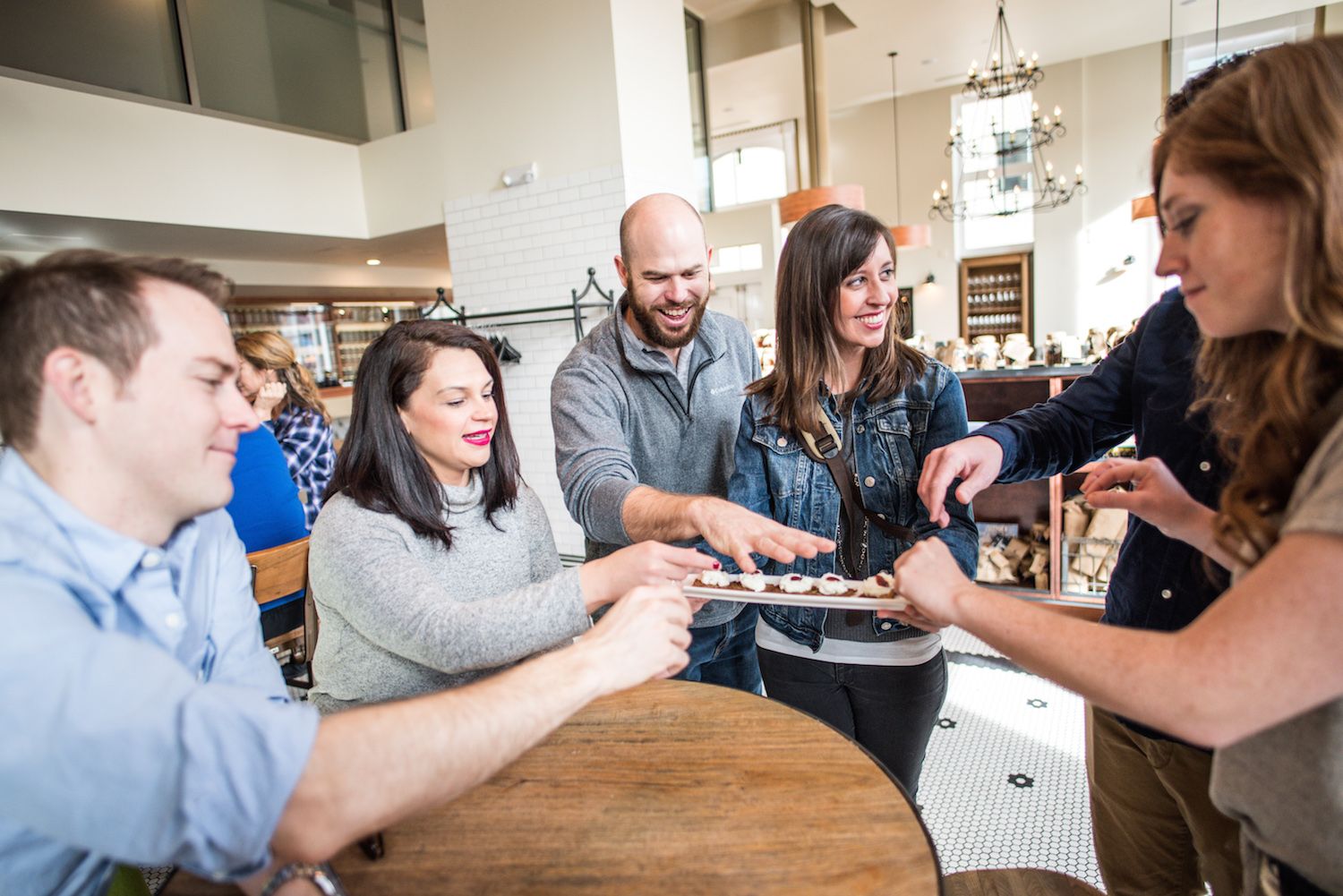 4. Ride the 16th Street Mall Bus
This bus runs through the heart of downtown and is one of many free things to do in Denver. Hop on any of the buses that stop at each block along 16th street and come every 2-3 minutes. Buses run from the Capitol all the way to Union Station, so they're a good way to zip around downtown and an easy way to access the 16th street mall and historic Larimer Square. Learn more about the free Mallride and where to hop on here.
5. Shop and Eat in Historic Larimer Square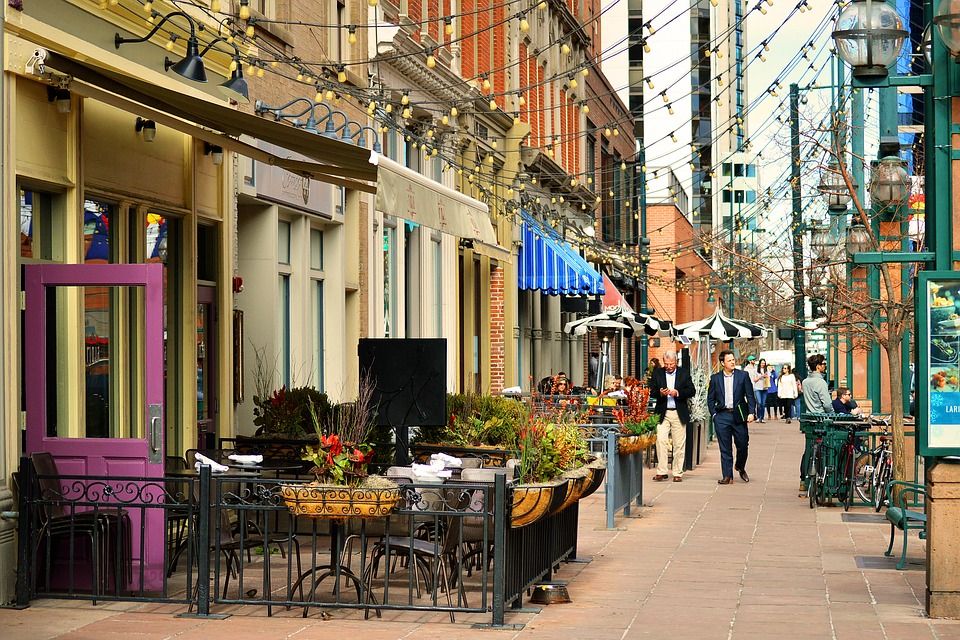 This historic block features a number of boutiques and great restaurants. Many of the buildings date back to the mid 1800s when the city was founded. Pop into the Kettle Arcade and take a look up to see a mural featuring some notable characters in Denver history like William Larimer and Soapy Smith. Head to Rioja in the Larimer Square for delicious tapas or grab a margarita at Tamayo at the end of the street. Learn more about Larimer Square's history here.
6. See a Broncos Game
Head over to Mile High Stadium (formerly Sports Authority Field at Mile High) to take in a game. Our Broncos have won three Super Bowls, and seeing a game is a fun and exciting way to spend a day in Denver.Learn about their 2018 schedule here.
7. Take a Cocktails Tour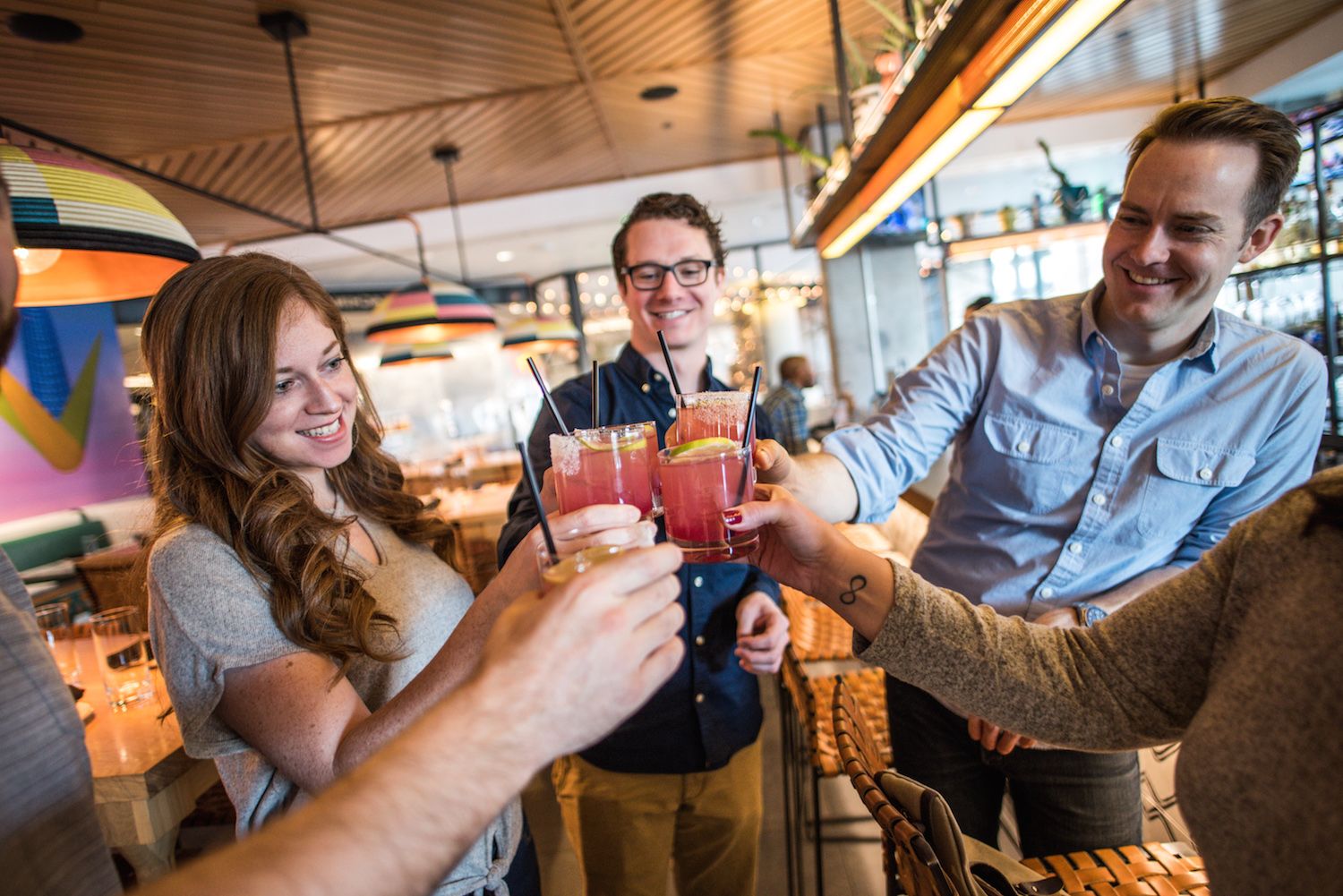 Held on Thursdays through Saturdays, these two-hour walking tours will introduce you to four of the top bars in downtown Denver. You'll try five craft cocktail tastings, and food is included. Let your local guide take care of everything for you, and learn about fun Denver history along the way. Learn more and book a tour here.
8. Visit the First Rock Bottom Brewery
While Rock Bottom Brewery chains can be found across the country, the brewery got its start in the Mile High City when it opened its doors in 1991.. Visiting the first Rock Bottom a fun thing to do in Denver for beer drinkers. It's located right downtown off the 16th street mall. Check out their menu and location in Denver here.
9. See a Rockies Game
Visit the picturesque Coors Field to catch a Colorado Rockies game, and you won't be disappointed! The stadium is easily walkable from Union Station downtown, and games are fun and lively. Head to Biker Jim's Gourmet Hotdogs inside the stadium for a delicious, local treat. Check out the 2018 schedule here.
10. See an Avalanche Game
If you're a hockey fan, head over to the Pepsi Center to see the Colorado Avalanche play. There isn't a bad seat in the stadium, and games are family friendly. The team shares the stadium with our local basketball team, the Denver Nuggets. Learn more about games and see their 2018 schedule here.
11. Tour the Colorado State Capitol
As the Capitol of Colorado, Denver is the center of state legislation. The State Capitol building welcomes 300,000 visitors every year and offers free tours on Mondays through Fridays to learn about the building, the General Assembly and Colorado's unique history. This is a fun free thing to do in Denver, but demand is high, so we recommend arriving at least 20 minutes before your tour to ensure you get a spot. Groups of 10 or more can make a reservation. Learn more about the State Capitol and their free tour here.
12. Tour the Denver Mint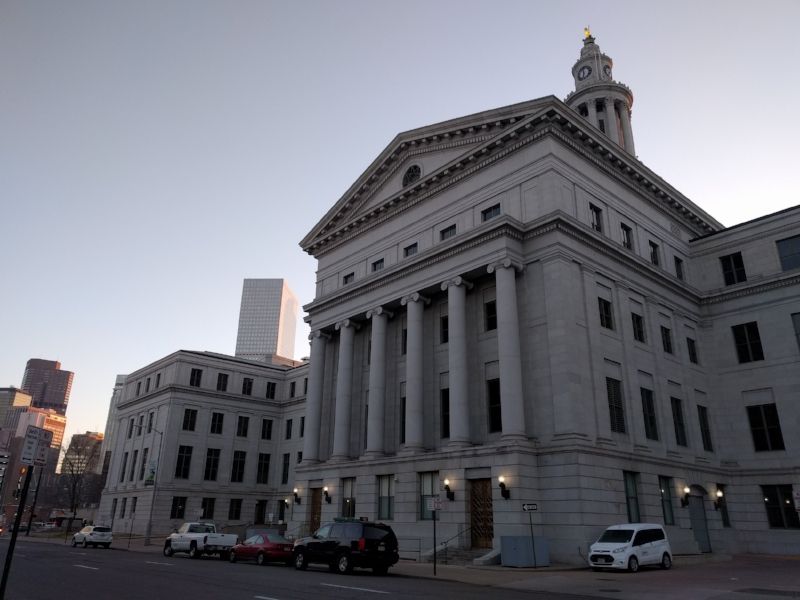 Learn the rich history of the United States Mint and see how billions of coins are produced each year on a free tour of the Denver Mint. There are just four mints in the country, so this is a unique and free thing to do in Denver. Tours last approximately 45 minutes, and there are six per day starting at 8 a.m. Even though this is a free Denver tour, they often sell out, so we recommend going early to get in line and reserve your spot! Learn more and see the Denver Mint tour schedule here.
13. Play Shuffleboard at Union Station
Considered to be "Denver's living room," visiting the iconic Union Station is an absolutely must thing to do in Denver. Located in the heart of Lodo or "lower downtown," the station was constructed in 1881 and has a rich history. It was renovated in 2014 and now offers free wifi, a number of bars and restaurants, a florist and even shuffleboard tables. It's free to play, and you can check out the shuffleboard pucks at Terminal Bar inside the station. Learn more about the stations many eateries and bars as well as the daily train schedule here.
14. See a Nuggets Game
Basketball fans should head over to the Pepsi Center to catch a Denver Nuggets game while they're in town. Named after Denver's mining history and the Gold Rush of the 1850s, the Nuggets are Denver's NBA team. Learn more and check out their schedule here.
15. Browse the Book Selection at the Tattered Cover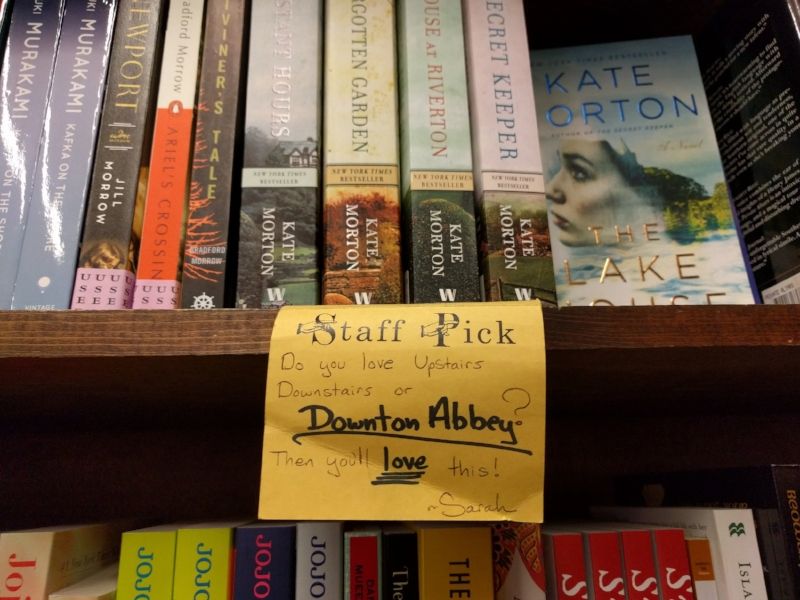 This large, independent bookstore located in the health of Denver's downtown is a great way to pass the afternoon. Grab a comfy chair and relax with a good book or a coffee from their coffee shop. The bookstore regularly hosts speaker series and features a number of local Colorado authors. See their downtown location here.
16. See a Standup Comedy Show
Situated on the corner of Larimer Square downtown, ComedyWorks is a premier comedy club featuring stand-up comics from all over the world. This underground club is beloved in the comedy world and has hosted comics like Jerry Seinfeld, Ellen DeGeneres, Richard Lewis and Jay Leno. Check out their calendar for nightly shows and reserve tickets online here.
17. Sip a Cocktail at an Underground Speakeasy
Located in an unassuming entryway to a family-style BBQ joint, the Green Russell is a fabulous speakeasy. Its situated in the historic Larimer Square and opens at 5 PM serving prohibition-style craft cocktails in a unique atmosphere. Visit on Sundays and Mondays, and you'll be treated to live music! Learn more about the speakeasy and its location here.
18. Tour Coors Field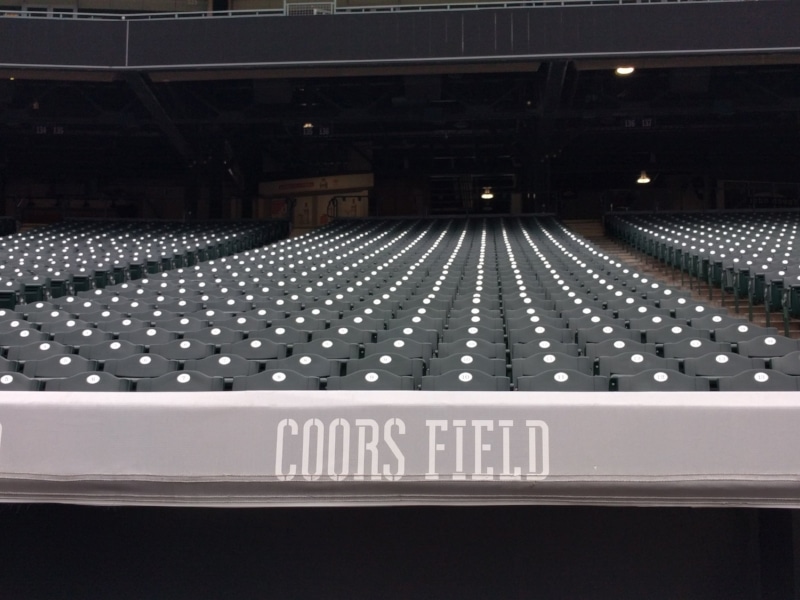 Constructed in 1995, Coors Field is home to the Rockies baseball team and a landmark of Denver's downtown. In an effort to have it blend in with the neighborhood's surrounding architecture, it was built with just over 1.5 million red bricks and offers stunning views of the Rockies for those guests seated in the upper levels. Tours cost just $10 and offer a behind-the-scenes look into the Colorado Rockies complete with the opportunity to go down onto the field. If you visit the press box, look for the hole in the ceiling where a fly ball was hit during a home games. Check out the tour schedule and reserve a ticket here.
19. Visit the City's Oldest Hotel
Located in the center of downtown Denver, the Oxford Hotel is the oldest hotel in the city constructed in 1891. The architect later designed its sister hotel, the Brown Palace. Pop into the lobby of the Oxford to see the stunning art displayed on its walls and the canary next to the front desk, an homage to Denver's coal-mining days. Learn more about the hotel's history and book a room here.
20. Grab a Drink at a Prohibition-Style Bar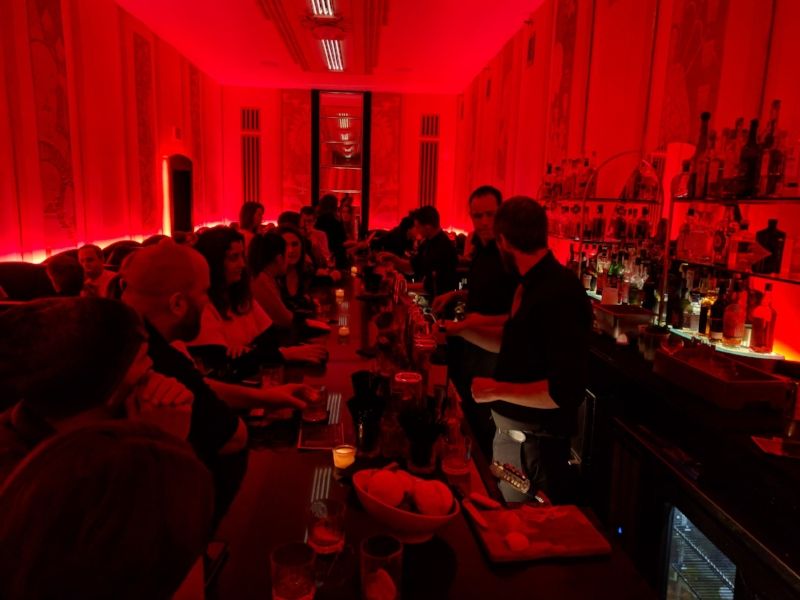 Located inside the historic Oxford Hotel is the Cruise Room, an iconic bar that opened the day Prohibition ended. The bar is an exact replica of the bar on the RMS Queen Mary complete with art deco decor and pink lighting. They offer craft cocktails and make a mean vesper martini. Learn more about the Cruise Room here.
21. Catch an Improv Comedy Show
If you like comedy and want to go off script, check out an improv show at the Voodoo Comedy Lounge in Denver's ballpark neighborhood. This little theater offers nightly shows and improv classes for those wanting to learn the art of "yes and." Grab a beer or cocktail from their bar and head into the theater for some laughs! See upcoming shows and buy tickets here.
22. Stand on the Mile Marker at the Capitol
Denver is the mile high city, and at 5,280 feet above sea level, you'll see elevation markers all over town. If you visit the State Capitol building, be sure to pause on the 13th step and look for the small brass medallion, which will tell you that you're standing at exactly one mile above sea level. Don't be fooled by the gold marker on the 15th step or the bronze on the 18th step. These were elevation markers put in in the past when measurements were not as precise.
23. Grab Lunch from a Food Truck
If your visit to Denver falls between May and October, head over to Civic Center Park in downtown Denver for a midday treat. Civic Center EATS runs weekly through the summer and offers Denver locals and visitors a chance to enjoy our city's robust gourmet food truck scene all accompanied by shaded seating and live music. Check out their Facebook page to see what trucks and treats will be offered.
24. Grab Coffee at the Denver Central Market
Located in the heart of RiNo or River North, the Denver Central Market is a central meeting spot for locals and visitors. Inside you'll have your pick of a number of local eateries including Crema Coffee, a great spot for a coffee, and Curio, one of Denver's top craft cocktail bars. Check out their website here to see current vendors and to get notified of upcoming classes offered at the market.
25. Brewery Hop in one of the Cities' Hottest Neighborhoods
RiNo or River North is one of Denver's hottest neighborhoods. Home to breweries and street art galore, it's a great walkable neighborhood and the perfect thing to do in Denver if you like beer and want to try a number of local breweries. Denver has been called the Napa Valley of Beer, so there's a lot to try! We especially love 10 Barrel Brewing Company, which features 22 beers on tap everyday.
26. See a Cabaret Show
Nestled at the base of Denver's historic Daniel and Fisher Clock Tower, the Clocktower Cabaret offers a variety of live performances from comedy to burlesque. The theater setting is intimate and vintage, and the offer a full bar and small bites. The theater is conveniently located off the 16th street mall in downtown Denver and easily accessible from the free mallride buses. See the upcoming show schedule here.
27. Boutique Shop on Tennyson Street
This stretch of shopping in the Highlands neighborhood is a great spot to check out local boutiques and get out of the more touristy shopping areas of Denver. The neighborhood itself is historic and got its start back in 1863. Learn about local boutiques and eateries in the neighborhood here.
28. Enjoy a Wine Flight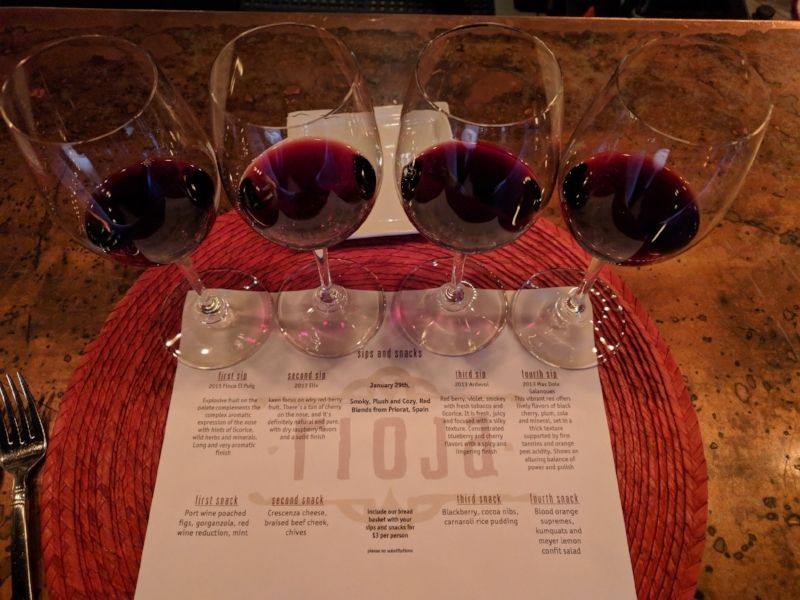 Larimer Square's Rioja is a highly-rated tapas bar downtown owned by the only James Beard award-winning chef in Denver. Visit for happy hour and try their Sips and Snacks offered every weekday. You'll get a flight of four wines, beers or spirits paired with weekly themed snacks all for just $15! Check out their menu and the upcoming these for snacks here.
29. Try the Soup Dumplings at Cholon
Foodies across Denver will ask if you've tried the soup dumplings from Cholon. They're that good! This Asian fusion spot in the center of lower downtown offers a wide selection of bites and full plates. The soup dumplings are comprised of french onion soup with sweet onion and gruyere encased in Asian dumplings. This appetizer is not to be missed! See hours and the full menu here.
30. Visit the Coors Brewery in Golden
Beer drinkers will have this as a top thing to do in Denver as it's the largest brewery in the state. Located at the foot of the Rockies in Golden, CO, the Coors Brewery has been brewing since 1873. They offer free tours but require you to get a ticket in advance on the bus to the brewery. Tours end with a healthy sample! Learn more about the tour schedule here.
31. Slurp Oysters at Jax Fish House
This local seafood spot got its start in Boulder but now occupies a small space just down the street from Union Station. They fly in their seafood daily and offer the best oysters (real oysters, not Rocky Mountain oysters) in the city. Visit at happy hour, and the oysters are just $1.5 and pair beautifully with a crisp white wine or rose. If you stay for dinner, be sure to try their house-made key lime pie. See their full menu, hours and location here.
32. Take a Cooking Class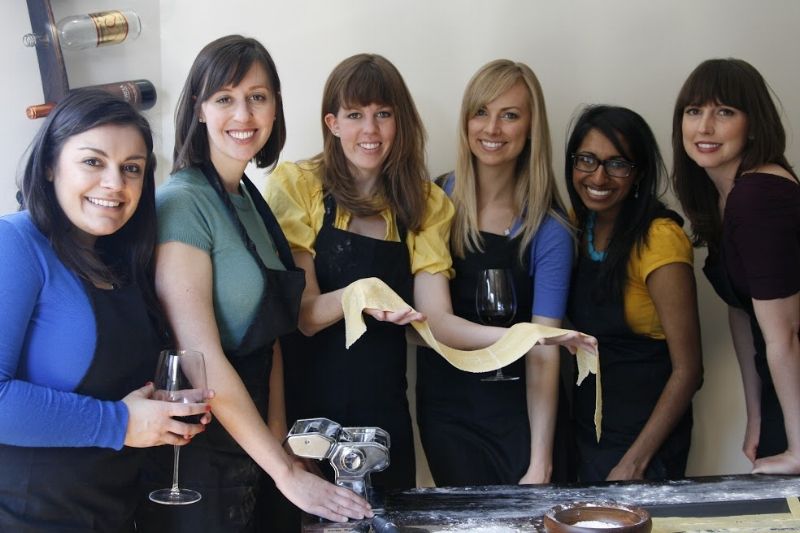 Cook Street cooking classes are fun and interactive. They cover classic techniques to world cuisine menus and are the perfect date-night activity. Learn about upcoming classes and book your own cooking class here.
33. Tour a Whiskey Distillery
Stranahan's started as a venture between two neighbors who shared a love for whiskey and the Colorado outdoors. Together they developed their own recipe for distinctly smooth American single malt whiskey and brought it to the market. Today you can learn about their distillery and process on one of their tours. Learn more and see the tour calendar here.
34. Line Up for the City's Best Ice Cream
Located just across the river from the heart of downtown Denver is the city's best ice cream spot. Locals and visitors line up around the block to try Little Man Ice Cream, but you can skip the line if you plan it right. The shop sells its delicious ice cream to a number of local shops downtown including Sweet Cooie's in the Congress Park neighborhood and Milk Box inside Union Station. We love the salted oreo flavor, but they're all delicious! Check out more about the favorite local creamery here.
35. Enjoy Dinner and a View at Avanti
Located in Denver's hip LoHi neighborhood, this bi-level eatery is made up of shipping containers. The spot features food stalls, and the vendors change often giving visitors the chance to try a number of great up-and-coming restaurants in a smaller, incubator-like space. You'll find great bars on both levels, and nothing beats the view from the second level terrace. Check out the current culinary options and upcoming events here.
36. Sip a Champagne Cocktail at Corridor 44
Denver's only champagne cocktail lounge is a must visit for bubbly lovers. The atmosphere is vibrant and upscale with a full dinner menu and delicious champagne concoctions. Visit during happy hour and champagne cocktails are just $4. And if you're wondering why it's called Corridor 44, head down the long hallway to the private room and restrooms in the back. It's exactly 44 feet from front to back. Learn more and check out their menu here.
37. Go for a Day Hike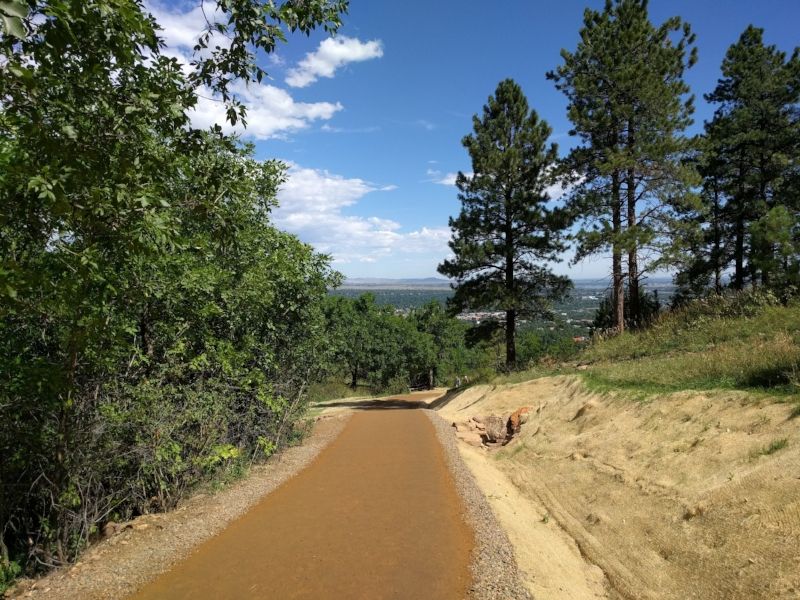 Denver is considered an "outdoor adventure city," so don't miss out on the many activities available in the mountains and foothills nearby. There are hikes for every fitness and experience level as well as trail options all year round if you're brave enough to hike in snow. We recommend hiking the flat irons at Chautauqua Trailhead in Boulder for an easy introductory hike to the foothills. Learn more about those trails here and other day hike options here.
38. Learn How to Make Cheese
Local Denver wine and cheese shop, Wine & Whey, offers a number of interactive classes and workshops delving into the world of cheese making. You can learn how to make ricotta or mozzarella in these fun and easy classes, or check out their supplies and instructions and bring your cheese making kit home to experiment. Learn more about the shop and their upcoming class offerings here.
39. Visit the Clyfford Still Museum
Head to the Clyfford Still museum for one of the only chances to see the works of the great American painter on display. He was part of the first generation of Abstract Expressionionists but retreated from the art world during his life and ceased to show his work. Now you can view his moving pieces of modern art in the Clyfford Still Museum, the only museum in the country dedicated soley to his work. Learn more about the current exhibits, hours and admission prices here.
40. Gallery Hop on Santa Fe
This fun and quirky arts district is just south of downtown and has the largest concentration of art galleries in the city. Art lovers can hop from space to space to see the local art on display. Every first Friday of the month, the street is packed with visitors, and a free shuttle will help you get from gallery to gallery. Learn more about the Santa Fe Arts District and First Friday Art Walks here.
41. Sip a Cocktail in a Bar Modeled After an Old Railcar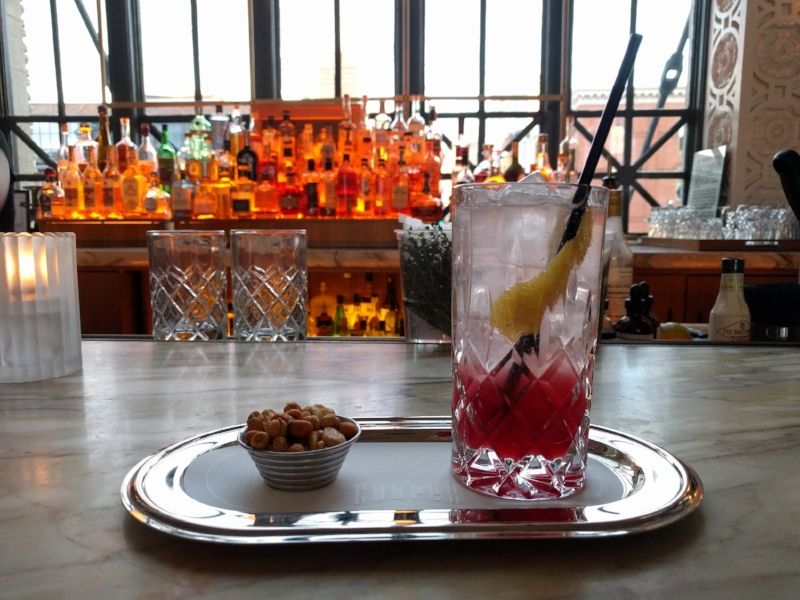 Just inside Union Station on the second floor sits Cooper Lounge, an upscale bar belonging to the Crawford Hotel. Modeled after a high-end dining car, the lounge features hand-crafted cocktails and bar snacks sold from a cart that's wheeled through every so often. The lounge offers beautiful views of the station's great hall, but make sure to make a reservation.
42. Play Bingo at Grandma's House
Hanging out at Grandma's House, a brewery on South Broadway, will take you back in time. Decorated with antique furniture and complete with an old-school Nintendo system and games, this bar has it all. And on top of it all, they host fun nights like stand up, foul-mouthed stitching and bingo. All you have to do to play or craft is buy a beer. Check out the upcoming calendar of events here.
43. Take a Line Dancing Class at the Grizzly Rose
This country bar offers cheap beer, live music and line dancing classes. The best part of these dance classes? They're free! They last an hour and are usually scheduled mid-week from 7-8 PM but check their schedule here.
44. Sip Cocktails and Craft at Upstairs Circus
Create, drink and be merry at Upstairs Circus. Located in the heart of LoDo by Union Station, this bar has combined craft cocktails and craftin. You can choose from one of over 30 projects to make wall art, jewelry or accessories. Check out the current projects here.
45. Hang Out with the Locals at Union Station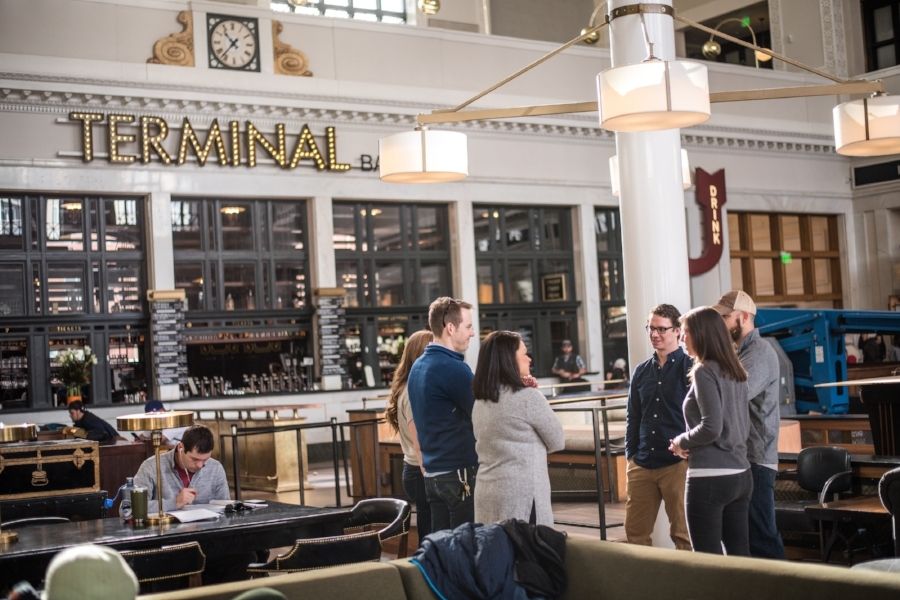 Deemed Denver's living room, Union Station is a hangout for locals and visitors alike. Play shuffle board in the center of the station or grab a drink from Terminal Bar, and you'll fit right in to the local Denver scene. If you're craving something sweet, be sure to get a scoop of Little Man ice cream from Milk Box in the front corner of the station.
46. Catch a Show at the Bluebird Theater
This live music venue down east Colfax near City Park was originally constructed in 1913 and has served as a movie theater in the past. Now it's home to live shows and a great place to see a concert. Check out their full schedule with upcoming performances here.
47. Listen to Live Jazz at the Crimson Room
On the lower level of the historic Larimer Square, the Crimson Room is a cozy jazz joint that offers top-notch live music most nights of the week. Once a speakeasy, the bar features the original brick and a nice menu of craft cocktails in an intimate and dimly lit setting.
48. Enjoy a French Dinner at Bistro Vendome
Tucked away off Larimer Square, this quaint French restaurant was opened by a James Beard award-winning chef. They feature traditional French cuisine on their menu, and the setting is romantic with an outdoor patio and cozy interior.
49. Enjoy a Farm-to-Table Dinner at One of the City's Top Restaurants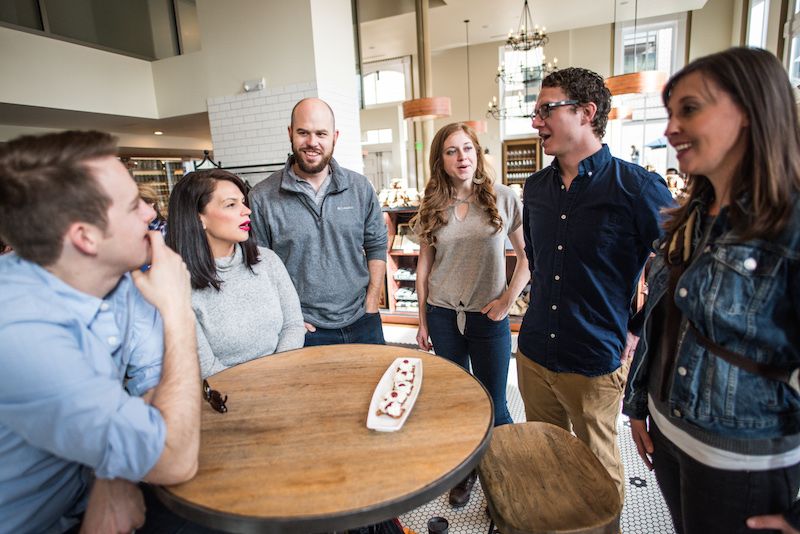 Located inside Union Station is one of the top restaurants in Denver, Mercantile Dining and Provisions. They source ingredients from their farm just south of the city and feature farm-fresh sheep milk cheese in their market and on their menu. Be sure to make reservations early. Fridays and Saturday nights can book up a few weeks in advance. Learn more about Mercantile on this daily food tour through downtown.
50. Drink a German Pint at Rheinhaus
Located downtown, this German restaurant and beer garden offers a wide selection of delicious brews in large steins. It features a patio and indoor bocce courts in its large, two-story space.
51. Take a Ghost Tour
The nightly spirits tour will take you through some of the most haunted spots in downtown Denver with pub stops along the way. Grab a beer at each stop, and let your guide entertain you with Denver history and creepy ghost stories. Learn more and book tours here.
52. Bike the Cherry Creek Trail
Set down off the main road, this pedestrian and cyclist trail parallels the cherry creek. On a sunny day, bike the trail to get a view of downtown without the traffic. The trail walls are also dotted with street murals done by local Denver artists.
53. Splash in the Water in Confluence Park
Two of Denver's major rivers, the South Platte and Cherry Creek, come together at this downtown park. Sunbathe on the sand or spend the afternoon watching rafters brave the rapids where the two rivers meet. Confluence Park offers beautiful views of the city and is easily accessible to downtown. Learn more about Confluence Park and other Denver parks here.
54. Try a Donut from Voodoo Doughnut
This Portland-based doughnut shop is famous for its extensive list of delicious doughnuts including ones topped with cereal and a doughnut topped with a full slice of cooked bacon. They only have shops in Oregon, Texas, Denver and now LA, so pop into their shop on Colfax, the longest street in America, to taste of their inventive creations. These guys are open 24 hours, and there can be long lines late night, so plan accordingly. Learn more and check out their full list of delicious doughnuts here.
55. Sample Craft Brews at Great Divide Brewery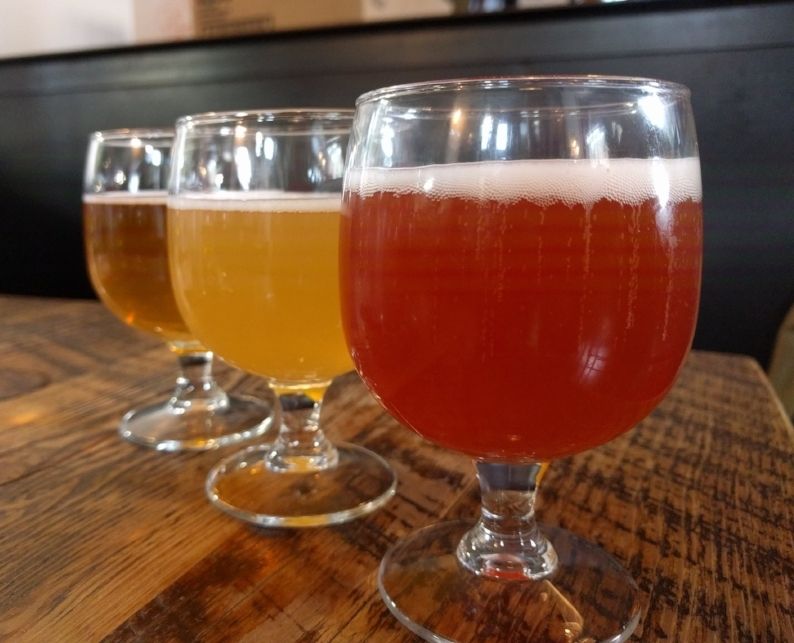 Denver isn't called the Napa Valley of Beer. With over 70 breweries in the city center alone, there's a lot for a beer-lover to choose from. Great Divide is one of the largest, and its brewery and tasting room sit just outside of the heart of downtown, easily accessible on food. Take a tour, offered throughout the day and given by an in-house brewer, and stick around to sample tasting sizes or full pints from the tasting room. Check out current brews and information on the brewery here.
56. Take a Cooking Class
Foodie and gourmets should check out Cook Street Culinary School on Blake street downtown for a fun and engaging group cooking class. Classes are designed for recreational and homecooks and often feature fun themes like cooking with beer. Their space is open and where a number of Denver chefs are trained in their full culinary training program. See the upcoming class schedule here.
57. Shop at the Cherry Creek Mall
This upscale shopping center is located in the neighborhood of Cherry Creek and features high-end retail options as well as great dining.
58. Bowl a Game on the 16th St. Mall
Lucky Strike on the 16th street mall downtown offers a high-energy atmosphere to bowl, drink and play games. They offer a full bar and menu as well as a number of arcade games, pool tables and of course a full bowling alley.
59. Grab Brunch at Snooze AM Eatery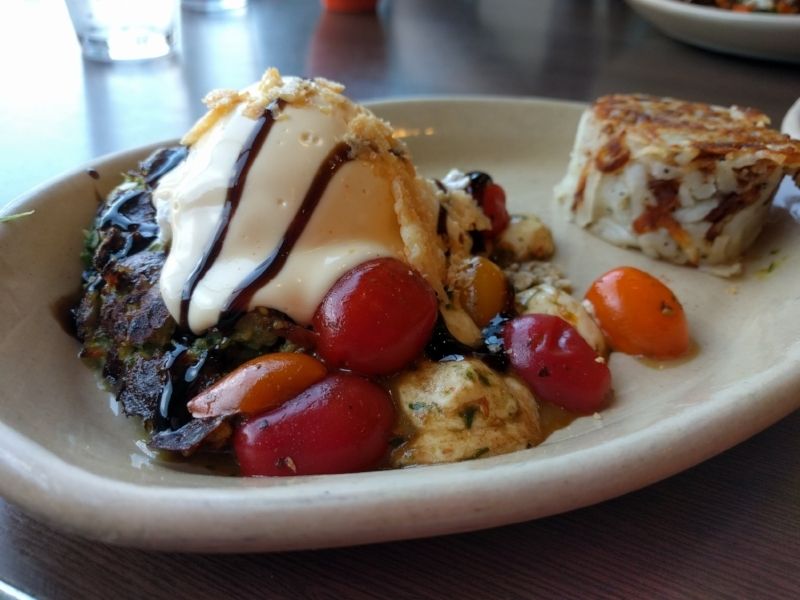 This popular local breakfast and brunch spot offers a delicious menu featuring pancakes, benedicts and more. There are several locations across Denver, and we recommend arriving early as most run on a wait nearly every day. Learn more and check out their menu here.
60. Enjoy High Tea at the Brown Palace
This historic hotel on 17th and Broadway has a stunning lobby with high tea offered in the afternoons from 12-4 p.m. A live pianists plays throughout the afternoon, and you'll be treated to top notch service and beautiful spreads of freshly brewed herbal teas, scones and finger sandwiches. You can even splurge for the champagne add on and make it a bubbly afternoon! Learn more and make a reservation here.
61. Taste Homemade Biscuits at Denver Biscuit Co.
Another popular breakfast spot, Denver Biscuit Co. offers delicious, housemade biscuits with toppings like pimiento cheese and honey. Our favorite location of theirs is on Colfax, the longest road in America, as it doubles as a pizzeria by day and bar by night. See their menu and locations here.
62. Go Tubing in Boulder
There a number of great tubing options outside of Denver for a Summer visit, but this one's an easy trek from the city. Head up to Denver with your inner tube, or rent one for just $16 at Boulder Nordic Sport and head over to Boulder Creek Park, just an hour northwest of Denver. Go early to get a parking spot near the park and bring a picnic as there are benches and tables throughout the park area. From here you can walk the pedestrian path alongside the river and drop your tube in wherever you like. Enjoy the ride down, and hop out at the bottom near the park area. This is a relaxed and fun way to tube, and you can even bring your beer with you if you can hold onto it!
63. Go Snowshoeing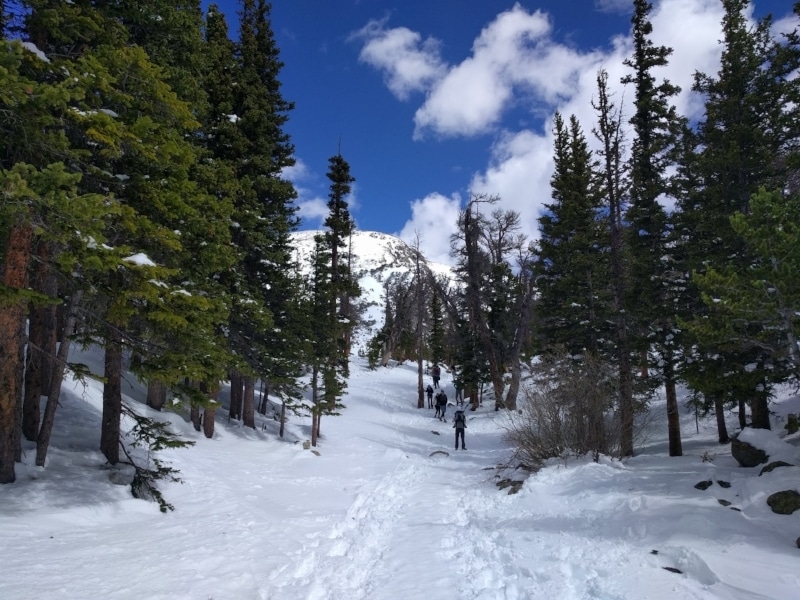 If skiing isn't for you, try your hand at snowshoeing. Trails are offered throughout the mountains, and many run straight from ski resorts with maps and equipment rentals easily available. This winter sport will get you out into the mountains and up close in the snow. Check out options for snowshoeing around Denver here.
64. Hit the Slopes for a Ski Day
Colorado has a number of world-class skiing options within a couple hours drive of Denver. And now that we've brought the ski train back to Union Station, you can even take the train to your favorite ski spot. Whether you're a novice or expert skiing, there's a mountain for you in Colorado. Read more here.
65. See a Play at the Performing Arts Complex
Nestled in the heart of downtown Denver, the Performing Arts Complex offers something for every theater-goer out there. From musicals to dramas, there is always a variety of productions playing in their 8 theaters inside the complex. See upcoming shows and ticket availability here.
66. Go White Water Rafting
In the Summer, white water rafting options are abundant in the rivers that run through the mountains near Denver. Get together a group of friends and head out to battle the rapids. Depending on the river and rainfall, you may be able to go out on your own, or you'll need to join a rafting operator for a guided experience. Check out options and compare rafting options here.
67. Take in the View at an Upscale Rooftop Hotel Bar
Located on the 20th floor of the new Le Meridien Hotel downtown, 54thirty is a chic rooftop bar with beautiful views of the city, especially at night. Grab a cocktail or glass of wine, and enjoy the upscale and intimate setting. Read more about the rooftop spot here.
68. Stroll through the Denver Botanic Gardens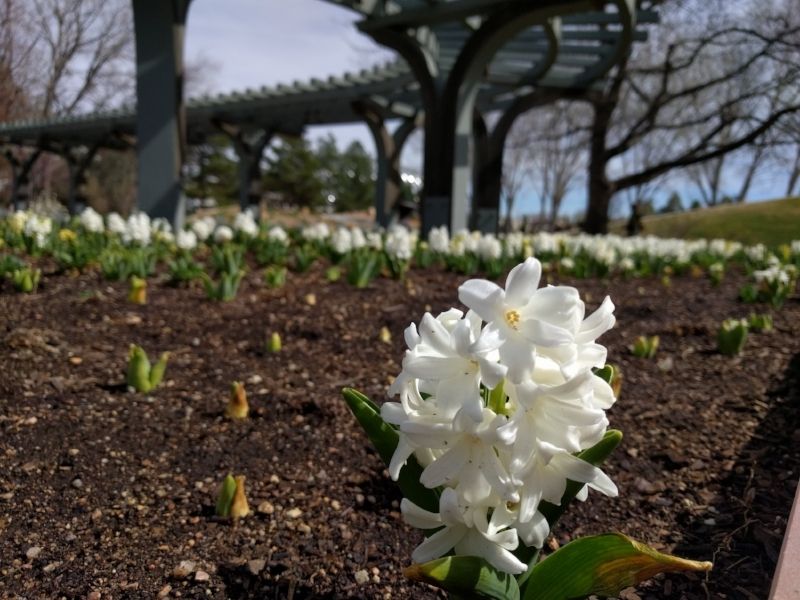 Tucked away from Cheesman Park, the Denver Botanic Gardens are a beautiful way to spend a quiet and relaxing afternoon in Denver. The gardens feature indoor greenhouses and expansive outdoor gardens like the Japanese garden. In the summer, be sure to check out their website for special exhibits, live concerts and events.
69. Rent a Bike from the City's Bike Share
Experience the city from the streets with our bike share program. You'll see B Cycle stations all over the city and can download their easy-to-use map to see other stations and bike availability. Bikes are just $9 to rent for a full 24-hour period, and each bike comes with a basket. Just be sure to dock your bike every 30 minutes to avoid additional fees. Learn more about our bike share program here.
70. Visit a Marijuana Dispensary
One aspect that's unique to our state is our legalized cannabis. If you're curious, check out any of our local dispensaries. Staff members are usually very knowledgeable and helpful if you're interested in partaking. You just need to be over 21 with a valid ID, and many marijuana dispensaries require you to pay cash. Locate dispensaries and compare them here.
71. Take a Ride at Elitch Garden Theme Park
This theme and water park is just north of downtown Denver and has it all! Visit to ride roller coasters, tube down lazy rivers and go on the ferris wheel. This is a family-friendly spot with lots of great options. Read about ticket prices and rides here.
72. Visit the Denver Museum of Nature and Science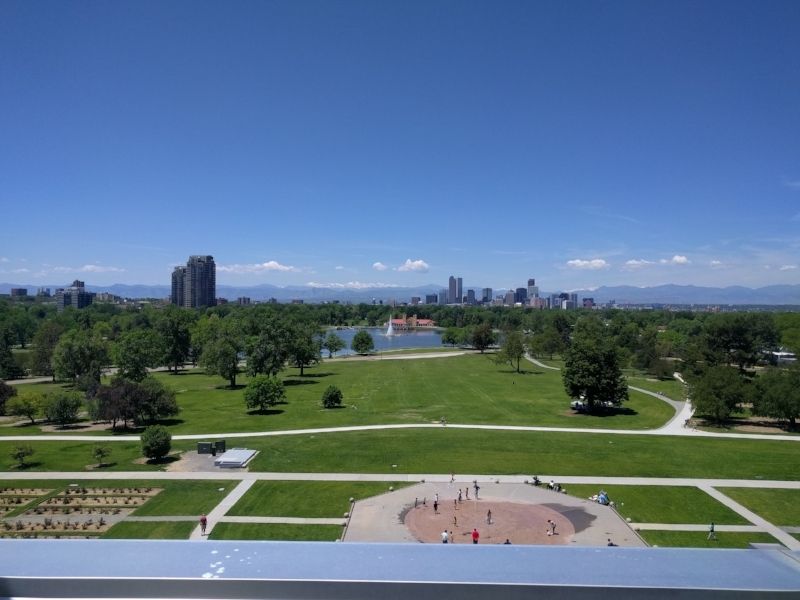 Located inside City Park, the Museum of Nature and Science offers a number of fixed and rotating exhibits for the whole family. Check their website to see upcoming free days, and be sure to visit the fourth floor desk for one of the best views of downtown Denver! Learn more about the museum and buy tickets here.
73. Enjoy a Meal at this Former Mortuary
Located in the lower Highlands, one of Denver's hippest neighborhood, this eatery originally served as a mortuary. Now it's home to Linger where they server international fare is a modern, large dining room with views of the city. We especially love their boa and buns! Check out the full menu and hours here.
74. Visit the Denver Zoo
The Denver Zoo is a great place to visit for an outdoor urban adventure. Nestled right in the center of City Park, the zoo houses zebras, elephants, rhinos and more. We even welcomed a brand new baby sloth in early 2018. Learn more about zoo hours and how to get your tickets here.
75. Visit the Denver Aquarium
This state-of-the-art aquarium is accessible from Denver's downtown and houses more than 500 species of animals. Spend the afternoon browsing their many underwater exhibits and then grab a bite to eat at the upscale Dive Lounge on the first floor. Learn more about the aquarium and tickets here.
76. Sun Bathe at Cheesman Park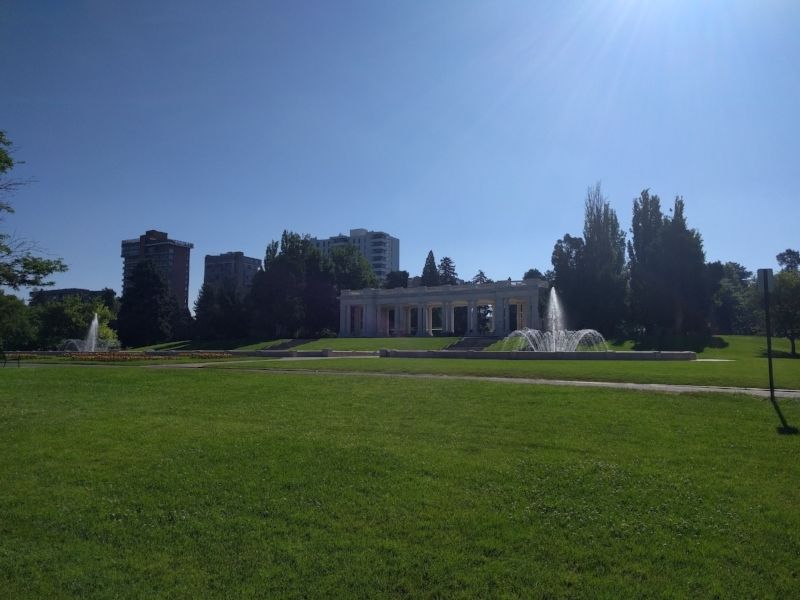 Cheesman is one of our many city parks that offers locals and visitors a beautiful green space to relax, play volleyball, meet with friends or walk your dog. The open park also boasts beautiful views of the Rockies and downtown, so grab a frisbee and your favorite picnic blanket and head on over to enjoy a leisurely afternoon with Denver locals.
77. Visit the Molly Brown House Museum
The "Unsinkable Molly Brown" was a socialite and philanthropist who survived the sinking of the Titanic in 1912. Her home in the prestigious Capitol Hill neighborhood has been preserved by Historic Denver and remains a landmark of the city. Today you can tour the home and learn more about Molly Brown's extraordinary life. Learn more about tour times and prices here.
78. Explore the Denver Art Museum
Art lovers should check out the Denver Art Museum and its collection of more than 70,000 pieces of art. Their collections feature everything from Pre-Columbian art to Western American art with visiting exhibitions on display all throughout the year. Learn about the current exhibits and upcoming events here.
79. Grab a Burrito at the Original Chipotle Location
This famous fast food burrito chain with over 2,000 locations opened its very first restaurant in Denver. At the time, the idea of serving high-quality ingredients and using classic cooking techniques were new to the fast food scene, and Chipotle has since become a beloved burrito place for many. Visit the original location near the University of Denver.
80. Go Back in Time at the History Colorado Center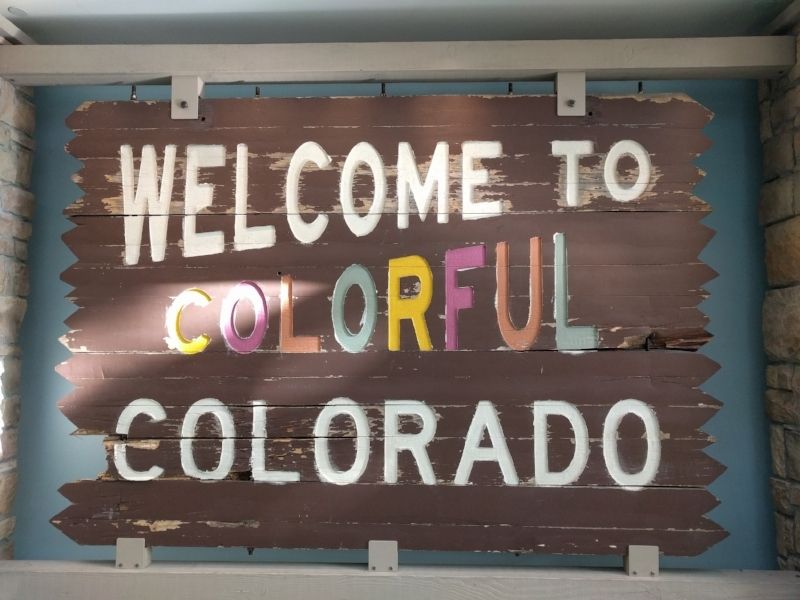 If you're a history buff, be sure to check out the History Colorado Center dedicated specifically to our state's rich and unique history. You'll learn about the gold rush and how early homesteaders took up residence in the Centennial State. The museum features permanent and traveling exhibits. Learn more here.
81. Visit the Museum of Contemporary Art
The Museum of Contemporary Art in Denver explores culture of our time through rotating exhibitions and public education. It features regional, national and international artists with exhibitions promoting creative experimentation with art and ideas. Learn more about the MCA here.
82. Play a Piano on the 16th Street Mall
Running through the heart of downtown is the 16th street mall, a pedestrian friendly shopping district and popular stop for Denver visitors. Dotting each street you'll find pianos out in the open, and visitors and locals regularly sit to play a tune. It's not uncommon to find talented musicians sitting to play or street performers accompanying them nearby.
83. View Street Art in RiNo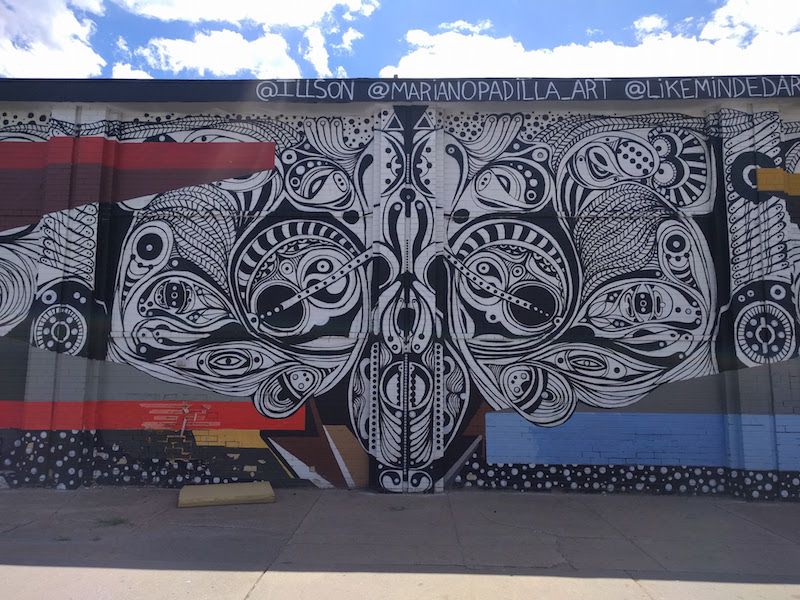 The best and most vibrant street art can be found in RiNo, short of River North. Considered "the arts district" you can see a number of colorful murals throughout this neighborhood. When you're ready to take a break, head to one of the many breweries or local eateries for a drink and a meal. Learn more about street art in Denver here.
84. Try Rocky Mountain Oysters at Butcher's Bistro
This local spot is tucked away but worth walking the few extra blocks. It's a nose-to-tail, whole-animal butchery, and meat is the highlight of the menu. While the menu is top notch, the space is casual and comfortable. It's also the best place in the city to try Rocky Mountain Oysters, made from bull or bison testicles. Join our daily food tour to learn more about this local restaurant.
85. Enjoy a Steak Dinner at Urban Farmer
Just down the street from Union Station, located inside the historic Oxford Hotel, you'll find a new steak place with a fabulous menu. Urban Farmer features locally sourced meats and a delicious upscale menu in a funky, modern space. Their cocktails are stellar, especially the Butter Pecan Old Fashioned, which we taste on our cocktails tour. Check out the full menu here.
86. Try a Gourmet Hotdog at Biker Jim's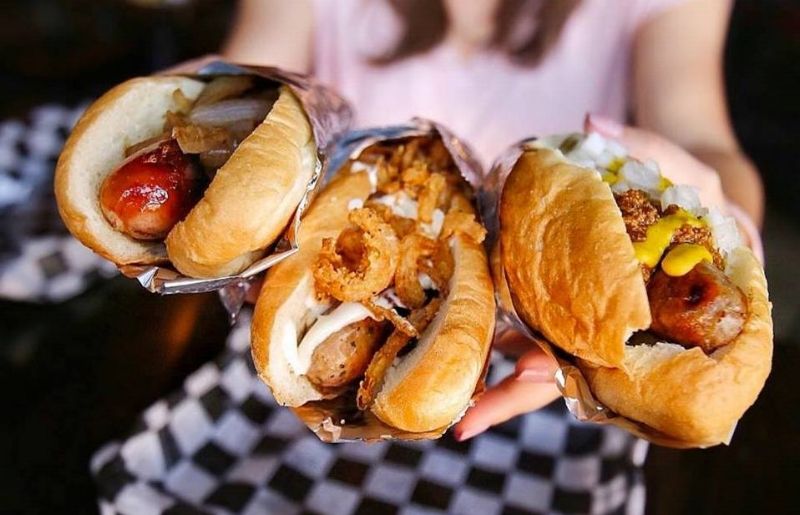 In the heart of the ballpark neighborhood, you'll find one of the top 10 hotdogs spots in the country. Biker Jim's got its start as a humble hotdog cart on a busy street in Denver but has since been featured in national publications and TV shows. We recommend the Alaskan reindeer dog with classic toppings. Join our daily food tour to learn more about this delicious local spot and to try their signature gourmet dogs!
87. Grab a Bagel at Rosenberg's in Five Points
This popular bagel spot and Jewish deli is serving up deliciously authentic NYC-style bagels (untoasted of course) with all the usual toppings. Head over for a great start to the day, but be sure to arrive early. There's often a pretty decent line to place your order. Read more about Denver's popular bagel spot, Rosenberg's, here.
88. Cross the Denver Millennium Bridge
The Denver Millennium Bridge is the world's first cable-stayed bridge using post-tensioned structural construction. The iconic white pedestrian bridge allows you to cross over the train tracks and access Commons Park.
There are so many amazing things to do in Denver. Learn and explore the city on one our daily food tours.